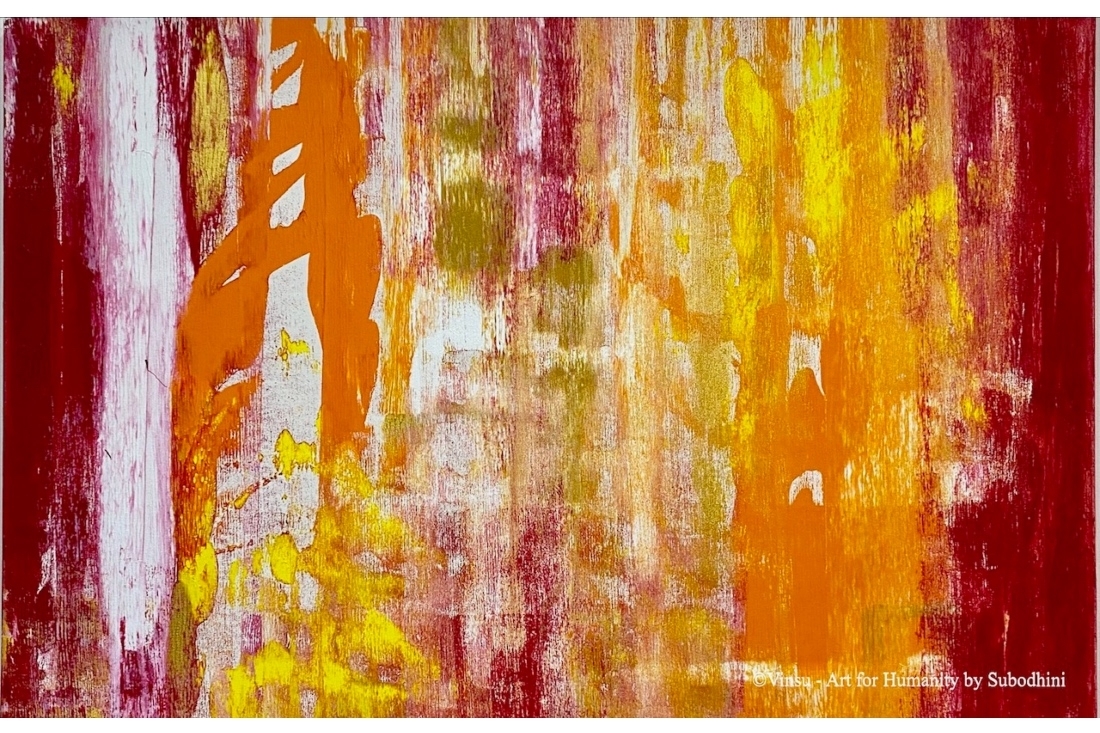 The brand name of Vinsu is an amalgamation of the mother-daughter duo artists Vinita Lakhi and Subodhini Lakhi. And the tagline, Art for Humanity - denotes their purpose. The proceeds from their artworks, go towards humanitarian relief work, be it the education of children living in rural areas or providing food for pandemic hit labourers.
Of the duo, Subodhini takes us through a journey where both of them came to be interested in the field. She says that her mother, Vinita, has always had a creative streak. As a young girl, Vinita would often look at movie posters or hoardings of paintings and wistfully think of a time when she would also get to paint. After her BA, as the story often goes, she married and dedicated her life to being a homemaker, a good wife, daughter-in-law, and mother of three. Then as the family relocated from Mumbai to Dubai, and her kids grew up, it was time for the twist in the tale. She endeavoured to take charge and make her creative talent be known. Subodhini rings praises of her mother and tells us that she is a self-taught artist, and is a major inspiration for her.
Subodhini is a Mumbai born, Dubai based artist, illustrator and designer. She has recently illustrated a children's book Run Saba, Run! Written by Upasana Makati, it speaks of the adventurous journey of Saba and Kabir written with a hope of 'shattering little myths regarding sports played by persons with blindness and encouraging diversity and inclusion in the blossoming young minds of today.' Together, Vinita and Subodhini realised that creating art has been their calling all along and thus began their collaboration with a cause. Subodhini tells us more about their journey, their creative process and what lies ahead.
How did art come to be an important part of your lives?
After relocating to Dubai, I studied BBA at university and specialised in marketing. After the last semester of BBA I came to Mumbai and attended an art workshop, and that's when I knew I wanted to further pursue Fine Arts as a career. My parents were very supportive and encouraging, without any judgement. My father always told us kids that if we pursue what we love, we'll be successful at it no matter the field. So instead of following the norm and doing an MBA, I followed my heart, came back to Mumbai and studied Fine Arts at an Art School.
From being a business graduate to working in the family business and then taking the leap of faith into the art world, it has been quite a journey. Much like the lines from one of my favourite poems by Robert Frost, "Two roads diverged in a wood, and I… / I took the one less travelled by, / and that has made all the difference!" We've always been passionate about art, it has been an integral part of our lives since we can remember. Growing up, I never knew I was going to be an artist but my mother made sure she enrolled us kids - both my younger brothers and I - for art and craft classes, every summer vacation. My parents and I loved going for art exhibitions and to museums et cetera. Even our family holidays included visits to the art museums like the MET Museum, MoMA, Dali's Museum, and that exposure developed a deeper understanding and fondness for the art world.
After my formal training in Fine Arts when I came back to Dubai, we started painting together as VinSu! We took it up as a means to fulfil our lives' purpose, our calling. So what started as a hobby and a passion project, turned into a profession and we were driven to serve humanity through our paintings.
Can you deconstruct your artistic process for us?
As artists we never have an off day; our senses are always activated, observing all the time, getting inspired by everything around, even while traveling. We absorb everything around us - nature, architecture, people - and take pictures for references we might like to use later. Nature is our biggest inspiration, the colours and textures of the flora, fauna, rocks, sea, sky, sunsets, sunrises, moon, cloud formations et al. Beauty is in everyday things, simple things we tend to take for granted.
We create soulful pieces of art, passionately and joyously transmuting emotions onto bare canvases. We've developed our own technique, which determines aesthetic, as much as aesthetic determines the medium. We generally like working with mixed media, acrylic paints, oil paints, charcoal, spray paints, oil pastels et cetera, giving layers and depth to our artworks. We have a vision of the colours, textures, forms, composition, among other aspects before we start painting. We love the surprise element, as the painting evolves with every brush stroke and the outcome is unknown until the end. Overall our painting process involves us diving right into the emotions in the moment, sometimes while listening to our favourite tracks. We enjoy the process, without worrying much about the result. Painting is meditative, therapeutic and spiritual all at once for us. Art is healing, it helps connect mind and body and also helps to express the depths of feelings that even words cannot.
As an artist, what do you wish to communicate or accomplish through your art?
We firmly believe in the mantra 'create to be alive, inspire others to create, and in the process learn a bit more about yourself'. Art is not just a decorative piece hanging on the wall. It's a form of expression. There are feelings, spiritual self realisations attached to it. It's fascinating transmuting our thoughts and emotions to colours and forms on canvas. We hope to create something that resonates with us and the viewer. We use colours in our paintings based on the emotions we want to portray and what we want our audience to feel. We try to make our work thought provoking, that tingles both your heart and mind, not only your senses. We wish to spread love and kindness, warmth and tranquility, peace and happiness through our artwork. We've realised over the years that following one's passion pays back in unfathomable ways and we hope to ignite passion, humanity and kindness in everyone.
Illustrations are an integral part of children's books and Subodhini, you've done delightful work illustrating Run Saba, Run! What led you to the project?
The books's endearing message and Upasana's purpose really resonated with me. So I jumped right in and grabbed the opportunity to unravel and explore an unexplored avenue. This has been a life altering experience in ways more than one. This book will always be very close to my heart, not only since it's my first but through Saba, I rediscovered Subodhini. I've nurtured each and every character in the book with love and affection. While working on the book, these illustrations became my main purpose for those few months and now that it's out for everyone to see, I am overwhelmed.
While illustrating Run Saba, Run!, what was your creative process like?
Making illustrations for an entire book can be quite overwhelming, so I started small. After reading Run Saba, Run!, I researched visually impaired athletes, their body language, strengths, struggles; like everyone even I was ignorant, and didn't know about how the visually impaired played sports. I then started off by writing down the character sketch, the important scenes I wanted to illustrate, created tiny doodles, storyboard, sketches, decided on the design, colours and so on. Further dwelled into how the characters should look, what the backgrounds should look like, then finalised the sketches.
The heart and soul of the book is the message of an inclusive and accepting world of all diversities, so I wanted to inculcate that into my illustrations by developing innocent, relatable characters. I've nurtured each character from inception to completion, creating a colourful and serene world for Saba, Ira and Kabir! The illustrations are hand painted in light, calm, soothing colours yet attractive enough to maintain the innocence, simplicity and relatability of the characters. I wanted to maintain the traditional yet serene look of the illustrations in water colours, unlike how they are popularly digitalised these days. I switched from acrylic on canvas, to watercolours on paper giving life to the character sketches, I thoroughly enjoyed the enriching process of exploring this whole new world of being an illustrator!
What are you both working on next?
There's a lot in the pipeline actually, we are currently working on some commissioned art works, exhibitions and a special collaboration on conscious parenting. We believe that, "Life is like a canvas, you can paint it the way you like and unapologetically show the world your true colours."


Text Devyani Verma
Date 04-05-2021