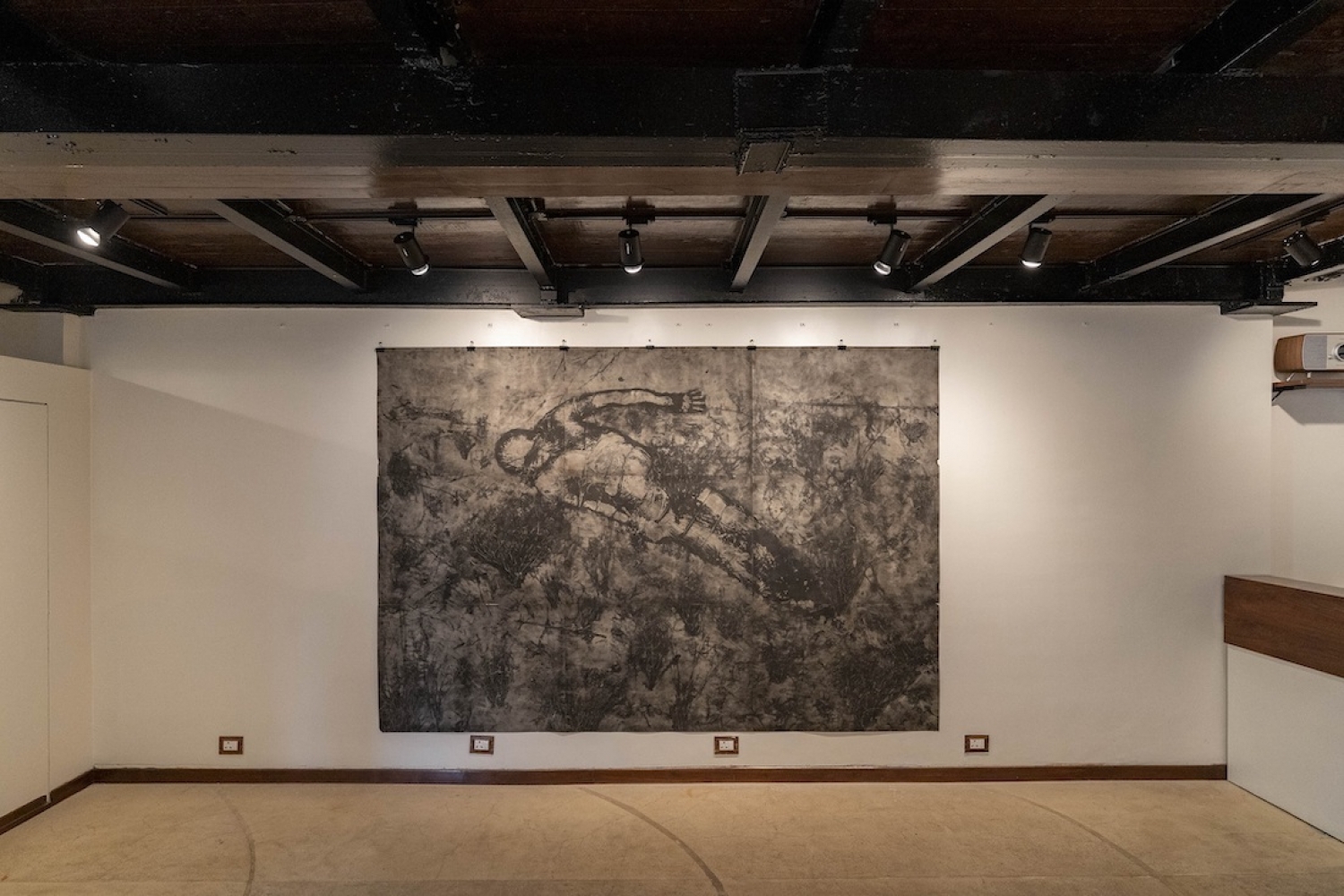 The Artist Speaks
We are in a time where there is so much around us to engage with. At a time when anything and everything can come under the canopy of art, I chose to look within. However, I am yet to decipher the reasons behind such a choice. And in finding answers to this question, I am constantly engaging with my body, in distinct postures, different contexts, and my relation with my immediate environment. My current art practice involves my body as a material and tool in works.

I am trying to search 'Who is this body in my work? What is the politics of this figure?' By extension, it becomes an inquiry into self and the times this self-cohabits with others. My works mainly involve body prints on paper with the help of soot (lampblack). I use my body in different postures and with different materials. Anxieties, desires, and bodily pleasures are not distant other and are common in my works. Repetitiveness is constant in my process and yet it is not the same. Now I am using this process as performative or exhibitionistic by doing it when others are present.
About The Artworks:

Untitled 3
Untitled 3 emerged as a result of the synthesis of my understanding of my nearby spaces and my own body. Observing my own physical changes and decaying, I got peace by the observation of wild grasses and bushes on barren lands that just grow, flourish, and end in every season without any purpose. Roaming, sitting, and sleeping in such spaces I finally ended up building an understanding of my own life.

Untitled 1 and Untitled 2
Work Untitled 1 and Untitled 2 emerges from a time when I was looking at the body as a site, a site for activities, whatsoever happening over it became important. I however choose to depict it as a still image from a series of continuous movements. That time I quite enjoyed looking at Egon Schiele's way of looking at and drawing bodies. For me, it became more like a pause in a play that forces you to stop yet you keep running in thoughts.
Untitled14
Untitled 14 comes from the time when I was observing changes in my relationships with people. The materials I encountered and used at that time are highly decorated as if I am wearing a fancy and decorated life yet it is becoming and ending in captivity and suffocation.

Untitled 5
The work helped to explore the medium further. It became an approach to understand the relation of my own body with the self. The silence of the room, the sudden sounds and the touches of objects, clothes and own segregate pleasure that often comes and goes, that is not present yet ever-present.


Date 02-12-2021