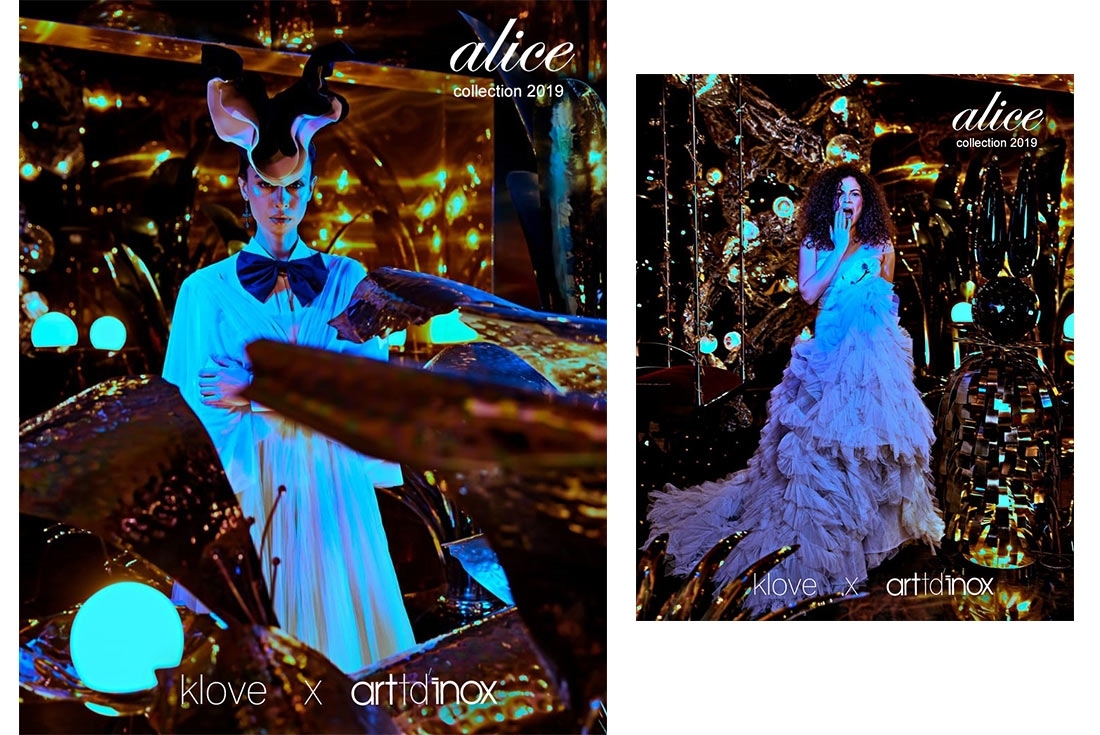 The story of Alice in Wonderland has never lost its appeal, it's story still being re-told across cultures. Alice, in her world, had to take charge of her instincts, ask questions, stand her ground and keep her powers of curiosity and wonderment healthy; to become the timeless icon of Life's lessons that she is, even today.

Through Alice, the special capsule collaboration by Arttd'inox and Klove 'illuminate' the persona of a post-modernist Alice, equally pure-spirited and sprightly girl, in the mind-boggling chaos of today's 'real' world. The 'reincarnated' Alice is in complete control of her own magic. She has an answer to that 'great puzzle' the question, "Who Am I?" Our Alice enjoys her space, expresses herself through it and is not apologetic about how she chooses to celebrate the journey of her Life.

The 15 pieces of this collection are sculptural and decorative, a tribute to the mesmerising harmony between two diametrically opposite elements – tough, durable steel; and fragile, brittle glass. They are also playful, surreal and fun, reviving nostalgic memories of personal favorites – be the characters or objects – in the Alice and Wonderland story.

Before anything else, why Alice?
We wanted to tell us a story and do a collection that tells a story and we wanted it to be relatable. In today's time, we felt there was a real need for a story centred around women and is unapologetic because a lot of the times, even in the 21st century, choices made by women are questioned at every step, questions that men have never had to answer. Through our own way, we wanted to put across women that we admire, and are inspired from, women who do what they want to and are unapologetic about it.

What does the modern-day Alice look like in your head?
Modern day Alice in my head looks like a girl who is living life to the fullest, making choices by putting herself first irrespective of what society expects her to do and to be.

How did the collaboration with Arttd'inox came about?
We admire Mrs Deepika Jindal greatly and her way of doing things that are completely her own. When she approached us for the collaboration, we totally jumped on the idea because she comes from a background of a material like stainless steel that they understand so deeply and are masters of steel and we come from a background of blown glass and it was a golden opportunity to work with someone who understands and loves craft and the medium as much as Mrs Jindal does.
Was there a color palette that you thought of to communicate Alice's story?
We wanted the story to become a little bit more dark and sinister and at the same time psychedelic, and that is why we chose the iridescent palette and a magical forest feel in saturated colors of purple and green.

How was Design ID 2019?
Design ID has been great and its always a treat to be here, it's also our main platform to exhibit our work and it always has been and always will be.

Text Hansika Lohani Mehtani