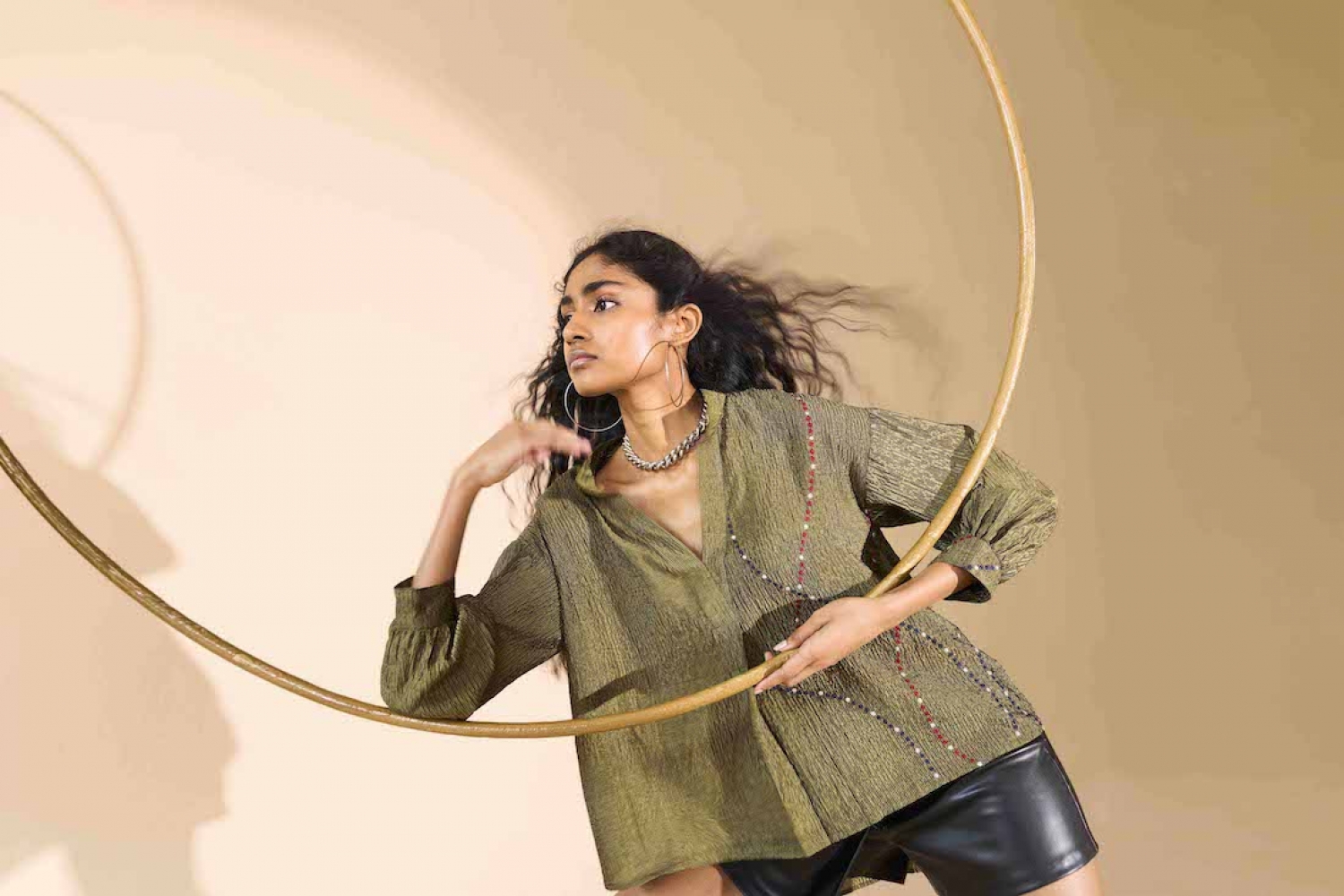 Alamelu, one of India's youngest Ready-to-wear labels born in 2020, is all set to launch its latest collection – ARThistry. As always, inspired by the intermingling of art and design, the latest collection finds its inspirational resonance in the vast and deep history of India, moving with time and yet holding its deep-rooted syncretic culture dear to its heart. Combining the graphic allure of hand-embroidery on timeless textiles woven at the Alamelu state-of-the-art facilities, this collection is made for modern times, for it is thoroughly effortless and timeless. Consisting of a lineup of ready-to-wear luxury separates for special occasions, the collection brings more than just Alamelu's signature three-dimensional textures in textiles.
In the true style of K. H. Radharaman, a master in the designing of textiles, ARThistry presents, for the first time, Metallic Georgette ensembles that look like translucent molten metals. Further showcasing the versatility of his craft and design thinking, K.H. Radharaman transforms materials from woven surface embellishments to modern and delicate embroidered embellishments. Through Alamelu, Radharaman has dared to shift the origin of the design process to the very beginning, as he engineers a series of fabrics that are unique and artisanal. Utilizing his command of the woven vocabulary, the brand aims to break several established molds in Indian Design.
The palette is contemporary, beginning with warm, luminous moss greens, olive, navy, and jewel-like ruby tones highlighted with hints of silver and black metallics. The fits are free, airy and relaxed, created in the most luxuriously light silk known to man, allowing the wearer to feel confident in effortless ease. The cuts play with proportions and layers as an ode to the designer's enduring obsession with Modernist lines and constructions. As a result, Alamelu presents a truly modern design offering for the cosmopolitan woman of today. In keeping with his exploration of surfaces through textile design, K.H Radharaman has pioneered another series of three-dimensional textiles that are breathtaking in their ability to convey the power of textile design in yet another medium. Each garment, therefore, becomes a canvas on which the tonal palette, brushstrokes, and natural inspirations take form. Each piece is a work of art.
The Colours - The palette begins with warm, luminous moss greens, olive, navy, and jewel-like ruby tones highlighted with hints of silver and black metallics.
The Textiles - The graphic allure of hand-embroidery on textiles is woven at Alamelu's state-of-the-art facilities.
The Silhouette - The silhouettes are free, airy, and relaxed, created in the most luxuriously light silk known to man, allowing the wearer to feel confident in effortless ease.


Date 04-01-2022