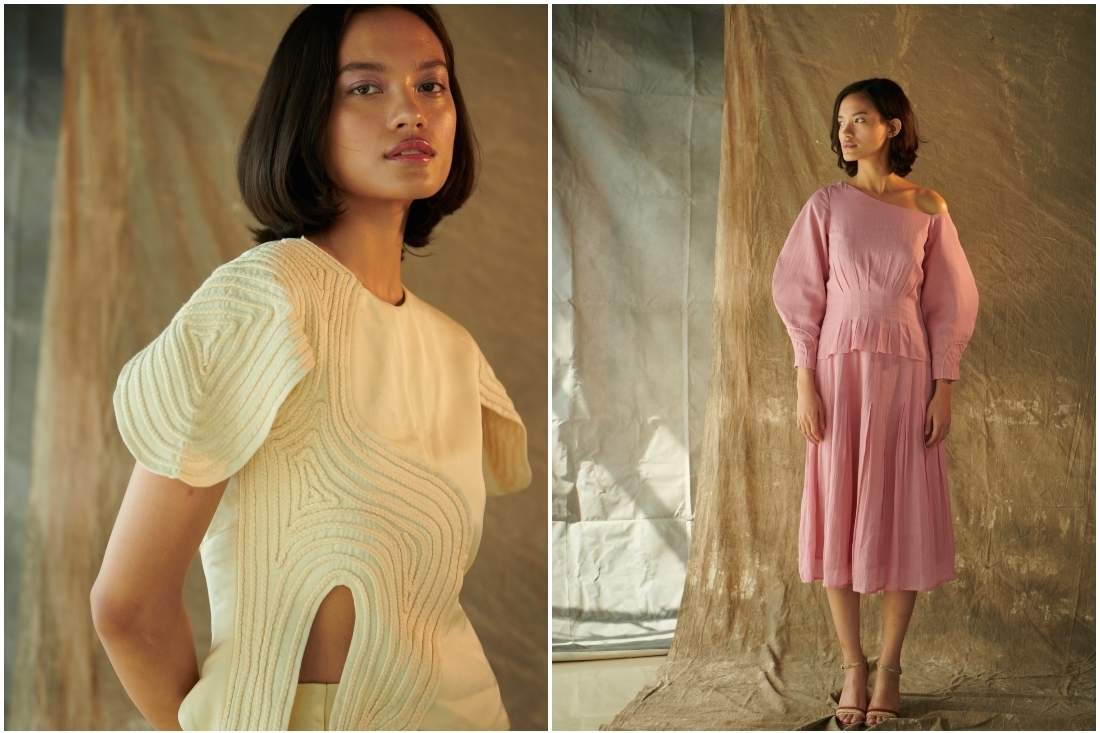 Bhumika Ahluwalia had been inclined towards design since her childhood. She vividly recalls constructing clothes for her dolls. Soon she recognised she wants to pursue design full time, which led to the onset of her education. She would research designers on her own, in a bid to understand their aesthetic. She later pursued a diploma from Raffles Design International at Mumbai, and then went on to study at Central Saint Martins in London. She adds, 'I did courses in various fields of Design. For some reason, I always wanted to study at Parsons in New York. During my courses in London, I applied to Parsons School Of Design for a degree and got in. I loved my time at Parsons, it moulded me as a designer. I've also worked at design houses in New York before moving to India.'
What followed was a series of events that led to the conception of her label Mishé, co-founded with her mother Minakshi Ahluwalia. Fresh out of Parsons, Bhumika set out to explore textiles and craftsmanship across India. Their label was conceptualised post visits to multiple art exhibits by the mother daughter duo. However, the laborious process didn't just end there. They took six months to begin working on the first collection and another six months to finally launch the label in August 2018.
Drawing inspiration from architecture and geometry, the Mishé aesthetic is clean, minimal, and a rousing exploration of muted palettes. The collection at the upcoming showcase for the GenNext designers is titled Shuwa, which stands for sign language in Japanese. Talking about the collection, Bhumika explains, 'I took up a class in New York for sign language, which is used by differently-abled people to communicate. My professor couldn't speak or hear, but the way he taught us was exceptional. The hand signs and movements inspired me to make this collection. I juxtaposed the shapes and forms created by such hand gestures and movements into silhouettes. I used mainly alphabets to make the silhouettes and other details in the garments.'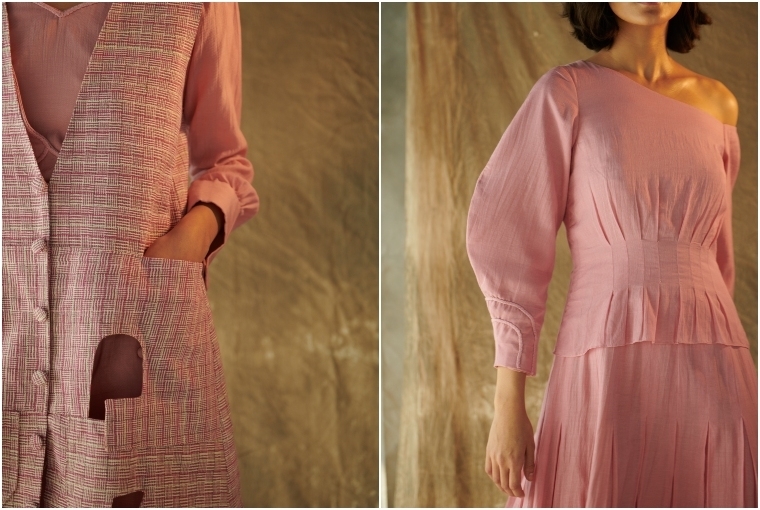 Like with many others, the onset of Bhumika's engagement with sustainability began post watching the documentary True Cost as a student. She realised the grave scenario and how truly important it is for designers, as well as consumers, to be fully educated about their consumption practices. Thus, the foundation of Mishé is built upon transparent practices and a clean supply chain. The designer's main aim is to keep her karigars and their narrative at the forefront. She elucidates,'We make sure that the fabrics we use are consciously made. For our first collection, we have used handwoven fabrics. The GenNext collection showcases banana fabric, orange peel fabric, recycled cotton as well as handwoven fabric. We use a lot of zero-waste pattern making techniques in our garments, and also make sure that if there's any leftover fabric, it is used in making brooches, pouches, details in garments. We just launched a line of up-cycled masks as well'. The label is tirelessly working to reduce their footprint for a more conscious future.
There is a deliberate shift in the industry, consumption patterns are evolving and so is the attitude of designers. There are many who are consciously rejecting the conceptualisation of the fashion calendar across the globe. Bhumika understands the situation at hand, she recognises the power that lies in the hands of the designer and agrees that it's important to take the right decisions at the level of production itself. 'All of us need to slow down, especially now that we are in the middle of a pandemic. I feel if we all do our bit, little by little, this planet will be a better place', she asserts.
At the moment, while the team is extremely grateful for the platform they will receive due to the Lakme Fashion Week GenNext showcase, they're already planning ahead. Since Mishé is a slow label and doesn't indulge in season wise collections, they're planning to reach out to clients across the world, to further their narrative into not just a domestic, but a global one.

Text Unnati Saini