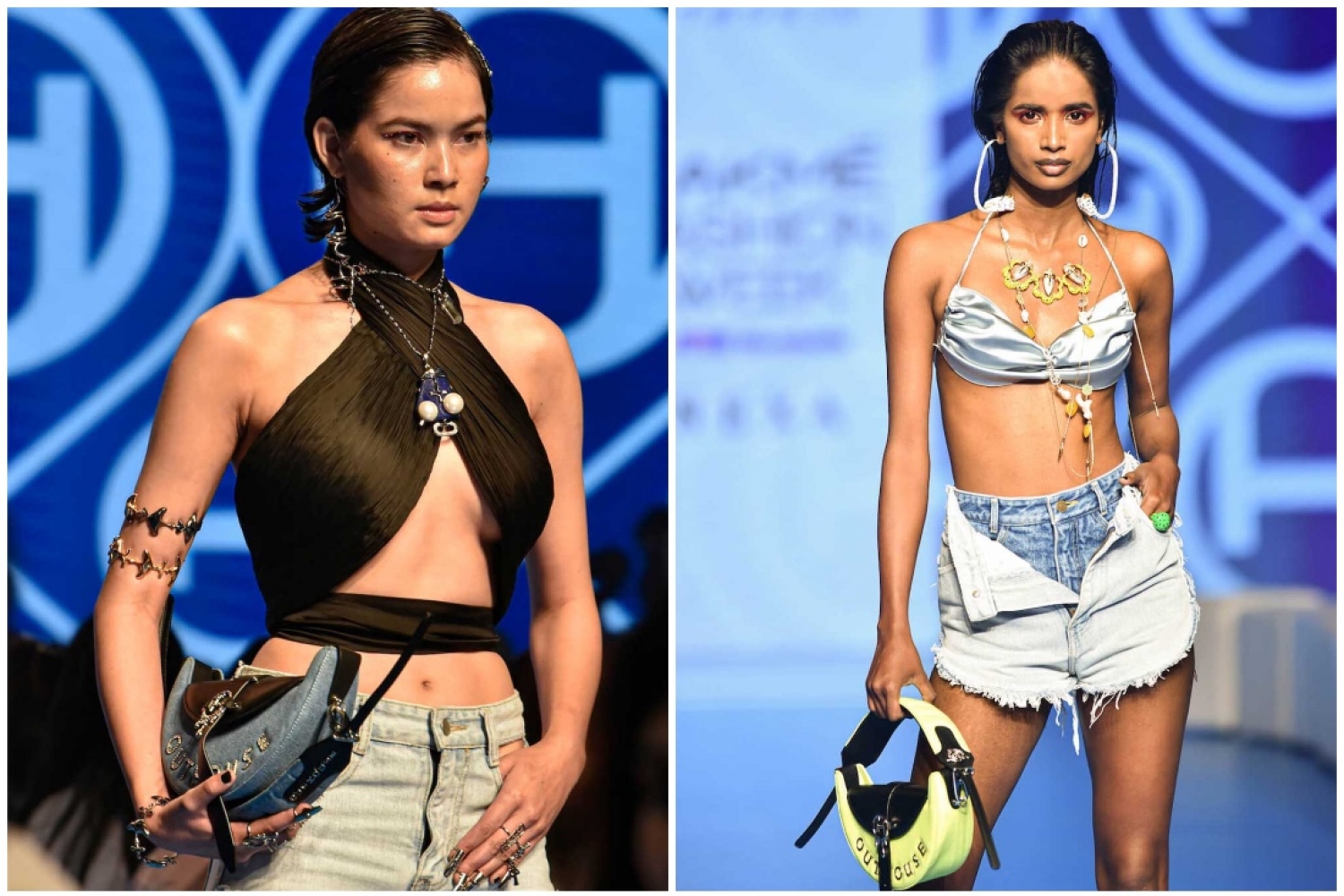 For their return to the fashion week, Kaabia Grewal and Sasha Grewal, founders of the jewellery label Outhouse, wanted to create a collection that would be disruptive in nature. With innovation being at the core of the Outhouse foundation, the main intent was to bring back a sense of joy and exuberance through their stand out pieces. An ode to simpler times, the new collection is reminiscent of the fond memories that have accompanied us from the 2000s. The sister duo wanted to instil the emotions of boldness and free-spiritedness in how one expresses themselves. The first rendition of the collection was conceived through joyful expression which captured one's eclectic self with a fascination for positivity. The second half was inspired by their own rendition of the Fantasy Cowgirl, which is edgy and unapologetic. Through OH Dopamine, they wanted everyone to feel a mood-stirring sense of energy, with sharp, clean and edgy designs brought to life in medleys of vibrant colours — a quintessence of the sensation that one feels through dopamine.
We're in conversation with the designers as they tell us more.
What drove the slightly Y2K feel of the collection?
OH Dopamine brings forth a deeply rooted sense of nostalgia which has also been a significant part of many of our recent collections. A huge part of the collection is inspired by the ways in which Sasha and I used to dress up in the 2000s and it has been translated into a very new yet relatable version of the same. Through the collection, we wanted to translate the fun and vibrant moments of that time using a range of vivid materials, taking inspiration from the elements that influenced the era of the 2000s. OH Dopamine also revisits the journey of Outhouse as a brand and how it has progressed over the past years by utilising unconventional materials that make the creations stand out. The Raffia belt bags, the iconic crystal Furbie and the ultra glamorous chain belts, along with an interplay of silver, enamel and colourful beads, together bring about a revival of an era steeped in glamour and vivacity.
Take us through your creative process.
The first starting point of our creative process is putting together a mood board, which is something we strongly follow as a brand as it helps us realign at each and every step. Post this, we go into a rigorous creative conceptualisation and ideation stage, working on our motifs which are further married into our designs. We aim at making every creation a wearable piece of art. Once we start working on the concept of the motifs, those are then used to define the broader categories and further incorporated into our designs. After a meticulous process, which prevails for over two to four months, everything is casted into a mould and handcrafted into the final product.
What guided the colour palette for the collection?
The collection celebrates a delicate mix of vibrant hues and glinting metallics. We wanted to experiment with the summer colours that make a classic statement this season along with silver finishing which is being done by us for the very first time as a brand. Each colour that has been incorporated into the collection, speaks of a strong sense of individualism and impeccably resonates with the colour-high one feels through dopamine. An addition to the legacy of bags of Outhouse, the new creations are present in tones that are perfectly in sync with the opulent gold monogram of the House, echoing a new identity of the brand. The primary idea was to bring in a varied play of emotions through the colours used, evoking a powerful feeling of joy and dynamism when one glances at them.
Where do you see Outhouse five years from now?
As a brand, we are constantly evolving and strive to create designs that are diverse and unique. We aim at building Outhouse to be a lifestyle brand by delving deeper into a wider product range and offering a broader vision of experimental designs. We also look forward to expand within India as well as internationally, and strengthen and streamline our operations further.
Finally, what's keeping you busy right now?
Having received an overwhelming response for our latest collection and the show, we are currently focusing on preparing all the pieces and our ready-to-wear line.
Text Unnati Saini
Date 18-04-2022