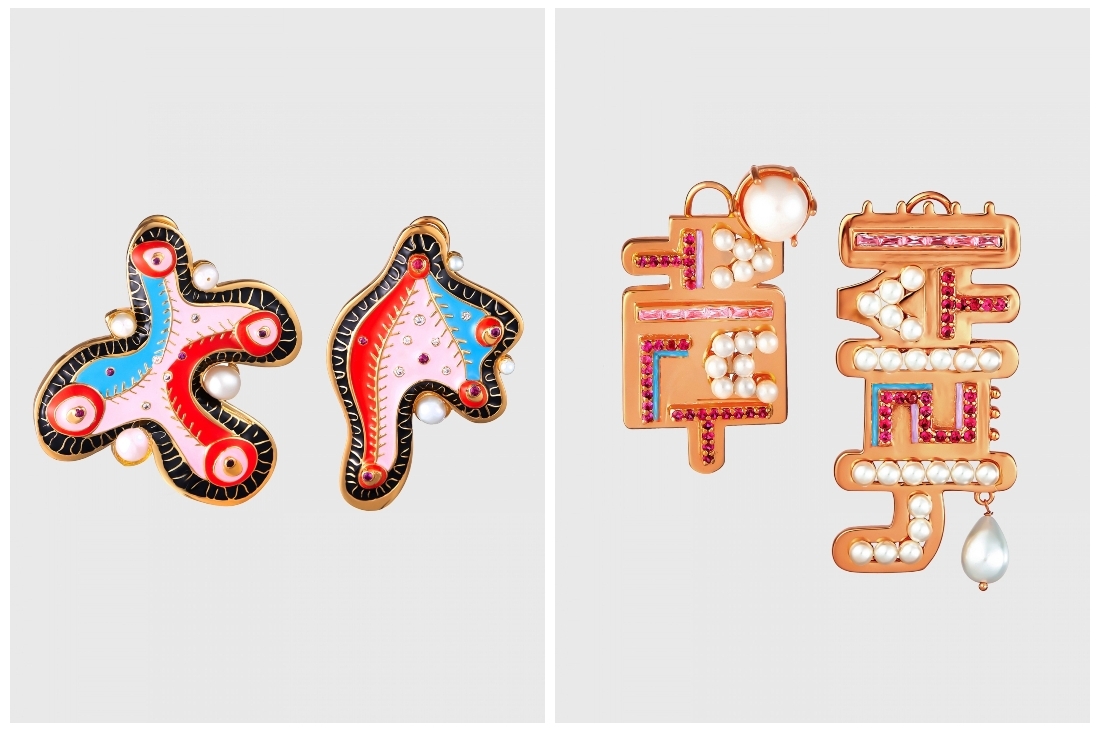 The maestros of luxury resort wear, Shivan and Narresh have mastered the silhouette floating between the sand and the sea. Creating luxury resort wear for over a decade now, their design universe has changed in a monumental manner. First recognised for their colour blocked aesthetic, the fashion house is now known for its art of prints. Now, adding jewellery and accessories to their creations, they have stepped up from being known as India's first luxury swimwear brand to the first luxury holiday lifestyle brand that caters to holidays, destination weddings and honeymoon getaways, glorifying the art of travel and lifestyle for millennials. Their latest collection is heavily inspired from Korean culture — the colours and the forms. We connected with them to know more about the line, their evolution as designers and coping with the pandemic.
Let's start from the beginning, how did you choose to venture into jewellery beyond your signature, resort wear?
When we gradually transcended our swimwear landscape to abide by a larger holiday universe, jewellery and accessories carved a unique niche of their own. Jewellery especially became a key segment of our collections as it closed it perfectly with its defined nuances. There was an inherent need for jewellery pieces that you would like to travel with, which aren't traditional and carry a bold statement for your decadent holidays, honeymoon or destination weddings. Over the years, we have introduced crystalled signature Skein-work neckpieces and neck collars, statement earrings and pendants.
With every seasonal series, be it the Seychelles-inspired EdoMer Series or the Korean-influenced Seoul Series, each jewellery edit received its own focus with elements from the centre of inspiration theme. For Seoul Series, you will see Amoeba Earrings taking inspiration from Korean balance of colours or Essenseoul Earrings imbibing the codes of Korean calligraphy — each piece has been designed to create a statement style.
Through the years, our close association with Swarovski too has resulted into a select of Confluence Jewellery, giving statement Swarovski studs, teardrop earrings for women and cuff links for men — all festooning the umbrella of a Shivan & Narresh holiday lifestyle.
What was the starting point for the collection?
The Shivan & Narresh Jewellry's Seoul Series, strives to illustrate Seoul's heart, essence and charm through colours & forms. Painted through a striking colour palette, a stark contrast is created through hues that characterise both mundane and prismatic undertones. The shades have been derived from characteristic Korean elements, namely a rosy Hibiscus from the defined local rose, Kebia from authentic Korean caviar, a calming Aqua blue denoting the tranquillity of the Han river, a golden Gyum yellow extracted from the local flower, gaenari, seen blooming around sidewalks and parks, and an ivory Hyan from the infamous rice cakes — these have been merged superfluously to give the prismatic exuberance of the statement Amoeba Earrings.
Essenseoul Earrings enjoy the Korean calligraphic style denoting 'Shivan' and 'Narresh' on either side as an asymmetrical look with pearls and zirconias on a luxurious 22K rose gold plated Italian brass. While immersed in the luscious gold hue, Paramecium and Udder earrings are complementary designs of the abstract and asymmetrical styled art that we experienced in the land of K-pop.
You've been a part of the fashion industry for a decade now. How do you think your sensibility as designers has evolved?
The brand completes 10 years in 2020. Through the years, observing the demands of the global millennial traveller, we have taken an effortless plunge into extending towards resort wear, menswear, accessories and most recently, celebration wear considering the popularity of destination weddings. As multifaceted individuals with multiple needs, millennials and generation Z are constantly looking at functionality of tangible products — their celebrations and what they pick to wear for those are no exception to this. They wish to enjoy celebrations while at ease, rather than being caught up in their outfits.
For example, for the occasion of mehendi, an increased request from the bride has been observed to jump into the pool wearing her Shivan & Narresh Neoprene lehenga or a sari along with her bridesmaids, after the ceremony gets done. Brides on their wedding day are increasingly opting to wear their decadent signature skein-work lehengas, which are one-fifth the weight of a traditional lehenga, so that they can effortlessly shake a leg and enjoy each moment at their wedding day. It's these kind of experiences that millennials of today want to indulge in and the fashion they support needs to support that.
The evolving needs of the younger cohort are centred on the choice of our fabrics, skein-work and silhouettes. Each of our creations imbibe and personify the idea of a contemporary vision of a piece, whilst keeping the essence of the traditional heritage and modern sentiment of the customer.
In the current scenario we are in, the world is rethinking everything — be it life or work. Entire fashion weeks have gone digital and runway shows are being replaced by fashion films. What do you think the new normal will be post the pandemic? Or rather what is the next big thing in fashion?
We are already living the new normal. The learning curve for living life a certain way and on certain needs had completely been shaken. Hence an opportunity for opting a choice for multiple different ways of living, through alternate career and lifestyle choices which would be considered normal, and new ideas will only prosper.
Post this global health crisis, everyone needs to align with a more eco-conscious sartorial landscape. Presently, all fashion houses and brands have taken a step back and introspected their occupational needs and spends. In every step along the way — be it inspiration, design, construction, production, marketing, merchandising, procurement and delivery — each step has been pondered upon in detail and expedited sustainably.
Where digital disruption has already surrounded us with phy-digital fashion shows, Instagram collection drops, digital events, e-retail, e-appointemnts, et cetera, there is also a growing need of up-cycled and recycled eco-conscious collections. We have personally also been working on up-cycling our old campaigns and product categories, to slow down the neck breaking pace fashion is used to working on. Due to a lack of a larger canvas for get-togethers and celebrations, fashion trends have become season-less, with precedence being given to minimalism and comfort. Loungewear and sleepwear are seeing a brighter side of the day finally, with millennials and gen-Z opting for effortless, luscious fabrics like silk satins, simple knits, crepes et cetera. It does not come as a surprise when we observe that PJ sets, kaftans, co-ord sets, tunics, polos among others have sold extremely well during the lockdown time online. The customer is socioeconomically and environmentally conscious, and is thinking twice before indulging in utility products. Needless to say, they are shying away from mass-produced brands and shaking hands with up-cycled quality products, a trend which is here to stay for long since for the first time it's being pushed from bottom to top, in the fashion buying pyramid.
Text
Hansika Lohani Mehtani