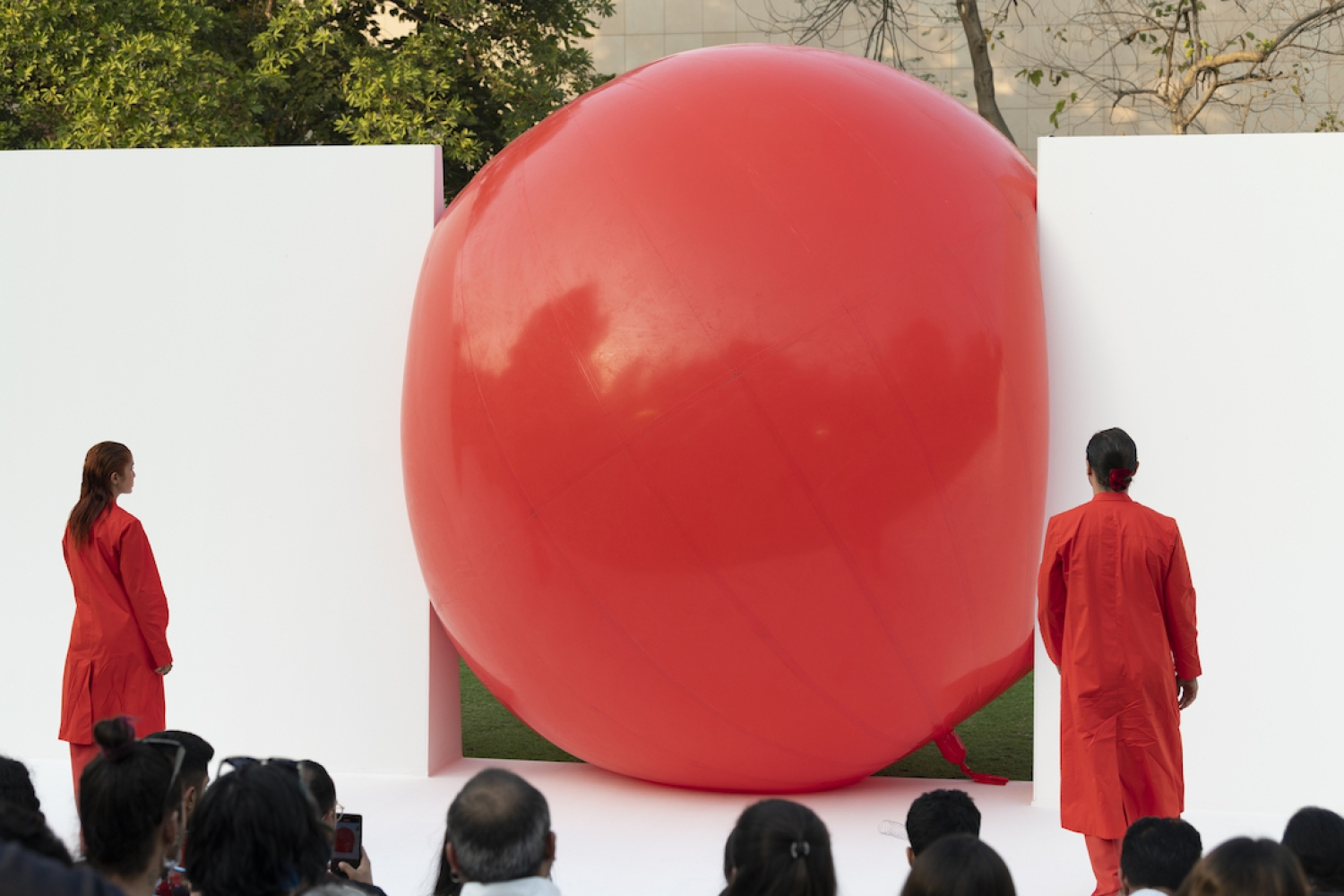 For designers Amrita Khanna and Gursi Singh of Loverbirds, the inspiration stems from nuances of life and elements of nature. So, the designer duo turned inwards for their Spring/Summer 2023 collection, Space in Between. Evoking a sense of nostalgia while also staying true to the label's design language, the garments seek inspiration from architecture, geometry, and clean lines. The show heavily featured 'the circle' in varied means, the sculpture, motifs in the garments, and jewellery, with the quintessential Lovebirds motif that is now synonymous with the label. It signifies form, movement of space, and the weight that binds them together or the lack thereof. It has no start or end, it's the vastness of the shape that their designs embody. We're in conversation with the designer duo as they let us in on the process behind the collection.
How did you reach for the title, Space in Between?
Lovebirds bloomed from partnership, companionship, and togetherness. It is love that guides and anchors our worldview. Our symbiotic relationship as founders-cum-partners has informed all creative processes. The brand's growth and maturity are reflective of our evolving interpersonal and professional relationship. We have always been intuitive in our design language and have lately been exploring a realm where design meets art and culture. As the title suggests, Space in Between is grounded in collaboration and represents the limitless possibilities and intangible interactions that constantly take place in the space between us.
Tell us about your collaboration with Doyel, Neil, and Mandovi. How did that come out to be?
As an extension to the Lovebirds DNA, we collaborated with artists and real-life partners Doyel Joshi and Neil Ghose Balser from Howareyoufeeling.studio. Their act was an inquiry of imagination that featured a sculpture and performance where the large red ball was a symbol for the form, weight, and movement of space against the stark white walls of the runway. We identify with love that has aged with time and wanted a mundane exchange from a relationship to seamlessly flow through the performance. A conversation between two lovers echoed through the sound of the show with words written by Mandovi Menon.

Also, what guided the need for a performative presentation this season?
Over the years, we have stopped seeking tangible goals and have focused purely on pushing our creative threshold. One way to do so was to amalgamate design with art and intuition, and expand on what it truly means to co-create. Lately, we have been exploring creative collaborations through art. This runway presentation was an extension of the same larger idea — to amalgamate contemporary art, design, and culture; making it an immersive experience in which the brand has always taken pride.

The performative presentation was thus very much intentional and appropriate for designs that are born from harmony and juxtaposition, and are at their very core — collaborative in nature.

Finally, what's coming up next?
We will continue to explore new creative horizons while still focusing on quality over quantity and sustainable production practices. We're excited to evolve into a brand that is design-led and is a convergence point for art, culture, and fashion to all come together. Lovebirds will continue to explore spaces and collaborations while venturing into newer arenas in fashion and accessories. The larger goal is international expansion and more global recognition in retail. We are partnering with Matches Fashion, Harvey Nichols UK, Beams Japan, and Ounass in the Middle East to facilitate this.

Words Unnati Saini
Date 13-03-2023