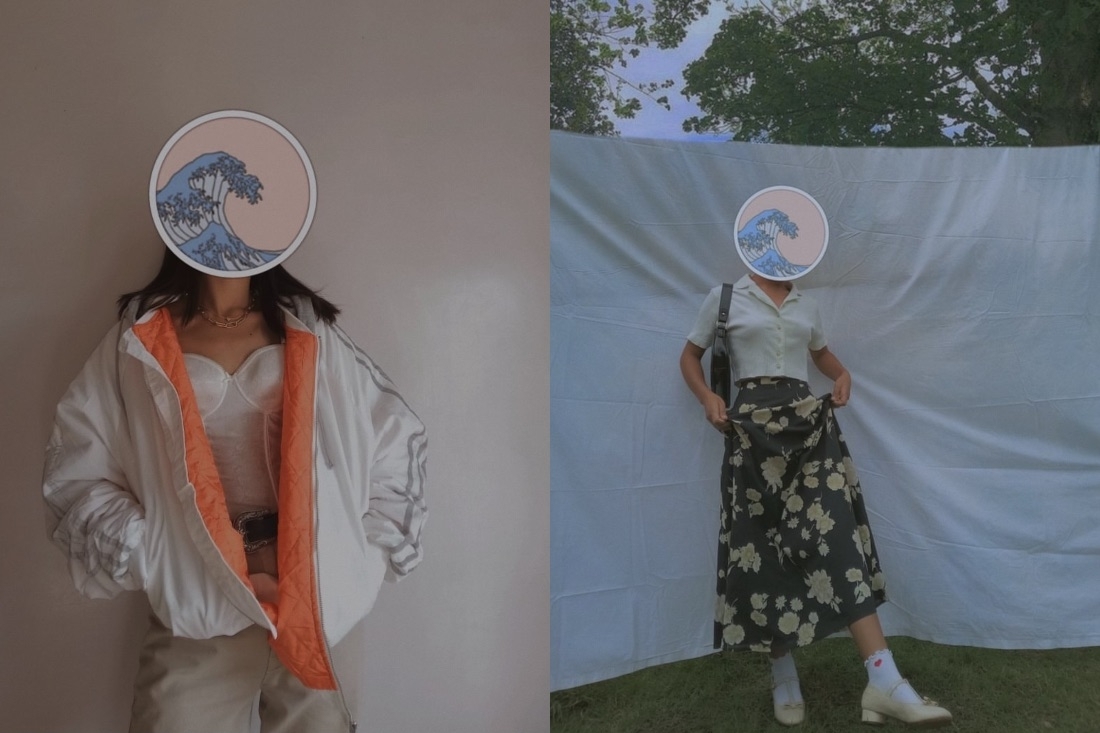 When you think of the word 'thrift', if the words 'second hand', 'old', or 'used' come to mind, you're not wrong. However, there is so much more to the process than meets the eye. Thrift shopping is an experience in itself, as you carefully select rare, sometimes one-of-a-kind pieces, that have their own history. However, one of the biggest benefits of thrifting is the positive effect it has on the environment. Second to oil, the clothing and textile industry is the largest polluter in the world. Emitting nearly 10% of global greenhouse gas emissions, and producing 2.1 billion tonnes of CO2eq in 2018, the fashion industry is a major contributor to global warming. Choosing to wear secondhand clothing could drastically reduce the unnecessary overproduction, pollution and waste created by single-use clothing around the world. As the world's landfills fill up with clothes we've declared 'out of season', 'ancient', or 'plain ugly', we are ignoring the effect it has on our planet.
While physical thrift stores in India are rare to find, the online markets are flourishing. During the pandemic, we realized just how easy it is to get most of our shopping done from home. especially with the help of Instagram. Listed below are 5 tried and tested Instagram thrift accounts within India that we recommend.
Lulu Thrift (@lulu_thrift_)
An Instagram-born thrift store started in March of 2020 by Lucille Khawbung, it has managed to gain nearly 19,000 followers within the last year. However, this comes as no surprise. Lulu Thrift offers a wide variety of trendy unisex clothing and accessories, that are up to date with the ever-changing fashion trends. One can find classic pieces that remind them of the late '90s and early 2000s, with oversized shirts, funky tank tops, graphic tees, and baguette bags on sale. Khawbung encourages more Indians to thrift as she too is a big believer in 'rescuing the planet from the waste produced by fast fashion brands,' she tells us.
Holy Molly! (@holymollythriftstore)
An Instagram thrift store started by two Delhi-based sisters, Prerna and Priyanka Prasad, has 'got clothes for everyone'. 'Fashion and clothing are beyond gender norms, body types, and skin tones,' say the fashionable, trailblazing sisters. The chic halter tops, iconic patterned shirts, and elegant corsets simply go to show that they truly have something to meet everyone's needs. Their goal with the Holy Molly Thrift store was to break common stereotypes and sell 'affordable and gender-fluid fashion that reduces one's carbon footprint,' they share. So, if you can make a difference, and dress your best while doing it, then why not?
Thrift Right Now (@thriftrightnow)
If you are looking for affordable but adorable jewellery, crystal pendants, and bracelets, then Thrift Right Now has you covered. They also have a wide variety of both summer and winter clothing options, depending on the season. 'I began the business due to my fascination with finding one-of-a-kind pieces and to spread awareness about the implications of wearing fast-fashion,' tells us Charitha Shetty, the founder of Thrift Right Now. Shetty also emphasizes that several individuals have a negative mindset when it comes to wearing pre-loved clothes. However, she reassures readers that thrift store owners take the appropriate measures to make sure each piece is washed and sanitized. She believes that with more awareness and knowledge on the subject 'thrifting can become a lifestyle'.
L: Bottom Drawer Vintage ; R: Thrift Right Now
Vinto Clique (@vintoclique)
Vinto Clique came about when Sneha Limbu's mother introduced her to the world of thrifting. Soon this mother-daughter duo decided to open up their own online thrift store via Instagram, leading to the birth of Vinto Clique in August of 2020. Sneha aims to promote her mantra of 'Reduce-Reuse-Relove' and emphasizes the need for people to be making more conscious fashion choices as 'more clothes deserve to be loved, instead of ending up in a dumpster,' she says. So, if you're looking for the funkiest midi skirts, classic graphic T's, and breezy summer dresses, Vinto Clique is the page for you.
Bottom Drawer Vintage (@bottomdrawervintage)
When Neha Sharma began thrifting approximately 8 years ago, she discovered the beauty in conscious shopping and the need to 'maximize the use of clothes that have already been produced,' she asserts. Bottom Drawer Vintage are strong advocates of size inclusivity and ensure their store 'has sizes extra-small to double XL,' they tell us. With a vast variety of fashion choices from the classic Levi's 501's, cropped shirts, and Cuban necklaces, Bottom Drawer Vintage is your one-stop shop for affordable, conscious fashion.
Text Sarah Affonso
Date 13-07-2021