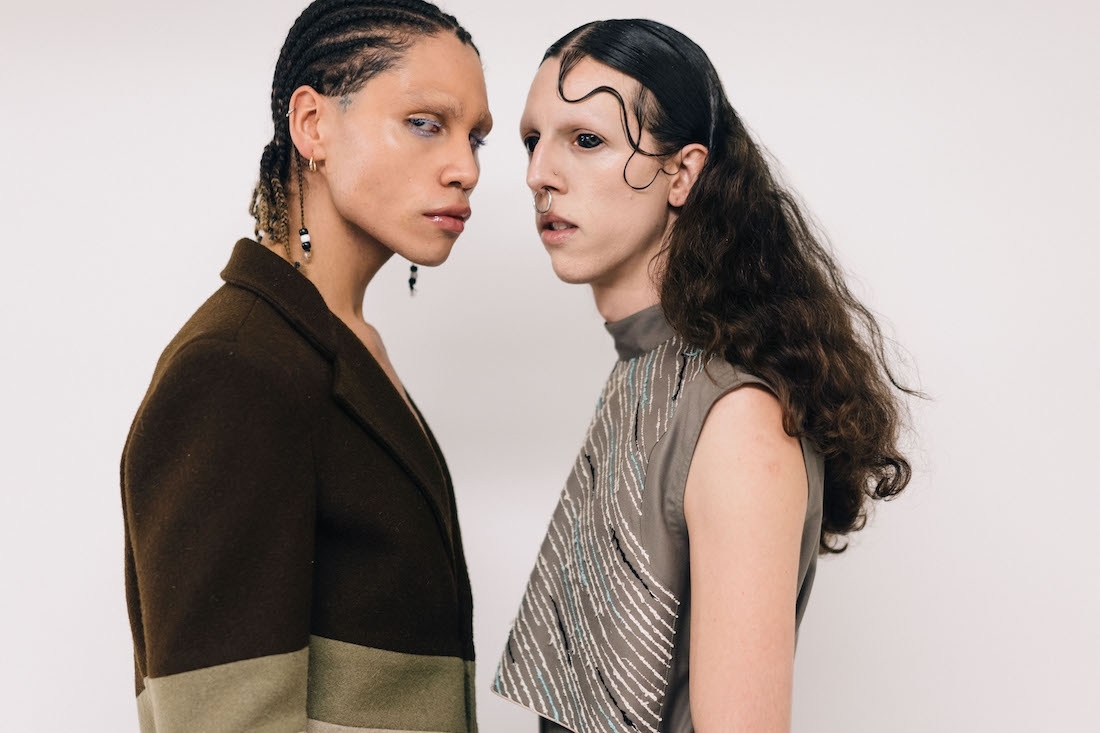 Designer Anvita Sharma of Two Point Two Studio was never someone who indulged in pretend play of being a doctor, teacher or a cook as a child — she would custom design clothes for her friends and would treat them as her customers. Hailing from a family of doctors and professors, she began her journey with Economics and Finance, but it never felt right to her. What followed was a Masters in Fashion Design from Istituto Marangoni in Paris. Anvita's journey with Two Point Two started with a very succinct question, one that we ought to ask ourselves too. She explains, 'I had this urge to question the pre-existing notions of pattern-making, fashion and society as a whole. Why is it that certain silhouettes and cuts are meant for menswear or womenswear, and why separation in an era where gender equality is the way to go.' Built on an innate exigency to unlearn the very construct of gender, the label is fluid in its artistry. It finds itself rooted in not one, but multiple cultures across the globe due to the designer's exposure to a plethora of lifestyles and mindsets, as she made her way through three different fashion capitals in the world.
As someone who has always found herself questioning gender stereotypes in society, Two Point Two is a mere extension of her ideology and an earnest attempt at being genderless and non-conformist. Anvita adds, 'Why is it that a particular colour or shape is feminine and men can't or shouldn't wear it. Why are men who wear feminine clothing considered to be gay? Why can't individuals just be themselves and not be judged? To answer and create conversations about these issues, Two Point Two came into existence. We want people to be able to express themselves through our clothing and be confident in who they are without hesitance.' For the designer, fashion is more than just skin deep, the label's very existence proves to be disruptive to the status quo.
With a healthy interaction between solid colours and more neutral tones, Two Point Two also debuted at the London Fashion Week earlier this year. Strengthening their narrative surrounding gender fluidity, the collection displayed a seamless flow of looks. Their deconstructed sharp and crisp silhouettes were the perfect play between utilitarianism and rebellion. The collection was inspired by the representation of the Lord Shiva's form of Ardhanarishvara, that depicts an androgynous form of Hindu deities Shiva and Parvati. The intent was to present a synthesis of the masculine and feminine energy in one body.
Talking about the need to build a strong visual narrative around the collection, Anvita elucidates, 'The importance U.K., Italy and France give to art, literature and history made me see fashion as not only clothes, but as a platform to voice opinions and rebel against everything that is wrong with the society. These were the places I lived in to complete my studies, hence narrative building began coming naturally to me. Two Point Two has these set of core values and since the inception of the brand, we have talked about the issues of our society that we feel need immediate change and attention.'
Anvita's plate is quite full when it comes to the projects she's undertaking at Two Point Two, the team is tirelessly working towards their latest social media offering, the Freedom Of Project. Created with the resolve to celebrate diversity and individuality in the LGBTQIA+ community, the project aims to normalise everything beyond the gender binary. 'We want to break the correlation between femininity, masculinity and sexual preferences, that are so conveniently used as ways to discriminate in our society. We want to showcase the individual and not which culture, race, gender or category they fall into. At Two Point Two, we want to create a world full of comfort and love for all,' asserts Anvita.
As a creative individual, Anvita attempts to challenge herself every season. The aim is to always indulge in newer forms and techniques, be it in terms of colours, silhouettes or embroidery. She adds, 'Over the years, I think there has been a massive growth in terms of design aesthetic, as well as the process that we follow. With every season, I learn from my mistakes and evolve and grow, making sure that those mistakes are not repeated again.' Her process involves a very go with the flow attitude, and she doesn't pressurise herself to feel inspired. Currently she's found inspiration in vintage photography, and lets me in on the secret that the upcoming collection might just be heavily influenced by it.
Sustainability is an aspect being talked about now more than ever, with the pandemic at hand. Anvita believes that the protection of the planet will be at the forefront, owing to Covid19. Due to this, fashion and sustainability have now intermingled more deeply than ever before. Talking about the kind of changes we need, she shares, 'How we eat, how we live, our buying practices, everything will need a change. Especially in fashion, post the pandemic, consumers should shift to sustainable fashion. They should focus on quality over quantity. Practices like exchanging old clothing, donating old clothing, up-cycling and re-construction, should be adopted instead of throwing away clothes and just buying mindlessly.'
Two Point Two had started indulging in such endeavours much before the pandemic had struck, they held up-cycling workshops wherein they reconstructed old and damaged clothes, free of cost for their customers. Their future collection will further be aimed at reducing clothing waste and will be created from all their existing samples and leftover fabrics. The Two Point Two ethos for the future is one where they're focussed on taking cues from the environment they create in, for a kinder future.

Text Unnati Saini