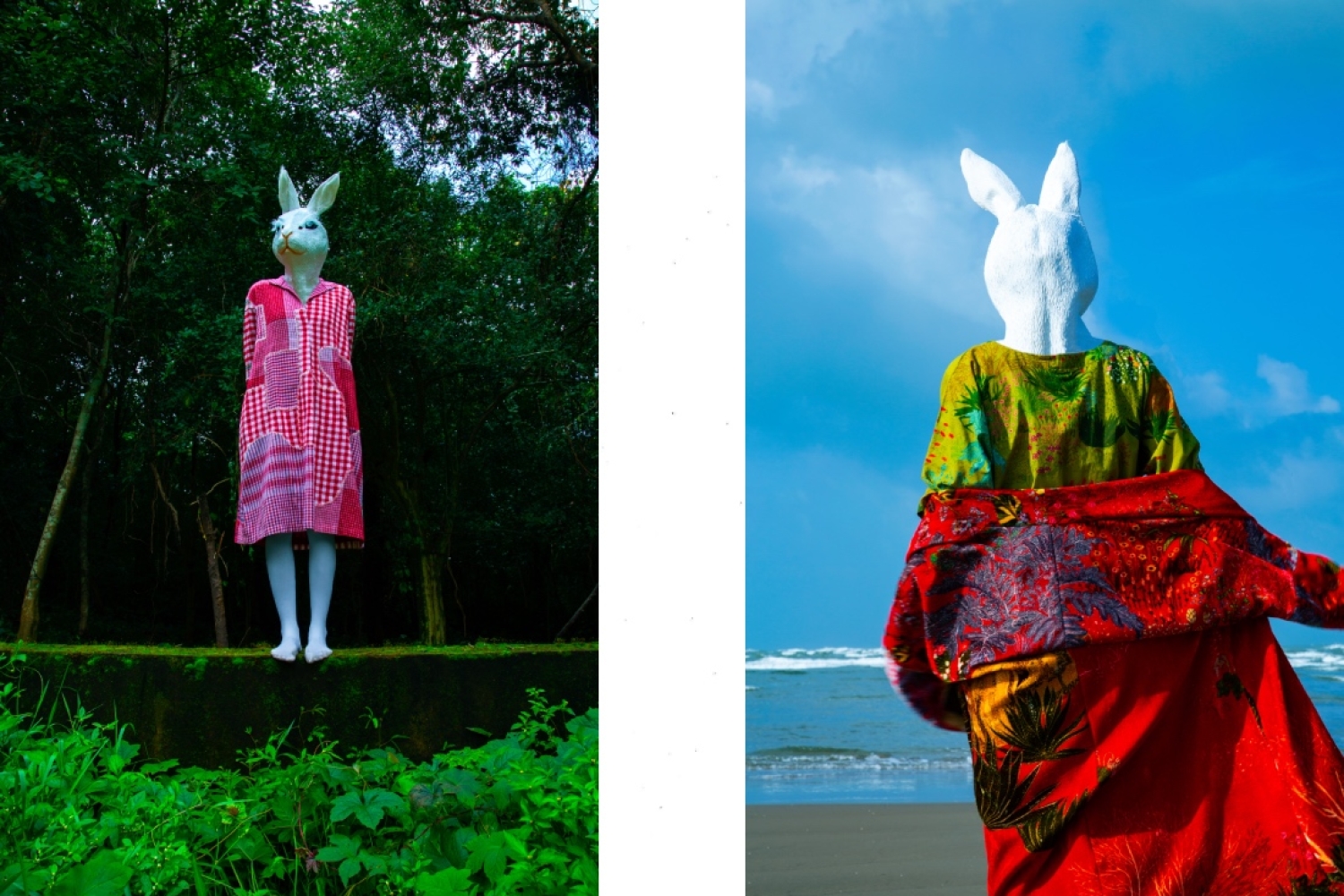 Yavï's Up the Rabbit Hole, conceptualised by creative director Rhea Gupte and designed by founder Yadvi Agarwal, portrays a sense of quietude and self reflection akin to an artist's state of mind. Shot across Goa, amidst the vivid hues of the post monsoon sky and the flourishing flora, the imagery of the collection thrives in the stillness of time. Rhea adds, 'I incorporated a solitary, leisurely and anthropomorphic character. Up the Rabbit Hole transports oneself into an emotional state of solitude, filled with content and quiet confidence, where time is a friend and companion to be enjoyed.'
We're in conversation with the founder of the label, Yadvi, who lets us in on her creative process, some initial thoughts for the collection, and more.
Do you remember your first memory of textiles? If yes, what was it?
Something that left an impact was choosing the colours of stripes combination for my linen curtains for my room with my mom. As we used to get them woven, we would go to Dilli Haat and choose fabrics for mom's kurtas and my tops. Also, choosing dhurries for the house according to colour schemes my mom was planning. I knew what a Khadi was, linen was, what colour combinations were, from a really young age. Then I was exposed to indigo dyeing with our Japanese buyers also at a very young age, along with special yarns such as ghicha silk, et cetera. I also took up batik in school and explored a lot of resist dyeing techniques in fifth grade.
Tell us about some of your initial thoughts for the new collection?
I knew the collection had to be rooted in Indian crafts with design intervention — a bit of the Yavï signature ingredients and a bit for the environment. I think we did manage to achieve all of the above, along with exploring yet another design story which is geometric in nature yet ornate and deep in colours and forms. I am particularly satisfied with the craft collaboration, which culminated after many years of research and development. Our first yardage has seen the light of day, finally! This is particularly close to my heart as it was a challenging combination to put together — ikat patterning using merino wool.
Talk to us through your collaboration with Rhea?
I particularly like Rhea's work as she is a dreamer like me. She has the ability to give a new enchanted life to my creations. She literally travels with me into my mental journey and somehow finds a beautiful way to represent that with an added accent that just completes the dish, fresh to be served.
What did your creative process for the collection look like?
My creative process is largely organic, intuitive and curious in nature. So there are different inspirations and completely different textiles that come together in one big collection. There is a jacket that's made its way to the collection because I started really enjoying making jigsaw puzzles. So, it's like a quirky jigsaw puzzle. There is an odd piece where you will see chunky gamchas patched together, held together with intricate embroideries and lined with wool.
What should the fashion of now look like?
More individual, more comfortable, more you. Whatever that might be. It is about self love, self acceptance and self expression.
Finally, what's keeping you busy right now?
I'm working on my next autumn winter collection, to be launched in Paris 2023. And also super excited to host some events that engage people in the world of design. How I experience it in a tactile manner. I had started cooking during the pandemic and got particularly fascinated with plating. This quenched my thirst of not just using the senses of taste and smell, but also of touch and sight as I sat down to compose each dish on a plate before it was finally served. This has translated into designs in my collections ever since.

Text Unnati Saini
Date 15-11-2022