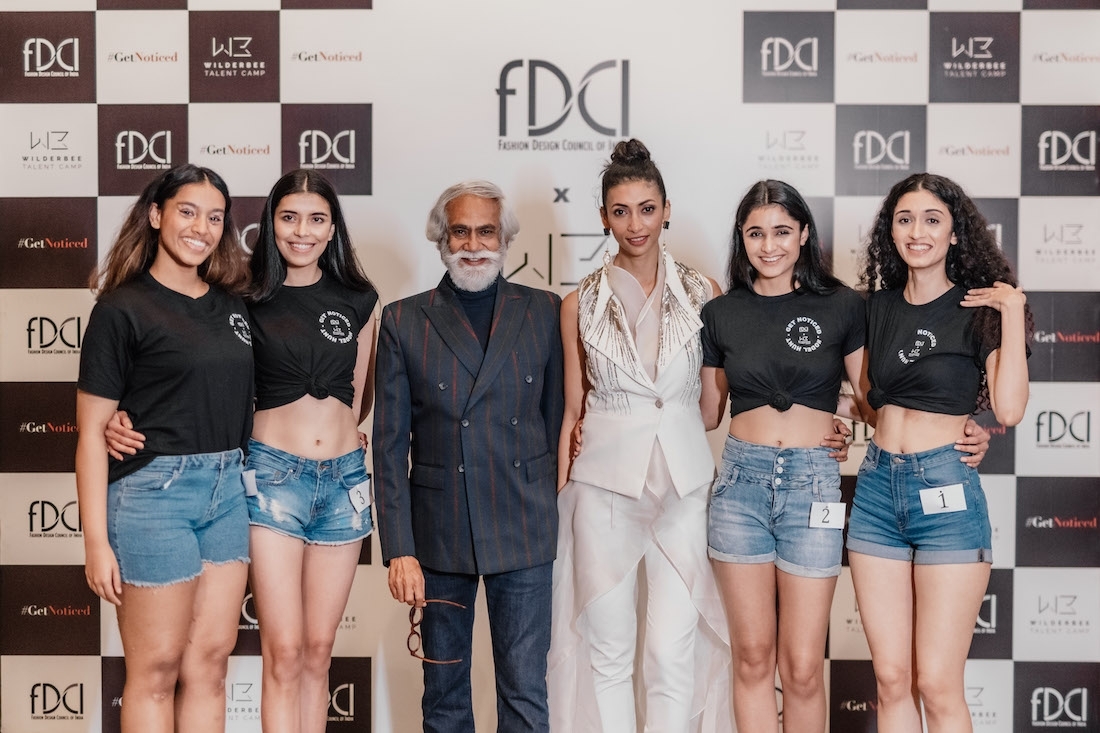 Supermodel and a force to be reckoned with, Lakshmi Rana began her journey in the industry some twenty odd years ago at a time when there was no manual that taught the young boys and girls on how to tread through the ramp or navigate the business of fashion. As someone who learnt to stand her ground along the way, the now experienced Lakshmi wished to impart some lessons learnt to the younger generation, perhaps the ones no one bothered sharing with her. While the training camp, Wilderbee found its form and shape during the ongoing pandemic, the idea of it had been flowing through her since the past six years. She tells me, 'The younger lot comes in with a lot of preconceived notions about how glamorous things will be. They then enter a space which is rather unfriendly to begin with and nobody has the time to teach. I always took these notes in my diary with a desire to guide the young ones.'
For an industry that showcases seemingly confident young individuals on the forefront and pitches them as a certain kind of ideal for the mainstream, the reality backstage is different. Lakshmi over the course of time observed this general lack of confidence and self esteem amongst individuals. 'The younger models usually aren't very well versed with how things function and neither are they prepared for what will be thrown at them and to top it all what is expected from them in return is utter professionalism. This really isn't anyone's fault, it's just the format and the limited timeframe we have to function within', adds Lakshmi.
Add to the mix; struggle with the idea of a cohesive self, financial issues, squabbles with agencies and the lack of growth opportunities, things get messy over time. The supermodel was also approached by those who couldn't move beyond a particular financial bracket and thrive in the business. It was all these reasons and the evident lack of individuality in models that led Lakshmi to the entrepreneurial venture, meant to be a safe space for aspiring models to explore and find their unique identity. Wilderbee Talent Camp advocates not only personality development but also chasing interests beyond modelling for a plan B.
Launched during a watershed moment in the industry, what lies at the core of Wilderbee is an urgent need to be inclusive and knock down the status quo of fashion. Scouting for interesting characters and personal narratives rather than particular shapes, sizes or genders, the conception of Wilderbee also lies somewhere in the unjust treatment meted out to plus size models. 'It was last year when FDCI decided to host an inclusive show, one of the models was treated unfairly and was forced to fit into clothes clearly not her size. The designers just didn't create clothes her size, it was so unfair. While I was in awe of her confidence, I could also see her confidence breaking. That's when I realised we had to move beyond tokenism and think bigger. It's easier for the thinner ones to come in untrained but far more difficult for those who don't look like the conventional models to get into it without any technical know-how', explains Lakshmi. She recognized the importance of a platform that stood for representing all kinds of individuals and that too not just for the sake of it.
With all these pointers in mind, it was a rather challenging job for her to concoct a curriculum that aided in helping these individuals shine through. Their very first module includes a lengthy theory class that sets the basis for all the other modules. It begins with connecting to the self, being able to feel comfortable in who the models are, developing a positive outlook for the self and then the session moves into more disciplinary aspects. Lakshmi's aim was to develop a course that moved far beyond training for the ramp. 'The first batch included two plus size models one even with vitiligo on her eyes, two petite models and a trans model, each came with their own baggage and to be able to level the field in a certain sense we had to really work and stir up the insides for their identity to shine', she asserts. As a teacher she was invested, she took a few extra sessions and helped in building confidence from scratch and clarity of thought. Lakshmi was well aware of how building on the skill set wouldn't take her much time but helping develop a positive sense of the self would especially in today's day and age wherein society doesn't champion individuality and attempts to dismantle it. Another aspect that sits on top of the course is personal branding, transforming one's Instagram into their portfolio is the need of the hour according to Lakshmi. The supermodel took about five to six months to develop this course in its entirety.
Despite launching during the pandemic, Wilderbee Talent Camp recently launched four of their freshers into the fashion world with FDCI's GetNoticed hunt. Training four completely new faces with features not usually accepted in a matter of four days was a challenge Lakshmi was more than willing to take on. She feels immense pride as she tells me about the future employment of the girls with some of the biggest names in industry including JJ Valaya, Pallavi Mohan and Pankaj & Nidhi amongst others.
While she found her focus completely in place to launch Wilderbee during the pandemic, the hard part came while executing the venture as a business model. Without any formal training or management degree things became tough but she went on diligently researching and reading. Lakshmi gave herself the time to immerse completely into the role since she knew it was of utmost importance to not compromise on the quality of the camp. As someone who is channeling the vulnerability and insecurities of the young models in a sensitive and lucrative manner, Lakshmi Rana is a mentor in the truest sense of the word. The future looks bright for Wilderbee Talent Camp, they have plans to expand their modules to include Image Consultancy and Character Building, advocate for the financial growth that is at a standstill for models and be absolute representatives of diversity. On a parting note she explains, 'The industry is anyways riddled with stereotypes and labels, we aspire to be a brand that helps to break them enabling any individual looking up to fashion believe they can be a part of it. For us individuality is vital and we wish to promote that the most.'
Text Unnati Saini
Date 27-04-2021