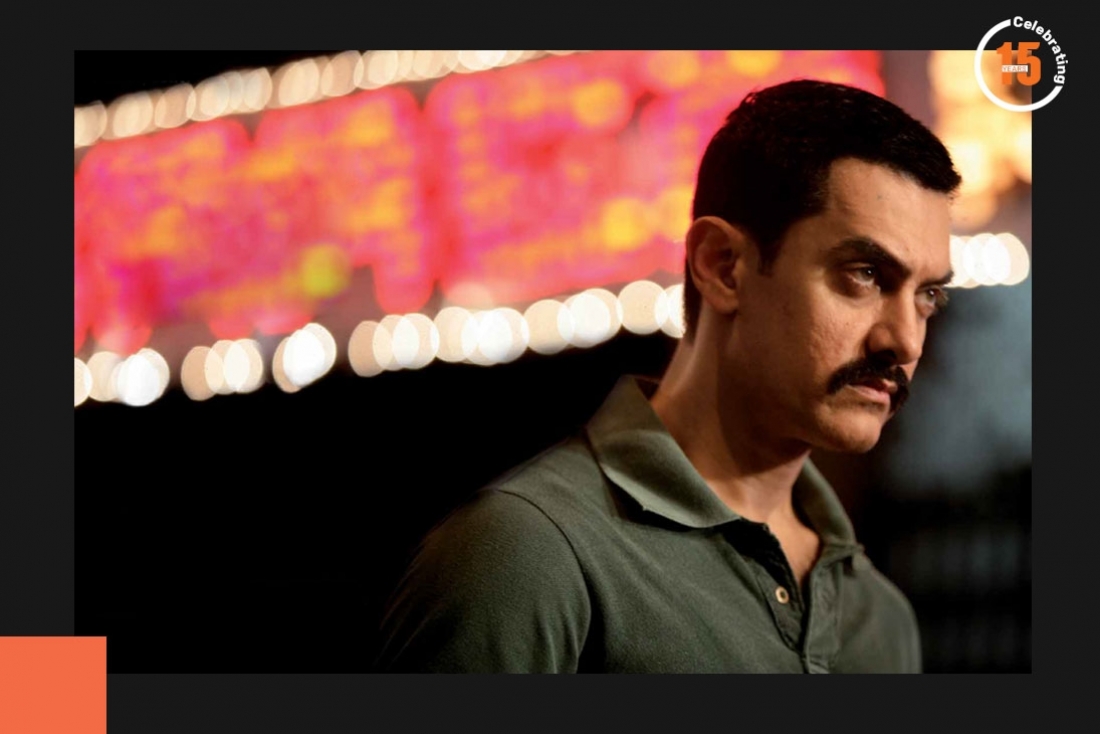 Aamir Khan: From The 15 Year Platform Archive
When I think of Aamir Khan, I think of depth, eloquence and brilliance. When I see him perform on screen, I deconstruct his acting as honest, electrifying and real. When I go through his filmography, I see growth, evolution and meaning... There are very few actors in the industry who manage to give a sincere and entertaining performance year after year, keeping their sensibilities intact. Aamir Khan is one such actor who does what he wants to, sticks to his beliefs and does not hesitate to speak his mind or take on a challenging role. For his fans, he goes beyond being a 'poster boy' and a 'hero'. They see a human being making a difference through his craft and his voice, be it in his films or addressing the nation through his thought provoking show, Satyamev Jayate. He managed to touch the hearts of many and inspired people to make a difference. His noble initiative made not only India, but the world sit up and take notice. He was featured on the cover of Time magazine, an honour that has been conferred on only two other Indian actors. Before the year ends, the cinemagoers, including the ardent fans and the critics, are eagerly waiting to see what he does with his next film, Talaash.

What attracted you to the script of Talaash and inspired you to take on the role of Surjan Singh Sekhawat?
I think when Reema narrated the script to me, I was really intrigued by the story. As it is a suspense drama, I could not figure out what was happening and was very engrossed in it. It took me on a rollercoaster ride. It's a very enigmatic film and very deeply layered. The story is unusual for mainstream Indian cinema. At one time there used to be suspense dramas like Howrah Bridge, Wo Kaun Thi, Madhumati and it's been a while since that kind of suspense drama has been made in Indian cinema. It had been a while since I had heard such a script and I really found it attractive. I liked the characterization and I liked the emotions in the story very much.

Talaash reunites you with Excel Entertainment. How was the experience and how was Reema Kagti as a director?
I had a really wonderful experience working with Farhan (Akhtar) and Ritesh (Sidhwani) once again after Dil Chahta Hai. It has been almost 10 years. Reema, I have to say, was exceptional to work with. She is a really talented director. She is very clear about what she wants and that's what I really like in a director. She is layered about her performances and has a very honest core when dealing with characters. I like her observations and how she directs me. She and Zoya (Akhtar) have written the script of Talaash together. All I can say is, right from the narration, to prep, to set and finally to the completion, it has been fantastic. Each day she won my trust and it has been quite a learning and amazing experience.

There's a difference between playing an honest character and giving an honest performance, which to me means submerging yourself in the character so we don't notice the acting bit. You did it in Dhobi Ghat, Taare Zameen Par, Jo Jeeta Wohi Sikander and most of your other films. But invisible acting doesn't get recognized as much as flashy acting. Do you agree?
Haha. An honest character is what the character is; you play the character and imbibe his characteristics that have been written in the script. Whereas, an honest performance is one where you are trying to create a three- dimensional, flesh and blood character, that people can watch on screen and feel as a fully rounded character. Both kinds of characters are seen on screen, but I think it depends on audiences. Some audiences are much more perceptive and fine-tuned and appreciate a good performance. It doesn't have to be over the top or in your face acting, in fact the more true it is, the better it is for them. And then there is an audience that also enjoys over the top, exaggerated acting. So there are different kinds of audiences. I don't think there is any one kind. But for me it doesn't matter which audience I am catering to, for me the key is to be honest in my performance.
Satyamev Jayate was a very noble way of giving back, spreading awareness and making a difference – what inspired the show and do you plan to come back with a second season?
I think a number of us who are much more privileged in life, often think about how we would like to contribute to our society and make a difference and I experienced those same thoughts. Satyamev Jayate was an initiative where I could contribute from my side. My forte is communication, so I thought that's what I should do – communicate with people about issues that all of us face, search for some of these cases and put them out there. We have begun work on Season 2 and as we get down to working on it in more detail, we'll see how it is emerging. It will follow the same vision of understanding andaddressing issues, however, the format might change. But nothing has been clearly defined apart from that, the core is to understand issues and that will remain.

What is the sensibility Aamir Khan Production (AKP) is going to follow and what should we look forward to from the production house in the near future? Do you plan to direct soon?
Talaash has been co-produced by AKP along with Excel, so that's our next production. Kiran is working on a script. As far as my acting goes, after Talaash I have Dhoom 3 that I am currently working on, and after that I have signed with Raju Hirani for a film called Peekay. I have not taken on any projects after this, as I want to concentrate on season 2 of Satyamev Jayate. AKP always produces films that match Kiran and my sensibilities – my sensibility can also be seen in and reflected in the kind of films I act in. I would like to direct for sure but I don't know when, as right now my acting assignments are keeping me busy. We try and schedule our lives but things don't always go as planned and we try our best to work around it. Ultimately, for me, as far as work is concerned, it takes its own pace so you do the best you can and go with the flow.

The kinds of characters you have tackled in the last few years have all been extremely diverse. If a debutant filmmakerhad to approach you, what would be the criteria to choose to do the film (a) as an actor and (b) as a producer?
The criterion to choose a film remains common no matter who approaches me, an established filmmaker or debutant. It's pretty simple –I am looking for a story that moves me, that touches me and excites me.

Lastly, did you think you had the ability to transcend yourself the way you have and at this point in your life, what is your state of mind?
My state of mind currently is as usual partly happy, partly satisfied, partly confused, and partly dissatisfied. That's pretty much how my state of mind is at most times. I am happy with the kind of success I have had and I am particularly thrilled with the way Satyamev Jayate has been received. And it's been an extremely fulfilling, enriching and learning experience for me so far.

This conversation was initially published in our Film issue of 2012 and we are revisiting it as a part of our Celebrating 15 years of Platform magazine series.

Text Shruti Kapur Malhotra
Photography Soumyajit Toto Nandy