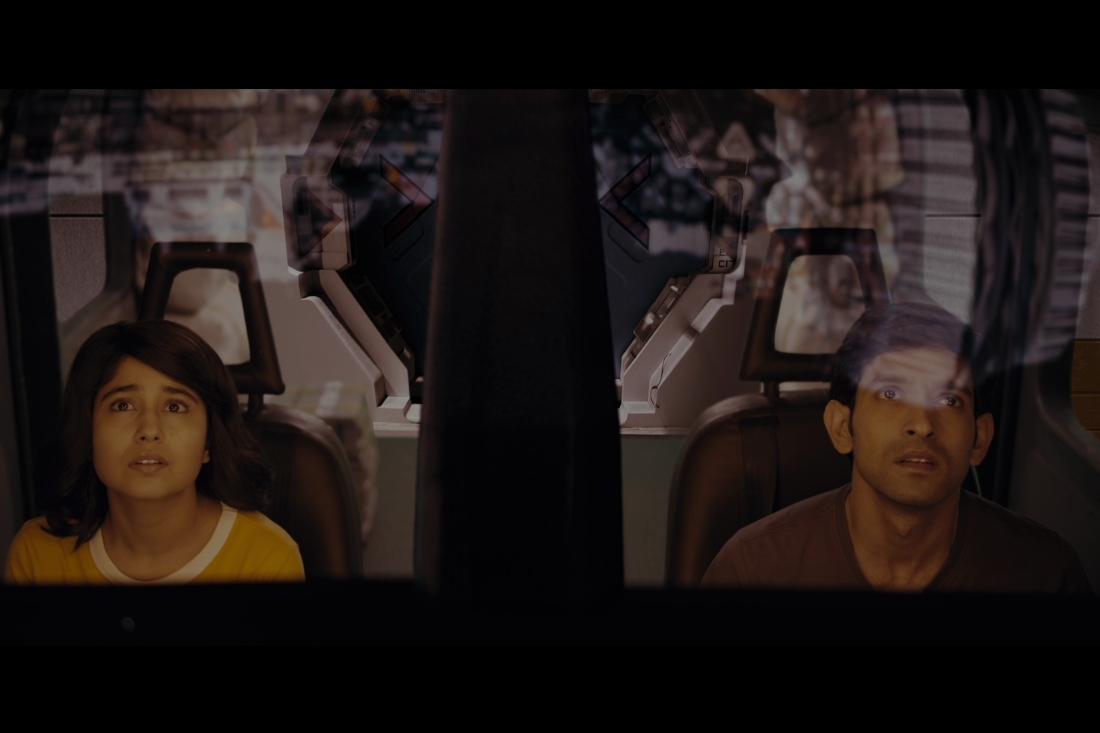 Stephen Hawking once said at a London event, 'The belief that heaven or an afterlife awaits us is a 'fairy story' for people afraid of death.' Rightly someone from the audience asked him, 'So here we are. What should we do?' 'We should seek the greatest value of our action,' said the genius.
Is there life after death? Is there a God above? Is there a heaven or hell? Or do we actually use God as a metaphor, denying our belief in a creator whose hands guide the workings of the cosmos. To believe in science or not at all is a complex question. To put things in context, today we are talking about Arati Kadav's debut film called Cargo. Her film toys with the same notion that Hawking believed in — there is no life after death. Your time on earth is precious, make every minute count. It may sound as a heavyweight subject but Arati has done a fabulous job in talking about life, death, love, science and longing, putting them together on a platter, sprinkled with some humour. It definitely sounds like an abstract film but it keeps you glued to the screen, wanting to taste more of this unknown space.
Starring Vikrant Massey and Shweta Tripathi in the lead roles, the story is set on a spaceship named Pushpak 634A where a demon named Prahastha, works for the Post Death Transition services with the help of a female astronaut, where dead people are recycled for rebirth. There is no heaven or hell. From her engineering degree to debut film, Arati Kadav spoke to me about her journey, thoughts on life after death and human purpose.
Could you tell me a little about your growing up years?
I grew up mostly in Nagpur, though my early years were spent in the south of India. I had a very middle-class upbringing, my father was an engineer, and my mother a teacher. They were invested in two things, my happiness and my education.
However, I really loved storytelling since childhood and used to participate a lot in story writing competitions. I would write fantasy stories and win lots of awards for them. I used to also make charcoal sketches a lot and work on narratives at that level — spending days or weeks on a sketch. I was good in academics and got admission in all medical colleges and engineering colleges. Since I loved coding, I decided to choose engineering. I saw my parents slog a lot so that me and my brother could have a good future. I just wanted to make them happy
You studied at IIT-Kanpur and then worked as an engineer in Seattle. You mentioned in one of your earlier interviews that it was being away from home in the U.S. that you got drawn to films. Could you talk about that time and what drew you to filmmaking in the first place?
At IIT campuses, we really learn to work hard and chase a problem, even if it is unsolvable and try to solve it to our best capacity. The professors encourage us to be explorers and expand our boundaries. Doing that everyday, leaves us with a certain confidence about taking up any challenge. So, when I was working in U.S., I started watching movies a lot. Overtime I felt like learning and doing it myself, and jumped onto it. I got myself a nice video camera. It was just a lucky thanksgiving gift to myself, and I started experimenting a lot, and just became passionate about cinema as a medium of expression. Initially I used to make lots of amateur videos — written, directed, acted, edited music by Arati Kadav. The more I made those, the more I realised how beautiful and vast this art form is and I felt I should go to a film school to learn filmmaking better.
What kind of stories do you gravitate towards as a filmmaker?
I really like stories about things that don't exist. And stories that illuminate our lives, and our hearts. The ones that give us a better understanding of this world and of ourselves. If the stories are taking me to places, I haven't been to, I completely surrender to them.
What was the starting point of Cargo?
In 2017, I had a feature with an international cast going but it was constantly getting postponed because of dates or other issues. My child was a year old then and I had worked hard, spent time away from her and was getting frustrated by the delays. So, I just vowed that I will make a film in 2017. I felt in the worst case, I will make a film like Man from Earth — which is a sci-fi set in a living room. But I was bursting with a strange energy and was writing something really ambitious — an intergalactic superhero film with 4 species. I think I wrote that story for 4 months straight, and then one day while writing that, I got this idea. This idea, I felt, was working at all levels as they say, 'in the bloodstream, in the townsquare and in the turning of the galaxies,' so I decided to write it.
Did your background in technology have anything to do with that?
Being educated in technology certainly gives me lots of domain knowledge, that helps me in designing systems and processes. But sci-fi came to me because as I have always loved fantasy and sci-fi stories and have always consumed books, podcasts and movies of that genre. I have always loved Borges, Ted Chiang, Liu Cixen, Ursula Gain, Ray Bradbury and many such writers
The movie explores the notion that there is no life after death at all or there is no existence of heaven or hell. What was the thought process behind that?
I do read lots of creation and afterlife myths of civilisations all over the world, and you will see that the creators of those myths try to slip in something that encourage people to be better people — for example the concept of karma or heaven or hell. But I feel everything is a human construct, even these concepts. I honestly believe in chaos theory. But I feel, even if one believes in chaos, one can still choose to embrace life and try to be good. We should not try to be good because a heaven will wait for us. We should be good regardless. It's just something I wanted to slip in.
In one of your earlier interviews, you spoke about how it took you close to eight years to get the right people on board, who trusted your vision of making this abstract film. Why do you think that was? I don't know why everyone keeps saying that a 'female filmmaker has made a sci-fi'. Is it that big a deal?
I graduated from film school, and I was young and brash — not too young though as I went to film school when was 27 — but I still felt that I knew everything about making a feature film. Transitioning from short narratives to feature stories, learning how to manage a film, especially if you are indie — you will be working under insane constraints, so just gaining the maturity and compassion to be a good team leader was required by me that time. I did make lots of short films to grow, did ads, music videos, and built my team and also built myself. In fact, we had made Time Machine, a 40-minute feature before Cargo. So I was very prepared that way.
Also, about being a female filmmaker, we got selected in about 25 festivals worldwide and one Brazilian programmer said that for the first time in 16 years we have a female sci-fi director. So it is a big deal I feel. sci-fi is a genre historically dominated by men, who write these stories essentially for their male fanbase. Technology too in fact, is a male-dominated. So yes, we should celebrate women in STEM and women in sci-fi. Because we will bring our point of views in the way we tell magical stories and we will bring new set of nuances in our fantastical worlds.
The spaceship in the movie is very retro. Was there any particular reason to do that?
I am a retro sci-fi fan. I love tactile buttons that push me back when I push them. I love the clunkiness of it all. Their metallic sounds and their low-tech ambience. I find myself soaked in a certain nostalgia and they remind me of my childhood gadgets and make me feel safe. They don't intimidate me. They feel reliable even if they are clumsy. So, I chose this design. Also, I wanted the spaceship to be like a mechanical jellyfish floating in the space. As there were many of those spaceships, I had felt they could look like an underwater world filled with these metallic creatures.
Emotions were at the centerstage of the film. But what do you want the audience to take away from the film?
I want to fill them with a sense of hope and beauty towards life. That beauty of life exists because it disappears. And that even in its impermanence, it leaves traces that matter.
Can you talk a little about the casting process?
As far as Shweta Tripathi and Vikrant Massey are considered, I think it is beautiful that they are self-made and exude sincerity, hard work and a certain honesty and 'niceness' — no one can carry fantasy stories better than people with these qualities. I knew Shweta from before and in fact when I wrote the script, the name of the character was Shweta. And they were working on Mirzapur, so she introduced me to Vikrant. I had loved Vikrant's work and I wanted to work with him — he came onboard based on a single meeting. They were the best things to happen to the film or me. For the rest of the cast, there was no process or casting direction. We casted together as a team, pulled in favours, called actors who were gullible enough to agree to be a part of it.
Lastly, are you working on anything new?
Yes, some nice ideas that I am passionate about. I am blessed with great friends as well who encourage me to work hard all the time. When Cargo was selected in SXSW (South by Southwest), they gave me a card saying, if life is a 50,000-mile journey, consider this your first step. So, I am working towards taking the next 49,999 steps!
Cargo releases today on Netflix.
Text Hansika Lohani Mehtani