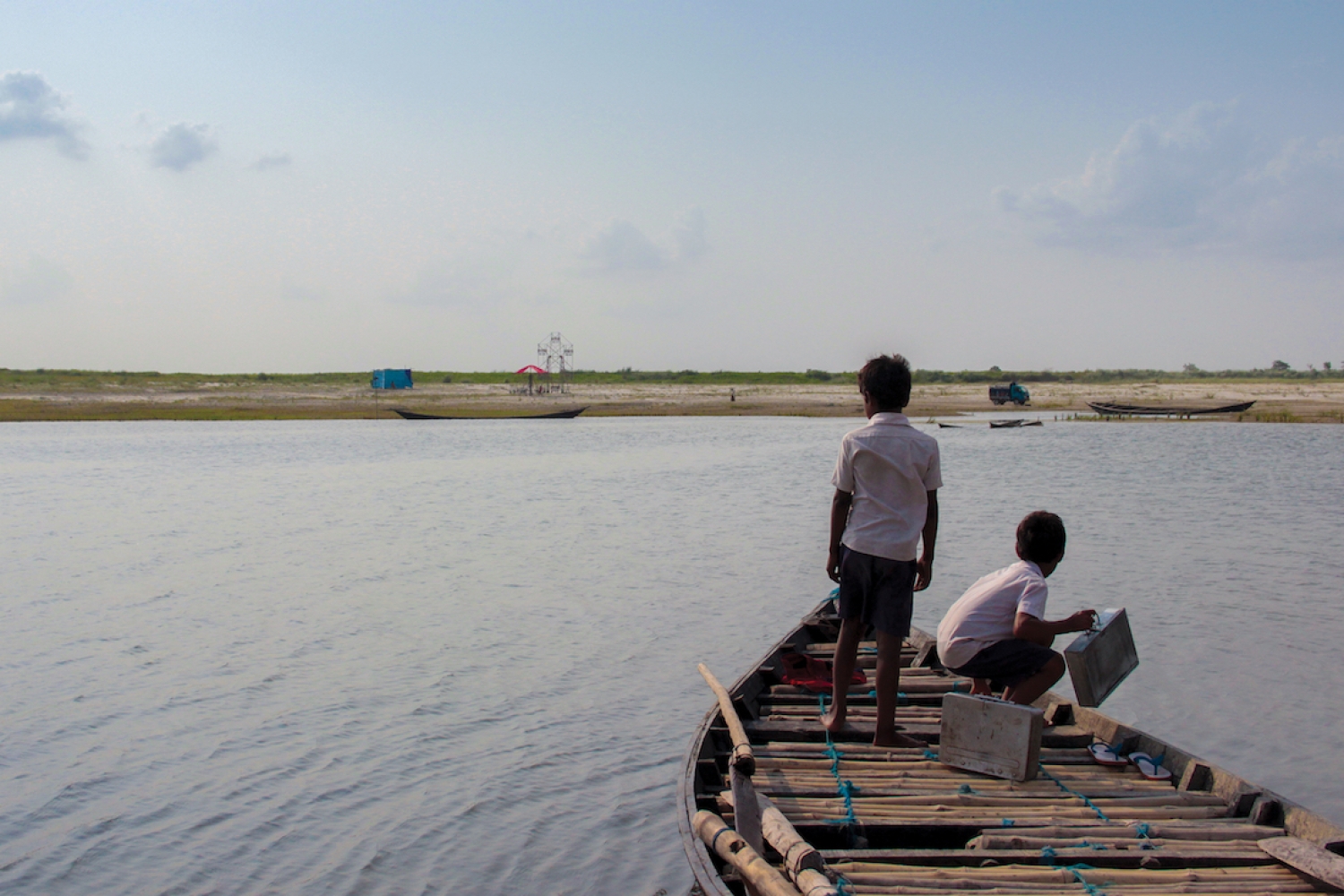 Dostojee
Prasun Chatterjee
The aftermath of the Babri Mosque demolition and Bombay blasts in India, finds its violent echoes even in a remote village of West Bengal adjacent to the India- Bangladesh border where the story of 'Dostojee' begins to unfold. It is a story of friendship between two little boys belonging to two warring religious communities. Palash is the son of a Hindu Brahmin while Safikul, of a Muslim weaver. Relentless fate arrives quietly when separation becomes the destiny of their friendship, their facing farewell and spreading wings to fly again. The film was screened at BFI London and Busan Film Festival just very recently.
At the helm of this film is Prasun Chatterjee, a self-taught filmmaker, born in a lower middle class refugee family from the suburbs of Kolkata. He learnt the ropes doing group theater for six years. Without a film school background and any experience of film-making, he managed to shoot his first short film, Shades in 2017 which was premiered at the International Documentary and Short Film Festival of Kerala and screened at numerous film festivals. Prasun has spent a major part of his life wandering aimlessly across the remote villages of the eastern state of India, experiencing the lives of the villagers, their emotions, economy, the communal polarisation and their innocence very closely. All these experiences manifested in his mind as the story behind 'Dostojee' became his first feature film. He tells us all about it. Interview below:
This film is your debut feature film. As a new director, how was your journey in bringing the script to life?
I wrote the script in 2013 and was searching for a producer for three years. After several failed meetings and a failed attempt to raise crowd funding, we started the pre-production process in 2018 with the help of some close friends. Most of the actors in our film including the two protagonists are local villagers of India- Bangladesh border and they had never seen a movie camera before. The two little boys had never even seen or travelled in a train, before coming to Kolkata for their dubbing. We tried to train almost one hundred and fifty villagers for more than one year before starting the shooting . And that was a fantastic mutual learning process. We shot the film in different seasons to capture the natural colour and landscape. It was a long journey!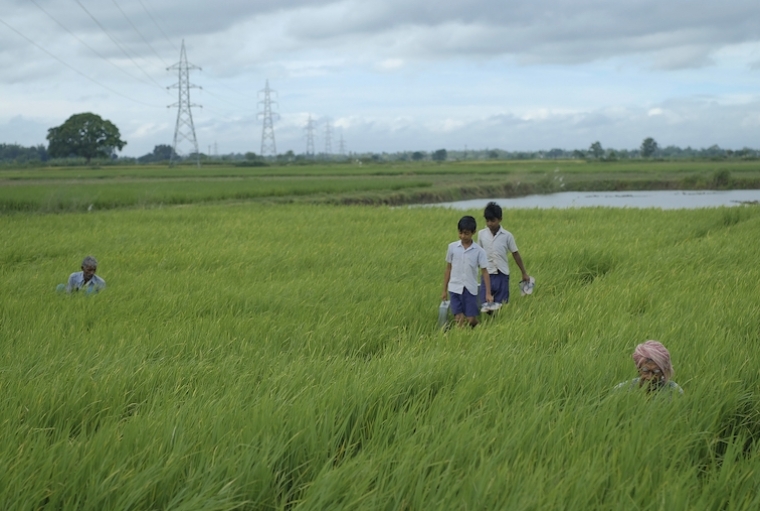 How did you find and manage to shoot in those remote locations?
I used to travel to those places maybe ten years ago. After conceiving the story, I wrote the entire script in those locations as well. But when I decided to shoot the film there, I found that it was very tough, because there was no proper conveyance and no proper place to stay. However, since we wanted that landscape, so we had to shoot there. After a long search, we managed to find three abandoned houses and took those on rent. We tried our best to make those places inhabitable. In fact there was no proper water supply and electricity as well. So, we had to purchase water pumps, water tanks and had to hire local handmade generators. For conveyance, we decided to use local makeshift cars which you can see in the film as well. It was a hectic process but believe me, that was one of the golden times of our lives for the crew.
How did you find your two little stars, Asik Shaikh and Arif Shaikh?
That was a challenge for me! It took almost a year to find the little boys. There are two separate stories, so I shall tell you separately. Asik Shaikh as Palash: Asik comes from a very underprivileged background. His father works as a migrant labourer and his mother is a homemaker. He is the first one from his family to go to a school. I first saw him in a playground, playing with his friends. When I went to talk to him, he was so shy that he ran away to hide in his home. But gradually he became friendlier. I often used to play football with him in the evenings, sometimes sat down with him to help him with his studies. Gradually he lost his shyness and got close to me. But the problem arose when his family, mainly his grandmother, came to know that we planned to shoot a film there. She didn't want Asik to act because getting your pictures clicked is forbidden in Islam. I tried to convince her but failed. I felt lost and hopeless. Over the course of a sleepless night, a thought passed my mind and I rushed to their home at the strike of dawn. Asik was still asleep and the family was shocked to see me there so early. I went straight to his grandma and said that I wanted to talk to her. If she was still against my idea of having Asik in my film after that, I would go away and never bother them again.
I asked her, what was the most holy thing, which she wanted to do in her life. She replied that as per Islam, visiting Mecca on a pilgrimage was the holi- est thing for any Muslim and she wanted to visit Mecca too. But going to Mecca will be forbidden as per Islam, I responded. She was very angry at my response. But I explained to her that to visit Mecca, one needed to have a passport and to get the passport, one need to get their photograph clicked, which is forbidden as per Islam. She didn't need any more convincing after that – and that is how Asik ended up as Palash.
Asif Shaikh as Safikul: Arif also came from a very needy family. His father works at a brick kiln and his mother is a housewife. He is also the first generation in his family to study in a school. After casting Asik as Palash, we were searching for our Safikul. We visited every primary school in the area but were unable to find what we were looking for. One afternoon, as I was packing to return to Kolkata, an angry nine-year old, came banging at my door. The boy was Arif, whose friend Asik was cast as Palash. When we were looking for Safikul, that day he was absent from school, so we didn't get to meet him. When he heard that Asik had been selected for a feature film and there is a director who is looking for another boy, he came on his own. As I opened the door, he immediately asked, "Are children being cast in films here? I heard that there is a director here who is looking for a child actor!" I said yes. Then he said, "I am a child and I want to act, just call your director." I politely asked him to come inside. He was very angry. He came and sat on the couch and said, "I don't have much time; I have to go to play with my friend, please call your director." When I told him that I was the director, he took a long look at me and said, "You don't look like a director." I really had to convince him that I'm not lying, that I really was the director. I asked him if he could memorise some lines. He said "Yes, I can." I gave him some lines. After five or ten minutes he said that he was ready. I asked him to narrate the lines but he forgot everything and couldn't say a single line. Then he immediately said, "Now I am in a hurry;I have to go to play with my friends, that's why I can't memorise these lines. But you can take me in your film; I'll act like the Bengali superstar, Dev." I was bowled over by his confidence and cast Arif as Safikul.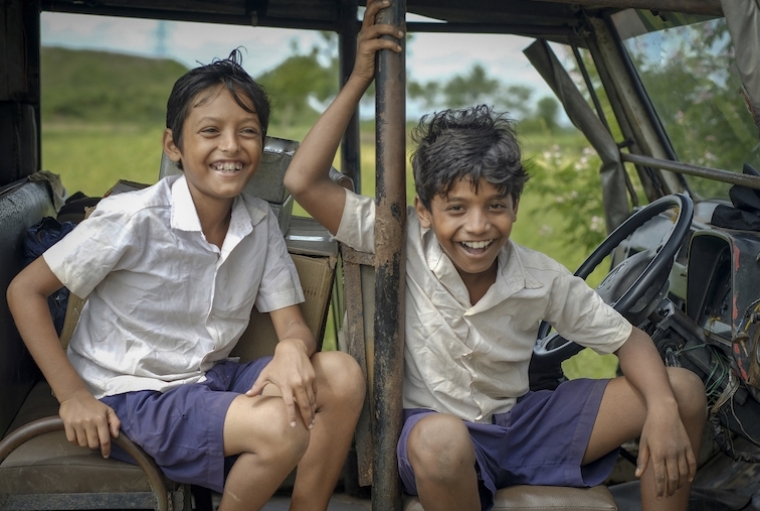 Tell us about your work with your cinematographer.
This is a funny story indeed and a risky one too. Tuhin (cinematographer of 'Dostojee') was working with me during the process of pre-production and was supposed to be handling the still photography. He is a professional photographer and his work on landscapes is really impressive. For a cinematographer, I had decided on someone else initially. But the tenure of our shooting schedule was rather extended and I could not exactly afford his remuneration. I was anxious. And then one day, I called up Tuhin out of the blue and said "you shoot the film". He was taken aback. Tuhin had never worked on something like this before, he was not confident. I assured him we would handle it together and get through. We both gave the idea multiple to and fro thoughts and eventually I could convince him to do it.
But what deserves mention, is his immense hard work after that. Tuhin is a rare combination of a very sensitive, hardworking and equally intelligent person. He had around eight to ten months between deciding to stand behind the camera and starting to shoot. He underwent intense preparation during this time and pulled himself up. The technical aspect is not a piece of cake, you see. Yes, we both would agree, there are flaws in our image, there is no denying that. However, I hold no complaint about that. He has done a very good job.
Unlike Indian Bollywood films, you did not use any background music. All the audio is natural. Is there any particular reason behind that?
I believe that when a film starts developing in a director's head, he strongly conceives the art, with all the audio and visual in his imagination first. My whole process of writing the script and the entire pre-production was executed when I was staying at the location itself. I could intensely feel the presence of the local audio elements all the time, while I moulded the film into its shape and form gradually. This left its own impact. I felt, as the director, of this particular film, that I did not need any external background music to build up the appropriate drama I was trying to create. The natural backdrop had plenty to offer already. When you see the film, you will notice the usage of audio elements – like the sound of handloom, buzzing of the crickets, distant tones of Azaan (the call of prayer for Muslims), or the continuous tunes of rain, had played a significant part in shaping the circumstances of the film. These helped in creating it more organ- ically, keeping the cinema closer to its roots. So, it was a very conscious decision to not use background music.
Do you make film hoping to bring some change? If so, how is that reflected in 'Dostojee'?
Cinema is a powerful medium no doubt. But given the global situation currently, specifically speaking of South Asia, I doubt if the medium of cinema can truly bring in any significant change in people. But I do have some things to express to the world, I felt I must. And my medium of communication is through films. But I do not want to pass any judgement. I believe I do not have the authority to label conceptions for others. All I want is to pull out a mirror of the reality to my audience and let their unrestricted minds take over the rest.
To speak of 'Dostojee' in particular, I would like to talk about a very seri- ous issue, which has overwhelmed the whole world in a dangerous manner – communal discrimination and communal violence. Exploitations of minorities, dominance of the religious extremist groups, a lot of violence, a lot of blood flow – harmony and peace are crumbling down under all of these. These polarisations, under certain instances are deliberately inflicted in people, for vested political interest. And there seems to be no end to this. From the grounds of this noxious time, if a story like 'Dostojee' emerges, with the innocence of love and friendship and can hit the heart of even one person watching the film – that would be a ray of hope for me.

This aritcle is an all exlcusive from our bookazine. To read more such articles, follow the link here.

Text Hansika Lohani Mehtani
Date 04-07-2022