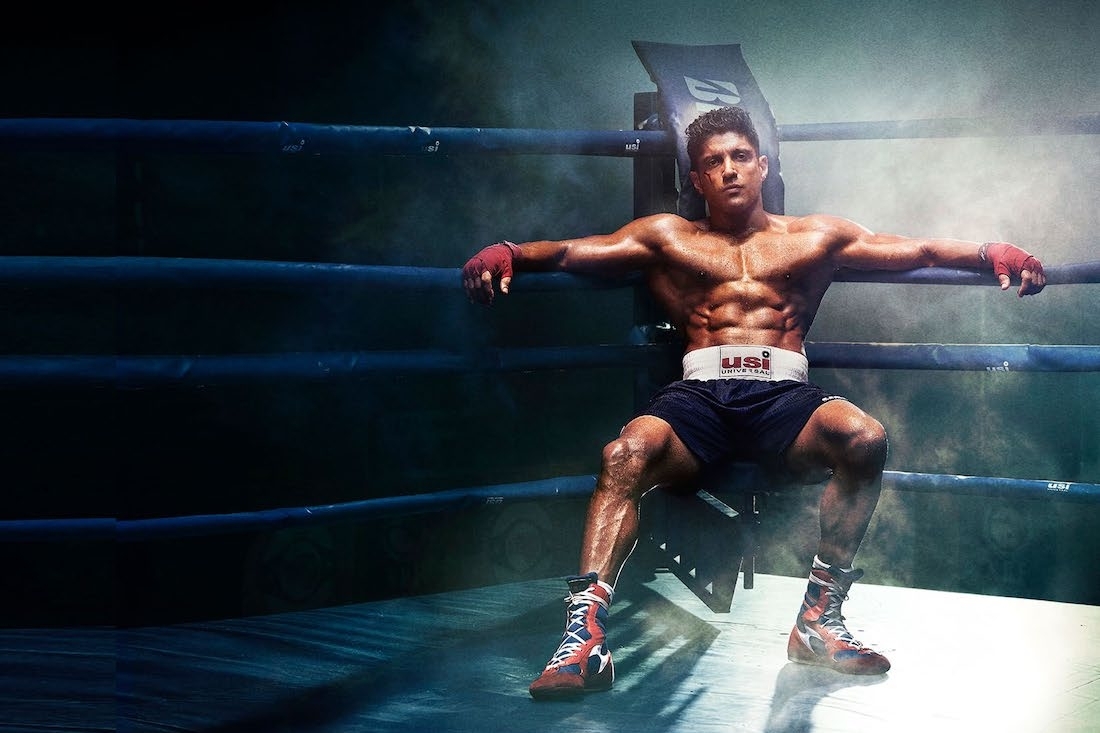 Not only is Farhan one of most inspiring filmmakers I have worked with, he is also my first producer and an extremely interesting and versatile actor that I look forward to watching on screen. His upcoming film, Toofaan, will see him in an enthralling new avatar. The actor's second collaboration with director Rakeysh Om Prakash Mehra, after the hugely successful Bhaag Milkha Bhaag, is being touted as one of the most anticipated films of the year, especially because of Farhan's electrifying performance as a boxer seeking redemption. It looks ever so promising and I had to get my fill of all the stories that led to this film getting made. Below are excerpts from a conversation we had about the film.
THE FILM
Strangely, I have been living with the semblance of this story for a few years and then I met Anjum, who has adapted it into a screenplay. I met him and had a chat with him about this idea. Boxing is one part of the film but there is a beautiful love story at the heart of it and this whole other social angle, which, I will leave to your joy of discovery once you watch the film. As the story was in my head, I wanted to structure it somehow. I spoke to Anjum, he got very excited about doing it and we took it from there. And then we were thinking about who would be the right director to collaborate with for this film. Since I had an awesome collaboration with Rakesh in Bhaag Milkha Bhaag and given the kind of film this is, plus his love for sport, we just felt it would be nice to get him involved early on. And the three of us then, Rakesh, Anjum and I, jammed and put this film together.
THE DIRECTOR
To start with, our synergy is very good. The films that we end up talking about and liking, more often than not, are very similar. And having such a great experience of BMB with him added to that. He has some kind of spiritual attachment to sport. He was an athlete; he was a national level swimmer. So for him, sport is a great teacher. It's taught him a lot of things in life — he has used sport to take him through certain aspects of life and that reflects in his being. It reflects in the way he directs, the way he approaches things. Also he does not let ego come into play at all. He is proud of his work but is also open to listening to ideas and it just creates a really healthy, warm, positive outlook on set. It's really nurturing and you feel comfortable. He's giving you a great environment to function in, he is giving you freedom to do things as an actor and with that you feel a sense of responsibility to give him and the film your best.
THE TRANSFORMATION
To start with, just in terms of the technical aspect of things, everyone knows how to run, some run faster than others but everyone knows how to run. So learning the act of running was familiar, but of course the training was extremely tough for BMB. However with boxing, it was starting from scratch. Having to learn a completely new skill as I have never ever boxed before. Actually, only once, I punched Zoya on the nose after watching Die Hard. It is probably the most demanding sport that a person can do. It's not only about your strength, it's about endurance, thought and you actually realise how long a minute can be when you're in the ring, sparring and how short it can be when you have that gap between each round. So a minute ranges from feeling like an hour to a second. It was the learning that was exciting and challenging and of course very tiring. For this film, more than getting into shape of learning a sport, it was the aspect of letting go and becom- ing eighty-five kilos, which was the challenging part.
My head has been wrapped around being fit for so many years that somehow letting go of that and seeing yourself with a double chin, with a paunch was the difficult part. Learning boxing took really long, but it was eating whatever you want, drinking whatever you want that brought the anxiety and depression because you are not training, so those happy hormones are not being released. Also for Shibani, who is used to a disciplined me, eating right, waking up to train, et cetera. And then me eating whatever I want and not exercising at all, that was difficult to deal with because my mood was all over the place. I hated what was happening to me. I hated what I was becoming. When there is so much being pumped in, it is bound to flow in other areas as well. So for me, putting on the weight was the tough bit, learning boxing was the exciting bit.


Date 16-07-2021
Words Nitya Mehra
Photography Prasad Naik
Artwork H-one