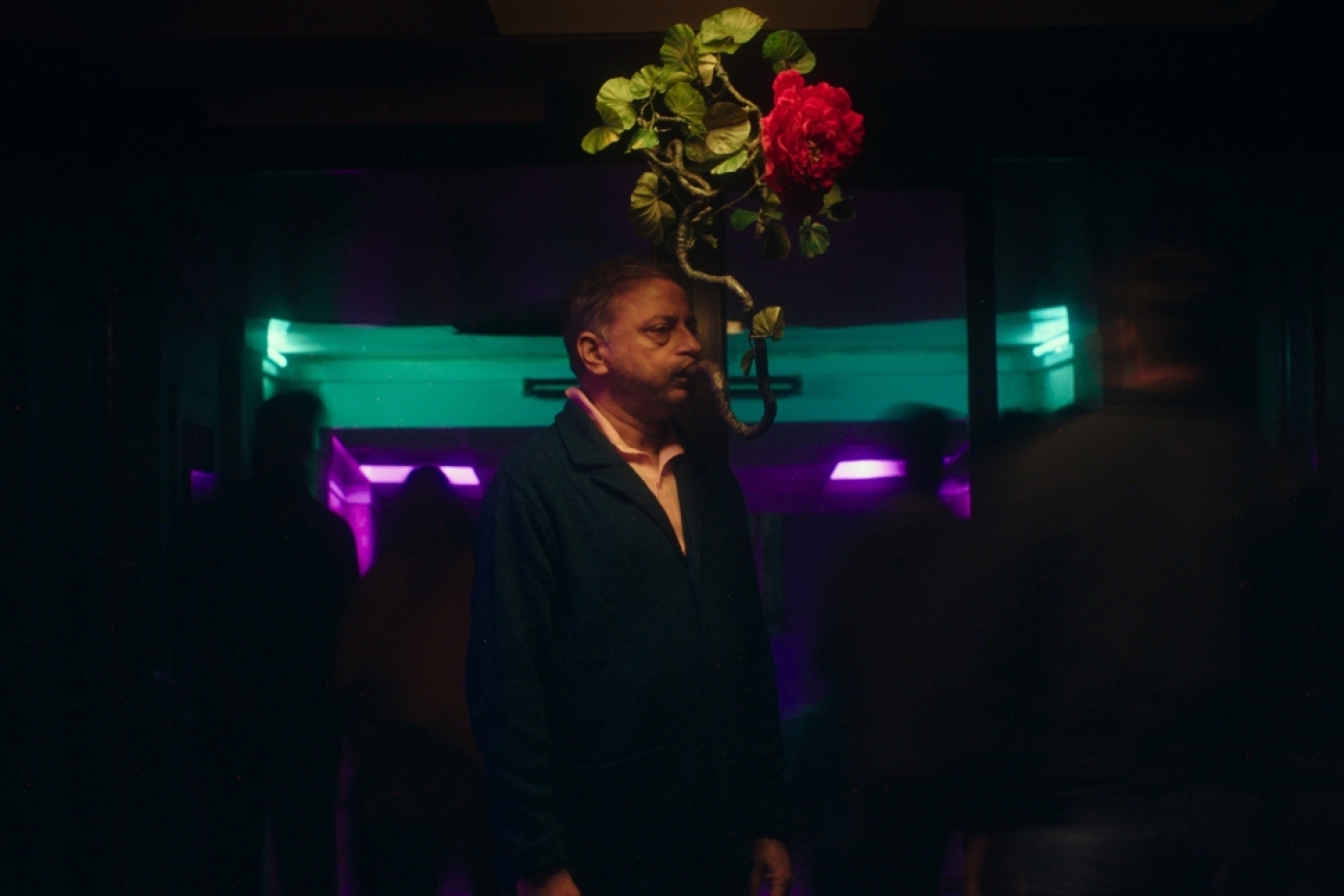 Flowering Man
Soumyajit Ghosh Dastidar
In a refreshing twist on the familiar narrative of parental non-acceptance, Director Soumyajit Ghosh Dastidar presents a short film depicting the story of a transgender father who faces a lack of acceptance from their daughter. The film employs the metaphor of a growing flower to symbolize Shashi's inner desire to embrace her true identity as a woman. It takes the audience on a journey as the daughter gradually comes to terms with her father's queerness. The film made its premiere at the 2023 MAMI Film Festival. To learn more about the film, we talk to Dastidar on the use of the flower imagery, the creative process, and the cinematography behind this thought-provoking film.

Tell us about why you named your film Flowering Man and what does that imagery offer?
Flowering Man was the first title that came to mind during the process of ideation. It comes from a childhood lore; when during winter I was always warned never to swallow the seeds of an orange, else a plant would start growing inside my stomach. I always wondered how it would grow inside one's body, climb the oesophagus and form a structure out of the mouth. That weaved together with my personal journey and observation of gender identity and sexuality is what brought Flowering Man to screen. I remember doodling and sketching a figure with a flowering plant growing from their mouth, and that became the first image translated from my mind, onto paper. The imagery offers fantasy, but for me, the film had to go beyond the imagery, into something more subliminal, more visceral yet hold an emotional core that's somewhere grounded to reality.

How did you think of portraying the journey of a daughter's acceptance towards her father?
I have looked at a previous generation of queer people, a lot of who couldn't come out and had to give in to the conventional heteronormative social structure, and I always wondered how stifling it must be. The image of the flower is hence, a liberation for me. We, as children, expect our parents to be by our side, always accepting of who we are; but the child coming to terms with their parent's identity is something I feel isn't spoken enough. For a daughter, the image of a father is that of a 'man', and that illusion being broken is what formed the true core of Flowering Man.
Did you find any challenges in the format of making a short film?
Any form of filmmaking is always a challenge, and this film is no different. But I firmly believe in looking at a film through what it has finally translated on screen as. Sometimes the challenges during the process of making a film push us to go beyond what was planned, and it aids into something unthought of, something new and maybe magical. Personally, I find the format of short films really engaging, and it feels very open as a canvas, to explore form. Thanks to my film school, the Film and Television Institute of India, to have given us the space to learn and create such films. I do think the stakes are lower for a short film, as compared to a feature film, which creates an openness towards experimentation. And short films are always a stepping stone to filmmaking, to learn where one's cinematic language lies; and of course a lot of fun.

Tell us about the cinematography and the kind of aesthetics you have represented in the film.
The palette of the film is a little bit of indulgence on my part. I like to look at bright colours and have a personal bias towards green and purple. A personal obsession with dance, as an artform, pushed me to look at the language of the film through movements in every shot, to give it musicality and rhythm. I had a wonderful team of collaborators - Avirat (cinematographer), PR Manikandan (Production Designer) and Anurag Pant (Sound Designer). And the aesthetics of the film is a culmination of all our minds. The best thing about a student film is the love and hardwork that a group of likeminded people put together and that's what makes it unique. At the core of the film is a lot of passion and love.

What's next for you?
I'm developing my feature film which I want to complete writing by the end of January. It's set in the coal-mining area in the Bengal and Jharkhand borders, which is where I've grown up. And of course what starts after writing is to get into the grind of searching for finances, so I'm mentally preparing myself for that journey. I'm looking forward to the thrill and excitement of my first feature film.

Words Paridhi Badgotri
Date 03.11.2023