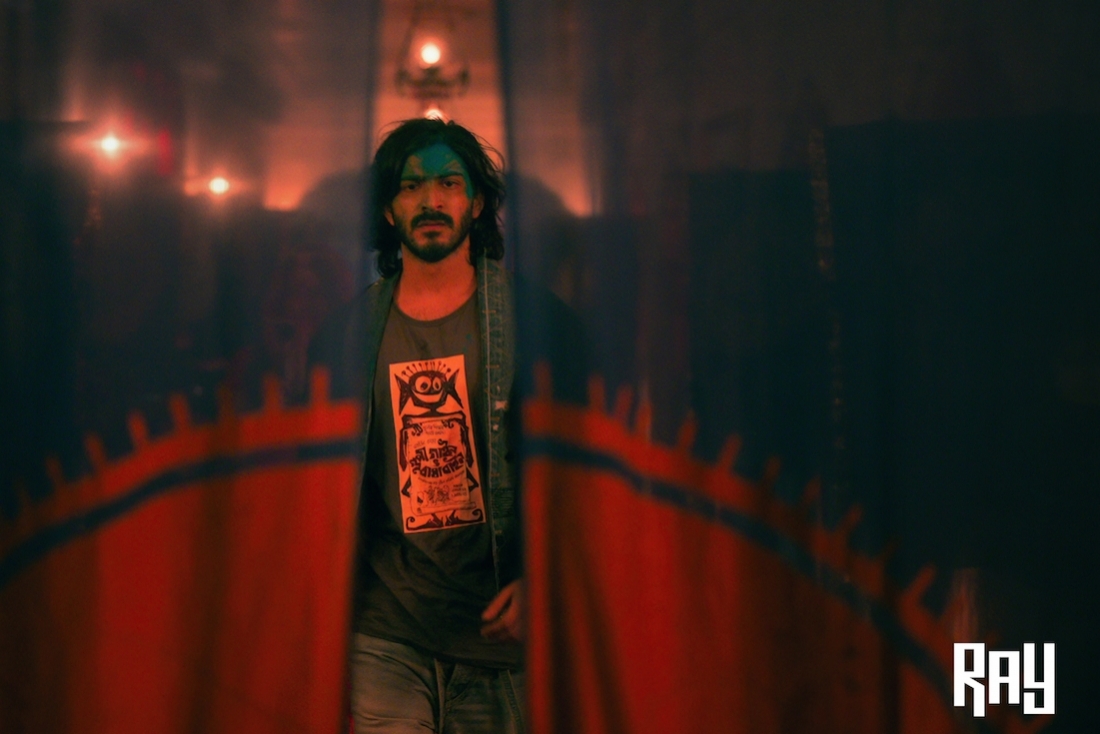 From Book to Screen: Spotlight by Satyajit Ray
From a satire to a psychological thriller, Ray, now playing on Netflix, is a collection of four short stories from celebrated auteur and writer Satyajit Ray. Adapted from book to screen, these stories are completely twisted but have a lingering and deep emotionality to them. We are talking about Spotlight today, which is a story about an actor, Vikram Singh, who is at the peak of his career. Fans turn up just to see his talked-about 'look' wherever he goes. But he finds himself lost and shaken when the spotlight is shifted from him to a demigod-like figure. Now, everyone wants her, not him.
Vikram, the actor played by Harshvardhan Kapoor, is talented but has his own quirks. He is insecure and shows us a classic example of the cost of fame -- how gravely dark it can be for someone, psychologically, who is constantly under a spotlight. The film is a satire and a dark commentary on the said subject, but has been given a light-hearted treatment by the talented filmmaker, Vasan Bala.
We got in touch with him to ask him questions about his evolution as a filmmaker and Spotlight. Excerpts follow:
Can you recall your first memory of cinema?
I think it would be Ganpati celebrations. Back then, there would be screenings held on projectors in building compounds. I don't remember which film I saw but I very vividly remember a scene like Swades — we were all sitting on the ground and had carried our own newspapers. I was a little kid and my caretaker had taken me there. I remember the ambience — it was like the whole village had come there. That's my first memory of movies and how it's supposed to be on a big screen.
How do you think you have evolved as a filmmaker over these years?
Maybe the evolution is that I was angsty and naive back when Platform had interviewed me before, and am probably less angsty now. Secondly, I'm a father of a daughter now and I also want her to watch my films, so I probably wouldn't be making something like Peddlers now. Off the top of my head these are the things. Otherwise, I hope we all retain the naïveté, believe in magic and not get too clinical about it, despite the harshness of the business. I hope evolution doesn't happen on that front. Don't be negative about how to make things and how to make it work and sell it.
What was the starting point for Spotlight?
The short story was from the point of view of a family, where they had come on a vacation when a star and a spiritual leader had come to visit, and how the family's spotlight shifted from the actor to the spiritual guru. But then, I was really tempted to bring the actor himself into the spotlight. So you know the same family's point of view and how that affects the actor being displaced by a spiritual leader. That's how it started. Then, because of the pandemic, we thought of ways of adopting it and it occurred to me that in films, even when I was an AD, who got which room is such an important thing. I don't know why. The whole pettiness around the room thing is always there. I wanted to start it with a seemingly petty issue and kind of snowball from there. That's how we got them into that hotel and made it a lot more intimate and claustrophobic in that sense.
Why did you think Harshvardhan was perfect for the role?
We were discussing a lot of names, but when I mentioned Harsh, it just seemed to sweep the room with a bit of surprise. Because AK hadn't come out and nor had we seen AK. We knew Harsh from Mirzya and Bhavesh. So, it was interesting for me to at least pitch it to him and see whether he would be interested in doing something like this. Immediately, when everyone seemed interested, I called him and told him the script hasn't been written, it's just like a half-baked structure. I asked him if he would be interested and he immediately agreed. This happens because someone has faith in you and it's always encouraging to collaborate with someone who is ready to go on this journey from the genesis.
I feel that they have something in common, Vikram and Harsh.
Yeah, Harsh has his quirks, is a bit eclectic and has great taste. He watches a lot of films and has an active interest in fashion. He does have these Hollywood eccentricities, which would be appreciated there. It was fun to put together the character and he was game. It's very easy for an actor to be conscious and feel that he'll be judged. But he really put himself out there and accepted the character. It is fun when you have faith in your collaborators. Just go for the ride, don't judge the character and try and give it your best shot.
When Platform last spoke to you, your creative process was determined by deadlines. Does that still hold true for you?
Yeah, it does. Because I think a film only gets completed because of a deadline. The final mix and grade ends only because it needs to be submitted. Otherwise you can keep working on any film, even a short film, for life. So yeah, the process is never-ending in that sense. It is also the magic of the process. You get extremely intimate and then you just have to let go one day. It's a great process, we probably want to relive that again and again. And it should mean something to you, where you really are into it, no matter what the result is. But the process can't be frivolous or 'okay let's just go and shoot'. It should mean something and Spotlight was also just like a feature film for me. I didn't consider it a short film or anything else. I just entered in with the rigour of how I would have gone in for a feature. And that's how the crew works, that's how the actor works. It was a very fruitful, fun experience for all of us.
Amitabh Bachchan's stunt sequences in the '70s. Then there's Salman Khan's fights in Maine Pyaar Kiya and the train scene in Johnny Gaddaar. In an interview you mentioned them as your favourite stunt sequences of all time. Did they in any way influence the last sequence in Spotlight?
Actually, none of these in isolation in that sense. What I figured as I watched Bollywood and Hollywood films is that some of these actors, they just stand out — like Amitabh Bachchan and Shahrukh Khan, especially later on. I think he's one of the greatest stuntman actors we have. But even early on in his career, simple shots in songs like Anjaam, where he's jumping from a speeding taxi from the inside and onto the hood and then going back in, that's like proper stuntmen work. Everyone thinks he's spreading his arms and looking mushy, but I think there's an incredible action hero in Shahrukh Khan. So actors like Jackie Chan, Bruce Lee, Van Damme, and Tom Cruise especially, who's the greatest stuntman-actor living currently — I really love them. Even Kamal Hassan, the stance that he pulls is incredible.
So I have always loved these actors, who can pull off their own stunts and bring in that physicality to the role as well. But in Spotlight, this action wasn't needed, but probably because I was making it, we kind of pushed it in the end to just be a little more fun, to get that adrenaline rush flowing a bit. It was fun to shoot as well. I'm friends with a lot of these stuntmen, who were in Mard as well, and have very fond memories with them. Hopefully, someday I'll make a film with only stuntmen. Because all of them also have this dream of becoming actors. I really hope I can make this one film with only stuntmen and women in it. There are a lot of great stunt women also now.
Did the last year change or impact the film in any way, considering it was conceived in a lockdown?
Yes, it did. Because earlier I thought I'll shoot this in Benaras, in the outdoors, where there is the actor and then there is this huge gathering. But once the pandemic hit, we relocated it into a hotel. It did affect the original thought then. But looking back now, I think this was the perfect fit.
Location does play a very important role in the film.
Yes, once the shift happened, everything fell in place. Also the way we started hunting for the location was important, because the thing with the Rajasthan boutique hotels is that they're too nice. We wanted something that is pulpy, eclectic and weird in its own way. Which is when we found this hotel, which looked like a heritage hotel but it wasn't and had a lot of expensive stuff, but was not classy or catered to the foreign tourist — it seemed extremely desi in that sense. It had that old world Bollywood feel to it. So the whole conflict in the Madonna room actually happened once I visited the hotel. Because in Benaras, there is always a legend around all the ghats. It was interesting to showcase that Rajasthan could also be like that, as many foreigners and celebrities come here. So it was palpable that maybe one of them could have stayed here.
Did the last year change you in any way?
It did, I think — I'd probably know the repercussions a little later. But yes, I think one should acknowledge, especially the second lockdown. During the first I think we all still selfishly hid ourselves. But in the second, we all had to come out, in the sense that if nothing else then on social media to help each other out in whatever little way we could. So the second lockdown looked and seemed like a bigger teacher, and probably in the coming years, we'll know how it has affected us. But it definitely has changed the way we're looking at society, how it forms and how it needs to be.
Are you working on something new right now?
There's this one film called Monika My Darling, which I'm making for MatchBox pictures, produced by Sanjay Rahotre, which is for Netflix. Then I'm developing this film called Phantom with RSVP.

Text Hansika Lohani Mehtani
Date 25-06-2021