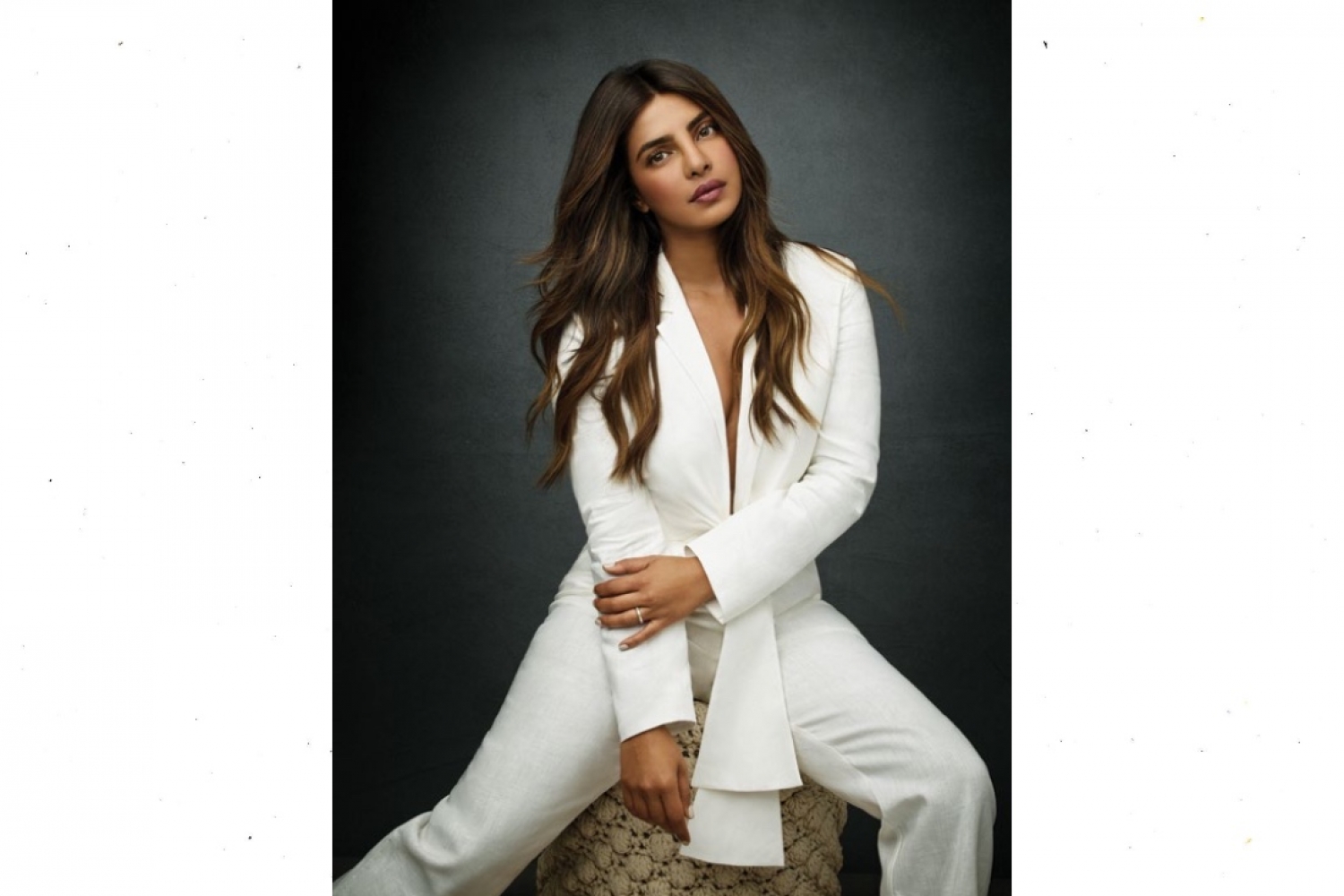 Game Changer: Priyanka Chopra Jonas
If I were to use a term to describe Priyanka it can only be – Power House. I met her in 2004 on the sets of 'Don' in Malaysia and I couldn't help wondering how such a young girl could conquer the hearts of everyone with whom she came in contact. She's a performer who exudes confidence, nails each character with utmost panache and is a team player any filmmaker would only be too lucky to have. Over the years I watched her go from strength to strength, never looking back except to appreciate those that had been by her side through her incredible journey. Her filmography in India is one that showcases her immense talent where she, with almost iridescent grace, is able to slip right into the skin of characters that will be remembered in the history of Indian cinema.
Priyanka has never looked at the world with the blinkered glasses of having any borders. There are very few things that can stop her and with that focus she has continued to shine bright beyond the shores of India. From being a global goodwill ambassador for UNICEF, to a bestselling author with her memoir Unfinished and now a founding member of the Victoria's Secret Collective, the world is her oyster and according to me this is just the beginning.
Congratulations for coming out stronger and more inspiring in one of the most challenging years of our lives – as your book is unfinished when will you write the next - what will the year 2020 hold for you?
Thank you. It was definitely a difficult year for most people and one that held a lot of challenges. 2020 will always be bittersweet for me. It was obviously the year of Covid 19... a year the world was turned upside down, where we lost so many people to the disease, businesses shut down, people lost jobs.... overall a terrible year for most.
I spent a large part of 2020 feeling gratitude in the truest sense. The lockdown forced my life into a hard stop from the constant high speed that it was perpetually in. It allowed me to take a breath and appreciate everyone and everything I had in my life. It all gave me the mental space to finally sit down and complete my memoir.... So yes bittersweet.
You have been under the spotlight for over twenty years -what have been your three most truthful learnings?
1. When opportunity knocks, you swing that damn door open and face it with an open mind... there is always so much on offer.
2. Find your people and hold on to them tight – family, friends, team etc.
3. Work hard. Be committed and do your job with respect and integrity.
Sometimes unplanned turns take you to places you never expected. Your journey started like this, however, when did you realise it was time to hold the reigns and walk a path created by you for you?
My life is all about those unplanned turns and unexpected opportunities. I realised it very early on in my career and life. I knew that life gives you many opportunities but what you do with it, is the most important part. I had the confidence and the courage to chase my dreams and ambitions and I knew if I wanted it to be a particular way, I needed to create it for myself.
Very early on in your career you took some very bold decisions, played challenging characters - did you have any particular idea of what kind of characters you wanted to play and narratives you wanted to engage with?
I was open to experimenting. I am someone who needs a challenge and I don't always follow the rules or traditions laid down by someone else. I loved being in the creative field, loved being an actor so I wanted to challenge myself to get better and one way to do that was to push the envelope. I started to trust my gut more and decided that there were things that were worth taking the risk for, including interesting characters / films and so I did. It may sound simplistic but it's actually a very tough road to take.
Considering there was a time in your life when you were 'the other' and then you built a standing and position for yourself in the industry only to start all over and become 'the other' again. When you began looking at international projects, how did you approach and tackle things the second time around?
First and foremost, I left my ego at home. It didn't matter who I was and what I'd achieved. What mattered was the opportunity I had for myself to do something very few from our country ever had. I wanted to give myself the best chance to do that even if it meant walking into a room and introducing myself like a newcomer. I was also okay to put in the hours,to do the work, to take crazy flights to make sure I could do both things, instead of just picking one.
Being in the public eye brings its sets of challenges – you have been criticized, received hate mail and have been racially attacked – during all that you never gave up and decided to 'shut down the detractors with your work' – what gave you strength to lift yourself up and carry on?
I learned the hard way that you can never please everyone, all of the time. So I focussed on what and who was important to my life and journey. I focussed on the fans and their invaluable support, on my family, friends and team who stood by me no matter what pivot I made or what decision I took, my colleagues whose support helped me be better at what I did. Social media makes it harder to drown out the unnecessary voices but once you're able to separate constructive criticism from just anonymous troll that's half the battle won. The rest is on you... it's not easy to get to that point, but for your own sanity you have to try.
Your production house engages in such compelling and important stories. What is your curatorial process for the films you choose?
The story has to grab my attention somehow whether it makes me laugh, cry or think... I need to feel something. For me with Purple Pebble Pictures, I aim to create "great content" featuring creative talent from all over the world and as a storyteller, my quest is to constantly push myself to explore new ideas that not only entertain, but most importantly, open minds and perspectives.
It's my quest to influx Hollywood with as much south Asian talent as I can. My greatest joy with Purple Pebble Pictures is being able to create movies and TV shows with an all South-Asian cast in Hollywood. We haven't seen that very often. My quest really is to be able to tell female stories, work with creators from around the world and create a cross-pollination of storytelling.
Just before the pandemic you started two new chapters in your life, on the personal front it was your marriage and on the professional front your dating app. So if you had to break it down, what makes for a true, real and honest partnership? Honesty, trust and being your real self, allowing all your flaws to show. It's under- standing what makes the other person tick. Understanding that you are not always right and working damn hard to reach a middle ground when you disagree on something. And never leave things unsaid... good, bad, ugly... discuss it and get it out of the way.
'Unfinished' was released early this year – what an inspiring journey so far. What thoughts circled your mind when you 'finally offered the story to us'?
It was difficult initially, because at the core of it all, I am an intensely private person. As someone who lives my life in the limelight, I accept that everything I do is public, but I have always tried to retain a part of my life and keep it away from the world. So opening up and sharing my deepest feelings, emotions and memories was unnerving but something I thought it was time to do... on my own terms. This is a very honest reflection of where I am at the moment. I didn't edit my book in a way that 'this is something I don't want to talk about' or 'this is something I can'. If it was true to me in the moment, it is in the book. If it doesn't matter to me, it is not in the book. It is very honest telling of that tale.
"'Don't settle into someone else's idea of who and what you should be. The best feeling in the world is allowing your real self to take centre stage.'"
You have been a part of the UN and have raised awareness around the girl child and helped empower women. Do you think that men and women would be ever looked at equally? What are the simple choices one should make to make 'social service a way of life'?
Those are very individual questions.. so let me try and break it down...
Yes, I do think man and woman will be looked at equally at some point. It's why so many us are fighting the fights, educating those that need to be and constantly striving to remind young girls everywhere that they are worthy to be considered an equal. But there is so much left to be done... we're fighting centuries of patriarchy that shows itself in so many different ways across the world. We're not going to stop... I have faith in the current generation to join us in eventually making this a reality.
In my opinion, social service is not a choice. It's something we all have to give back in whichever way we can. Whether it's giving an hour of your time a week or contributing funds to a worthy cause, there are so many things we can do at an individual level.
You have accomplished so many things on so many creative levels as an artist; what is your truth and purpose?
My truth is a pursuit of excellence and my purpose is a pursuit of happiness.

This article is all exclusive from our December EZ, launching soon.

Text Nitya Mehra
Date 21-12-2021