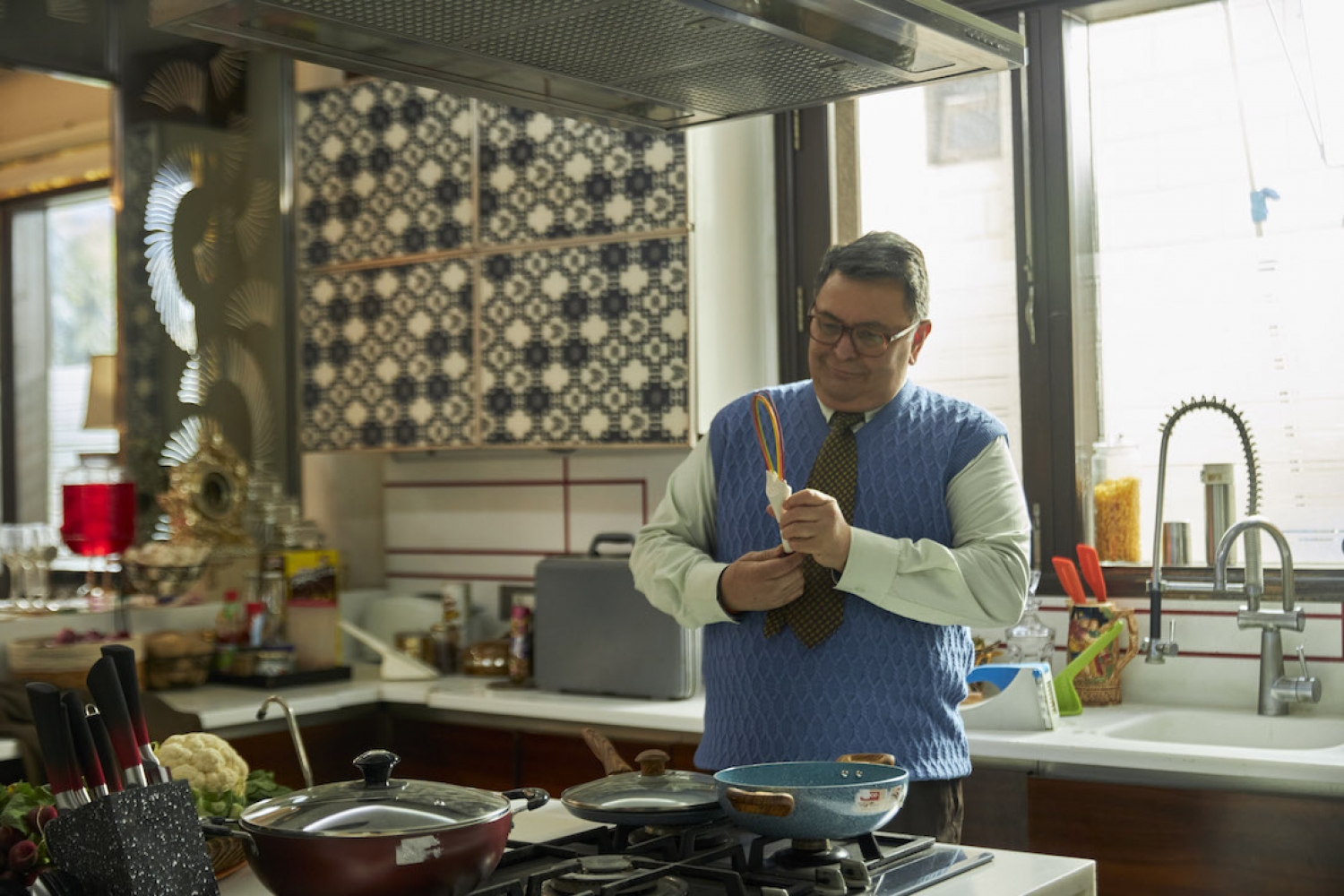 Hitesh Bhatia
Sharmaji Namkeen
The sheer perseverance of filmmaker Hitesh Bhatia is my takeaway from the story of his life and his debut film, Sharmaji Namkeen. Let's go back in time a bit to give you context. Hitesh Bhatia grew up in the western part of Delhi — an often-overwhelming place, where there was never any silence. There would always be the bark of dogs or the yelling of neighbors, or the music of a distant jagraata. All like a Gaspar Noé film. Growing up with working-class ethics of respect and stability, Hitesh's choice to work in the arts was entirely accidental and a complete departure from what was expected of him. A director at heart, and now a screenwriter, Hitesh's first formal introduction to the world of cinema was passed onto him from his father, much like the inspiration of his debut film, Sharmaji Namkeen.
The film is about a retired father who suddenly finds himself at a point in his life where everything stops making sense once he loses the purpose of his life. He then picks himself up to reinvent his life by trying his hands at cooking. It's a heartwarming story about love, relationships, family, and an important message to never stop fighting for your passion. Hitesh's journey with the film has been a long and tough one — first to find the perfect story, then to get it on the floors, only to lose his lead (Rishi Kapoor passed away while production) amid shooting and then getting another stalwart (Paresh Rawal) to fill in instead.
We connected with Hitesh to understand his vision for the film and his practice.
When was the seed of Sharmaji Namkeen sown?
After editing for hours and hours for a few years, I was just done with sitting in a dark binge studio for days. I was just not okay with that setup anymore. I wanted to break away, which was a hard thing. It took me a long time to think and decided what I wanted to do next. The new direction I wanted to take. The idea or the seed of Sharmaji Namkeen came much later in my life. When I decided that now I'm ready to make my film and I should move towards it and tell a story, I had no story to tell at the time. I also went through that phase where I was watching stuff, reading, constantly searching for a story. It took me a long time, about six to eight months. And then I got frustrated that I don't have a story. At the same time, my dad retired from his job, who was an extremely workaholic guy — the man of the house. That man was now sitting at home with nothing to do. But we as Indian children always want our parents to lead a comfortable life. I connected with him to make his life easier but then it struck me one day that this is the story I want to tell the world as my first film, this is the story I want to share; so that became the genesis of the film.
Can you talk a little about the casting process because it's such an integral part of the film?
When we were writing the film, we always thought of getting Rishi Kapoor and Juhi Chawla to do it. So, it was quite surreal when they agreed to do the film. And of course, not even in our wildest dreams, we ever thought that we would have to pass it on to someone else, but we had to take a few hard calls. We wanted someone who's not just a good actor, but someone who has that dignity. And it doesn't feel like gimmicky, doing justice to the spirit of the character. So there couldn't be anyone better than Paresh Rawal to play it!
What do you want the audience to take away from the film?
One of the very big feelings that I want the audience to connect with and take them with them is finding your true passion at any age, because it took me a long time to make this film and it's finally releasing! It has been a very long and tough journey. Never ever was there a time when I thought that I could do something else instead of making films. I'm just so passionate about it. It makes me so happy. This was never a job. It never bothered me. No hardship is strong enough to make me feel otherwise. And I think that is true for anybody who follows something with passion, whether you play cricket or whether you're an actor, when you find that true passion, you must cherish it. You must nurture it. You must follow it because however hard that journey will be, it'll be very fulfilling. That is what I would want the audience to connect with.
Also the fact that when people retire they don't really know what to do with their lives next. They're hale and hearty; a lot of people don't want to do just gardening. They don't want to just take their grandchildren for walks. When I was doing the research, everyone told me the same thing, that they want to be relevant. It's not about working. It's not about money. It's about being relevant. If there is someone around you, whether that's a young person, like a 20-year-old who wants to pursue something, or a retired person sitting at home who wants to learn a dance class, I don't think you should judge them. We should encourage them because I came in the way of my father's life by telling him what to do when I shouldn't have. I realized much later that I'm doing him more harm than good because that is the true spirit of a relationship, you should let people do whatever they want. It has nothing to do with you. That person wants to pursue something. You should encourage them and help them.

Text Hansika Lohani Mehtani
Date 04-04-2022