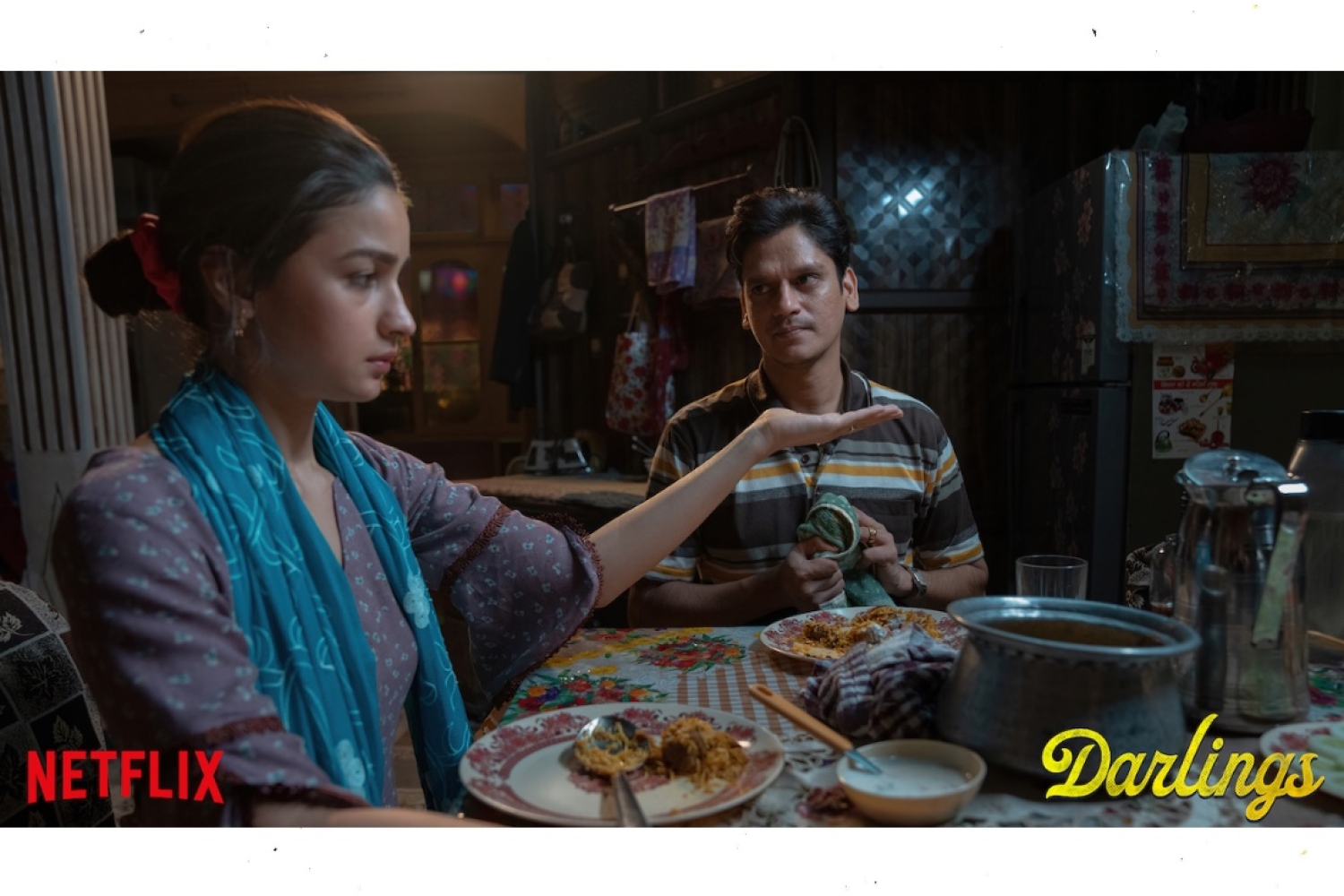 As a film, Darlings by Jasmeet K. Reen has everything a debut filmmaker could ask for — two massive production houses backing it (Shah Rukh Khan's Red Chillies Entertainment and Alia Bhatt's Eternal Sunshine Productions) alongside OTT giant Netflix, and a stellar cast (Alia Bhatt, Shefali Shah and Vijay Varma in the lead). It's picture perfect. But the heart of the film lies in the story and narration. Darlings is extremely entertaining, dark, humorous, conversational, and shines light on a sensitive subject — domestic abuse.
Darlings has been written and directed by Jasmeet, who is from Bombay where she actually studied commerce at first, wanting to be a Chartered Accountant, before the arts pulled her in. Since this is her directorial debut, the challenges faced must have been many. She shares, "It is challenging when you go on a set where there are one hundred and forty people working and you realise that all of them have more experience than you. They all have donemore work than you have. But I was aware of one thing — I know my script best. I know my film best." She tells us more about the film below:
DARLINGS
I wanted to tell a story about domestic abuse as it is not just about strata, it is a prevalent problem. I don't know how but I feel like somewhere we became complacent. We have somehow become so immune to it. There is a character in the film who represents this attitude. She hears something happening in the neighbourhood but just turns a blind eye to it. And then after that, I had this idea that this is going to be a mother-daughter film where they are trying to find their place in this male-dominated world. They are, together, trying to fix the daughter's marriage.
There were other things as well, like I always knew that the daughter and her husband have to be madly in love with each other but there is something off and they're trying to solve that problem. When I was writing the script, I didn't know how they are going to solve that problem. They come up with really whack ideas since I wanted to have fun with it too.
BOMBAY
I'm from Bombay and it has so many different faces. Like Bombay is different in Bourivali, Bombay is different in Bandra, Bombay is different in South Bombay, and Bombay is different in Byculla. I spent three months in Byculla researching for this film. Their lingo is just fantastic. It is a mix of Urdu, Hindi, English and Marathi. They speak in a bizarre way. They'll use words like deewana and say things like "Tum mad ho kya?" So that was very fascinating for me and I thought it is a very good representation of a city where all cultures come together very beautifully. And, of course, this lingo makes everything funny.
All four of my characters want something from life. They all wanted to do something nice in their lives, they all have dreams unfulfilled, and that is again Bombay. You have a dream, it doesn't work out, so you dream again, and that is what the city teaches you. Rohan in the film wanted to be a writer but he couldn't make it so he is doing something else. The mother wants the daughter's happiness and she will do anything in her power for it. The daughter was obsessed with love marriages, then she got a love marriage, but it is not working out. So everybody wants something from their lives. Even Hamza (Vijay Varma's character) wanted a government job and bullies everyone at work, but is in turn bullied by his boss.

This article is an all exclusive from our August EZ. To read more such articles, follow the link here.

Text Hansika Lohani Mehtani
Date 15-08-2022