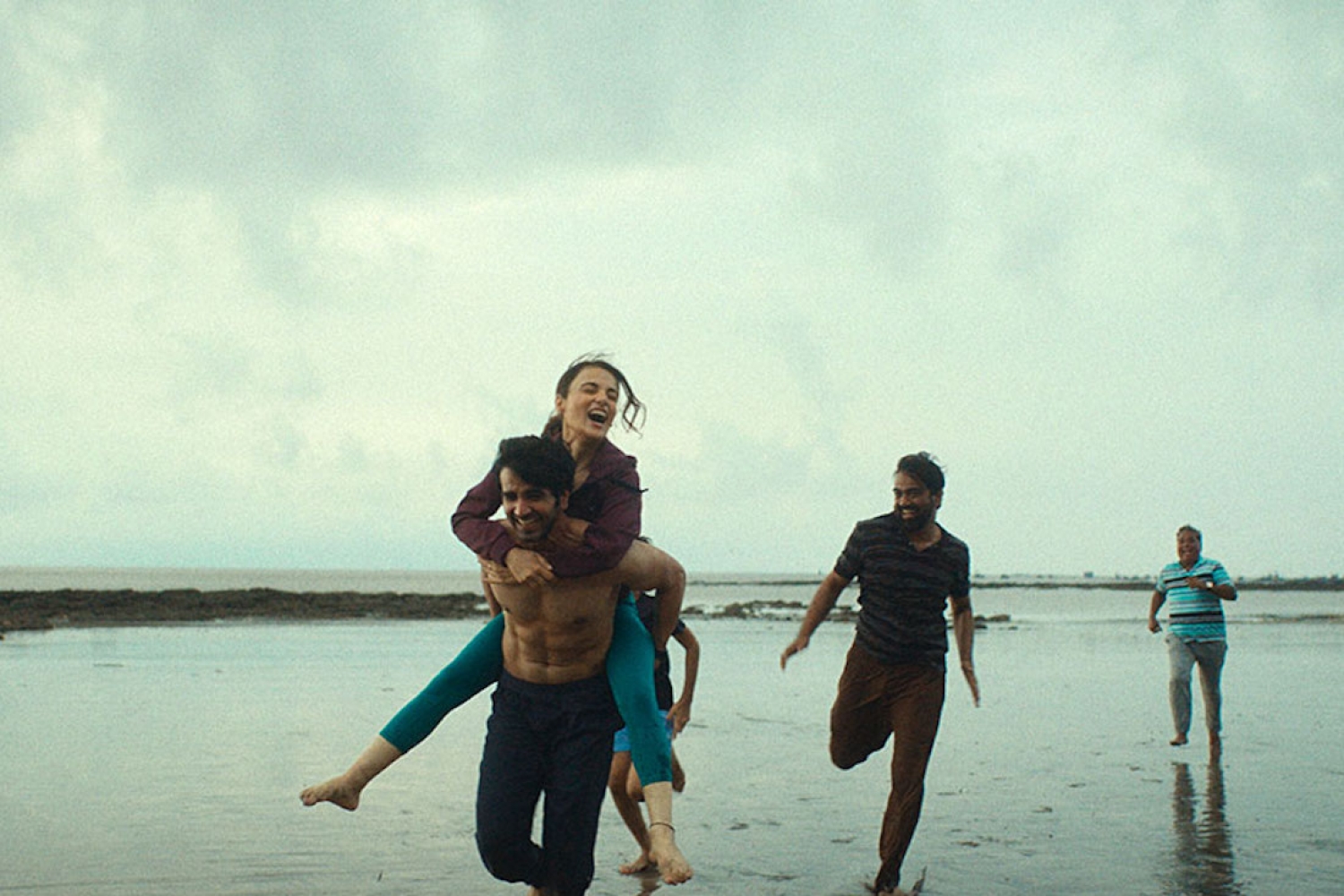 Kacchey Limbu
Shubham Yogi
Kacchey Limbu now streaming on JioCinema.

Twenty years ago, the genius filmmaker Guy Ritchie made a film, the opening credits of which actually set the tone of Shubham Yogi's life. The title sequence announces the cast in a memorable way, as the unlikeliest of robberies goes down; through a series of rip-roaring vignettes and freeze-frames. If the sequence seems clichéd now, that's because it was a genre-defining piece of cinema. Cool as hell circa 2000, the opening minutes of Snatch almost single-handedly reinvigorated the British gangster movie. Years later, watching the film in college where Shubham was actually studying Law, the opening sequence piqued his curiosity about its creation and made him learn who a director really is. That's how it all began.
Shubham started from Delhi but is now travelling the world with his debut film, Kacchey Limbu. It is a coming-of-age film about an entire family who is trying to balance emotions and loyalties with the girl of the house wanting to play cricket. It definitely sparks debates (for the sport being played by men more often) and more so because the daughter and son of the family find themselves playing for opposing teams. The film promises colour, comedy, love and joy. To know more about his journey with the film, we touched base with Shubham just before he was boarding a plane for the world premiere at Toronto International Film Festival.
How would you describe your relationship with writing? Did you practice it a lot while growing up?
I was always writing but in college I wasn't writing to be published. I didn't have any of those aspirations. I actually was writing for myself not really knowing what am I writing for. And where do I tend to take it. But I just kept writing because I enjoyed it. When I tried to move to Bombay, it was all in the hope to find a job as a writer. I did not know what an assistant director was back then. And at that point I was told that, 'Tumhe angrezi aati hai, likhayi nahi' which was the case. That's something which was the earliest learnings of my life...that just because you have ideas, does not make you a good writer... There's a lot more that goes into it. Kacchey Limbu wasn't any of the stories I had written before I moved to Bombay. It was in fact something that I wrote while my time with Anurag Basu. He was producing for television and he asked me to write something and the outline of what Kacchey Limbu is today was born then.
What do you gravitate towards in a story?
I'm not sure if gravitate is the right word. But I do find myself thinking about the human condition a lot when I'm writing. And it's not just a term to use, it's also something I've found is an easy go to. Like a checklist to develop. Characters which become relatable to everybody and it's basically a broad term that I have been using. Because it starts with birth then goes to conditioning, goes to the environment one grows up in and the conflicts that come from there. So human condition is what I try and understand/attempt to explore via writing. Not to say I succeed but that's something that comes to mind when you ask a question about themes I gravitate towards.
Do you have a writing process?
I think my writing process is mostly doing lots of outlines. Doing them again and again. Till I find confidence enough to commit to them into a story and write them in prose and not the screenplay format. And once I'm able to do that and it could be a three-page or thirteen-page or a thirty-pager; the prose of the story. And from there, I get to a stage of finally being able to write a screenplay which is the point where the actual process starts because for me writing is all rewriting and rewriting. I have learnt the difficult way how edits are not possible for me. You edit one thing and then suddenly there are ten different ideas. I like to go back to the drawing board back and starting all over again and I am quite comfortable doing that. That's been one of the toughest learnings but also one of the most rewarding. In a nutshell, my writing process is about rewriting over and over again and not being afraid to go back to page one.
Any directorial conundrums that came your way of your debut film?
Challenges were really just the pause and restart of the thing. We shot through the pandemic. We were supposed to start before the second wave hit. We were ready with tech recces, we were ready with locations and then we had to pause because of the second wave and then we started again. And not all of our crew was able to join us again so we had to hire new heads. Those were the conundrums, not so much on set. Just being able to get to a stage where we were able to align our visions, all departments together, was the place where we had the most work to do and everybody came together quite well. Maybe I wasn't happy with the delays back then because of the pandemic but today I'm glad because the team that came on board absolutely took the directions really well and showed me what all was possible with what I had in mind. The kind of conversations I had from there on, especially with my DOP, Piyush Putty and film's music director, Anshul Thakkar had been very rewarding.
What significance does the title hold?
The title is significant to me for me two big reasons. Number one is, ours is a very Bombay story. It is a story that breathes Bombay. Cricket is very dear to Bombay. The kind of tournaments we have here, I doubt there are similar tournaments happening anywhere in the country or anywhere else in the world for that matter. All the amateur players, mostly the kids, who are not old enough to be taken seriously in these gully cricket matches are called Kacchey Limbus. You let the kid win or have two chances at batting. But they quickly want to grow out of that tag. Everyone here must've been a Kachha Limbu at one point in their life. Besides that, the second reason why this title is significant to the film is because every character besides one is a Kaccha Limbu. Everybody needs to grow up and that includes the parents of the protagonist to the sixty year old parents, to the boy who is going to give a corporate interview. Everybody needs to grow up. It is a coming of age story, not just for the protagonist but for every character in the film. Characters who need to grow up and accept their evolving roles.
What do you want the audience to take away from the film?
I would be really kicked if the audience would understand how it is okay to not have the answers to all the mysteries of life. It's okay to not know what you want to do. That it's okay to just be and it's to not win. It's okay to not feel bad if you lose. It's okay to be in it for the love of it and not for the outcome. Quite honestly that's how we made the film. All of us were in it, just for the love of what we were making. And if the audience feels the same, I'll think my job is done.

This article is an all exclusive from our November Bookazine. To read more such articles, grab your copy here.

Words Hansika Lohani
Date 10-04-2023