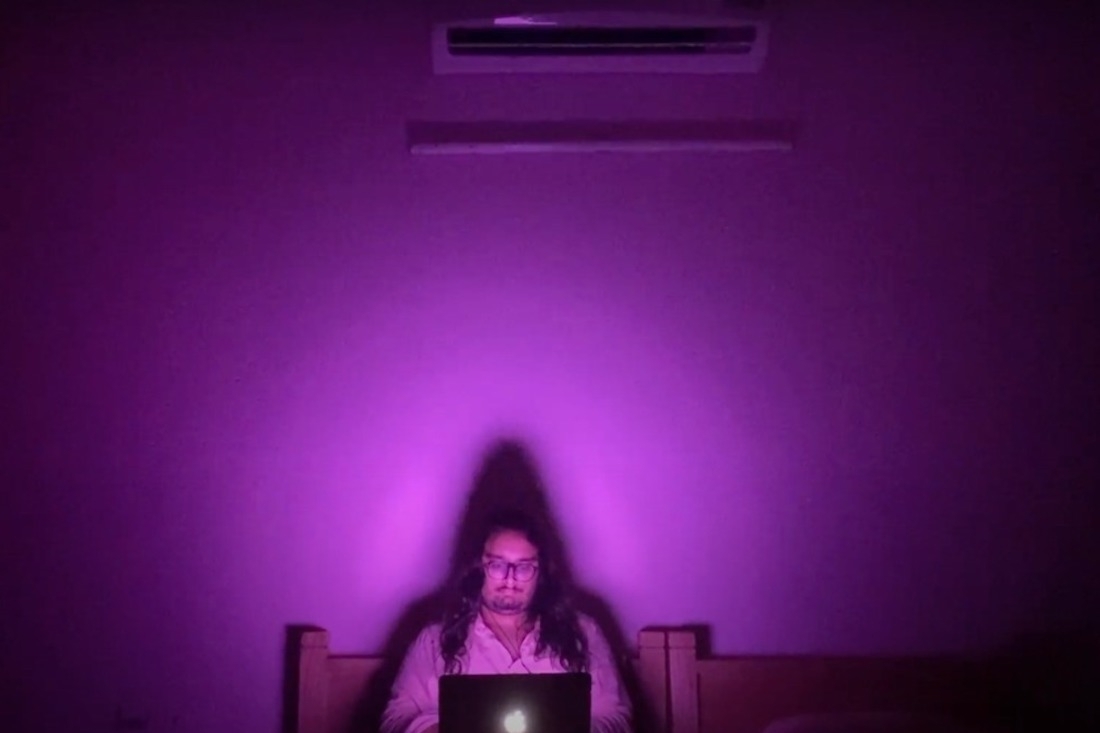 'I think we're constantly re-narrativising our lives,' says Kanishk Devgan, the filmmaker who has lived in Delhi, Belgium, England, Mumbai, Sonepat and Bangalore. He fell in love with cinema in school when he began exploring the arena of film criticism. After watching a film, he would spend hours going through podcasts, videos and written reviews of the film. His appreciation for the art form grew during this diligent exercise. 'As you explore more films, they eventually start attaching themselves to different parts of your life, and different films start meaning different things to you,' he tells me.
His stint with short films began in ninth grade, when he made a film for a competition on the theme of women empowerment, 'because they found it a bit scary to call it feminism at the time,' he recalls. Throughout school he won competitions, which eventually gave him the motivation to take filmmaking a little more seriously. He remembers making a short film in school for an economics and psychology symposium that led to him using film as a legitimate medium of personal expression. 'The theme for the symposium was happiness, so naturally I made a film about being depressed,' he jokes. Even while pursuing political science at Ashoka University, he never wanted to stop making films, and so he co-founded the college's film society Navrang.
Kanishk was also the co-writer behind the short film Suttabaazi. Another short film by him, Qabil's Quarantine, explores the theme of suspended time in a quarantine and won the title Best Film - Jury in the Quarantine Film Challenge conducted by My Film Project India. Here we are in conversation with him to know more about his journey and films.

What makes a good film for you?
I remember the time when I tried very hard to make a rubric for what a good film is supposed to look like. However, I feel that it just can't be broken down to any of those things. For instance, in the Indian film industry, there's a lot of misconception of 'oh plot holes are a bad thing'. At some point I think I just began to realise that plot is not very essential. You can have a film without a plot, you can have a film with a very bad plot. So for me, it's more about how a film makes you feel. You can make a film with as many plot holes as you want, as long as the tone, energy, pacing and rhythm of the film is right. The other thing is story. I honestly do not believe that there is any such thing as a good story or a bad story. There's only good story-telling. And the other important thing is every person will tell it differently. The voice truly matters.
Do you ever wish you had gone to film school to learn filmmaking professionally?
Over the yers I've done a lot of back and forth on this, but now I'm really glad I didn't. Doing something completely different in college was great as I've always believed that vision and taste is so much more important than learning the technical aspect of film. There's nothing you can't learn online. So I decided to do filmmaking on the side, which motivated me to keep up with it. I was just going off the main principle that the best way to get into films is to make films.
Tell us about the story behind Suttabaazi.
I was talking to someone and the topic of smoking came up. They mentioned a father and a son who had secret smoking habits in the same house which led to the idea of a mother and a daughter being the ones who had to hide this habit. I had written the initial script of Suttabaazi but things changed once a bigger producer got attached to it. Initially I was to direct the film as well but because of the lockdown and me being in Bangalore, I couldn't fly to Mumbai. That's when Kabeer took over directing. In Suttabaazi as it is today, the post credits scene shows the dad smoking while hiding behind a tree, but for me that completely defeats the purpose of the original idea. If the father was the smoker, he would be the one smoking openly, right? The whole trick was to not show that side at all, but to just focus on the positive aspect of the bonding that takes place between the mother and the daughter.
Also, in this script, the mother is more traditional, conservative and wants to start taking tuition classes. In the original script however, I wanted to dive away from the idea that it's only conservative households where this moral condemnation happens, along with the idea that all regressive things only happen in poorer households. The point was to explore the interior family dynamic and questions of 'who is hiding what' and 'why are they hiding their smoking habits', within that liberal set up. Apart from that, there's just so much controversy regarding smoking because people claimed we were promoting it. I honestly didn't think I was doing anything too cool, I just thought I was making a relatively normal film. But then I was acquainted with the reality of some people's psyche.
Was making Qabil's Quarantine cathartic?
It was definitely in the vein of things that I really like to do, which is basically when I get to make something just for myself. For Qabil's, since it was the first month of lockdown, I had nobody else. I was the writer, director, actor, editor and I had the space of my house. So it was about saying what I felt. The whole idea was that, for some people life before being quarantined was also like quarantine. Again this is just one facet of depression and to explore it I had to draw the parallel between the kind of things people were complaining about the quarantine and the everyday experience of a person dealing with depression. Making checklists to keep up with stuff, failing, losing interest in everything while the whole day just skips forward and the weird way that time gets messed with, were some things I wanted to show. The challenge was figuring out how to show all of this in a three minute film made at home. That's why I've tried to use a lot of different tricks in the film, like stop motion and not using a mic but still using different sounds to draw out the movie. So it did feel cathartic in a way because if you've resonated with this at any point of your life, then it would resonate with you now too.
You've studied political science in college. Would you ever want to merge politics and art in the arena of filmmaking?
Firstly, they are inseparable. Especially now, 'the personal is political' as a slogan has never had a stronger significance. Even explicitly though, the answer to your question is yes. Often when people say art is political, they immediately point to whatever social implication it has or whatever is overtly political. But politics is any relation of power. So there is a politics within the medium itself. There's so many different kinds of politics, but that's not to say that they are disconnected from the larger narrative. A film always ends up being about a certain ideology or a certain gaze and that's, at the end of the day, also an arena for politics to play out.
What are your plans going forward?
Right now I'm finishing the last couple of months of college, so I'm still quite busy with that. Also I'm an author at Film Companion, so that keeps me busy simultaneously. In a couple of months, I'll start working on a feature script. I have a couple of slightly fleshed-out ideas and they are quite political. The plan is to produce it independently and maybe even crowdfund it.
Text Devyani Verma
Date 12-03-2021