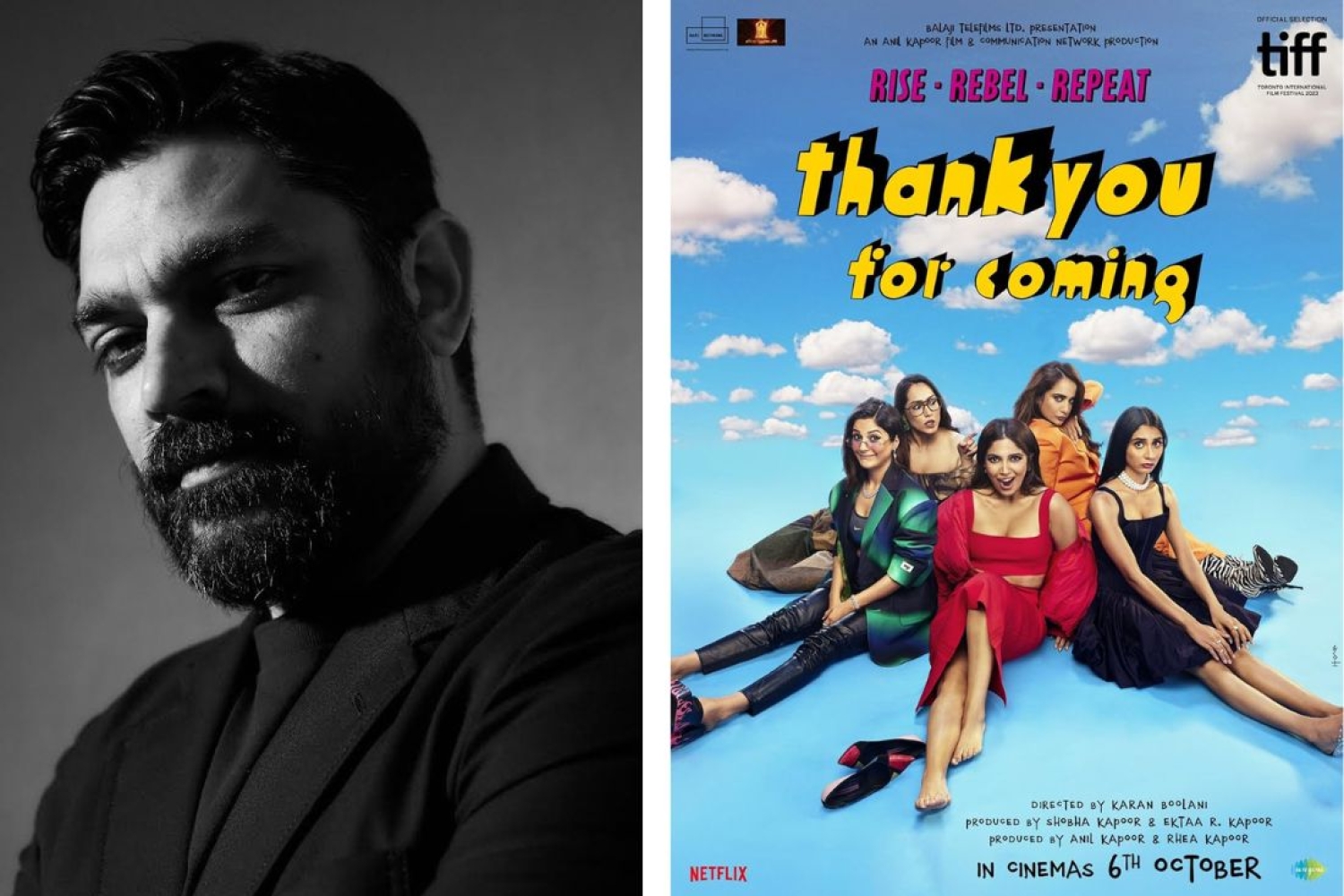 Karan Boolani
Thank You for Coming
Like many of us creative beings, Karan Boolani finds calm in the chaos. That was what pulled him into this world of stories, dreams and drama—a chaos of a film set. His romance with it however began a little later when he was at film school in Australia. There he was exposed to world cinema. Apart from being married to producer/director Rhea Kapoor, here are a few lesser known facts about Karan; Film School was his second attempt to go to college. The first time he was actually studying business and had to opt out because of financial constraints. Karan was ready to work at a textile export house for pocket money but fell ill on the day of the interview. Next he spoke to a family friend who connected him to a producer that got him his first gig as a production assistant. Our conversation with him revolves around his debut feature length film, being a show runner, producer and Director for Selection Day on Netflix, learnings from directing 24 (India) and the future.
The film in spotlight, Thank you for coming is produced by Rhea Kapoor along with Balaji Productions. After being well received at the Toronto International Film Festival, it is now ready to hit the silver screens next week.
Tell us something about your childhood.
Growing up in South Mumbai I went to an all boys school. In school I was always interested in dramatics; however was too shy to take part in it so I helped a lot back stage. I used to love watching the audience reactions. At home, I remember we had a two in-one TV and VHS player - so I would take it and plug it in my room and start watching movies late into the night, sometimes 3-4 in one go.
I was a member of all the video libraries and would hustle to get the latest releases - mostly American commercial films. I would watch Hindi films with my mother who loved big spectacle films and would take me to the cinema on the weekends. I still own the VHS copy of 100 days, Khoon Bhari Maang along with the English titles like Twister and Alive.
When did you first read the script and what propelled the making of Thank you for Coming?
I first heard the one-line and fell instantly in love with it. It made me laugh and I wanted to know so much more. Through the writing process I felt it was important to protect Radhika, Prashasti and Rhea's point of view because the story felt so personal. Rhea would have these long discussions with me about a particular scene or character but I wanted to keep my distance from the material and read it only once they felt like they said everything they needed to say. Once I got the draft, there was so much of honesty and joy on the page that it was hard to pick out anything which felt odd. It's rare to find good material, so once you do - just shoot it.
An all female cast with a strong femininist message makes the film. Could you acquaint us with your creative process— the prep, the shoot?
On surface the film is talking about sex and female pleasure, however as we peel the layers we reveal so many different and more poignant aspects about self love, patriarchy and what it feels like being a single woman in your early 30's in India. As a director, I work very closely with writers and find out what is at the core of the story and then find a way to protect that through the journey of making the film. Everything stems from there. As a film maker you are thrown a gazillion problems and decisions all through the process - So I wanted to be sure that each decision would help enhance the core of the story and move it forward. Right from casting actors to casting crew, I needed to surround my self with the right kind of talent - they don't necessarily all have to connect with the core story - but they have to be ready to serve it. I also prefer listening to music over researching old films - rhythm is everything in making a romantic comedy.
Do you have a dream team you've always wanted to work with?
I got to work with Anil Mehta in my first feature - who I admire for what he is and as a DOP. He's really cool and calm. I am also a big fan of Pankaj Kumar, K.U. Mohanan and Siddharth Diwan. I started working with A.R Rahman on my first feature so I would love to get back to it and finish where we left off. With writers I am a big an of Juhi Chaturvedi, Varun Grover and Jaideep Sahni.

What were your learnings from directing 24 and Selection Day that you picked on for this film?
I was called in to shoot 24 just for a few days when the lead director's schedule could not align. But I ended up shooting for over 120 days. Shooting TV is such a big challenge - you sometimes have to cover 10/13 pages a day, so this pushed me into subtracting everything down to "what is essential" to this scene - taking away all the decoration and sometimes going down to the barebones. The pressure helped me expand my awareness of what is "crucial" in a scene to help serve the overall story.
With Selection Day, it was the first time I was adapting a book. We had an english writer who was very familiar with setting up writing rooms and working with multiple writers. This was new in India so I got an opportunity to learn how to communicate with writers - what is the right kind of questions to ask and what is the most productive approach to give suggestions. Beyond this just delivering an international show and working with young, relatively new actors helped me understand performance.
Lastly, what are you working on next?
There are a number scripts that I have been offered, need to take time off after the release and read them - so nothing final yet!

Words Hansika Lohani
Date 26.09.2023