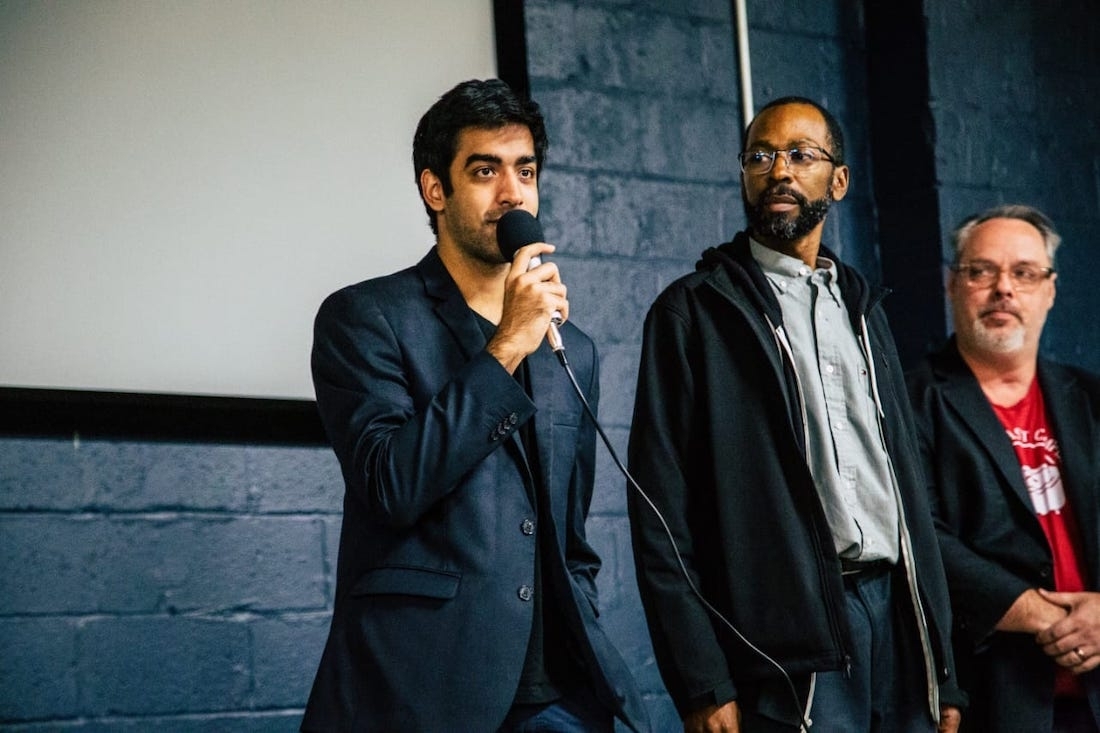 Born and brought up around professional English Theatre in Chandigarh, North India, Manahar Kumar was always drawn to two related art forms, theatre and film, both of which seek to move, provoke, or entertain people. He'd come home from school, hurriedly complete his meal while being glued to the T.V. set and then quickly finish his homework while watching a recap of a match or some Nickelodeon shows like Drake & Josh and Kenan & Kel. In a way, the films on T.V. became his first best friends, making him laugh and most importantly, giving him aspirations. After pursuing his undergraduate degree from Manipal his worldview expanded. 'Being part of classics like The Mousetrap, Mother's Day, The Night of January 16 and 12 Angry Jurors (Men), I learned, grew, and fell in love with performing arts. There came a time when I had to choose between my love for tennis or pursue acting and storytelling fully. I chose the latter and haven't looked back since,' he tells me.
In Manipal, he even co-founded a production house called UnTied Laces. This was followed by various projects, across different genres, where he contributed as a writer, cinematographer, director, editor and actor, including a music video in collaboration with Farhan Akhtar's non-profit, Men Against Rape and Discrimination (MARD), which sought to inspire and mobilise more men to stand up against everyday sexual violence in India. Currently, he is in his final semester of Master of Fine Arts, alongside being a teaching assistant to his screenwriting professor at Savannah College of Art & Design (SCAD) in Atlanta, Georgia. His short documentary, Kya Dekh Raha Hai? (What are you looking at?) even fetched him a Student EMMY ® and nine other international film festival selections. All through his filmmaking journey at SCAD, Manahar has acted in pilots and thesis films for SCAD and Columbia University, New York.
Here we are in conversation with him to know more about his journey and the way forward.
Tell us about your inspirations?
I am an avid and curious reader. The most recent book that I completed was Close Up, a memoir by the great Zohra Sehgal, comprising of intimate letters exchanged between the magnanimous, Prithviraj Kapoor and her. It taught me persistence and fearlessness. The Story of my Experiments with Truth by Mahatma Gandhi was a book that left a mark on my soul as well, providing a passion of truth I'd never experienced before. In the past I've read Chaplin's autobiography as well as Marlon Brando's Songs my Mother Taught me, Robert Iger's The Ride of a Lifetime and Trevor Noah's memoir, Born a Crime. One of my favourite books is by author, Elizabeth Gilbert called, The Big Magic, Phoebe Waller Bridge's Fleabag Scriptures and my friend, and surely future collaborator, Krishna Trilok's authorised biography on A.R. Rahman, Notes of a Dream.
The masters above are inspiring, and most importantly, layered humans with flaws albeit learners for and of life. They've had their share of struggles and highs unique to them, but they've always pushed the bar, allowing humanity to reach higher peaks. I am an immense admirer of filmmaker Jeff Orlowski and his work (Chasing Ice, Chasing Coral and The Social Dilemma). Not just because of his subjects but his devotion to making the film come alive, travelling across oceans and diving deep into research, seeing it through till the last lap. It inspires me and makes me work smarter. Artists like Ramy Youssef, Phoebe Waller-Bridge and Issa Rae have been able to create a dent in the 'mainstream' landscape. Each of the above artists has a distinct voice, mainly because they've both keenly observed and introspected, hence giving birth to engaging art.
What inspired Kya Dekh Raha Hai?
It is the Winter of 2017. I am in my hometown of chilly Chandigarh, India. I was waiting on responses from film schools that I'd applied for my Masters. One evening, while parked in a crowded marketplace, I continuously kept hearing the cackling of empty alcohol bottles. Curious, I saw a group of poverty-stricken kids with huge white sacks, taller than their height, speaking to an old man in a vintage car. This intrigued me immensely. Questions arose: Are they selling drugs? Are they forcefully a part of an underground gang? A couple of weeks passed; I was in the same area and the cackling began. This time, I saw just a couple of them. I drove back home, packed my DSLR and a lav mic and hurried back. I started filming the kids, almost like an investigative journalist. I asked them questions and was flabbergasted at the revelation of the truth.
I edited the film in 48 hours, but something stopped me from releasing it publicly. This was my first ever experience wherein a story was speaking to me, telling me to be patient, to not rush because the world needed to be made aware of this story. I decided to stay put, chose SCAD for my Master of Fine Arts over my life-long dream of heading to Stella Adler School of Acting in New York, which I was selected as well. Cut to, the Winter of 2018. I am in chillier Atlanta, Georgia, attending an eight a.m. producing course with Prof. Quinlan O'rear. Post the class, I requested my professor. to see the film, titled, kya dekh raha hai? (What are you looking at?). He liked it and said, 'This is powerful stuff, Manahar. Are you happy with the edit?' I took a couple more weeks to finally lock the film and got a submission request from my professor for the Student Emmy's. I did so and forgot about it, catching up on the bliss of film school.
The same winter, on 28th January, ten thousand miles away in India, my grandfather breathed his last breath, a day after he celebrated his 53rd wedding anniversary. I was shaken to say the least. Death had visited both him and me, whisking me off my feet. The only saviour — films. I overworked and acted in more shorts than I could count and aced my semester. May 2018, I receive the news that kya dekh raha hai? is nominated! I arrive at the venue, shaving after six months, allowing the light to finally hit my face. The nominations are listed on the screen, 'And the award goes to…' My grandfather and I won. Act I begins…
After making short documentaries, you moved to fiction for your thesis film. What motivated you to make that switch?
A lot of filmmakers that I studied began their journeys by observing real life. For example, Polish auteur Krzysztof Kieslowski. While in Manipal I made a lot of promos and marketing videos for audiences to buy our theatre show tickets. Soon, this habit transitioned to being curious about people living around us, like the auto drivers as well as Vada Pao sellers, leading to my first documentary, titled Bottled Dreams, wherein we asked them about their childhood dreams and the survival loop they're stuck in now. Post that came, kya dekh raha hai? (What are you looking at?) and Badlaav (Change) Republic.
Over the years, I've sharpened this gaze and imbibed human mannerisms and personalities, that allow the 'fiction' in my films to stem from the truth of life. A film is but a picture, a glimpse of reality, yet the foundation is always truth. This further seeking of truth both in stories and life, mixed with unanswered philosophical dilemmas, motivated me to make the switch and further create worlds and characters that aren't just relatable, but also fight the test of time.
Your thesis film, Stardust speaks about grief and loss. Did the story stem from a personal space?
In my thesis short, Stardust, I've amalgamated the intimate, life-changing loss of my mentor, my grandfather, an international airplane journey, and my undying curiosity with death. The airplane journey with the real-life Marium (from Atlanta) put my grandfather's death and my spiral into depression in perspective, and lo and behold, the film was born. The story talks about a person who just died and one person's way of dealing with the immediacy of the situation. The film isn't about the grieving process, rather the moment of death, when one is confused, questioning, anxious and bottling up everything yet facing the world by putting up a facade that they're 'fine', being engulfed with these emotions, all at once.
The story aims to remove the mask of 'I have it all together.' The characters share a non-judgmental relationship that throws light on societal norms, and grief that sometimes takes years to heal. We delve into philosophical questions through religion, culture, and the best solution to any problem — stories. In conclusion, the film is a reminder to viewers and me that, 'Death is not a full stop, it's just a comma.'
What are your plans going forward?
I'm currently writing numerous projects, auditioning and gearing up to shoot a music video with a special team. Race, Stardust and Badlaav (Change) Republic are garnering festival selections and accolades, so I can't wait to release these birds into the world. Most recently, I have received a 'Best International Director' nomination at the Oregon Short Film Festival. I genuinely have been feeling that a magnum opus is on the horizon. I'm entering a wave of change and trust that I shall continue riding the wave, having my values, ethics and sense of humour intact, while being grateful for this gift called life. As human beings, we have a habit of seeking patterns, be it in nature, people or habits, yet what is still hard for us to fathom is the subtle yet courageous act of letting go. With childish curiosity, we can delve deeper and restfully walk towards our vision. With relentless optimism, when we truly begin to play and not 'work', you're consciously here and now, that is when miracles flow. Just…keep breathing. Life is always on your side. You got this.
Text Hansika Lohani Mehtani
Date 03-02-2021