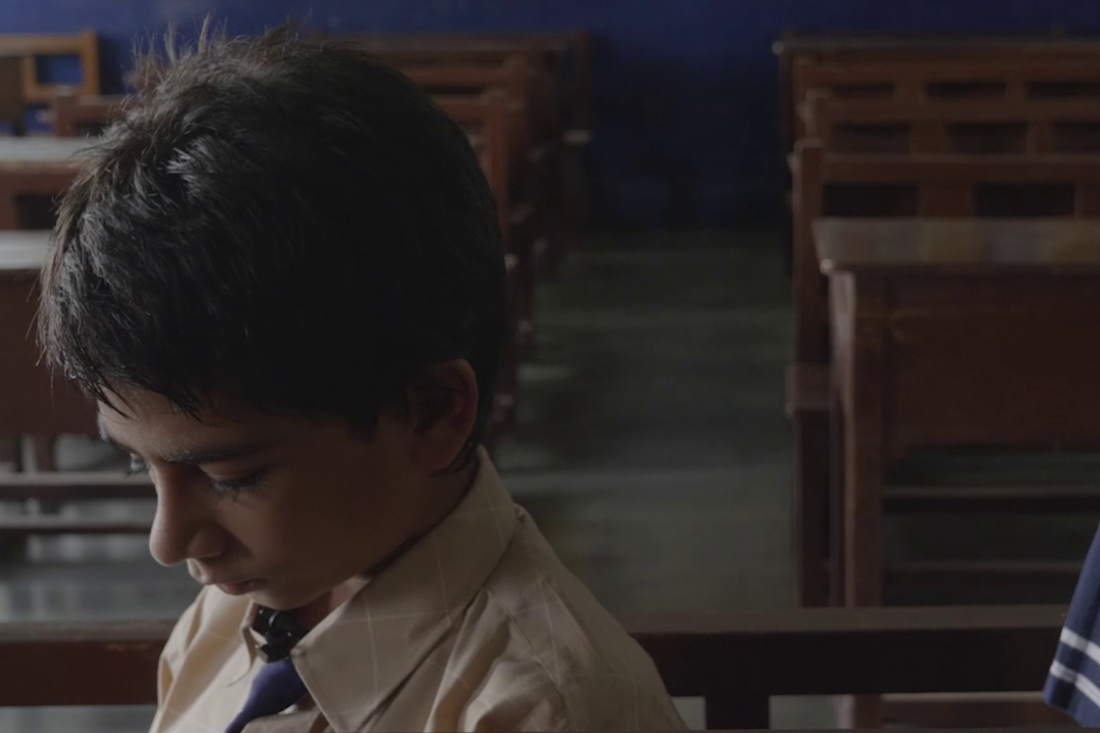 Filmmaker Pulkit Arora grew up in Delhi — an often-overwhelming place, where there was never any silence. 'There would always be the bark of dogs, or the yelling of neighbours, or the music of a distant jagraata. In my head it's all a Gaspar Noé film,' describes Pulkit. Growing up with working-class ethics of respect and stability, Pulkit's choice to work in the arts was entirely accidental and a complete departure from what was expected of him. A screenwriter at first, and now a director, Pulkit's first formal introduction to the world of cinema was at AIB's writing fellowship five years ago. A course dedicated to just writing, reading, and watching films, mentored by National Award-winning filmmaker Satyanshu Singh and comedian Tanmay Bhatt.
Now based in India and New Zealand, Pulkit has created episodic series and lead writing rooms for Disney+ and Netflix India, in his career span of five years. Milk Toffee is his directorial debut. Premiered at the prestigious Tribeca International Film, Milk Toffee revolves around a nun who is caught in a moral and human dilemma. We got in touch with him to know more about his journey in writing, direction and about his debut short.
What drew you to filmmaking in the first place?
As a viewer, it was probably watching pulpy 90's films in dingy single-screen theatres in Delhi or watching and re-watching whatever was on TV after homework was done. But I didn't quite see the nuts and bolts of cinema until First Draft, which was a screenwriting fellowship AIB put together in 2016. It was 6 months of just writing, reading, and watching films while living with other writers. It would be odd if I didn't fall in love with cinema after that experience. Incredibly thankful for Satyanshu and Tanmay for putting that together.
What was the starting point for Milk Toffee?
I taught in shelter homes for about 5 years preceding my work in film. I had been reflecting on that work in 2020, and on a particular dilemma that I had lived with. Around the same time, I had become fascinated with religiosity in Goa's Catholic schools. Milk Toffee was the marriage of those two ideas. The other motivation was to direct and see what that feels like. After 4 years of writing, I instinctively knew it was the direction to head in, but I had to do it to know for certain. Thankfully, I adored every second of it.
Any directorial conundrums that came your way?
With a self-funded short, the gag is that you're both the director and the spot boy. There's no one to delegate to, which means you'll spend half the day working on the screenplay and the other half searching for a chair prop. One half spent on working with the actor, the other spent trying to convince a school principal to let you shoot in their classroom. It's this ping-pong game of creative ambition and production mentality.
On the (only) day of shooting, we arrived to find that a construction crew had arrived in full force to work right adjacent to our location. Drilling machines, cement rollers, the works. With the cacophony, we couldn't possibly record any dialogue. In simpler terms, we were screwed if we couldn't get them to stop. After hours of negotiating, arguing, coddling, we literally convinced them to just freeze — just go 'statue' —when we would go for a take. I would scream Action, the world outside would stop; I'd say Cut, it would resume. To an unsuspecting observer it would look like surrealist comedy.
It made it to Tribeca! That must've felt good.
I mean, as much as we try to temper our desires to be validated, recognition feels like the outcome everyone hoped for. Especially after all the projects that never see the light of day as a screenwriter, it feels spectacular to have something you made be watched and discussed. The funniest thing to me was how the festival selection suddenly legitimized the film, and by extension, legitimized me. It is the same short, I am the same me, but how the world perceives us changes. I suppose I'll take what I can get.
Writing or directing?
Apart from their mutual allegiance to the story, both hats are about communicating an idea. As a writer, you're communicating it to a reader, as a director you're communicating it to a crew, and both of you are hoping the final product communicates it to a viewer. It's a miracle it happens, really. I do love both dearly; I like the self-reflection of writing, and I like the adventure of directing. I intend to keep doing both until I physically can't.
Tell us how you came about doing Still Awesome series for Netflix and a film you think is still awesome?
Those videos are as much the work of Prthvir Solanki as they are mine. They were born out of a need to create something in the short term, while long form projects take their years to come together.
Most recently, I loved The Band's Visit by Eran Kolirin, which was incidentally recommended to me by Vikas Urs, the DoP of Milk Toffee. The film is both painful and funny, which are the two things I love in storytelling. Preceding that I was obsessed by Portrait of a Lady on Fire by Celine Sciamma. I still think about it every day.
Lastly, did the last year change you in any way and what is keeping you busy currently?
Well, I began splitting my time between India and New Zealand, which was a significant step. I suppose I no longer know which one is home and have come to accept that limbo for the time being. I'm working on my next short set in Auckland, while developing a show that is my first attempt at turning lived experiences into fiction. Apart from that, just walking the Earth and looking for stories.
Text Hansika Lohani Mehtani
Date 08-07-2021