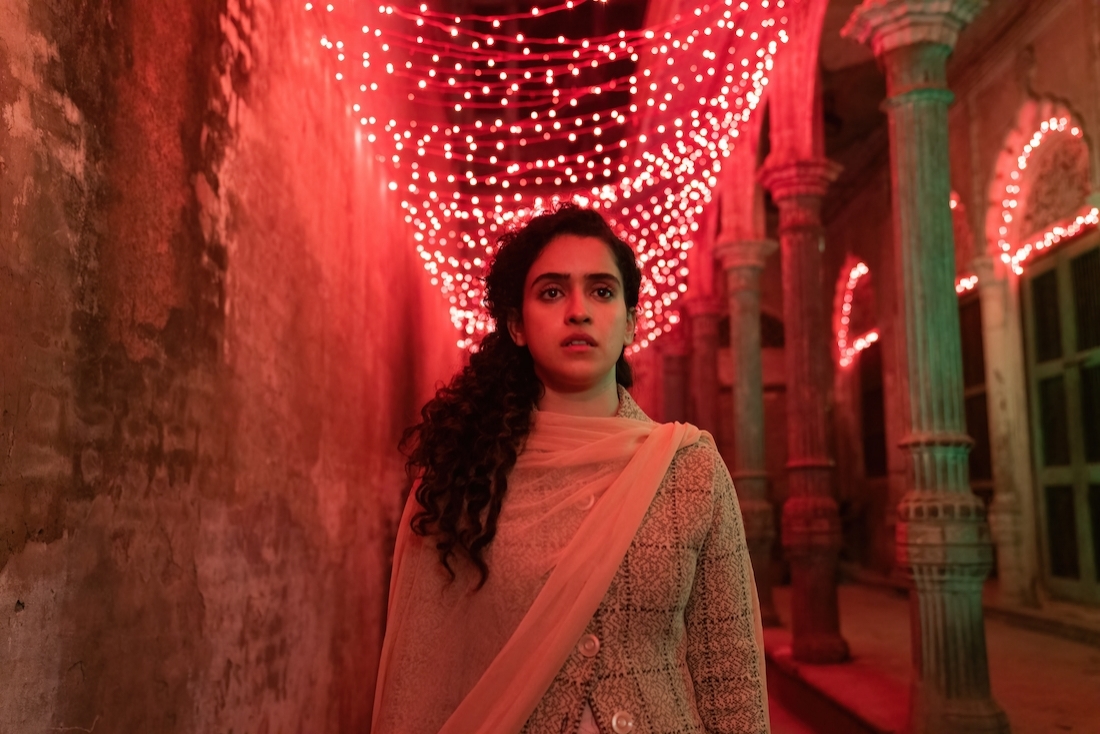 Presented by Guneet Monga, today's big release on Netflix, Pagglait is a story about a young girl who is unable to mourn for her dead husband. Sanya Malhotra plays Sandhya, a character willing to strike out on her own in this funeral comedy. She has lived all her life waiting to be validated by others. Her husband's sudden death triggers too many emotions in her and she realises what she really wants from life. They call her 'pagglait' (mad), because she rises above her limitations and dares to find a new horizon, something the people around her gravely resent.
Sanya too has lived her life on her own terms. Born and brought up in the suburbs of Delhi, she always wanted to become an actor but always kept that dream hidden away. However, as a professional dancer in college, Sanya came to Mumbai for a dance competition and never went back. She strived for a long time in ads before making it big in Bollywood with Dangal.
We spoke with her to know more about her journey and how playing Sandhya changed her life.
Let's go back a bit, what were your growing up years like? Where did you study and what were the aspirations back then?
I grew up in Patparganj in East Delhi. I was quite reticent as a kid. I always wanted to become an actor but I never told anyone about this. I used to fear that people might judge me and say 'what kind of dreams have you come up with now?' as I was just this young girl from East Delhi. So I always kept it to myself. I used to go to the bathroom and act a lot in front of the mirror. I have done all the cliched stuff, like how all actors go in front of the mirror and pretend to receive awards. Or be it acting out a scene in my bedroom with my friends. When I grew up, I went to Delhi University. I did my graduation from Gargi College. I was also dancing professionally when I was in college. I was in a dance company called Fernando Ballet Company. Mr. Fernando was my teacher and used to teach Vaganova style ballet. I also became a dance teacher in school. So by the time I entered college, I thought that being an actor was a far-fetched dream, and I should get back to reality and do normal stuff.
After my graduation I decided to participate in a dance-reality show. I came to Bombay and I was in the top 100. But it didn't work out and I'm glad it didn't. I decided to move to Bombay and for the first time, I told my parents that I want to become an actor. My father was very supportive. He said, 'yeah go ahead, do whatever you feel like doing.' My mother was skeptical. She said that it didn't sound good to her, and that I should finish my post-graduation degree first and then think about it. But I'm glad I didn't listen to her and moved to Bombay. That's how this whole journey started. For a good four to five months I didn't know where to go and audition. I used to live with five roommates and they all used to work. I was the only one who had no work at all. So I used to do all the housework and they all used to keep the house in a very bad condition. So I used to be anxious the whole time, I was like Monica from Friends. All I used to do was clean because I didn't have any other work. At that time, I used to also put a lot of pressure on myself, that 'you've come all the way from Delhi and you're not doing anything.' I used to give one audition and it would take ages to receive a call-back. I did ads for a year, and after that, my first audition ever for a film was for Dangal. And luckily, I cracked it.
What is it about cinema/films that evokes emotion in you or moves you?
I think it's the fact that I can shove my own problems under the carpet for a month or so, and live somebody else's life. I love that thing about my job. I love being an actor. I love ignoring myself for a few days! Haha!
What does your dream role look like?
I really want to do a dance film. Since I told you I was a professional dancer and I honestly feel like I'll do a good job if I get a dance film. So, this is my dream role, I would say. And I'm still waiting for it.
You've made some interesting film choices in the past, how do you choose your roles? What do you look for in a film?
Very boring answer — it's my instincts. I listen to my instincts when it comes to films and selecting a script. Also, a very important aspect is producers and the people attached to it. I make sure that I'm working with good people because eventually you have to release a film as well and that's really important. So that's an important aspect of choosing a script.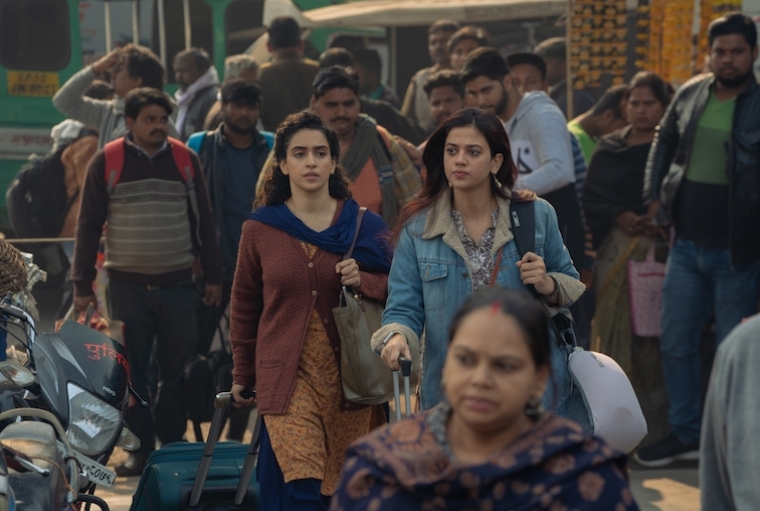 Let's talk in the context of Pagglait. What pulled you in with this film?
I think the character really pulled me in. It was love at first sight with Sandhya and the script. She inspired me in so many ways. In fact, while shooting and prepping for the film, I wasn't really moved by the character. It actually happened after the film got over. I realised that she has changed my life in so many ways. She's quite a mature personality and a beautifully written character by Umesh (Bist) sir. After the film got over, I realised that her life and her life choices have inspired me a lot.
In an interview, the film's writer and director Umesh Bist said, 'The story comes from a deep personal experience. It's a simple story dealing with complex emotions of life and death.' How did you prepare for the role?
Such a nice question. I think while prepping, personally I couldn't relate to what Sandhya was going through, because I've never dealt with something like this. It's crazy that a few months back, when I was watching the film with my mother, she told me that Sandhya's situation was experienced by someone in our family too, a very close relative. And I was shocked. I asked my mother why didn't she tell me earlier, since she had an idea about the story. So, she called the relative and asked her about how she had felt. So, I was quite moved because it's very difficult to sustain what she was feeling. To sustain that negative emotion for almost 30 years, it's very difficult.
Coming back to the question, I think for this role it was really important to understand Sandhya's psyche right. Although the look, the hair and makeup, helped me tremendously as well. I really wanted to have a strong backstory for her because, as I said, I couldn't relate to her. I have never experienced something like her story, so I couldn't imagine her or myself personally in that situation. I would've handled grief in a different way. So together with Umesh sir, we developed a backstory for Sandhya, so that whenever I was approaching a scene, I could use that backstory as my memory bank for Sandhya.
Lastly, where do you want to be ten years down the line?
I don't plan as such. I'm quite a dreamer but that's it. I don't have concrete plans as such. Especially after 2020, I've stopped planning. I take it one day at a time. 2020 was a tight slap on our faces, telling us that no plan is going to work, haha, just sit at home! So I've stopped planning. I just hope I'm happy ten years down the line.
Text Hansika Lohani Mehtani
Date 26-03-2021