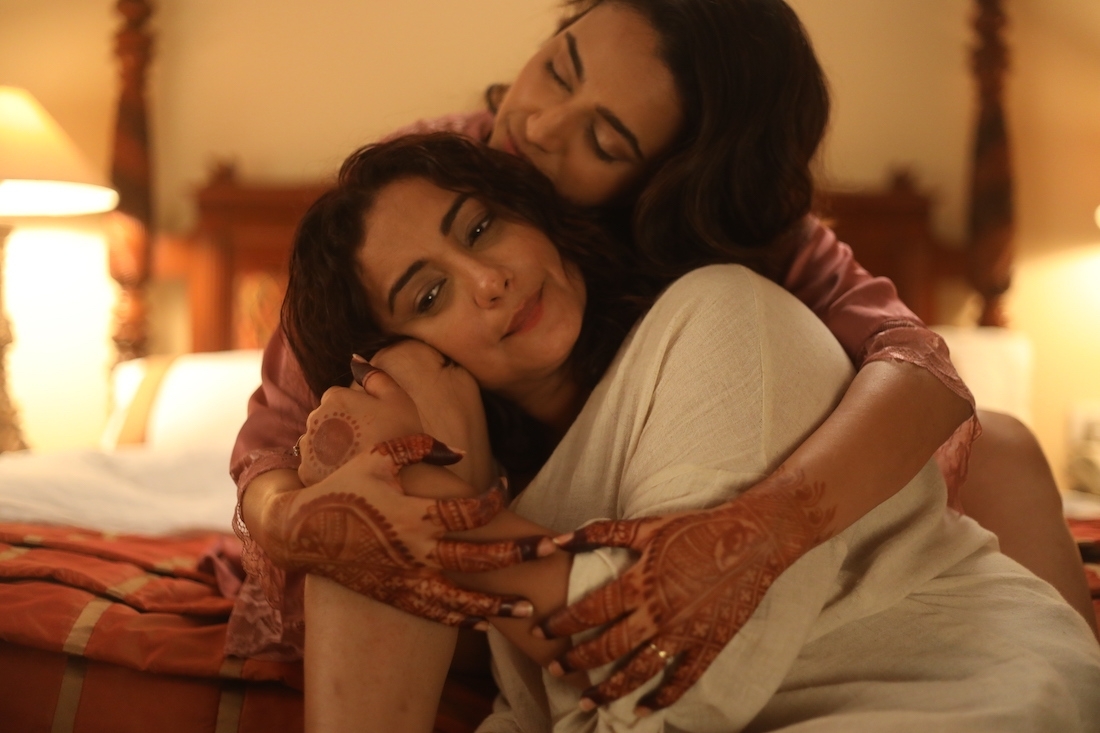 Filmmaker Faraz Arif Ansari vividly recalls watching Mughal-e-Azam with their khala jaan one fateful summer — one of their first memories of cinema. Their aunt, who knew every lyric and dialogue by heart, proved to be an unparalleled cinematic influence. They add, 'From teaching me how to use make-up before going to weddings and parties to teaching me the biggest, most important lessons of life, she was such a force of love.' Their short film, Sheer Qorma, is a narrative of love and acceptance. It traces the journey of a queer woman, Sitara and her non-binary lover Saira and Saira's mother, who finds it difficult to come to terms with her daughter's relationship. The short film has not only recently won Best Short Film Audience Award at the Frameline Festival, but has also qualified for the BAFTAs this year. We're in conversation with the filmmaker who tells us all about their journey as a filmmaker, the starting point for Sheer Qorma and its powerful cast.

What drew you towards filmmaking?
Storytelling runs in my family. My Khala jaan and my Mamma always narrated the most mundane, the most monotonous scenarios with such great details and flair that they ended up being the most important, most interesting stories to listen to. It became a part of my being, of my childhood. Between their stories and the books they read to me, the storyteller inside me was born. My earliest memory of saying it out loud, that I wanted to be a filmmaker, was at a Diwali party at home when I was four years old. Coming from a cosmopolitan family, we celebrate almost every festival at home. This used to be the time I put up small skits with my Barbie dolls and my He-Mans. When my mother's friend, who was visiting from Canada saw one of these performances, she asked me if that is what I wanted to do when I grew up. That was it. That was the deciding point of my life. Filmmaker.
Other than that, it was the sheer lack of representation of queer identities in Indian cinema. While growing up in the 90s, I never saw myself in the stories. And if there were queer characters, they were regressive and deeply problematic, laden with stereotypes that would only end up getting me bullied and harassed through school. I wanted to change that. I want to leave behind a better legacy through cinema for generations of children, queer or otherwise — a legacy of love, acceptance and kindness.
If you had to define for us your cinematic sensibility or practice, how would you?
My cinematic sensibility is Yash Chopra meets Mohsen Makhmalbaf meets Wong Kar Wai — there is romance, there is truth with great honesty and there is poetry. Sometimes, there are sprinkles of Baz Luhrmann and K. Asif too. But I guess I am saving the latter for my biggest dream project and all I can reveal about that is that it is about the Mughals.
What was the starting point for Sheer Qorma?
I don't think a film has a singular starting point. Inspiration is made of many myriad images and doesn't come from a single source. Likewise, Sheer Qorma too has had several starting points of inspiration. But one distinct, defining point definitely was when Sisak was invited to screen at Harvard and after the screening, an audience member asked me, 'When are you making a film about queer women? We are the most underrepresented part of the LGBTQIA spectrum.' That really got me in the groove for Sheer Qorma's journey. I guess that night was the night I decided to make Sheer Qorma. It was initially called Gajar Ka Halwa.
What was the most challenging part about making this film?
Everything about making a film that is honest, real, authentic, celebrates sexuality, gender identities and intersectionalities is challenging. However, when producer Marijke de Souza got on board, she really made it all so easy for me — everything that was required was given to me, no questions asked. To find a Producer like Marijke is truly a dream come true for any filmmaker. She made sure I always had more than I needed, and along with me, the entire cast and crew was given great respect and treated with utmost love, dignity and care.
There were times when I used to tell Marijke that we should save money — haha! it has now become a standing joke between us. But honestly, Marijke really made everything easier and I will always be very grateful for that. Also, having such marvellous actors like Shabana Azmi ji, Divya Dutta, Swara Bhasker is such a huge blessing. And of course, the film's supporting cast — Kalyanee Mulay, Priya Malik, Jitin Gulati — are really any director's delight. Such dedication to their crafts, it is a thing of beauty and greatness.
Faraz Arif Ansari with producer Marijke de Souza
The film has a set of very powerful performers. Take us through the casting process.
As always, the idea was to cast queer actors to play queer characters. I opened up the casting process in May 2019. Until July 2019, we had a handful of entries from actors who identified on the queer spectrum, but unfortunately, none of them fit the bill to portray Saira or Sitara. Eventually, I had to sit down and cast actors regardless of their sexual and gender identities, who would do justice to the characters and be able to portray it with not just sensitivity but also great care, wisdom and love. Divya Dutta was my first choice for Saira — in a way, she is playing a part of me in the film. I called her and said, 'I want you to play me.' Initially, she thought of it as a joke, but after she read the film, she called me at two a m in the morning and said, her voice choking with tears, 'When do we begin filming?'
Swara is someone I look up to for her allyship and her sheer resilience to stand up for all the things she believes in. It takes great, great courage. Sitara's character is designed on courage. It felt like the most natural choice to have Swara essay Sitara's character. For the mother's character, we went through a rollercoaster. My first choice was Shabana Azmi ji but I never approached her because I couldn't in my wildest dreams imagine her saying yes to my film or even having an opportunity, so early in my career, to direct a legend as Shabana ji. But as the universe had it planned, in the end, the role of 'Mamma' was meant for Shabana ji and I mean this when I say it. There is no other actor who could've done justice to Mamma's character. Her performance in Sheer Qorma hits you straight in the gut and the heart, at once.
Shobha's role was written with Kalyanee Mulay in mind. I had seen her in the film NUDE and really wanted to collaborate with her. Shobha's character is such a beautiful surprise in the film. She really wins the heart and Kalyanee has done full justice to Shobha. For Susan's character, I initially wanted a caucasian actor. In fact, I had even finalised on someone to play the role but her dates fell apart and Priya's picture was staring straight at me when I got this news, as I scrolled through Instagram. Having directed Priya for a TVC before, I shared a bond. When we met, even before she read the film, she told me, 'You are directing it and I am doing it. Full and final.' Again, Susan was really meant to be Priya's. After having worked with Jitin in Sisak, I had promised him a speaking role in my next film, whatever it may be. Shahnawaz / Shanu's character in Sheer Qorma is based on my cousin Shanu, whom I lost to cancer twenty years ago. Shanu Bhai was the epitome of kindness. He was also a force of great love and acceptance in all our lives. When I wrote Shanu's character in Sheer Qorma, I wanted an actor who would not only be a fantastic actor but would also do justice to the legacy of my Shanu Bhai. I am so glad that Jitin essayed Shanu.
What is it that you want for the audience to take away from it?
To be more loving to one another. To be more kind to each other. To embrace everyone for who they are. To always, always, always come from a place of love. Because love wins. Because love is all we need. Because love will change the world. Not hatred. But love. Sheer Qorma is my love letter to hate.
Lastly, what are you working on next?
I have very exciting feature films lined up --- each of them, exploring a new chapter of my journey as a storyteller and along with that, also mainstreaming narratives on sexuality and gender identities with great respect and dignity, as it rightly deserves. Currently, I am writing a full blown queer romance that will hopefully be India's Brokeback Mountain.
Text Unnati Saini
Date 20-07-2021