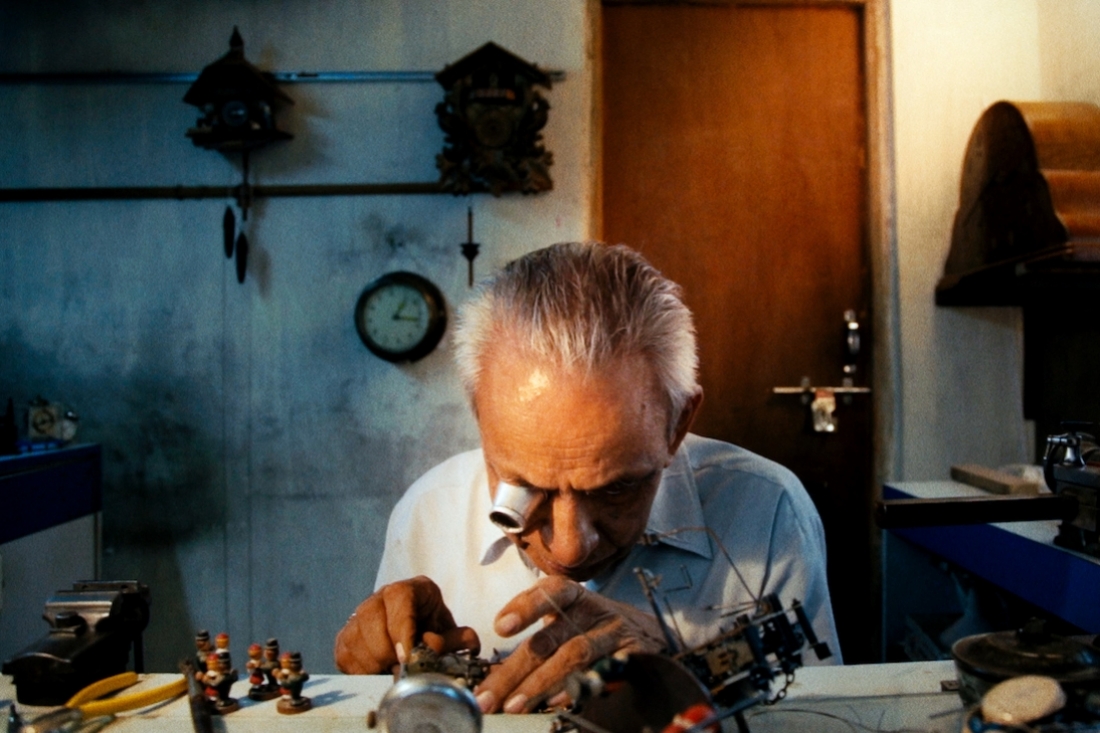 Still from The Timekeeper
Sohil Vaidya
Difficult People, The Timekeeper
There is something subtly unique about Sohil Vaidya's cinema and perhaps this uniqueness is seeped in his effortless culmination of culturally grounded yet universally relevant stories. His thesis film, Difficult People, that won him the Directors Guild of America(D.G.A) Student Award, deals insightfully with a father-son relationship after the loss of the mother, the economic constraints of the middle class and the ambition of the artist to break free. The story is deeply rooted in Bombay's cultural ethos, and yet universally highlights the complexity of loss, filial relationships and the difficulties of pursuing one's artistic ambitions. His recent documentary, The Timekeeper, tells the story of Mr. Deshpande and his pursuit of preserving his love for repairing and creating analog clocks in the digital era. Yet another story from Maharashtra but universally significant in its intent to explore how with the changing times, somethings or people remain the same and how sometimes that is necessary.
Vaidya's films have also been shown & won awards at festivals such as Palm Springs, LA Asian Pacific, Flickers Rhode Island, LA Shorts, Bentonville, New Filmmakers Los Angeles & 40 other film festivals around the world. We connected with the budding filmmaker to know more about him and his cinema.
Why did you venture towards the world of filmmaking.
While pursuing my computers degree I came across a theatre group in Pune. Cinema, theatre and performing arts had always fascinated me. I decided to give a shot to the theatre. I helped out on the backstage for a few plays. I acted in a couple. I thoroughly enjoyed the process. My hunger for understanding art started growing. That's when I started watching a diverse array of films.
Power and impact of moving images had always fascinated me. I started visiting the National Film Archives of India every day to watch more films and read more books about cinema. I used to see 3-4 films a day. I binged on every film I could find, from Russian Masters to Old Classic Hollywood. Those films took me in the trans like phase! A great cinema masterfully combines all the art forms from painting to architecture, theatre and photography into a uniformly new equation to tell the story. And hence it has a profound impact which transcends any other classical art form. This was fascinating to me. I wanted to try my hands, on the cinema and see if I can tell a story that can move audiences profoundly. I said goodbye to my computers career and took a dive into the world of cinema.
Still from The Timekeeper
If you had to define for us your cinematic sensibility or practice, how would you?
I want to tell stories which are grounded in their culture, are visually expressive and morally complex. I don't know if realism is the perfect word to express what I want to achieve with cinema. There has to be something more than that. An experience which transcends the logical plot and drifts into the area of pure feelings. Remember the last half hour of Apocalypse Now or Taxi Driver? It's hard to explain! Everything was going sane and as expected and then suddenly, it started to go totally nuts! That's pure cinema for me. I am honestly exploring. I am learning, and it would be this for 10 more years before I come to any conclusive answer about this question.
Could you please take us behind your creative process as a filmmaker?
It's different for different films. Most of my films start with visualization of many different ideas I have in my mind. I keep thinking, huh that's an interesting idea but how would I tell it! Then I start visualizing it in different ways. I think about colors, textures, light, smell, sounds. And then comes a moment when I really feel inspired. Then I stay writing that story. I have to talk in detail with my cinematographer about my visual realization of the story. I have worked as a Director of Photography myself on multiple projects, so most of the time I have specific ideas about lenses, light, and camera moments. But I am always open to collaborating and learning more from my team members.
I usually like to rehearse with my actors before the shoot. I give them all the freedom they want. This is the time for me to know what's working with the script and what's not. Sometimes dialogues seem to work on the page, but in the rehearsals, you realize that they are overwritten or cumbersome. After the initial improvisation phase, I like to bring in the DP to see the rehearsals and then discuss the possible shot design. I can't separate an image from a sound. While thinking about images, I have to think about sounds. How I am going toshoot the film, what would be the editing pattern and how sound would be layered into it.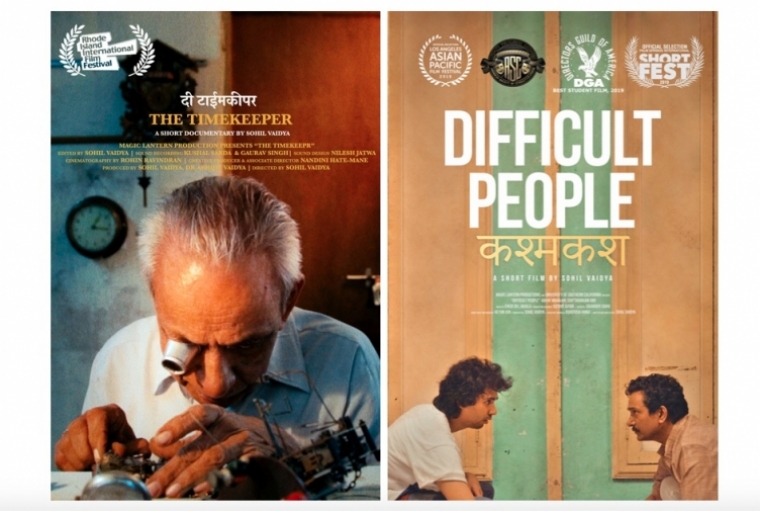 What inspired the making of Difficult People and The Timekeeper?
Both stories are very personal to me. Difficult People was inspired by own struggles after quitting computer science and switching to the cinema. It's a classic story about a father-son relationship. But I wanted to show both of them in the tender and vulnerable form away from the stereotypes about masculinity in the mainstream cinema. Whenever I see a father and son story, we end up seeing either an overly militant father or a totally spoiled son. I could never relate to those archetypes.
Timekeeper is the story of a man desperately seeking to preserve his lifelong passion for creating analog clocks in an era of digital totality. While growing up Pune changed from a small town to metropolis. Big factories took over small businesses and once underdeveloped neighborhoods flared into IT parks. But the sense of my Pune was lost to me. Through a friend, I got to know about Mr.Deshpande, the last watchmaker, repairer of the old mechanic clocks in Pune. When I met him, Mr. Deshpande passionately talked about his love for mechanic clocks, their durability, variety, and accuracy. But essentially, he refused to give up his art, craft, and skills for a digital clock made in the factory by machines. I felt the personal connection with this 86 year old man who is trying to preserve his sense of self, what he stands for and believes in, in this rapidly changing times. The Timekeeper is a universal story about change, new and old.
Tell us more about your recently finished feature film Samir.
Samir is a feature made in collaboration with 9 directors, where each director directs a particular episode. It was for the class at USC named Special Problems in Directing. This class chooses 9 directors from USC with an extremely competitive process and assigns them a script written by 9 other writers in the previous semester.
Samir is a modern adaptation of a novel The Count of Monte Christo. Samir is currently acquired by Warner Brothers for the distribution.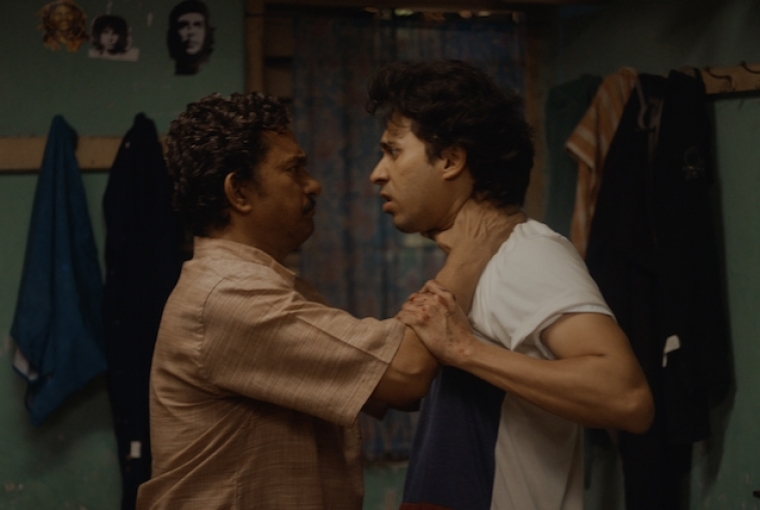 Film still from Difficult People
What and who are some of your formative influences in terms of movies and directors?
Early and memorable encounter as a child with cinema was when I saw Jurassic Park in a small theatre with my father. It transported me into a different time! And that was exciting. In the teenage years, Bollywood was a part of my growing up. Then later one day after finishing my computer science, I remember watching Pather Panchali at NFAI on a rainy Monsoon day. I entered the theatre fully drenched and saw the entire film shivering with cold. By the time I was out, it had shaken me upside down. Then, I saw all the other films by Satyajit Ray. Their simplicity and the profound realization of the human spirit was fascinating.

Over a period of years, I saw thousands of films of different genres, countries, and directors. All of them formed me as a director. From Kubrick, Fellini to Tarkovsky or Wong Kar Wai. But in all these years I was deeply searching for my own style, what I want to make, whom do I find closest to my heart. And the two directors came closest to the cinematic expression I am looking to express. Yusijiro Ozu and Paul Thomas Anderson.
They both are very different but still have similar themes about families, morality and we finding our own place in the world. Both are deeply rooted in their own culture and reflect the true spirit of it. Watching Ozu is like a patient and rewarding experience. His camerawork is understated but still very expressive. He crosses the line playfully like it's not that big of a deal! He is a teacher, a philosopher, and an artist! While PTA, on the other hand, is exuberant, stylized, passionate and impatient. His camera floats around the sets with raw energy, his scenes are high in drama and characters are conflicted, crazy and morally complex. PTA is a true modern master who thought of expressing different decades of American culture through different movies. They both taught me a lot, about cinema, art, and life.
Currently, I am trying to go deep into Asian/South Asian cinema as that's where my real ethos comes from. I am seeing earlier works of Hou Hsiao Hsien, Apichatpong Weerasethakul, Adoor Gopalkrishnan, and Edward Yang. It's been fun so far.
Film still from Difficult People
You've recently finished your degree, M.F.A in Film Directing from University of Southern California (U.S.C) Film School. How has the degree influenced your practice, especially since all your work so far is primarily based in an Indian context.
USC was an extraordinarily open environment. Teachers were legends in their fields. Many of them had won Oscars. I never felt that I was being patronized by this entity called a 'teacher' to whom you are supposed to listen. It was always a conversation, an exchange of creative ideas. Cause of this I learned to disassemble the cinema into its fundamental elements and then learn them individually.
One of the classes named Visual Expression taught by Bruce Block was the highlights of my 4 years program. He taught us elements which constitute a visual. Lines, shapes, contrast, affinity, hues, space, depth, etc. Assignments were to take multiple pictures on the concepts he taught us in class. It was the toughest semester as the picture taking part was tedious and sometimes frustrating. We used to spend hours, sometimes days in finding locations appropriate to get the right picture. Bruce was very particular about what he wanted so he used to reject pictures asap when they were not up to his mark. But when I look back now, it was the most rewarding semester I had at USC. When I am on set, I subconsciously think about those visual elements.
A lot of my stories definitely lean towards my cultural ethos. USC was a very multicultural environment. It had students from all over the world. The whole point of going to USC was jumping out of my own fence and learn to communicate with the larger audiences. It's interesting to get notes and criticism from people with different cultural and ethnic backgrounds. That's the time when we know what works and what really doesn't. Being in this kind of environment actually helped my filmmaking. It gave me a new and unique perspective.
Lastly, what's next for you?
I am developing a feature and a TV show. The feature is based in India and TV show is based in Los Angeles. Right now, I would hold myself before I give more details. Hope I get both of those going soon!

Text Nidhi Verma