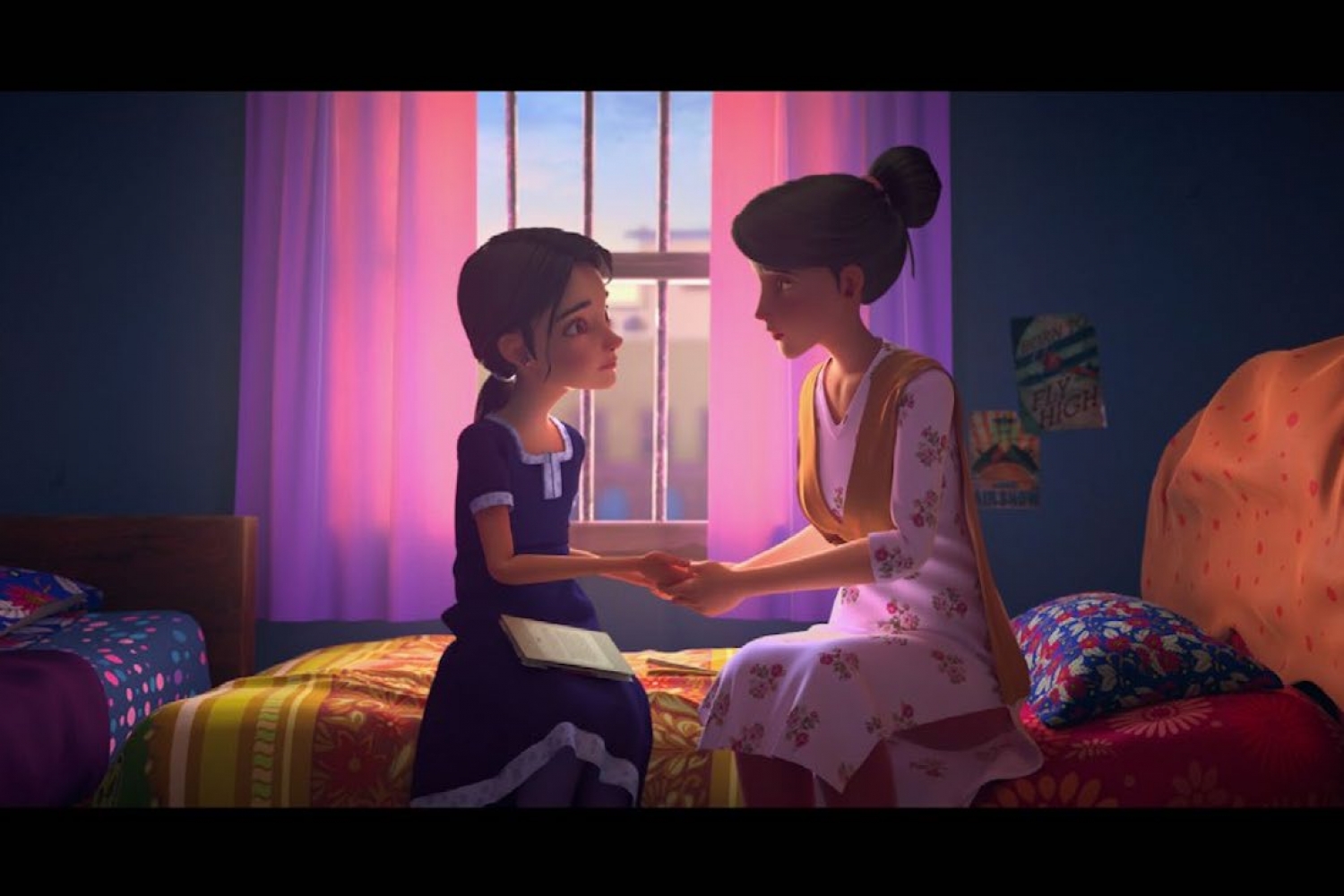 The Marvellous: Sharmeen Obaid- Chinoy
This article was initially published in our May Bookazine. To read more such articles, grab your copy now.

Sharmeen Obaid-Chinoy is a powerhouse. If one had to provide a snapshot of her many achievements, this would where they would begin: she is a two-time Academy Award winner and the first woman film director to win two Oscars by the age of thirty seven. She has won seven Emmy awards, a Knight International Journalism Award and in 2012, TIME magazine regarded her as one of the 100 most influential people in the world.
Whether it is A Girl in the River: A Price for Forgiveness (2016) that tracks the story of a young woman who survives an honour killing gone awry and risks it all to send the perpetrators (her father and uncle) to prison, or Saving Face (2012) that uncovers the appalling acid crimes prevalent in Pakistan – Obaid-Chinoy's documentaries are based on hard-hitting reporting where she bravely narrows the lens on the systemic, social and cultural issues. At seventeen, as a young journalist writing for a national newspaper in Pakistan, Obaid-Chinoy covered how the children of feudal lords were bullying teenagers with guns. She received considerable backlash for her story, which led to having her name spray-painted across public walls with profanity. Nevertheless, Obaid-Chinoy continued to write investigative pieces.
Later, she left for the United States to pursue higher studies, but soon realised she wanted to make documentaries instead. With no experience in filmmaking, Obaid-Chinoy sent her documentary proposal to eighty news organisations, all of whom politely rejected it. Eventually, the president of The New York Times at the time, Bill Abrams, took a bet on her and supported her first documentary. She returned to Pakistan to make Terror's Children (2002) which followed the lives of eight Afghan refugee children in Karachi, who were coerced to join militant forces.
Today an important voice in the global film industry, Obaid-Chinoy has introduced a mentorship program in Pakistan to encourage the next generation of women filmmakers to make fearless films. She is gearing up for the release of her show Ms. Marvel, which she has co-directed. Ms. Marvel is a miniseries about a feisty brown teenager, Kamala Khan who gains superhero powers. A few hours before Obaid-Chinoy gets on a flight, Platform speaks to the real-life superhero via Zoom about her journey.
You make powerful documentaries that cover sensitive issues. It takes a fair share of grit to make the kind of films you do. Where does the impetus come from?
I think that when you are a storyteller who holds up a mirror to society and is always seeking the people you are filming or the communities that you are filming in to be the best version of themselves—then you keep pushing. For me, the inspiration comes from the men, women and the children who work far away from the glaring eyes of the newspapers and news channels and who literally risk their lives every day for a better tomorrow for a new generation of people. Whether I worked in East Timor or in Sweden, in Canada or in Pakistan or any of the war zones like Afghanistan or Syria, I have always found that the one thing that binds us all, regardless of our colour, religion and beliefs, is the fact that we all have the same needs and wants.
We all want security. We all want our children to grow up with an education. We all want a roof on our heads and we all want to live a life that is free of fear. When you think about that and when you distill human beings down to that level, when you begin to peel away the layers that society, the media and the governments have placed on us, you begin to realise that this is what divides us. And so, I am inspired to continue to peel away the layers, to show people that it is okay to walk in someone else's shoes, that we must have empathy and we must all think that we are one on some level.
Many of the sources whom you feature in your documentaries are marginalised and often traumatised women and children. How do you convince them to open their hearts to you?
I think everyone has a story that they have been wanting to tell. It is really important to spend time with people in order to understand where that story is hidden inside of them. What is the trauma that they carry and how do you tap into that trauma, so that you can help them tell their story? I've often found that in the inner sanctums of somebody's home or in a quiet place, somebody will tell me something that they have never even admitted to themselves or to someone else. And it comes from quiet reflections, spending time with people and in some cases, just being there when they need to speak.
What have been some of your biggest challenges or the most difficult circumstances you have filmed in?
I think one of the most challenging experiences of my life as a filmmaker was when I was filming, A Girl in the River. We had spent months and months following the young protagonist, Saba, who was going to court every single day, determined to fight her case, to send her father and uncle, who had tried to kill her, to jail. Every day she would work hard. She would wake up in the morning, determined to go and the cameras would be there with her. And when she would come out of court, she would still be carrying that inner determination with her.
On the last day of her court hearing, however, I remember thinking that morning that, "Something is different today". And Saba went into the court and said, "I forgive them" and then walked out. When you have built the whole story around a woman fighting to send her uncle and father to jail, when you have spent months embedded within the family and have personally seen her struggles – that singular moment to me, was the most trying moment. My team and I were really shaken up. We broke down. It was very difficult for us.
Out of that difficulty, however, came this reality that had Saba fought the case and sent her father to jail, she would have been an outlier, because women [in South Asia] don't do that. They do not have the support system or the network to do that. They would be ostracised by their families and their community and they would have nowhere to go. Our society does not support that. And so, while it would have been a wonderful story, if Saba had sent her uncle and father to jail, it wouldn't have been the truth. It wouldn't have been the norm and we would have never impacted the changing of the legislation in Pakistan, had she won in court.
Throughout your career, have you met any naysayers or detractors? Have you ever been told that as a woman you should 'know your place' and back off?
I think that I am a formidable woman who looks people in the eyes when I speak. I am clear, honest, forthright and it is hard to dismiss me. Men don't come into interaction with women like myself. You know, we are few and far between and so in conversations, of course, people have discouraged me or said that this should not be done or that cannot be done. But I think it is hard to argue with someone who is determined to tell a story. I have always taken that road where I have said, "This is a story I want to tell. Will you be an ally? Will you help me tell the story? If not, then please step out of the way, so that I can find someone who will".
How have you dealt with threats in the past while filming?
As filmmakers, you always have to have a Plan B. There will be threats; there will be people who will not want you to tell the story but you have to find a way to do it. When we were working in Afghanistan in 2007, for example, we were in a small village near Kunduz. We were filming in a hospital and then we went back to stay at the place where we were staying.
Early next morning, however, the host woke us up and said that we had to leave because they had gotten word that the Taliban were going to come and make sure that we were no longer filming. It was a direct threat that had come to us. We evaluated that threat, thought about it and said, "Well, what can we do about this?" So, we decided to change course for a few days, go to another town and then come back to finish telling the story. And that's what we did.
Your documentaries are often about women who are victims of terrible crimes like acid violence and honour killings. But they are also survivors, warriors, superheroes, who are unwilling to accept their fate. Why are their stories important to tell?
I think it is important to realise that everybody carries an inner superhero. At the right moment, that superhero steps out. I think it is important to tell their stories, so that people realise what women go through. That once people hear someone's story, once they spend some time with her and get to know her, it creates empathy in audiences. They begin to feel for her.
She is no longer a statistic. It is no longer just a crime. It is somebody's story that touches your heart. It allows you to think, what if that was me? What if this was my sister, my daughter, someone I knew, someone who lived down my street? That's what I like to do with my films. I want the audiences to watch my films and say, 'I know what she went through and I do not want anyone else that I know to go through that. So, what do I do in my sphere of influence to ensure that that never happens again?'
Ms. Marvel is about a badass brown girl super- hero – a first in the Marvel universe. Why do you feel that having Kamala Khan representing young South Asian girls is essential in changing the glob- al pop culture narrative? Do you think it's about time?
Kamala Khan, who is Ms. Marvel, says in the trailer that, 'Brown girls from New Jersey do not become superheroes'. That is exactly what we want to show—that brown girls from New Jersey or anywhere in the world, can be superheroes. We want to break the myth. We want any young girl growing up around the world to see a reflection of herself in Kamala. We want her to know that she too can have inner strength to be whoever she wants. Just like the ordinary women who have superheroes inside of them, so do millions of girls. That is why it is important to introduce heroes who look like us, speak like us, act like us, live like us, share the same jokes, eat the same kind of food—because when you see a reflection of your life on the big screen, then you know that you matter.
You have also recently started a new mentorship and funding program for young female filmmakers in Pakistan. Why is it important to have more bold women behind the camera, making films?
Patakha Pictures is my way of giving back. Twenty years ago, I managed to kick open someone's door that allowed me to tell a story, that allowed me to get the skills and the technical know-how to become the storyteller that I am today. I think it is important to move that to the next generation of storytellers, to provide them with the platform, the tools, the mentorship and the funding, so that they can tell their own stories. And out of those young women, there will be one who will bring Pakistan its third Oscar. To me, this is one of the most incredible things to do because, really, there is no platform for film in my country, per se.
So, our first cohort includes ten filmmakers from across the country, who are paired in groups of two. We are funding five projects and providing a twelve-week mentorship program. When I was interviewing girls and when I was going through the application forms that we had received from across the country, I was so inspired to read what these young women were thinking about Pakistan, about their hopes, about the films they wanted to make. They are brave and fearless, truth-seekers and storytellers. I knew in that moment that this was the best decision I have taken in my recent career.
What is your advice to young South Asian women who look up to you, who may feel stuck or who are told by their families, their circumstances, their peers, that they can't follow their dreams?
We live in a very polarising and difficult world right now but the one thing that gives me a lot of strength is the voice of young South Asian women. I have been thinking a lot about what holds us back from our true potential. It makes me sad to say that we hold ourselves back, that we are afraid of breaking through the shackles that society has placed on us. That we feel pressure to follow the dictates of society.
If for one second, women just thought about following their dreams, they would shed the skin that we have been forced to wear. We would emerge to be this new hybrid generation of women who can hold onto their family values and societal values but still be true to themselves. It is not easy, of course. It is not a walk in the park but climbing to the top to achieve your dreams is never easy. And when you get there, when it's quiet and you're reflecting upon your journey, you'll realise that this was a path worth taking because in the end, you were true to yourself.
Well said. Finally, what's in the pipeline for you?
June 8th is when Ms. Marvel gets released. I have also been working on a lot of educational work in Pakistan, which I think has changed the way women see themselves. We have a mobile cinema called Dekh Magar Pyaar Se (watch, but with love) that goes from village to village, town to town. In the evening, when the mobile cinema parks and the lights dim, the community gathers around and they watch the films. We show documentaries, animation, educational films – all kinds of stuff. Then, there's a discussion afterwards. Even if it's planting seeds of thought and critical thinking in people, we hope that we are able to do that.
We have just finished working on nine animated films on inheritance laws in Pakistan for all religions, dubbed in nine languages. The project is called Aagahi. The films are being showcased for free across the country. We have also finished a series of climate change heroes in Pakistan and are releasing a book next month that fea- tures fifteen climate-change heroes. It is a bilingual book (English and Urdu) that is going to be distributed for free across schools to inspire young children to walk in the footsteps of these climate-change heroes. I am also in early stages of a documentary film on the squash legend, Jahangir Khan, who is one of the greatest athletes that the world has ever seen.


Text Radhika Iyengar
Date 08-06-2022