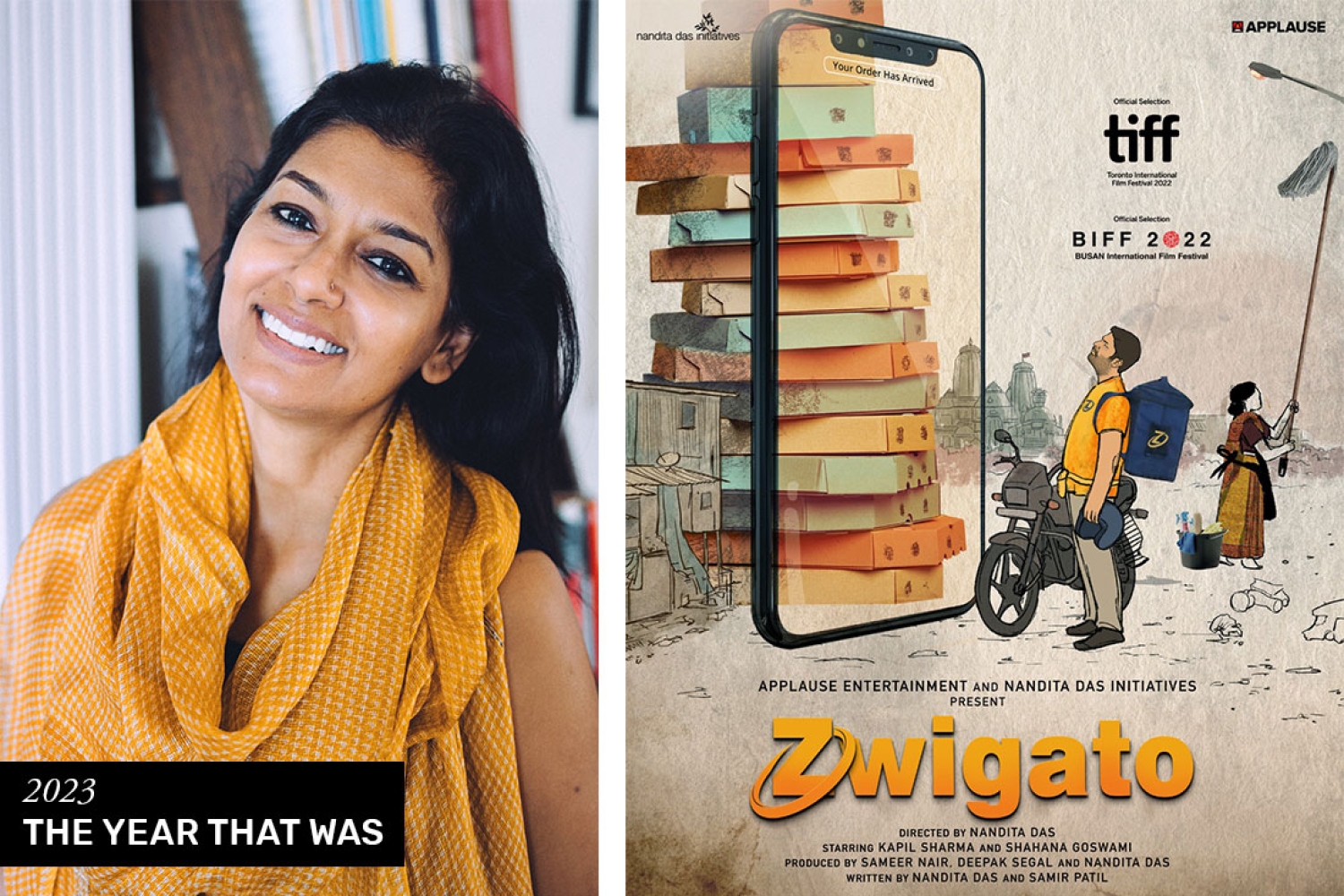 You're not surprised when Nandita Das, an exceptional actor, director and theatrist of at least a thousand acts, tells you that the journey hasn't been easy. In the last twenty six years, Nandita has done more than forty feature films in ten different languages, directed three feature films and a couple of shorts. From her first film, Fire, she has been a part of so many different stories, worked and met numerous faces along the way that enriched her life and experiences, 'I worked with directors like Mrinal Sen, Shyam Benegal, Adoor Gopalakrishnan, Rituporno Ghosh, Mani Ratnam and many others. Each of them gave me something precious that I took away with me. A lot of the learning happens subconsciously'.
Acting, she tells us, was something she stumbled upon and has remained a hesitant actor since. 'When I did Firaaq I didn't know I would direct again. I have always seen films as a means to an end, a way to express my concerns. I am attracted to stories that mirror our times, challenge our prejudices and shed a light on people that remain unseen. Be it Firaaq, Manto or now Zwigato, these are stories I felt compelled to tell.'
The conversation around her latest film, Zwigato and her journey continues below…
Can you give us a blurb on Zwigato in your own words?
Zwigato is a story of new urban India and the relentlessness of life, but not without its silver linings. The film explores the life of an ex-factory floor manager who loses his job during the pandemic. He then works as a food delivery rider, grappling with the app on his phone and the world of ratings and incentives. Simultaneously, his wife, a homemaker, begins to explore different work opportunities. The fear of these new experiences is coupled with the joy of newfound independence.
What inspired the film?
I directed Firaaq in 2008 and then ten years later it was Manto. I was exhausted from the long and gruelling process of making a period film, set across two cities. After that, I wanted to do something small and simple about relationships. Then Covid hit us and the lockdown exposed us to new realities. So, wanting to make a film about a food delivery rider and his family came out of that experience. We consumers, for our own convenience, became more and more dependent on the gig workers and less and less aware of their struggle. The no-contact deliveries further pushed them away from our bubbles. But the film is about many small things that are hidden in plain sight. Fewer films are being made these days about urban workers that have become an inevitable part of our world. Apart from the film being about the life of a gig worker, Zwigato is also about our normalised biases of class, caste, religion and gender. These have all subtly found their way into the film, hopefully making the invisible, visible.
The idea of this film started with a discussion about growing unemployment and the complexity of gig work with my publisher friend, Samir Patil. We then began writing a short film about a day in the life of a delivery rider. Then Sameer (Nair), CEO of Applause Entertainment, who was to produce it, nudged me to expand it for a feature film. Initially, I felt the subject would not immerse me enough, but as I began to delve deeper into it, I was drawn to the human aspects of this collision of new technology and the life of a worker, who is a mere cog-in-the-wheel. Also, I began exploring what impact all this has on their family, especially the wife. With the rise of the gig economy, the struggle between man and machine that Chaplin depicted in Modern Times has now shifted.
This is an all exclusive from our November Bookazine. To read the entire conversation, grab your copy now.

Text Hansika Lohani
Date 18-03-2023