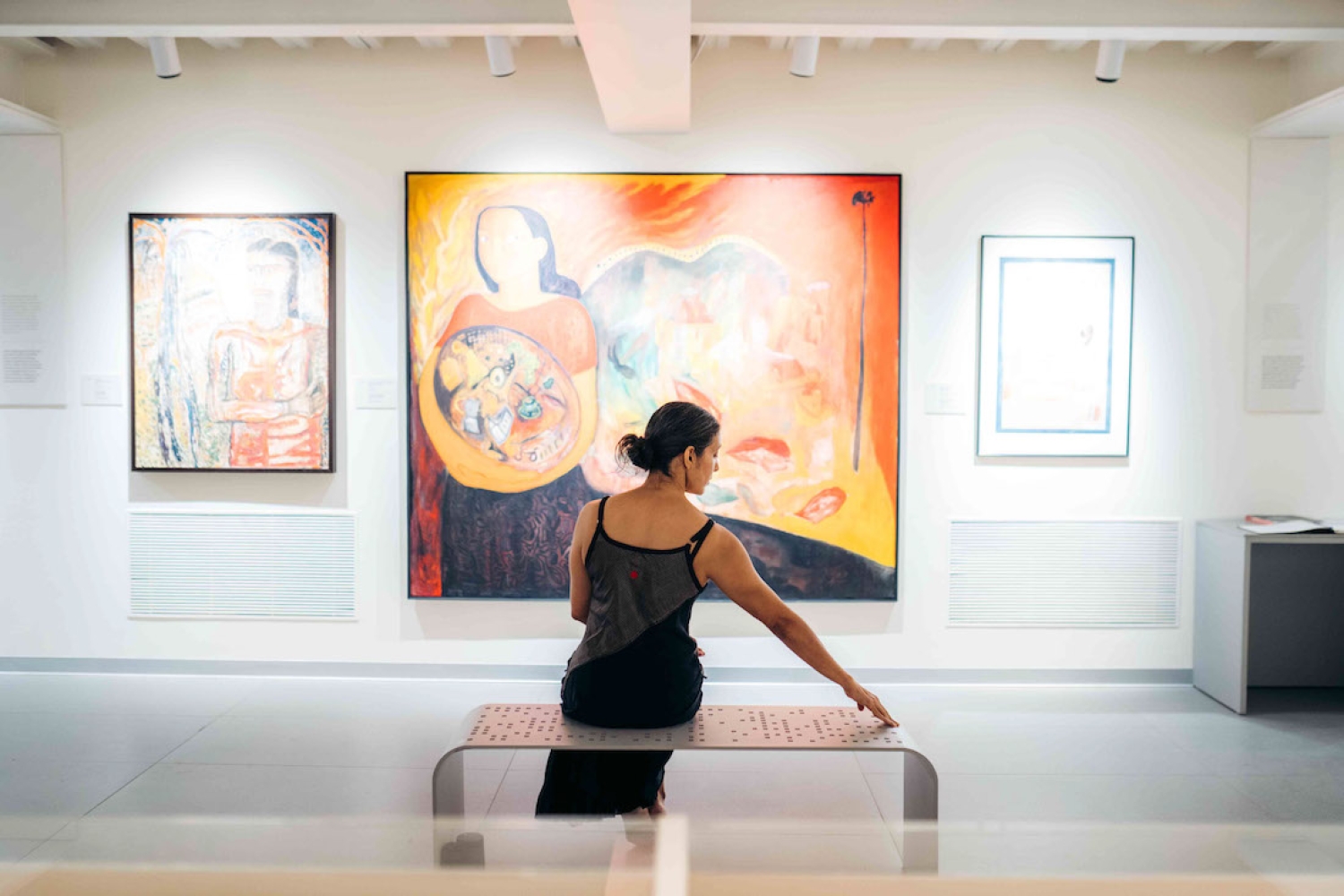 MAP Bangalore by Orange & Teal
A MAP to Question, Connect, Balance:
Museum of Art & Photography
Many of us spent our Sundays doing the rounds of museums – science, dolls, art, craft, aviation, natural history – the works. And then somewhere, growing up, we seemed to have lost the plot to capitalistic entertainment, pop television, live antics of artifice. Slowly, the museum meant an often neglected government relic, a passive giant one didn't wish to stir, either a public property far from progressive or a private palace beyond easy appreciation or reach. Today, it's a delight to see the museum as a concept come alive – again – in all its glory, with the best of private administration and public interest, all in the service of knowledge, curiosity, creativity and innovation. The Museum of Art & Photography (MAP) in Bengaluru testifies to this heartening transformation.
It's a reflective, rainy day when I am privy to an exclusive preview of MAP, and I ride the ancient raag malhar all along to the entrance of the brand-new premises. It sings gloriously of the timeless and the new; the longing, the lustre, or the lightness that art brings to the world. On the fifth-floor is a terrace café where this story would conclude with a sip of the most decadent cup of dark chocolate, and between these layers lies an experience that is expansive, enriching and extraordinary.
In virtual operation since the early months of the pandemic in 2020, the museum has, over the last few years, presented a powerful discourse on modern and contemporary Indian artistic practices remotely. Now, with a commanding new physical address in a culturally conscious city, it aims to make South Asian art available to diverse audiences, and to bring back the joy of the museum experience itself. MAP's five-storey building is custodian to a growing collection of over sixty thousand artworks, majorly from the Indian subcontinent. The forty-four thousand square foot edifice, designed by architects Mathew and Ghosh, includes galleries, an auditorium, a library, a tech lab, education centre, sculpture courtyard, a specialised research and conservation facility, and leisure areas.
The Vision
The first new private museum to open in India in a decade and backed by a strong list of patrons, MAP is positioned to bring the South Asian artistic essence alive with a global perspective. It is the brainchild of Abhishek Poddar and is led by its Director, Kamini Sawhney. A former journalist and communications professional, Kamini envisions an experience where people interact with art in ways that encourage humanity, empathy and a deeper understanding of the world: "It's about unlocking the stories that objects can tell you. The important thing for us in a museum is to be able to communicate that to our audience. Very often the problem with museums is that they forget who their audience is, so you'll find the language is as if museum professionals are talking to themselves!"
The works range widely from modern to contemporary, with paintings, sculptures and graphics alongside textiles, folk art and celebrated Bollywood memorabilia. "Accessibility and inclusion are the two pillars of MAP. If you look at the entire collection, it has pre-modern, modern, and contemporary textile craft and design, but it also has photography, indigenous art, popular culture. The idea was, who decides what culture is, and who decides what constitutes culture? What we've largely done is to inherit art history canons that were handed over to us by the colonisers who foregrounded Hindu and Buddhist art as being classical, and the rest as being, well, very reductive terms, including folk and tribal art. But a lot of our people who worked in rural areas were using techniques that were more than four thousand years old. So how is that any less classical? So, at MAP we are eager to make sure that we collapse these hierarchies between what is perceived as high and low art. We do not look at the collection in silos but we look across horizontally to draw connections between various things," she shares.
The result is evident in a refreshing convergence of varied forms, styles and schools that entwine effortlessly – such as a live performance from feminist artists Krishna Devanandan and Padmini Chettur that I witness flowing amid Jyoti Bhatt's collection as mediators of the encounter between museum visitor and art object itself!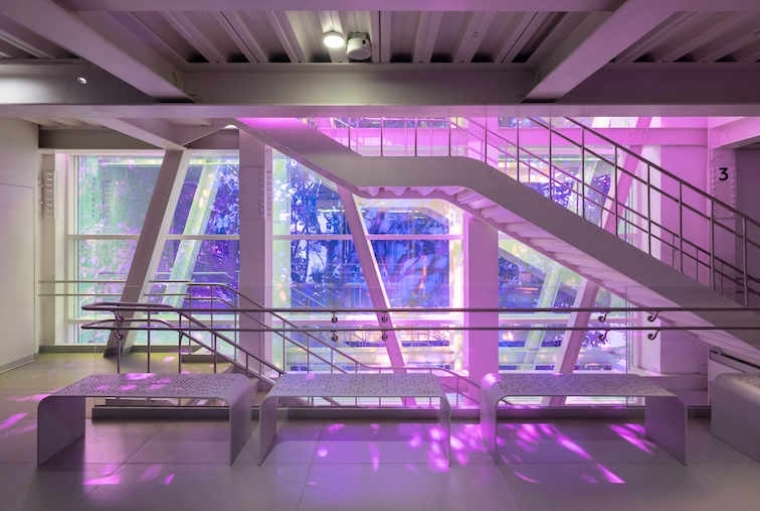 Museum of Art & Photography by Iwan baan
The Exhibition
The museum explores a multitude of subjects and themes through time and society. While the list of readings, walkthroughs, talks and workshops widens every week with interesting experiments, the opening lineup of exhibitions focuses on some important ideas. VISIBLE/INVISIBLE, which continues over three years, examines the role of women in art. It features more than one hundred and thirty works, including new commissions by LGBTQIA+ artists and works by leading Indian artists such as Jamini Roy, Bhupen Khakhar, Mrinalini Mukherjee, Ravinder Reddy, Arpita Singh, M.F. Husain. "This is only a catalyst for many more conversations around gender in order to question certain ways of thinking, prejudices and biases that are inherent to our social structures," says Kamini, who has curated the show.
Another ageless display is Time & Time Again, the first major survey of photographs by Jyoti Bhatt, featuring more than one hundred and sixty photographs, as well as contact sheets and archival materials, which chart Bhatt's photographic journey during the second half of the 20th century. It is curated by Nathaniel Gaskell, Director of MAP Academy.
A solo show of the artist LN Tallur metamorphoses man as material, while Stephen Cox's rishis and yoginis bathe in Indian basalt. Also, strategically standing in welcome are designer Arik Levy's collaborative works with contemporary artists Ayesha Singh and Tarik Currimbhoy.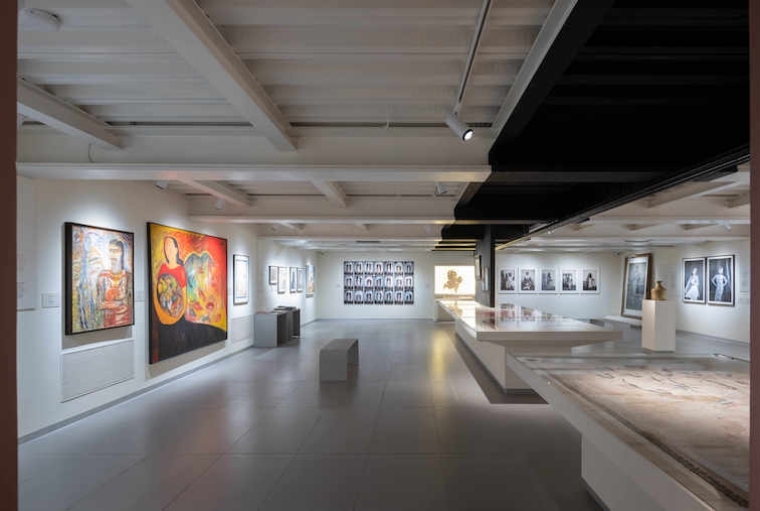 Museum of Art & Photography by Iwan Baan
The Digital Museum
One of the biggest challenges for the founding team was to roll out its digital offerings before the physical space could be set up in times of the pandemic. However, the young team behind this initiative saw it as an opportunity to go where no one had. "We had no one showing the way before, there wasn't a model for a digital museum and you set it up along the way."
However, with the indiscriminate proliferation of art-related excess online, they are clear that their purpose is to restore the balance between the physical and the digital, or, arrive at the 'phygital'. No wonder then, that instead of uber-generative, AI-led hyperbole, one is ushered to experience three-hundred-and-sixty-degree digitised detail of ancient artefacts, for example.
Sustained by advanced technology partners based in the city, the new Digital Museum takes forward its original 2020 format. This includes curated exhibitions, artist talks, virtual reality experiences, workshops and conversations with international museum directors. The museum experience for visitors is augmented with digital interventions, including the Sasken Multimedia Gallery, enabling the entirety of MAP's collection to remain accessible even when specific works are not on display.
There's a tech lab busy with archival adaptation, and Museums Without Borders is a digital collaboration that links MAP to institutions in India and across the world. In addition, the MAP Academy, under the direction of Nathaniel Gaskell, offers online courses and access to its rapidly developing encyclopaedia of art history from South Asia. The museum also offers expert-led blogs, essays and interviews to welcome the uninitiated into the arts.
As one wonders if the MAP ahead would pave way for more new-media and immersive experiences and bolder acts that take the museum outside the walls, we are reminded that this is only the beginning of a work in progress. "It's very important to understand that you are in a museum with a whole lot of objects. So, the idea is to enhance the experience without overshadowing the object. It is to create this seamless experience that allows you to enjoy the object and allows you to go beyond. To see various possibilities. Both have to be a part of that experience." And the years ahead, I'm told, will be clearing ground for that, "I certainly think we have space for more discovery, for experimentation, and for innovation." And of course, one always has room for more hot chocolate and tender teas to sip it with!
Read the all exclusive from our March EZ. To read more such articles, follow the link here.
Words Soumya Mukerji
Date 01-04-2023