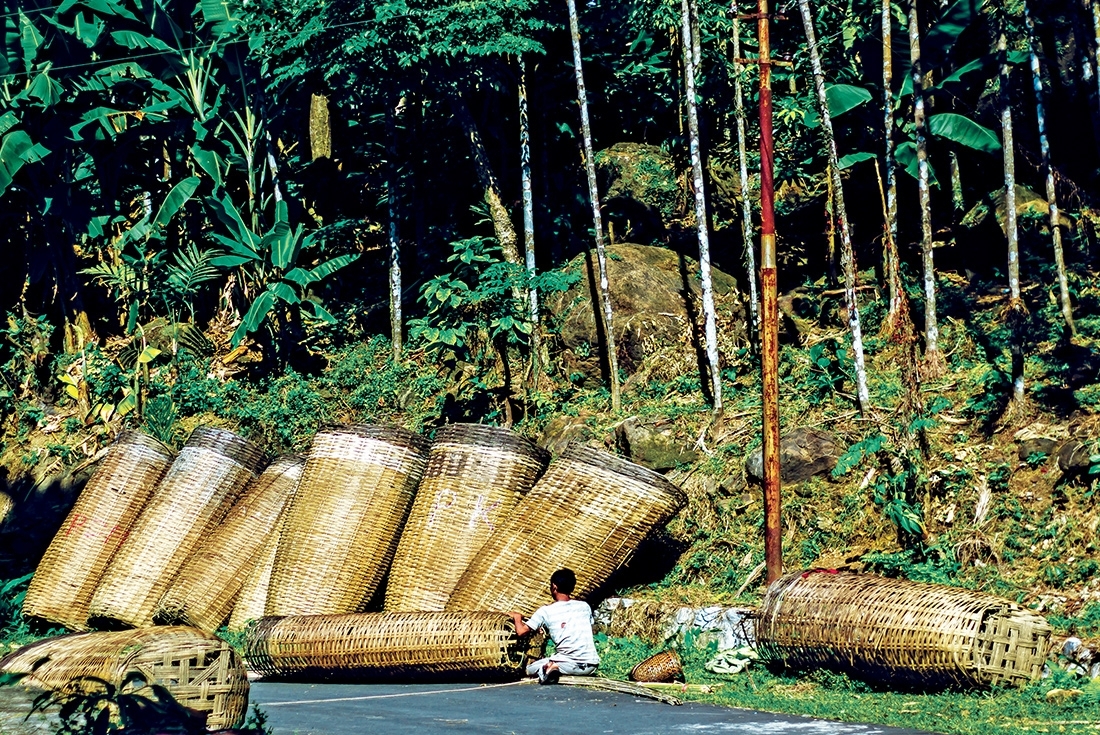 A Walk In The Clouds : Meghalaya
Before I set out on my trip to Meghalaya, everyone warned me more than enough about how my chosen dates were not the right time to be in the state, and the internet confirmed it. I heard everyone out, and then decided, what is human birth for, if not to be a curious rebel?
The bewitchingly beautiful greater Himalayas are the playground for clouds, and what better season than monsoon to enjoy the stage set by Mother Nature herself. Meghalaya has them in every form: fluffy globulets, misty breezes, grey, thick threatening-to-pour-any-minute clouds, that greyish white canvas of infinity. The transition from one to another is so perfect that it leaves me wondering what a busy place the backstage must be!
Two weeks later, I find myself in Guwahati [you can fly directly to Baraa Paani too], all set to take my road journey from Guwahati to Shillong. It is a must-experience stretch if road-trips fascinate you any bit. The three-hour lush green drive from the state of 'chai' to the abode of clouds is almost like a fantasy film, abundant with blink-and-you-miss scenes all along.


SHILLONG
The city is a juxtaposition of South Korean influence against an urban set-up with a colonial backdrop. People with fuchsia pink and lime green hair thanks to the K-Pop culture, the ones that gamble at archery, and the ones tightrope walking between the two cultures all throng the 'police bazaar' with equal gaiety, careful not to jostle their colourful umbrellas against each other. The state is so cut-off from mainland India that culturally, it can be deemed to be following a different drummer.
The weekends are about local bands holding gigs at Cafe Shillong, loafing the streets with the girls right till the mid night, partially tipsy, binge-watching Korean films, and thronging the market to buy branded clothes at discounted prices. The groups of soccer-loving boys have their bit of evenings-out while maintaining a careful distance from semi-tipsy girls on the street, even in the crowded market [in Meghalaya, no one bats an eyelid if a girl bumps into a guy, but if the same be done by a guy, dire consequences await]. The state is heaven for women who like to travel solo.
There is one aspect to Shillong that I wished I knew earlier—there is no off-season, and it is better if one pre-books the stay. In my years of solo travel, for the first time in life, it took me five hours to get a hotel room! Though not-so centrally placed in the north-east of India, Meghalaya gets tourism round the year.
Apart from the throbbing music and nightlife, Shillong is about its small-ish vegetable market and Huge meat market. It is about the Baraa Paani lake and the immaculately maintained Don Bosco Center for Indigenous Cultures.
It is about Wednesdays that are Taxpayer's day at the Office of Commissioner of Customs [I wish it was so for all departments]. It is about Friday and Saturday evenings spent outdoors compulsorily. It is about letting its women be. The city leaves an indelible mark on the soul for its ability to 'live, and let live'.
After a few days in Shillong, I dug a bit deeper into the state and headed to Cherrapunji, the rainiest place on the planet often alternating with sister town Mawnsynrum.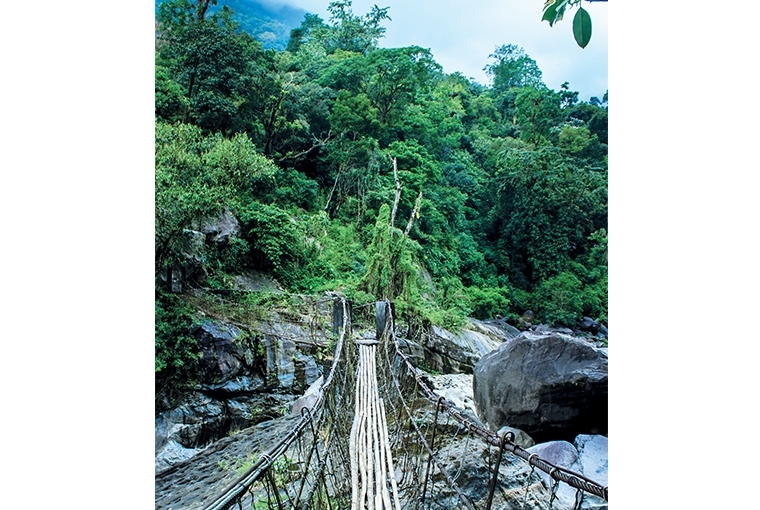 Wire bridges marry natural with the manmade
SOHRA OR CHERRAPUNJI
Think glistening, shiny, bright, cheerful together with thick, gloomy clouds that seem to be so low-hung that but for your height, you could almost touch them! It is here that you understand that if you have your gum-boots, raincoat and umbrella with you, then there is no reason that your work should stop 'coz it's raining'. In the wet months, it rains every single day in this state. It has an unmistakable freshness in the air.
To put things into perspective, it rains heavily in Meghalaya—and the heaviest in Cherrapunji and Mawsynrum—because geographically, the cloud formation that takes place at the Bay of Bengal moves toward the area of lesser pressure, i.e. the hilly terrain. Meghalaya would not have been home to the rainiest place on the planet had it not been geographical dead-end of-sorts for the clouds. It is here that the clouds get obstructed and saturated, leading to almost daily rainfall.
Sohra or erstwhile Cherrapunji surprised me like no other Indian town has. It is so threadbare in its existence and yet unbelievably charming. The drive from Shillong is almost through the clouds. A visit to the rain-fed falls on Nohkalikai and Mawsmai can explain what a natural wonder the rains can be! It is a longitudinal wonderment of white on a canvas of endless greenery. In case you wish to visit Mawsynram where it rains even more than Sohra, you can plan a day-trip instead of staying over. Please note that a visit to Sohra needs planning because it is a sleepy town with limited resources. Moreover, it gets dark by 5:00pm.
The Bangladesh viewing point is tucked pretty atop a tree
MAWLYNNONG

Mawlynnong is a surreal village situated 97 kilometres from Shillong. But it isn't quite the quintessential village. Soccer fields, viewing-points, luxury guest-houses, very chic dhaabas, you name it and they have it.

Mawlynnong, which is better planned than all the metro cities put together and believed to be the 'cleanest city in Asia', has its priorities in place. Usage of plastic is totally banned. Bottles, containers, holders are recycled to be used as planters or cleaned to sell honey in it. The bio-degradable kitchen waste goes in making the compost for farm usage. As a part of conscious living, the village uses bamboo extensively, which is used to make dustbins [these are so beautiful that you will hate to dump anything in there], staircases, tree-houses, doors, outdoor furniture etc. Most of these things have to be replaced every year because of the climatic effect on them; then why don't they just make it in metal once and for all, you may ask? Because the process of constant degradation and replacement ensures regular employment to the village people. Sometimes, 'sustainability' and 'permanence' are not the same things.

Also, it is such a squeaky clean state [pun intended], that while one of the major crops is betel-nut and so loved is the produce here that it is difficult to find one soul who doesn't chew on these nuts, you will not find a single streak of red anywhere!

The village has many beautiful homestays for all kinds of travellers and there's no elbowing each other out. There are places that are just homestays, and others are commercial kitchens set up out of homes. When I went around the village looking for a place to stay, even the ones that were totally sold out immediately joined me in the hunt by guiding me to other places with possibly vacant rooms, or just rushed over the fence to ask their neighbour if their homestay had space. I must admit, I'm yet to see such selfless goodwill elsewhere.

After finding a suitable place, I ventured out to explore the village. At 5:00pm, it was almost dark, and moments to go before the solar-powered streetlights lit up the place to make it look like one out of a charming book of folk tales.
Roosters, dogs, cats, all crossed each other's path languidly. Among them was a camaraderie which is no longer seen in human beings. The branches of the trees hung low with almost ready-to-eat fruits. It all looked so undisturbed that I was almost afraid to pluck the fruits.

The village is aptly known to be 'God's Own Garden'.
I had my dinner just when the kitchens seemed to be busiest for the evening; at 6:15pm. A dinner so early had me a bit concerned as I was not sure if I would hit the sack before mid- night [my usual time back home], and what if I went hungry again?

The time after dinner went in clicking the star-studded, clear [HD level clarity] night sky, breathing in the crisp air, chatting up the tourists, the village folk and playing hide- and-seek with kids from the neighbourhood. After a while, I realised that the last activity was a mistake, as these kids knew places which I didn't know existed, for obvious reasons. My pursuit to seek them had me lost several times, but who minds getting lost in heaven?
At 10pm, the village went silent, except for a few tourists roaming around here and there, and I decided to call it a day. All went peacefully till 3:10am, when the resounding pit- ter-patter on the metal roof woke me up. It had gone very cold as compared to the time I went to sleep. Ignoring the din and pulling up the blanket tighter around myself to counter the nip in the air, I went back to sleep. Well, almost.

Twenty minutes later, a soul-splitting, right-behind-my ear kind of cock-a-doodle-doo stunned me awake! At 3.35am, it was difficult to say what misguided the poor rooster into sending out the morning alarm. With a shocked heart thumping madly, I tried going back to sleep one more time. It was not to be, as half an hour later, the entire rooster- community decided to hold a crowing-fest in unison, which didn't seem to be ending anytime soon. The call-out was determined and adamant. Resigning to the situation, that day I began my day at 4:15am. As soon as I stepped out of my room, I saw faint day-break in the horizon, and then it struck me. Meghalaya follows the 'bagaan-timezone', which means, the sun rises and sets early; almost an hour ahead of mainland India. Much to my amusement, it also meant that the roosters were right.
I got ready for the day, as a kind soul called Phillip had promised to take me around the village on a guided tour. At 6:00am sharp, we set off.
The first stop was the soccer field. Soccer is more like a religion to the people in this part of India. They play it twice a day. Every. Single. Day. Without fail. Earnestness and sincerity hallmark these efforts.

Next up was the balancing-rock. It is a huge rock, which is a tourist attraction for the simple reason that the giant boulder balances itself on a narrow base. It used to be privately owned, but the family that held the ownership has handed it over to the village authorities for maintenance and display. Like all the other rocks of the village, even the Balancing Rock is a Maw-lynnong; 'Maw'- rock/stone, 'lynnong' means 'pit/crater'. This is the only village where you would find the rocks with pits. Each house has them as adornment and you will come across these aplenty during the course of your walks around the place.
The road leading to the balancing rock is lined with thickets of broom-stick plantation [Thysanolaena maxima], which I mistook for bamboo and Philip corrected me, much amused. The village grows broom-stick.

As we walked back from the Balancing Rock and crossed the now-deserted soccer field, Philip explained to me that everyone in the village followed christanity, and all the development, planning and execution was monitored by the convent.
While I was reflecting upon this, I realised we had reached the village church. It is a beautiful, quaint church with English architecture. Looking at the whole ruralscape, it is hard to believe that you are in India. The view is immensely beautiful.
I returned to my guesthouse for breakfast, and was thrilled to see a family making plans for border-town called Dawki, and I went along.
DAWKI & SHNOPENGDENG
The Indian territory on the border for Indo-Bangladesh stretch is called Dawki. This border is not as friendly as the Indo-Bhutan one, and the Indian border police will warn you sufficiently to not feel too adventurous. A thin stream of barely-there river officially separates the two nations.
Roughly 1.5 hours from Mawlynnong is Shnopengdeng, on the road towards Dawki, on Umngot river. The river has water so clear that the boat seems to be suspended in air—a famous image all over social media if you must. Yes, that place exists and looks fantastical in reality.
Meghalaya, in totality, is not a state that you can explore in just one go. You can only unravel it layer-by-layer, each very different from the other. Be it enjoying the water bodies or experiencing the tribal lifestyle, it can all constitute to be one complete holiday. It is a state that will delight you long after you've left.

TIPS
1] Be well-equipped with rain gear; umbrella, raincoat, gum-boots and luggage-cover
2] Start your day early. If you start your day at noon, you are just 4 or 5 hours away from sundown, and most of these places call it a day early.
3] Carry some extra food with you. Places like Sohra, Mawsynram, Mawlynnong, despite being popular, have limited resources.
4] Carry mosquito repellant cream, mats, stickons.
5] If you are dependent on electronic devices, the first thing to do at every instance is charge your devices. At some of these places, there are long powercuts.
6] Keep extra days at hand. Plans can get hampered at the drop of a hat thanks to extreme weather conditions. Please be patient.
7] Khasi food: If you are a vegetarian or vegan, please understand from the server carefully as to what the ingredients of a particular dish will be. Something as unassuming as potato chops could be a dish with potatoes and pork in it. That said, you have plenty of options at any given place.
8] Language: Most of the people understand only the regional language and/or English.


Text and Photography Divya Rai

Divya Rai is an accidental writer who when not travelling, is like any regular slave to all her stray cats. As a follower of the 'slow travel movement', she believes in putting off-beat India on everyone's list. In 2013, she said a reluctant but a happy goodbye to her first love, fashion, and studied to become a photographer. On the way, her love for the visual medium crossed paths with travel and A Borrowed Backpack was born. She is currently working on a project called 'A Trippy Closet' which, she hopes, will change the way people look at material possessions.