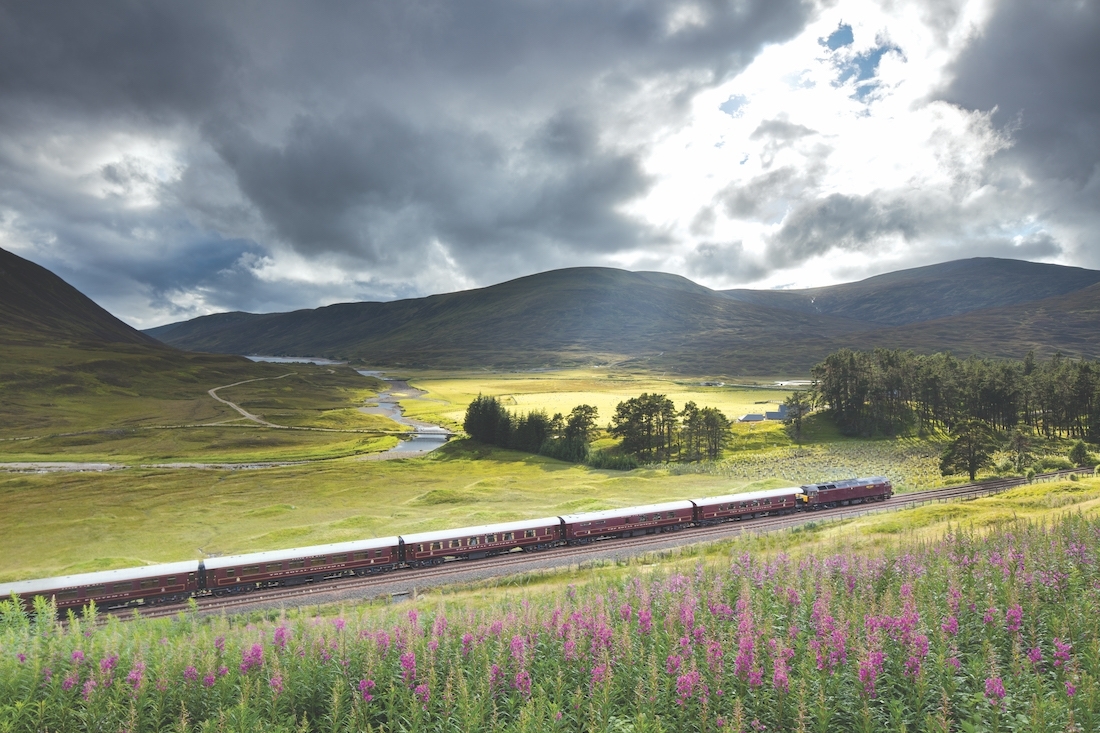 PHOTO COURTSEY: THE BELMOND ROYAL SCOTSMAN
Slightly tipsy at 3pm onboard the Belmond Royal Scotsman train just coming in to berth in the small Scottish town of Perth, and sometimes there are moments that feel entirely glorious in their completion. Having been on this train for 3 days so far and just now –post the tour of Glamis castle- an impressive castle with an even more impressive pedigree (the ancestral seat to the Earls of Strathmore and Kinghorne since 1372, inspiration for Shakespeare's Macbeth, and the childhood home of the Queen Mother, and birthplace of Princess Margaret) with a dram of Dalwhinnie Single Malt in hand in the plush observation car , sun shining , on the Highlands tourof Scotland with a train full of quasi strangers, most of whom I like, is one of them.
This first visit to Scotland (and by no means my last) was a long time in the making. The childhood spent imagining heaths and castles, clans and tartans, due in no small part to my much-loved copy of Scottish Tales for Children, and of course the deep dissection of Macbeth in my teenage years, commences in Edinburgh. Having a few days to explore Scotland we decide on a 5 day journey aboard the Belmond Royal Scotsman Train which will take us up into the Highlands, complete with wild & remote highland scenery on the Perth to Inverness (The line's summit at the Druimuachdar Pass at 1,484 feet (452m) is the highest point on the entire British rail network.) In my view this is the ideal way to see vast expanses of this beautiful country, while ensconced in a luxurious train for a few days, in elegant wood paneled cabins with tufted leather walls and antique prints on the wallalong with massive windows to take in the views while tucked in bed, the mists and fog rolling and lifting over the highlands, thundering past golden fields, winding rivers, and an occasional glimpse of the majestic red deer resting at waters edge. (Fact: red stags can grow antlers as rapidly as 1" a day during the spring to winter season- at which point they shed them).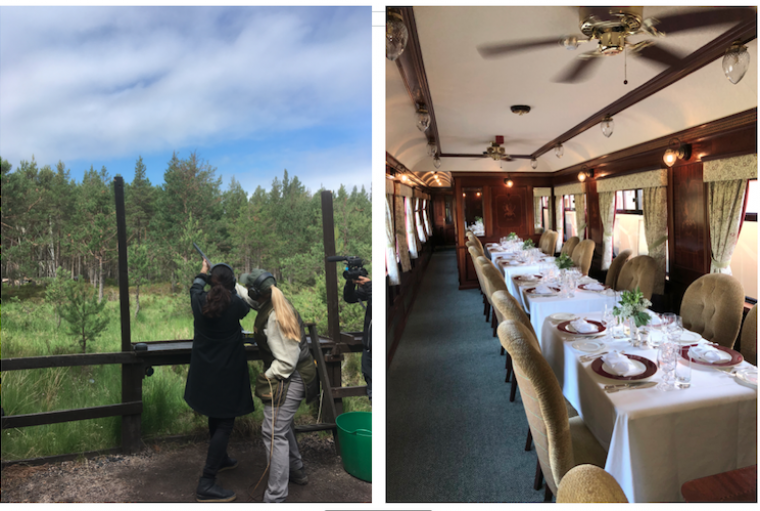 L: Clay Pigeon shooting at the grand Rothiemurchus Estate
R: The elegant dining car aboard the train.
Add to that the nostalgia of old fashioned train travel, the call button in each compartment, which will bring a staff member to take your order for tea or anything stronger if you wish or merely to fill your hot-water bottle, the excellent meals served in the two dining carsand it feels like every romantic notion of a train filled with glamorous people dressed to the nines, thrown into close proximity while hurtling through stunning countryside (one cannot help but think of the Orient Express which funnily is now owned by this very Belmond group and adheres to the original in looks, service and spirit ) is fulfilled.

There is a surreal quality to life on a beautiful train, with its wood paneling and cozy cabins, one place to gather, constantly moving, ever changing and very intimate. Perhaps it is exactly the reason why everything feels heightened and no doubt the ever-flowing liquor served is the perfect lubricant for these slightly more uninhibited few days. I assume all this has been thoroughly researched by the train companies and they realize, even before we do- that gathering a bunch of people who may have almost nothing in common needs an open bar that leads to open minds. And apparently we are all like minded in that we gather daily, hourly almost, in the observation car, which is really the bar and drink and chatter and watch the views fly by, and tell each other our life stories, which we do less and less as adults under any other circumstances. All of it brings a certain exhilaration, we love to talk, as humans we all want to be heard, and to do so in this setting, (for some..a once in a lifetime journey) makes it a most memorable one.
Aside from the comfort of the train, there are daily excursions organized as we wind our way from Edinburgh up the coast to Aberdeen, through Inverness and out to the beautiful harbor town of Kyle of Lochalsh, with a stop facing the stunning Isle of Skye before winding down through the heart of Scotland back to Edinburgh.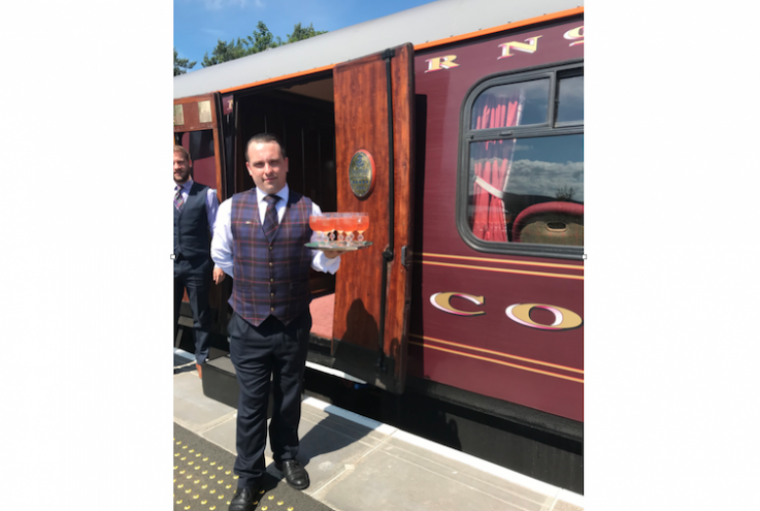 Post excursion daily cocktail greeting from our brilliant bartender Max
We visit the Glen Ord Distillery on the first day, with an in-depth tour of the process of making whiskey, with special mention to the fact that the use of as much as can be locally sourced is key to their production. Rainwater is stored and used, barley from the local farms is vital and the local black soil adds to the richness of the taste.
Their distillery is the 4th largest in Scotland, producing 11.5 million liters a year, and a tour of their cellars reveal row upon row of wooden casks as far as the eye can see.
(Fact: once these casks have been used they are either sent to the USA to store wine –in whiskey or Spanish sherry casks OR they are turned into wood chips over which salmon is smoked…thus imbuing it with a wonderful smoky aftertaste). Many small sips and tastings later, we set course for the absolutely charming fishing village of Plockton. With its whitewashed cottages, Plockton sits on a sheltered bay with stunning views overlooking Loch Carron. Referred to as the "Jewel of the Highlands", it's breathtaking scenery and landscapes, secluded bays, and Duncraig castle which looks down upon all this beauty from its vantage point on the hills above the Loch, make it unmissable stop.
We take 'Calum's' fishing boat out, Calum being the 6thgeneration of a family of fishermen…and head towards the Isle of Skye. Rocks covered with seals sunning themselves dot our path, and a 360 view of rolling hills, sparkling lake and endless sky feels like one is at the edge of the world, in a state of bliss.

Returning to our handsome burgundy train, we are greeted by the sight of our ace bartender Max and a few of the staff armed with silver trays of delicious cocktails and a warm welcome greeting (this being a daily occurrence every time we return from an expedition). It already feels like home, albeit one that is flush with perfectly laid tables on crisp white cloth, gleaming silver, and china stamped with the stately gold insignia of The Great Scottish & Western Railway Co.
More than happy to have this as our temporary home, I am also happy to comply with the nightly dress code, which alternates every night from informal (suits for men) to formal (tuxedos or kilts). It adds a layer of old school glamour to the proceedings and seeing the men so handsome in their kilts (many wore them-rented or owned) and the women so graceful in their gowns and dresses feels so civilized.

We sit for dinner daily in one of the two dining rooms, and the no assigned seating rule is very conducive to making new friends. There is a menu, but every day a member of the staff comes by at breakfast to ask if that menu suits, or if each person has any indiviual wishes and needs. There is nothing to wish for, all the food is excellent, and all prepared by a single chef, sous chef and one assistant in a tiny train car kitchen upon an ever-moving train.
L: The collection of 18th Century pin cushions.
R: exterior view of Balliandalloch Castle.
Every evening brings its own entertainment, one night a pair of Scottish singers encouraging us to sing along to old bawdy Gaelic tunes (we all did, and loudly at that) another night a gentleman with his Tartan tales…about the bloody history of Scotland, and the peculiarities of wearing a kilt, all topped off on the final night with dancing a rousing Highland jig on the platform accompanied by a live trio of musicians and many hilarious miss steps.

The second and third day excursions include a trip to Balliandaloch castle, which looks like a Norman chateau (but prettier) with the gracious Lord and Lady Russell in residence who give us the grand tour- showing with pride their amazing gardens, their herd of the original Aberdeen Angus cattle, their collection of Spanish art (which is the second largest in Scotland) and most fascinating for me- their collection of antique silver 18th century pin cushions…the likes of which I had never seen before.

Day three sees us on a morning expedition of shooting(clay pigeons),fly-fishing and hiking in the Rothiemurchus Estate in the Cairngorms National Park. Acres of amazing grounds, a beautifulhunting lodge and a forest of centuries old trees make us all feel like lords of the manor. Entirely exhilarating and addictive, I depart after 4 hours of shooting vowing to take it up as a serious pursuit.
We berth for the night at the quaint town of Boat of Garten with our tracks joining the famous Stepney Railway line, and watch the storm clouds roll in for the evening from the cozy confines of our train. It is our last night, and each day has brought its own discovery. Everyone stays up late drinking rare whiskeys, playing charades and reminiscing about the past 4 days. Such is the magic of the train and of the impeccable staff, that we all feel sad to leave, and there is not one person who wouldn't book their return immediately.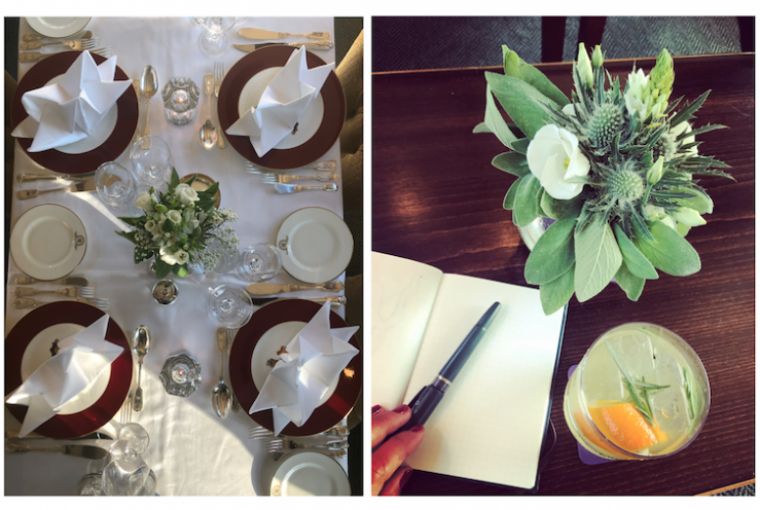 The gleam of silver, crisp tablecloths, and the insignia of the Great Scottish Railways on the
plate makes it a very elegant setting.
(Fact: Angels' share refers to the phenomenon that occurs during the aging process of whiskey that would lose 2% of its volume due to the porousness of the wooden barrels within which it was being aged. As the liquid would evaporate into the heavens it was called Angel's share)
TEXT Rymn Massand. September 2018