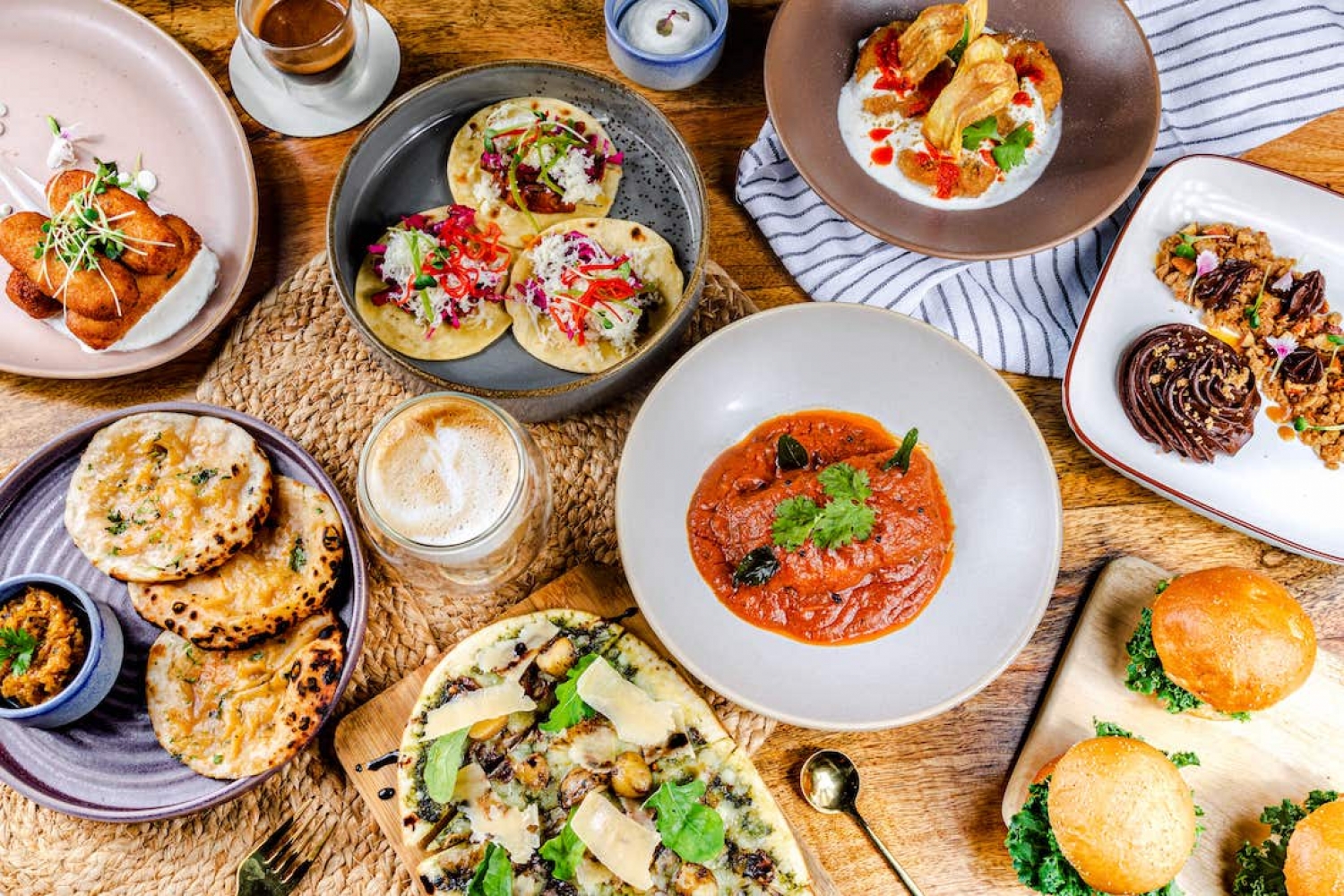 Only a few months old, Balsa is an airy, modern restaurant in Mumbai's Lower Parel. The restaurant has a distinct pulse with an eclectic menu. It serves refreshing, summery cocktails and nibble-worthy tapas, and if your stomach is still not sufficiently full, there is also a main course menu with popular choices like the Korean bibimbap or spaghetti with plant-based meatballs.
Founded by entrepreneur couple, Ami and Abhishek Javeri, the space is aesthetically done up: the outdoors boast of group-tasting booths under ivory-white canopies, with light fixtures and hanging planters. This spacious courtyard – with its floral blooms, flattering light and spurting greens – provides an indulging backdrop for guests to pose for selfies. The restaurant sprawls across three thousand square feet, which includes an indoor seating arrangement with plush sofas and cosy decor.
The cocktails are the charm of Balsa. If you're feeling adventurous, try The 69: a golden-yellow drink made of ghost-pepper infused tequila, craftily blended with passionfruit pulp. It's a balanced, delightfully spiced cocktail that leaves behind a slightly hot aftertaste. The Voilà is a spiffy, lavender-hued vodka cocktail served with a floating orb of ice. The drink is gentler on the tongue, beautifully tempered with lemongrass and galangal. The Mango Brulée is a sweetish gin and tonic combo, mixed with pureed mango, fresh mint, ginger and egg white. Topped with a layer of foam and a smidgeon of liquefied brown sugar, the Mango Brulée was my personal favourite.
For tapas, we ordered the Webbed Pan-Seared Momos, which are essentially chicken dim sums that come cocooned in a delicate, lace-patterned coral tuile, garnished with edible flowers. The dish is accompanied by two sauces that include a distinctly flavourful soy sauce that is made in-house. Unfortunately, by the time the momos arrived, the crispiness of the tuiles had faltered but the momos remained succulent and pillowy.
Prawn Alio Olio are prawns tossed in olive oil, red pepper and chillies. Chopped shallots of garlic add the much-needed texture and crunch to the dining experience. The tender and juicy prawns come with a buttery slice of sourdough. To be honest, the slender piece of bread is not enough to relish the dish in its entirety. One must order another toasted slice (or two) to be able to dip it in the sauce and enjoy it. The Balchao fish, which is part of the mains, is a decent choice on the menu. The rawas fish (cooked to perfection) is served in a thick and tangy curry. One has the option of ordering it with Malabar paratha or with a steamy bowl of Jasmine rice.
To wind down our evening, we ordered Baileys Rossette for dessert. It's a soft, moist, chocolatey mousse piped on a plate, served with a sugary bed of crusted almond crumble. Overall, Balsa is a fun, casual dining restaurant, the kind that allows you to let your hair down and have a good time.
Text Radhika Iyengar
Date 21-06-2022