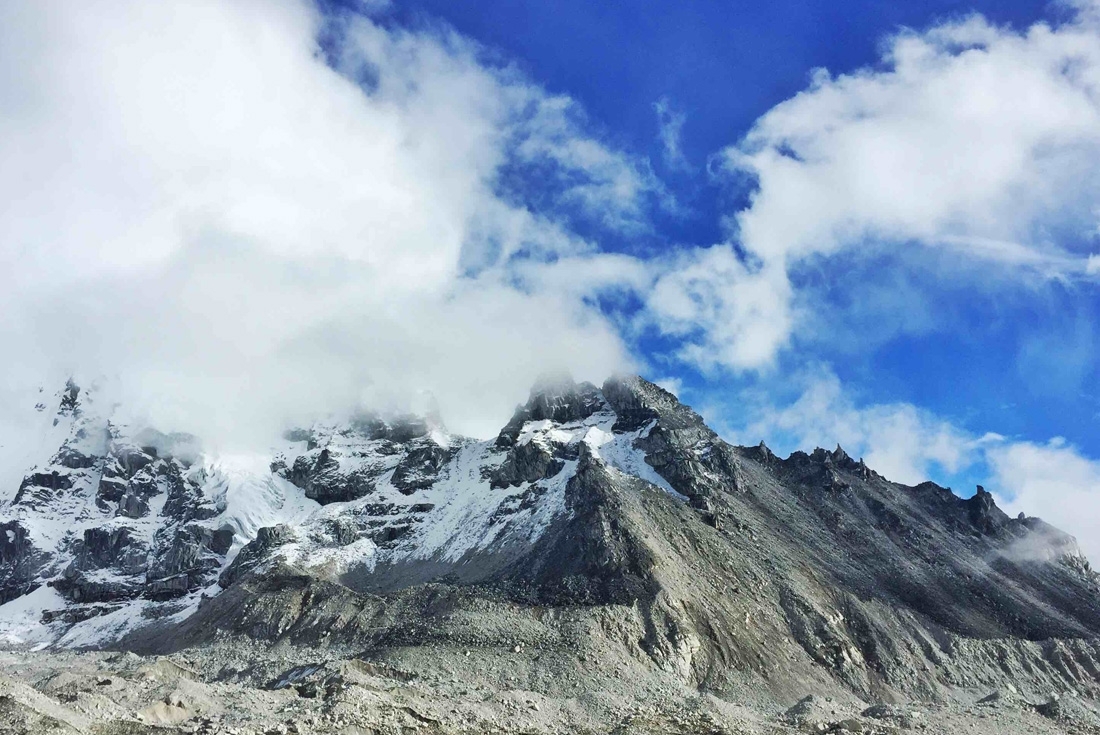 Trek to Everest Base Camp
It's normal for there to be a sense of apprehension when venturing to a new place. That fear is multiplied exponentially when that place happens to be the Everest Base Camp.

When I announced to my family and friends that I planned to take part in an expedition into the Khumbu region of Nepal, I was greeted with looks of disbelief, laughter and even some friendly bets that I wouldn't even get on the flight. The only comforting factor, they said, was that the trek started in six months and that would give me enough time to change my mind.

As a mountain lover, nothing sounded as exhilarating as the reality of walking into the Himalayas for 14 days, to a region not accessible by car, to stand on one of the highest points on earth. The idea of immersing myself in a completely new experience was attractive and made me want to take part. But so was the idea of challenging my body and getting out of my comfort zone.

I'd found that since I'd become a mother, my vacation destinations had become predictable and comfortable— winters in Goa, summers in Uttarakhand and an annual trip to London or the Far East. The routine was down pat and while it was enjoyable, it certainly wasn't awe-inspiring. And I was craving something monumental.

The more I read about the Everest region, the more determined I was to see the Himalayas up close and personal… and to take on a physical marathon I'd never experienced before. But before I did that, I had to do one very important thing—get my body ready for what is known as one of the most challenging treks in the world.

This is not a journey for the faint-hearted. Trekkers are expected to cover a distance of over 150 kilometres, and that too at a very high altitude over a period of two weeks. Altitude sickness is a serious and ever-present danger and being in good shape helps the body deal with the inhospitable environment. All my research pointed to strength and cardio training and I knew, unless I improved my fitness levels I couldn't risk going.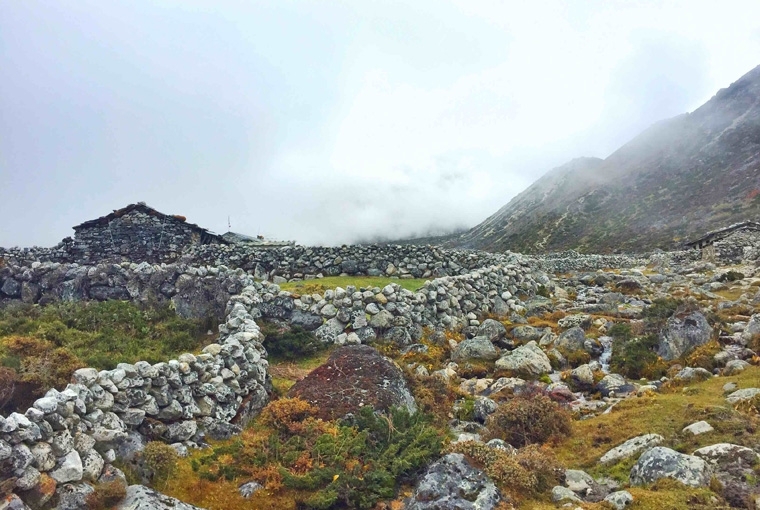 So I began a daily routine in which I forced myself to work out for two hours a day. I started slow—by doing Hatha yoga sessions to open up my body [which had been in couch potato mode for many months] and followed it with a brisk walk in the evenings. Every week I added an additional element to my routine and within a month I was racing through High Impact Interval Training videos on YouTube.

As my body got stronger, I could sense my attitude change from fear to confidence. And when the day came to board the flight to Katmandu and join my expedition team, I was filled with excitement. Yes, I was still petrified that the mountain might send me back with my tail in between my legs—but as Sir Edmond Hillary said, 'It's not the mountains we conquer, but ourselves'.

I was ready. I was capable, and I was going to give it my best shot.

My group of seven first-time Everest hopefuls began our collective journey on an adrenaline-inducing tiny 12 seater plane from Katmandu to Lukla Airport. The propellers literally skim along the top of the Himalayas and the aircraft lands on a steep sloping runway carved out of a mountain at 8000 feet above sea level. From here onwards, it's a two week journey through lush valleys, steep rocky passes, alpine scrublands and finally on to the Khumbu Glacier to Everest Base Camp… and then all the way back!

The trail is beautiful, with abundant with flora and fauna and amazing snow capped peaks. Sacred Buddhist monuments dot the trail and small villages perched on sides of mountains offer rest and sustenance to weary travellers. What's most impressive is the cleanliness. There is no garbage on the entire trail, as both trekkers and the Nepalese have great respect their surroundings and are actively involved in keeping it in pristine condition.

Every day is spent immersing oneself in the natural world and reawakening one's sense of wonder. The vistas around every corner are magnificent, and one feels incredibly insignificant in the shadows of the tallest mountains on earth.

I was most fearful of not physically being cut out for the challenge before the trek, but I soon realised that the task of walking was in fact the most enjoyable part of the day! The eight or so odd hours spent in almost complete silence, placing one foot in front of the other, were meditative and offered the serenity for self-reflection.
This is not to say I didn't struggle at all. Yes, some of the uphill sections are tough and the only way I was able to do it was by ramping up the BPM on my Ipod and constantly looking below to see how far I had climbed. I never looked up for fear of seeing how high the mountain was and how much further I might have to go when my legs and lungs were already close to collapsing.

Most experienced trekkers on the EBC trial will actually say that this trail, more than others, is an incredible mental challenge—because it is long. There is no turning back once you join an expedition team and you must be prepared for basic living conditions, shared toilets, damp and musty mattresses and the same carb-loaded menu day after day. Coupled with the high altitude effects on the body, this journey is for nature lovers and not those simply looking to cross an adventure off their bucket list.

And the higher you go, the tougher it gets due to the effect of the altitude on your body. For instance, at the bottom of the mountain a 10-kilometre day seems easy—but by the time I was climbing at 18000 feet to Basecamp, every step was a Herculean effort. As headaches, nausea and fatigue seep in, the motivation to continue walking evaporates into the ever thinning atmosphere. I found the last one kilometre to base camp incredibly difficult.

I could see the prayer flags quivering in the wind in the distance and as I pulled my weary body over boulders, some of them the size of small cars; I was desperate to make it to the finish line. At one moment, I actually said 'Ok, enough. I can see it… I'm already standing on Mount Everest, I'm ready to throw in the towel. I can't go any further'.

But I did go further. And once I arrived at the trekkers' temple in the sky, I was inundated with an immense sense of euphoria. I couldn't think of a single instance in my life that matched the achievement or the feeling. This was not a holiday; it was a journey of discipline and perseverance. If prior to the trek I was bogged down by self-doubt, by the time I reached Mount Everest, I felt that there was no challenge I couldn't take on.

This is not a party—it's a pilgrimage for your soul. And if what you are looking for is a new outlook or perspective, then you will most certainly find it on this trail.

Go for it. Life's too short and this journey far too spectacular to not attempt at least once!
WHEN TO GO: The trekking season is on from late September till May. Obviously the winter months mean heavy snowfall and freezing temperatures. Most trekkers will take on the journey either right after the monsoon in October or in April and May to see the Rhododendrons in full bloom.

HOW TO GO: Make sure to join an experienced and reliable expedition team. This is a tough journey and it is paramount to have someone capable of dealing with any emergencies that may arise. I went with Talisker Expeditions which is led by a trained paramedic and has some of the best Sherpas to lead the way. [Ph: 919871379731, Email: taliskerexpeditions@gmail.com]

THE COST: This is an expensive journey but worth every penny. After tickets / gear / expedition fees you can expect to spend around Rs 2,00,000.

GEAR: Make sure you buy the best you can afford. Sub-zero sleeping bags, back packs, water bladders, trekking shoes and warm jackets ensure you will be prepared for any extreme weather. I chose to get all my essentials from Raptor Gear, which specialises in high quality outdoor merchandise. (011-24635552 / psc@raptorgear.in)

HOW MUCH TO TRAIN: While the trek is completed by children and grandparents, many of them take longer than the 14-day itinerary run by most expedition teams. So while most people in good health can complete the trek, your enjoyment is directly correlated to how fit you are. If you don't want to be huffing and puffing red-faced up the mountain, then start taking the stairs and doing those squats and lunges now!

ESSENTIALS: I carried a pillow case and bed sheet to cover the musty mattresses and it added to my comfort. Also carry plenty of body wipes as it's very likely you will not have the opportunity to shower for 10 days! You'll appreciate having the ability to clean yourself down at the end of the day and smelling [somewhat] fresh.

EXPECTATIONS: There are no luxuries on the trail and everything from the food to the accommodation is basic. Accept this before you begin the journey so that you don't get bogged down by the discomfort. While this is no five-star holiday, it is a 10/10 lifetime experience and one that will stay with you long after you make your descent. Don't be scared! It is the journey of a lifetime and will exceed your expectations in every way!


Text Vindhya Tripathi Chowdhury