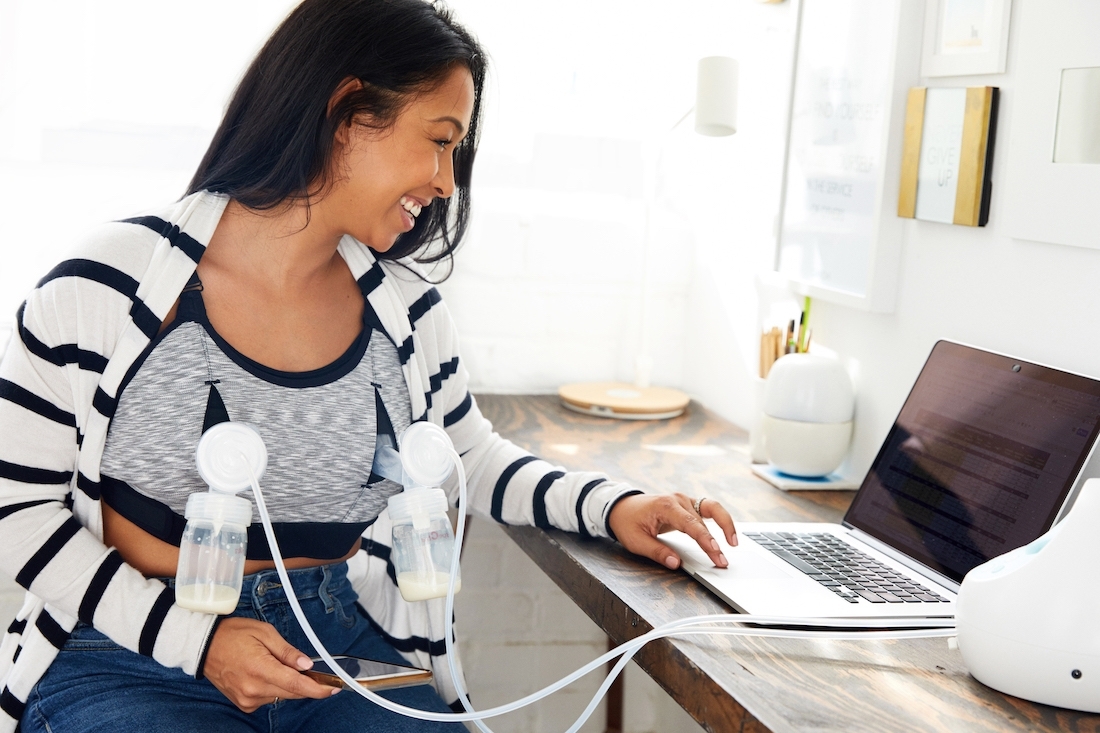 Best of Baby Tech

Lilu Masssage Bra
It is not easy being a mom, and mind you, this is coming from someone who is due in a week and hasn't even popped yet. Even though I am quite excited to bring a new life into this world, I am utterly anxious, nervous and going entirely bonkers at the same time. The reasons? There is a whole damn list but I'll save you the horror and let only one subject take centrestage today: Breastfeeding.
Did you know that over 67% of the 3.2 million new moms who begin breastfeeding report problems with breast pumping, and it is one of the biggest reasons they can't make breastfeeding work? They spend three hours each day only pumping milk, and then eventually have to give it up because they struggle to juggle work with it.
Thankfully, three young engineering students in the States took notice and decided to shake things up. They decided to empower new moms, one product at a time, starting with the Lilu Massage Bra. The best buzz in baby tech right now—pump more milk, hands free. A tech activated bra that mimics the massage motions recommended by lactation experts to make pumping sessions more productive. One of the co-founders, Sujay, tells us all about it:
The Team
My co-founder, Adriana, and I met in a robotics class at the University of Pennsylvania during our respective master's programs in 2014. We started Lilu and set on a mission to build technology to empower new moms, right after graduating from Penn in 2016. Eliza joined the mission in 2018 as the Head of Marketing to help us bring our first product, the Lilu Massage Bra, to the hands of the millions of moms who need it. She recently transitioned into Co-founder and CMO of Lilu.
The Inspiration
Adriana and I were lab partners in a robotics class at Penn and we worked on many innovative projects together. When we started discussing potential ideas to work on for the final project of this class, we discovered that we shared a passion for building products that help improve the lives of women.

Prior to my master's, I co-founded a non-profit in Hyderabad called Jyothi, which helped survivors of harassment and rape by providing them with a platform to lodge their complaints anonymously.

Adriana, on the other hand, had seen many of her ex-colleagues and friends from her previous job return to work after their maternity leaves and they struggled to juggle between work and breastfeeding. Despite their best efforts, they had to quit breastfeeding earlier than the recommended time because technology failed them. This affected both us deeply and we wanted to explore the breastfeeding and breast pumping space to understand the pain points that new moms have. We discovered quickly that over 67% of the 3.2million new moms who begin breastfeeding in the US every year report problems with breast pumping and it is one of the biggest reasons why they can't make breastfeeding work. As engineers, designers and future parents, we felt compelled to build a product to overcome these problems.

R & D
After our initial research online, through published papers and our conversations with lactation experts, we realized that there is a huge lack of innovation in the breast pumping space. One of the biggest problems is that the design of a breast pump has stayed the same for several decades. The pitfall of the current breast pumps is that they rely on suction round the nipples to extract milk and fail to mimic what a baby does while breastfeeding, efficiently—this results in insufficient milk extraction which leads to several complications like low milk supply and sometimes even painful conditions like mastitis, which is inflammation of the breast tissue due to clogged milk ducts. Further, we discovered that lactation experts recommend moms to use breast massage while pumping to alleviate some of these complications. A research at Stanford revealed that combining the suction of a breast pump with compression and massage can help moms pump 50% more milk per session and even results in increased milk supply over time.

We took our learnings from this research and sent out a survey to a small group of about 20 moms in the Philadelphia area. Within the next few days we were overwhelmed to receive over 600 responses from moms all over the city telling us stories about their breastfeeding and breast pumping journey. What was striking to us was that 2 out of every 3 moms we spoke to anecdotally used their hands to massage their breast while pumping to express more milk. While this worked in helping them with maintaining their milk supply, it also meant that they wouldn't be able to use their hands to do anything else for 3 hours everyday while pumping.

With the insights we gathered from these moms, we built our first prototypes in May 2016. Today, 3 years later, we successfully launched a pre-order campaign and over 150 moms have purchased the Lilu Massage Bra. We are on track to deliver these orders in July 2019 and we're gearing up to launch the product for orders on our ecommerce website in August 2019.
Reaching the Masses
We developed the very first prototype using research insights from soft robotics. We then went to Shenzhen, China to accelerate our product development and today, we have a solution that fits.

We embedded our patent pending air massage technology into a bra that is easy to wear, comfortable, adjustable and compatible with the existing breast pumps that moms already use and trust.

Over 160 moms have pumped with the Lilu Massage Bra and we are seeing them pump 30% more milk per session on average than with their breast pumps alone. But the benefits go well beyond just increase in milk supply. We are constantly flooded with messages and pictures from our beta testers who are finally able to multitask while pumping and give their hands the much needed rest.

Expansion & Future
In August 2019, we will launch the Lilu Massage Bra for orders through our website. Later in 2019, we hope to sell the Lilu Bra through other online retailers like Amazon. We are also currently partnering with Children's Hospital of Philadelphia to conduct a clinical trial around the device. This trial will be headed by Dr. Diane Spatz, the Director of Lactation Program at CHOP and one of the most well known lactation experts in the US, whose work has been adopted by the WHO and UNICEF to promote breastfeeding. The results of this trial will help us begin conversations with insurance providers and hospitals.

In 2020, we are hopeful about expanding in global markets like India, China and Europe, where breastfeeding awareness has been on the rise. Our goal for the next 5 years is to build a platform of products that will empower new moms. Also, the next version of the Lilu Massage Bra will be a connected device which will pair with an app. Through the data we collect from the app, we will provide moms with objective metrics and actionable insights that will help them reach their breastfeeding goals.
Text Hansika Lohani Mehtani