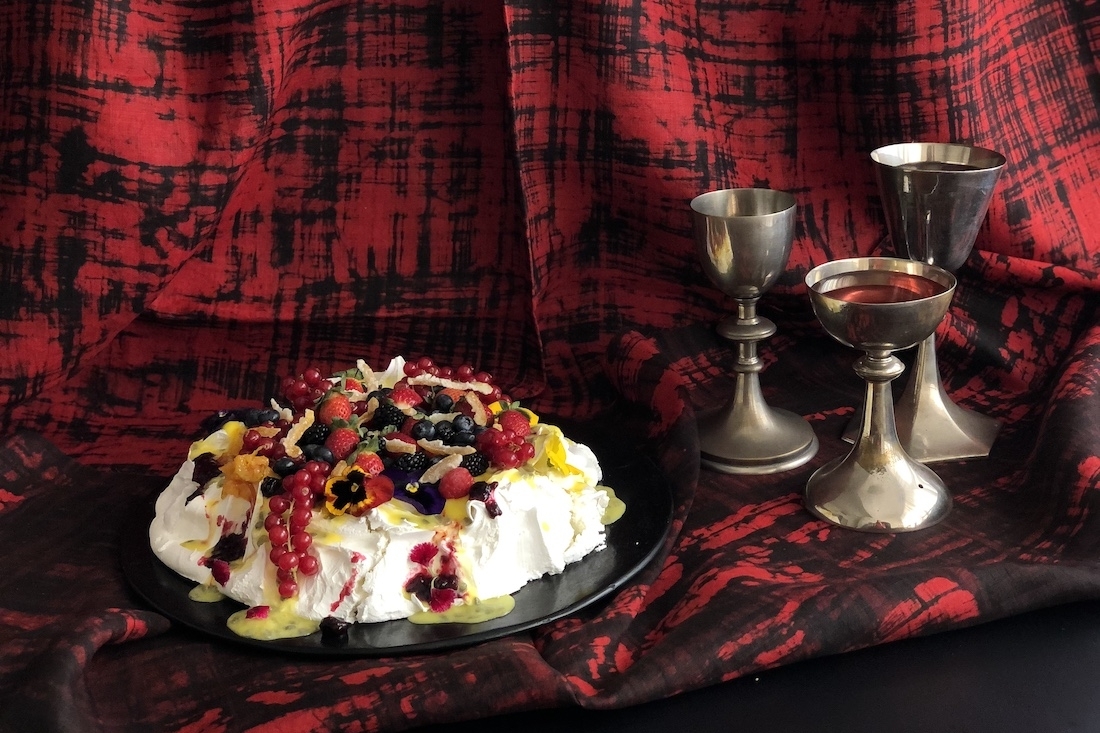 Eeshaan Kashyap is a multidisciplinary artist, with a knack for finding beauty in erstwhile hidden and mundane bits of our lives. His playfield spans across food, beverages, design, photography, art and styling. He uses these mediums to playfully yet opulently tell inspiring stories. Much can be said about his own signature style, which borders on extravagance, and his vocabulary is entirely made up of the visual. Although his journey began in the biotech world, he gradually turned his passion for cooking into a profession, training as a chef under Oberoi Centre for Learning and Development, where he specialised in Western Culinary and Indian Coastal Cuisine.
Entirely eccentric, experimental and whimsical, Eeshaan's brain is a powerhouse of creativity. Being one of the youngest executive chefs with the Oberoi Group, Eeshaan's ambition and love for the culinary and hospitality industry radiated through his work. Onward, he grew as Vice President and Partner at Pass Code Hospitality in New Delhi, heading some much-loved, award-winning boutique restaurants like PCO, India's first speakeasy-style cocktail bar; PDA, an intimate martini bar; private members' club À Ta Maison; SAZ, an American brasserie; Ping's Café Orient serving healthy Asian street food, and regional Indian powerhouse Jamun. Now a non-executive partner in these ventures, Eeshaan has become a much sought-after hospitality consultant. His passion for photography, travel, and a curiosity for exploration of the world of food and decor have made his expertise extremely valuable. He now consults for food styling and is adept at conceptualising and curating decor, restaurants and events.
We spoke to him about some of his best memories in the kitchen, his creative process, the advice he'd give to budding chefs and restaurateurs, and what's currently brewing in his pot of creativity.
Tell us a little about your growing up years. Have you always been interested in the culinary world?
Growing up in a family with my grandparents based in Dehradun, the focus on food has been prime. All my summer vacations have been the highlight for me, where I use to wake up early in the morning with my other cousins to peel drums of lychee and send them for processing and canning. We use to can them for the entire year and enjoy peeled chilled lychee with vanilla ice cream. Making jams, syrups, cakes, and bread was a very usual affair and everyone loved eating.
From a very early age, I have been fond of gardening and drawing herbs and a few edible plants. My earliest memory of cooking is a 'Baigan bharta', which I loved and tried making several times and even added milk in it once as an experiment. Don't ask me how it was. I was also curious about how the gas range worked and how a gas lighter never went out of battery. I studied biotechnology in high school but I knew where my heart belonged. I was happiest in the kitchen, cleaning, cooking, and just loitering around. Food for me was a hobby and it grew into a passion. My parents were also very encouraging and never stopped me from entering a kitchen and creating a mess. I think they secretly liked the food I cooked.
What was the first-ever dish that you recall making all by yourself?
I remember preparing creme caramel in a pressure cooker several times, as I was too scared of using the oven. I remember my black Philips oven which was a gift that came many years later, perfecting the real way of making the pudding.
Describe your personal style and aesthetic in a sentence.
I prefer living in colour while wearing a hat
What is the one dish you always gravitate towards in terms of comfort food?
My all-time favourite dish is 'Khichadi'. It's funny that I am always surrounded by the most exciting food all day and one thing which makes me really happy is a well-made khichadi with yoghurt and pickle. I am at my best when I am around a simple meal at the end of the day. I keep doing various variations in my khichadi like the tadka or addition of multi-seeds or grains.
What is your go-to restaurant in Delhi?
I love going to Diva for the pizzas, Lota Cafes for chaats and chai, and PCO for cocktails. Pings Cafe Orient is terrific at all times.
Can you share with us a recipe for a dish that requires only three ingredients to make?
One of my all-time favourite recipes with just three ingredients is 'Chilled Tomato Tea'. It's a consommé of roughly sliced tomatoes with salt and curry leaves only. The salt extracts the moisture from the tomatoes and the entire mixture is strained and allowed to settle. The residue is a clear broth-like liquid that is uncooked and bursting with flavour. The liquid should be served chilled and is extremely nutritious.
In addition to being a culinary expert, you are inclined towards art. Have you found influences from one seeping into the other?
Art has always been an expression for me. From a very early age, I have been inclined towards colours, forms, geometry, in the most unique way. I draw my inspiration from everything around me, and try and present the food that I cook in the most interesting way. I always aspire to create food that entices the senses, provokes thought, like art. Food is a narrative for me to express art now. Being a food and beverage curator, I am constantly looking for ways to make the ordinary more unusual, playing with textures, flavours and forms, while cooking and curating dinners for a gathering. I love going to museums and understanding different cultures as well as painting as a hobby.
What according to you is the next big thing in the sphere of culinary experience?
With the pandemic, we all have been home and focusing on food that is balanced in nutrition and rich in immunity boosters. I feel a lot of Indian superfoods will be in trends ahead, especially in a fun format like health ladoos or mithai, which is good for you.
Would you say that the decor and visuals of a space are as important as the dish itself?
Visual spaces and decor are vital for the overall comfort and feel-good factor for any guest walking into a dining space. When I design spaces for bars and restaurants, I make sure that the lighting is comfortable and not too distracting, with muted tones used to balance the walls and surrounding. Not everything inside a restaurant needs to be a statement. The other most important aspect is the food. If the food is not good, the guests may not come back. The balance needs to be right between good food, a comfortable ambience and warm service. These are crucial for a happy customer experience.
While ideating in a restaurant, how involved are you with menu development and overall design?
While conceptualising a restaurant, I am involved in the smallest of details. From the colour and type of the font used on the logo or menu, to the fragrance used in the space. I spend a lot of time researching the demography and location where the restaurant is opening and being true to the concept of the restaurant. It's nice to be a bit experimental on the food but not to go overboard. The story and thought of the concept, execution, sourcing, designing, sampling, hiring, training, branding, and strategising are a few things I focus on while putting a food concept together.
What advice would you give the upcoming generation of restaurateurs as they endeavour to create a more sustainable world?
It's very crucial to understand 'sustainability'. Just removing meat from the menu does not make you sustainable as a restaurant. I feel the biggest advice for everyone within the restaurant and food space is to create awareness around sustainable living in the right way, and to implement it in the most realistic way. Going green is one way but how to keep it green is the other question. We must think of the materials being used, especially in packaging and reduce as much plastic as possible. Sourcing seasonal and local food and reducing the carbon footprint is also a simple idea to follow. We all know ways around zero-waste cooking and other essential practices, but one needs to integrate the methods and genuinely add them to everyday life. I firmly suggest focusing on technology, practices, methods, and tools while building restaurants for the future.
What are you working on currently, and what does the future look like for you?
I am presently working on something very exciting and useful. I am working on my own limited edition collection of tableware called Tablescape By Eeshaan, which will comprise of pieces for your table, sourced and designed by me using materials like wood, ceramics, metal, semi-precious stones, and others. The pieces will be functional and inspired by art. I am also working on my book which I am very excited about.
Text Devyani Verma
Date 14-05-2021