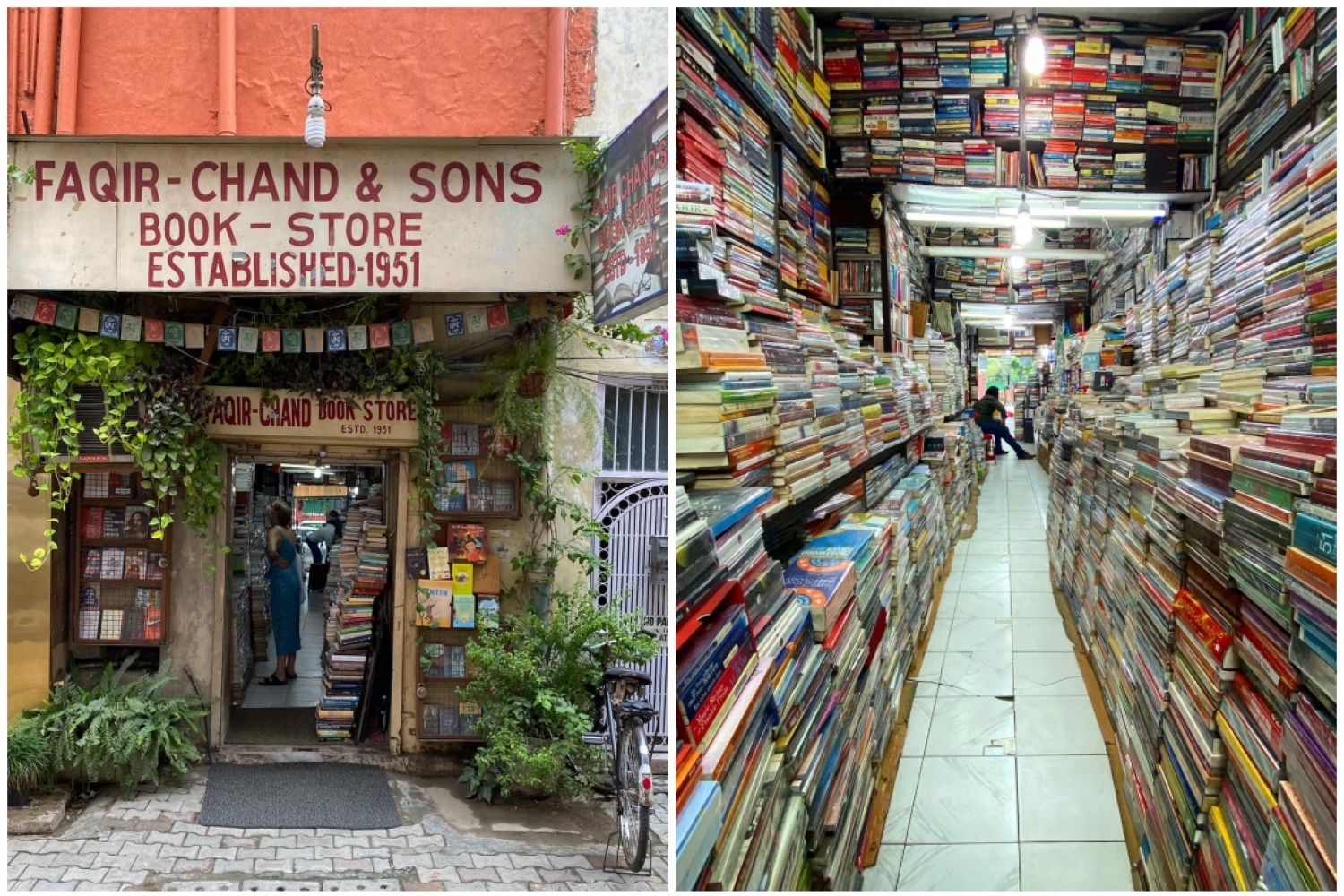 Maintaining the charm of sifting through hundreds of books lying in haphazardly lined shelves, Faqir Chand Bookstore stands strong in Khan Market, as the oldest shop in the poshest market of upscale South Delhi. Although, that isn't the Khan Market Abhinav Bamhi's family remembers. As the great-grandson of the founder, Mr. Faqir Chand, 24-year-old Abhinav has been in the family business for the last five years. Having done his graduation in English literature, learning and living at the bookstore hasn't been anything less than a dream for him. 'I've literally grown up living amongst books, authors, and book lovers,' he says.
The board of the bookstore proudly displays 'established in 1951', and there isn't much that has changed about its character since. The smell of old books wafting through the air is enough to draw you in, and the warmth of the Faqir Chand lineage, as they man a small desk, is enough to make you want to stay. Spending hours browsing and sifting through the the numerous books that lay lazily there, Faqir Chand is a world of its own — the cupboard to take you to the other side of Narnia; the hidden platform 9¾ to Hogwarts Express. Amidst the hubbub of South Delhi elites brunching at the finest eateries, Faqir Chand is the old grandfather watching life pass by at a leisurely pace. Many years have come and gone, yet the bookstore remains unparalleled.
Making the by-lanes of Khan Market his home, Abhinav walks me through the history of the bookstore, as well as the ever-evolving and much loved hub of Delhi's Khan Market.
Faqir Chand was established in 1931 in Peshawar, before the partition. Can you walk us through the history of the bookstore, and of your family?
I'm the fourth-generation bookseller. Going back about 90 years, my great grandfather, Mr. Faqir Chand, came from Peshawar. He was running the bookstore there since 1931, but as a consequence of partition, he had to flee leaving everything behind. Post partition, in Delhi, my family kept shifting places, until they came to Khan Market, which was established to rehabilitate the partition refugees, particularly the traders from the NWFP. It was named after Khan Abdul Jabbar Khan.
In 1951, he was allotted a shop and a flat — where we still live — in Khan Market. He decided to re-establish his bookshop. Here, starting from scratch, he slowly built his clientele and their goodwill over the years, making patrons from all over the world and leaving behind the legacy that is still running in the family ever since. I spend my entire day at the bookstore, learning the trade from/with my parents. We're proud as a family to be a part of this legacy, continuing it as a family run bookstore.
How did your family manage to make the move from Peshawar to Delhi, and was it difficult to do so?
At first, my family was reluctant to leave their home, but slowly and eventually they had to flee! In 1948 a little after the division, as the communal tensions grew stronger, they had no other option. The June of 1947, the announcement of partition came as a total surprise — they had never believed that partition would actually happen. Even after the announcement, they believed that partition would be quite peaceful, and they could continue to live in Peshawar. In August, they declared themselves as Pakistani citizens and celebrated the end of British rule. They never thought that partition would bring any change in their lives. The communal trouble started much later in Peshawar. They left Peshawar in mid-November.
Mr. Faqir Chand, my great-grandfather, couldn't imagine leaving everything behind. It was only when the deputy commissioner (a friend of his), told him that he could no longer protect him, that Faqir Chand realised that the family would have to leave. The family was already living in a state of fear, the shop already declared an evacuee property. Thankfully, the Deputy Commissioner arranged a chartered flight to Delhi. They didn't suffer the violence and train journey. As heard, their Muslim friends helped them reach the airport safely.
You've been in Khan Market since 1951. How have you seen the market change and evolve?
Ah! Khan Market has changed tremendously. Specially over the last couple of decades, with international brands setting up. A place that was home to 74 (flats) families, only six residents are left (we being one of them). The once local neighbourhood market has turned into the most expensive retail location of our country.
But that's the Khan Market I've heard of, in stories told by my parents. For me, the current Khan Market is how I've seen the market! My bedroom's wall is shared by a fancy Sushi restaurant. This is the only Khan Market I know. This is the Khan Market — 'my home' — I was born into.
Faqir Chand has an old-world charm about it which remains unparalleled. What has been the most rewarding aspect of working in this bookstore? What, according to you, makes Faqir Chand special?
We've maintained the old-world '1951' look. Haven't changed the furniture, no renovations, haven't even categorised the bookstore according to genres. We like to keep it the old way where people come and browse and stumble upon stacks of books, and get found by a book they didn't know existed. Although, by some unexplainable 'method to the madness', my family and I know how to locate most of the titles.
As people say, this is how a bookshop should be, where our priority is books and just books. It's more about the experience and the scent of a bookshop that gets people back, again and again. For us, personal relationship with our customers is most important — to understand our readers, to know their personal tastes and then recommending them new books. Most of the regular customers have become my friends.
As for the most rewarding aspects of my work/life, the first is to meet people, getting to know strangers. I love interacting, talking to book lovers. Meeting people coming from all over the world, discussing stories, memories, authors, hobbies with them. Just holding a book is enough to start a beautiful conversation and making a lifetime connection.
The second is to meet our customers (who are more like family friends), when they share their memories and nostalgia associated with our shop and my family. We get people from all over the world, coming and telling us how happy they're to see our bookshop again. Some of them are coming to India after decades, they share their memories and love. Sometime elderlies get their grandchildren and tell them how they used to come with their parents for comics, when they were school-going kids. People walk in and stand still, lost in thoughts, looking at the books, remembering all the memories they've shared with our store and they say 'this is something that hasn't changed'.
People move to the other side of the world, live whatever lives they live. And come home and find Faqir Chand is still here, reminding them of the lives they've lived. It's really emotional when old patrons come and tell me, 'you know, I knew you grandparents.' Or laughingly say, 'I've been coming here since '70s, long before you were born!'
Do you think the print industry has suffered in recent years?
No, can't complain. People who read books, they read 'books'! Nothing can replace the human experience of getting lost among piles of books, exploring unknown authors, smelling the pages, touching the paper, interacting with fellow browsers and storekeepers. This is something only a brick and mortar shop can provide. This is my point of view, although I'm aware that bookstores all over the globe have shut down. But luckily, Delhi still reads 'books'.
We have seen many shops come and go in Khan Market, yet yours remains a delightful constant. How have you managed to stay afloat in the new digital age, as well as during the pandemic?
The main reason for that is, we own the place. Otherwise paying rentals and running a bookstore is impossible! especially in Khan Market. The LOVE we get from people, helps us stay afloat emotionally and morally — that's all we need, that's all that keeps us going. Even during the pandemic, we received such kind message from our customers, who're more than just customers, asking and hoping for our well-being and expressing their eagerness to visit the shop post lockdown.
Out of the myriad books that line your shelves, which is your personal favourite?
Okay, the most difficult question! To name one book that is the closest to my heart, it'll be The God of Small Things by Arundhati Roy. Certainly the most soulful book I've ever read. After reading a chapter I started living with the book, could feel author's breath on every page, was able to sense the characters and relate to every word and feeling. I started experiencing another world, the world which was more real than reality. Each and every line made me live, think and die at the same time. Sometimes it felt like I've written these lines or maybe the book already knows me and my life. After finishing the book I felt a sense of great loss, like I'd become a part of the book or maybe the book took a part of me. I'll probably never get out of the book, a part of my soul will always remain in there. It made me feel so much more that I can't even express…how can I say more than words can say?
What are some books you would always recommend to your customers?
Oh! There are so many! It depends on the vibe I get from the person/customer asking for a recommendation. I'll name a few of my favourites. The Unbearable Lightness of Being by Milan Kundera, Crime and Punishment by Fyodor Dostoevsky, One Hundred Years of Solitude by Gabriel García Márquez, City of Djinns by William Dalrymple, The Forty Rules of Love by Elif Shafak, The Unwomanly Face of War by Svetlana Alexievich, The Outsider by Albert Camus, Dozakhnama by Rabisankar Bal.
And poetry, especially Urdu shayari! My favourites are Mir Taqi Mir, Ghalib, Faiz, Amrita Pritam. And I really really really recommend Agha Shahid Ali's poetry, to everyone! I make sure all my friends read his poems.
What does Faqir Chand's future look like?
The legacy will continue! I'm hopeful about it.
Text Devyani Verma
Date 13-09-2021