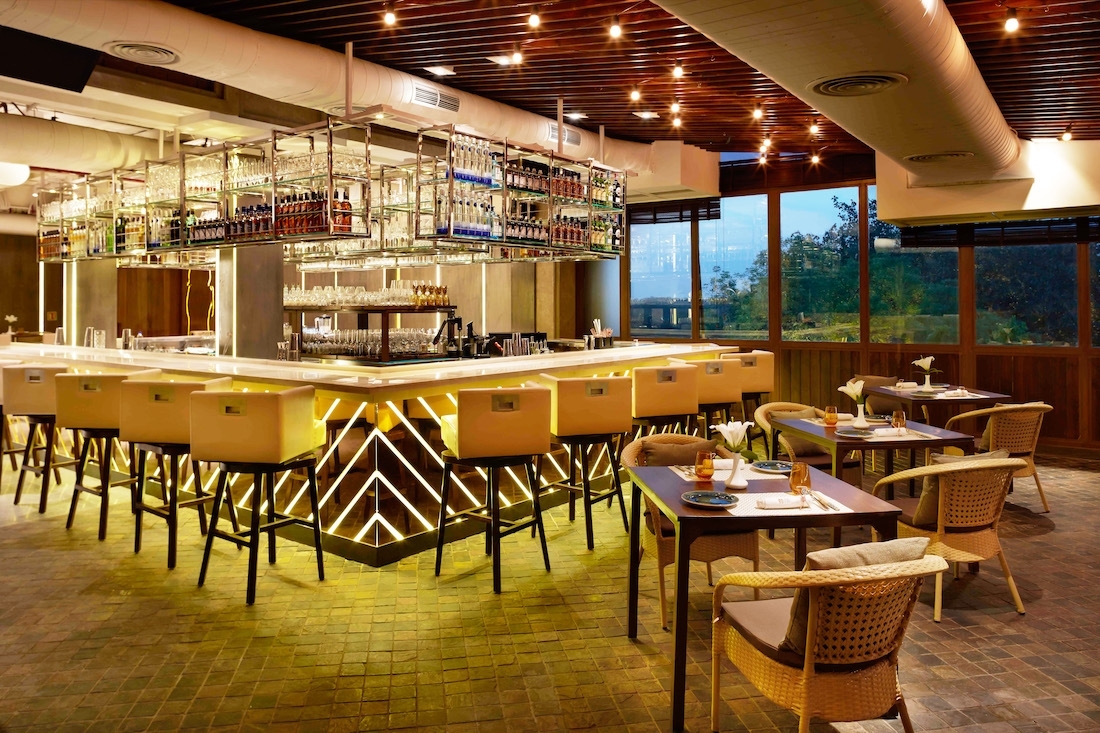 BO TAI, New Delhi
The One Style Mile district of Mehrauli is already a hub for food connoisseurs thanks to restaurants such as Olive Bar and Kitchen, The Grammar Room and En - Restaurant and Bar, which have been consistently elevating the gourmet standards of India. To add another gem to this exciting mix of eateries, Zorawar Kalra—the man behind some of the greatest restaurants in India like Pa Pa Ya and Farzi— opened his Thai restaurant last year called Bo Tai. The restaurant boasts of a very clean and sophisticated aesthetic, with the view of Qutub Minar at a pleasing distance and little knick knacks like the napkin holders that are brassy and shaped like a bow tie, clearly a witty play on the name of the restaurant. While the interiors take you in and raise your expectations of what's to come, the food and drinks only take it a notch up.
L: CARPACCIO OF HOKKAIDO SCALLOPS
R: FULL MOON FESTIVAL
The restaurant's food and drinks palate is based on experimental Thai and that is exactly what it delivers. The Carpaccio of the Hokkaido scallops served with a tropical rambutan sorbet and the soulful Massaman curry, both very traditional to Thai cuisine are phenomenal dishes in terms of taste and the former is presented in the most beautiful way possible on plate. From the drinks menu, which celebrates the Thai culture and is very eclectic with lots of fruity notes, we love the The Full Moon Festival which is a cocktail served in a spherical glass and is inspired by loi Krathong, a Thai festival and certainly celebrates it in the best way possible.
Coromandel Cafe, Pondicherry
Kiran rao, the genius behind the Amethyst Cafe in chennai, added another feather to her cap with the opening of Coromandel Cafe last year at La Maison Rose. The cafe is a quaint little gem nestled in the heart of the area which is very colonial and is seeped in French culture, which translates itself well through the interesting French dishes that have a local twist. Beginning with a vast and delectable cakes and tea menu, to elevate its stature as a cafe, is complete with our per- sonal favourite, the Mason 65% chunky chocolate, Nut & Banana Blondies. Apart from the steaming post of some delicious teas, the coffee of the cafe is rather special as it is made from single origin organic coffee from coorg. The property also houses a CMYK Bookstore, making it a bibliophile's heaven. The food menu has some delectable options as well like the Moroccan Spiced prawns served with herbed zucchini and crispy rice cakes, a dish that celebrates sea food like no other and the vegan cashew-pumpkin curry that is spiced with vadouvan, the French version of garam masala. The beautifully restored, pink-walled and white-colonnaded colonial villa has a palm-filled courtyard that's just the spot for a curry-leaf Martini at dusk.
Pink Zebra by The Feast India Co., Kanpur
The brainchild of Renesa Studio, the Pink Zebra theme of The Feast India Co. will transport you into the universe of the Oscar-winning American film director, producer, screenwriter and actor Wes Anderson. The 4,000 sq. ft. space featuring a restaurant and bar that opened its doors to public last year, is punctuated with black lines, retro vibes, a partially sunlit terrace and stripes for days. 'The most interesting part about this project was [the process of creating] the mood-board. We went through a tour of the old city of cawnpore, the new-age Kanpur and collected some snaps of the variations in the design philosophies—starting from the period of the British raj to present day. pink was the colour of public buildings in the city of cawnpore during the British raj period. These buildings are still present within the city's fabric, and we found them during the search for a colour palette. The idea of adding the popping black and white lines of the zebra across the colonial structure created a vibe that spanned different ages,' says Sanchit Arora, the head architect of Renesa Architects. The restaurant which is a kitschy-chic retro combination of modern and colonial, ornate and structured, feels like a protest or mockery; a celebration of both the madness and joy of life. The food menu is a vast and full of delicious continental options, from north Indian dishes to Sushi, and the bar is well stocked.

Text Nidhi Verma