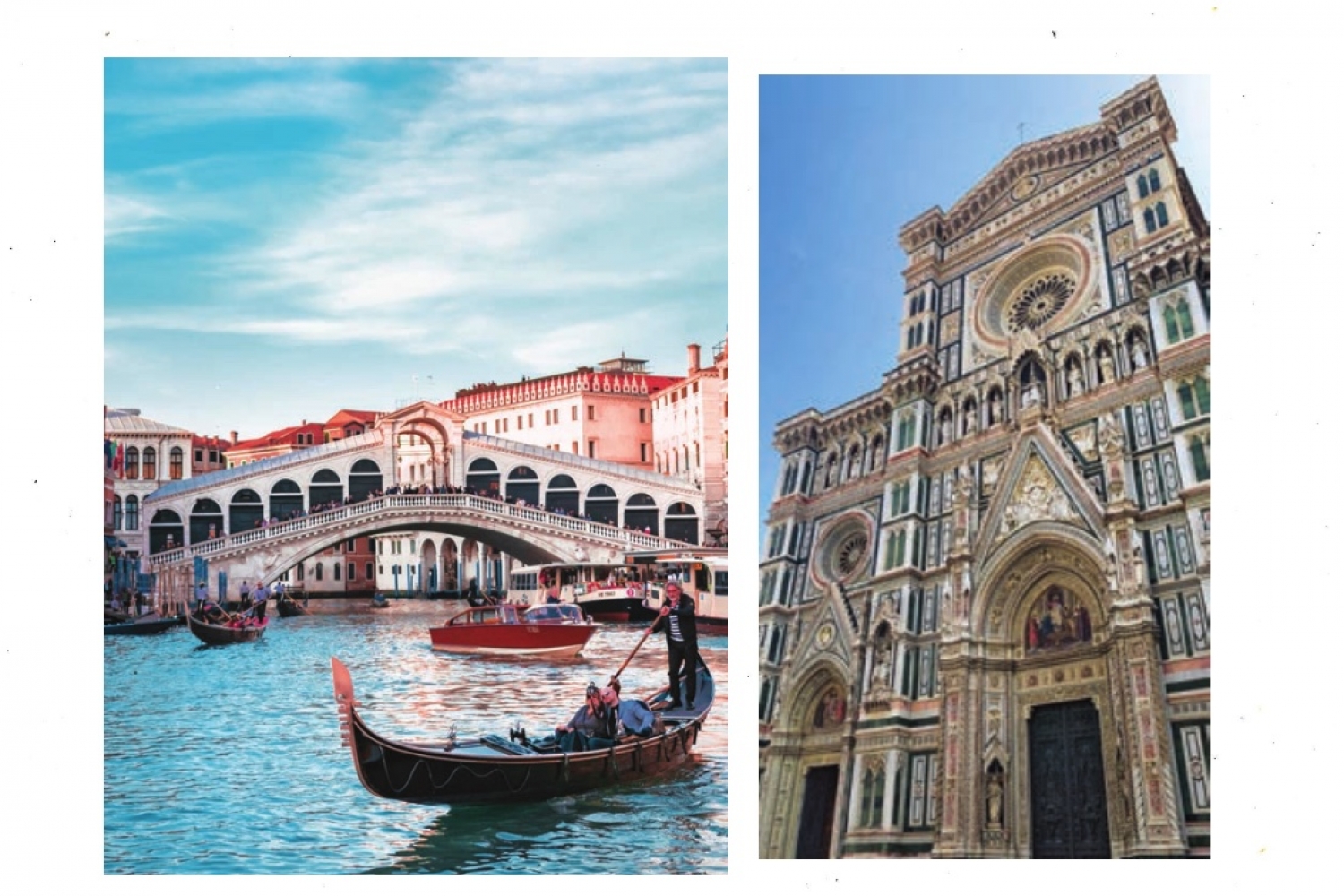 L: Gondoliers, Venice ; R: Tricoloured Duomo, Florence.
By the end of Q1 2021, I had had it. Like billions around the world, I had a severe case of pandemic fatigue. Like millions of fellow Americans, I had a severe case of disdain formy corporate existence. What had once been a welcomed challenge of fitting my former restaurant self into the opportunity to be a grownup in the world of agency consultinghad become stifling. Almost like a straight jacket. Coupling the lack of inspiration professionally with the loss I had faced personally, I knew it was time to shake things up. So with unrequited energy to redefine the way I live, I quit my day job to find the love of my life. Whether it be a person, a place, new passion or profession, it was time to take this one woman show on the road. Or the sky, if we want to get technical. With a commitment to my Nani to make it to India before year's end, I packed up my one-bedroom apartment and said goodbye to Washington DC, the city I thought I'd always call mine. I'll certainly come back one day, even if just to visit my chosen family, but for now my forever home remains undefined.
Before making my fervent return to the motherland where I'd be immersed in my large, loving Punjabi family, I needed a little me time, or G time as I call it. And there's nothing that defines that more than a splendid selection of snacks. For many, the boot-shaped country is the answer for the ultimate culinary destination and I thought now is the time to see what all the fuss is about.
With a loose seven-city itinerary in mind, I purchased my first TrenItalia ticket, along with what would be the first of many train sandwiches consumed on this trip. Back home in America, my love for the roasted turkey sandwich served on the Amtrak train is arguably the most off-brand thing about me. After a few bites of this chewy focaccia, stuffed with smoky ham and crisp lettuce, I knew I'd never look at that mediocre gobbler the same. Italian train sandwiches are fresh, filled with the best assortment of meats, cheeses and veggies and they're cheap to boot. Cruising into Venice in the dead of night was serene to say the least. The calm of the glimmering waterways and the peaceful stroll through the stony walkways exactly the kind of welcome this busybody needed to kick off what would be a marvelous trip.
By day, the streets of Venice are buzzy and beautiful. It's no secret that I'm a sucker for canals and the striped sleeved gondoliers were an added, easy-on-the-eyes attribute. And, of course, there were snacks. The happiest hours filled with ciccihetti, or Italian tapas; black and almost bewitching piles of squid ink pasta; and the creamiest bowls of polenta I've ever had. My favorite plate of this city stop was certainly the bigoli in salsa at Enoteca Al Volto. A sublime combination of sweet, salty and al dente, despite the nearly abysmal service. The Parisian couple seated to my left agreed. Anyhow, this rich sauce of anchovies and sweet onions cooked down and served with house made spaghetti was nearly a dinner and dessert in one.
From the bangers I consumed in the floating city, I hungrily made my way to the second stop - the brilliant, portico-lined streets of Bologna. While by bangers I do mean extraordinary moments, not sausages, I'll use this as a segue to talk about a sausage that has stolen my heart: the all mighty mortadella. Aromatic and studded with pistachios, these paper thin slices hail from the city they share their name with. While this powder pink pork product does contain something like 15% fat, it is so deliciously delicate. Like eating a meaty cloud that somehow pairs well with everything from the bold and blushing Lambrusco that the region is known for, or on the opposite end, with a lighter, but equally appropriate golden colored Campaglione Bianco.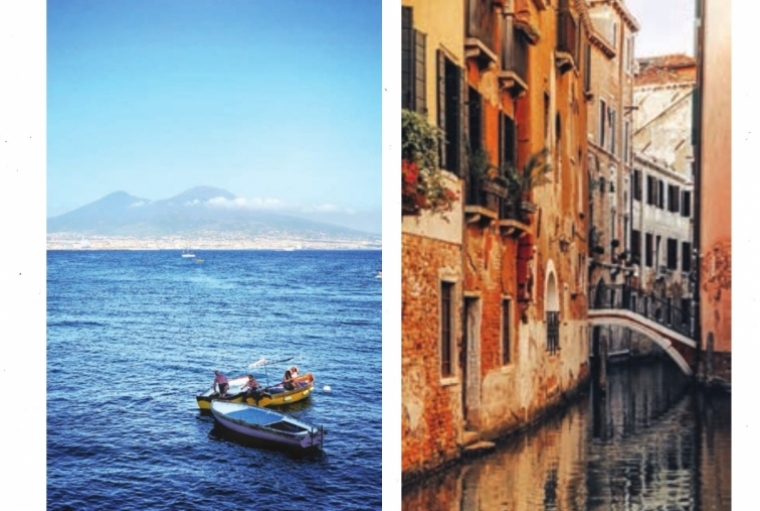 L: Vesuvius, Naples
R: Venice
On the subject of wine, while I was thoroughly enjoying each sip savored in solitude, it was over a glass at the counter at Enoteca Italiano where I made friends with a boy from Bologna. Paul, as we will call him, saved me from what would have been an unfortunate misorder. One clink of our glasses and a "saluti" later, I found myself joining Paul and his merry band of mates for a night filled with bottles from their vintage and reserve collections. As much as I enjoyed the wines and their expert ordering of complementary bites, it was their unabashed willingness to share in the company of a stranger that resonated most. Much like my crew back home who'd found ourselves drafting strangers for devilish debauchery, the boys from Bologna made this lone wolf feel like part of the pack.
The following day, through a recommendation of one of my newly made mates, I savored one of the most delicious dishes - tortellini in brodo. I could bathe in brodo. Both rich and reserved all at the same time, this tasty broth is served with handmade tortellinis. I plan to come back one day to try as many versions that the Emilia-Romagna region has to offer. Then I was on to the timeless Tuscany where the tricolored Duomo took my breath away. Admittingly, I spent far too little time in Florence but I had a reservation to make. Determined to eat from the blood stained hands of the illustrious Dario Cecchini, I rented a car and made my way up the windy roads to Chianti. Celebrated around the world andfeatured on the Netflix hit show Chef's Table, the meal at this eight generation butcher shop cum restaurant was worth all the recognition and then some.
As I made my way through five extravagant courses of various cuts of the cow, including the most tender beef tartar I've ever devoured and the infamous Bistecca Florentina, the power of Instagram prevailed when through a chef friend in Italy of one of my chef friends in America, Signore Dario came to introduce himself to my table for one. And if that was not enough to make my day, Dario made my month when he invited me for a coffee. The morning after, dressed in meat sweats and my favorite mustard colored jacket, I settled in for a chat at the meat counter with the butcher and his apprentice. Someone had to translate, after all. He told me about the cows he has raised specifically for him in Catalonia. When I mentioned that his baked potato was the best I've ever had, he told me, "just go at it low and slow and don't rush." Before leaving, Dario gifted me with a pack of his herb infused salt, which if you knew me you would know that to me salt is pure gold.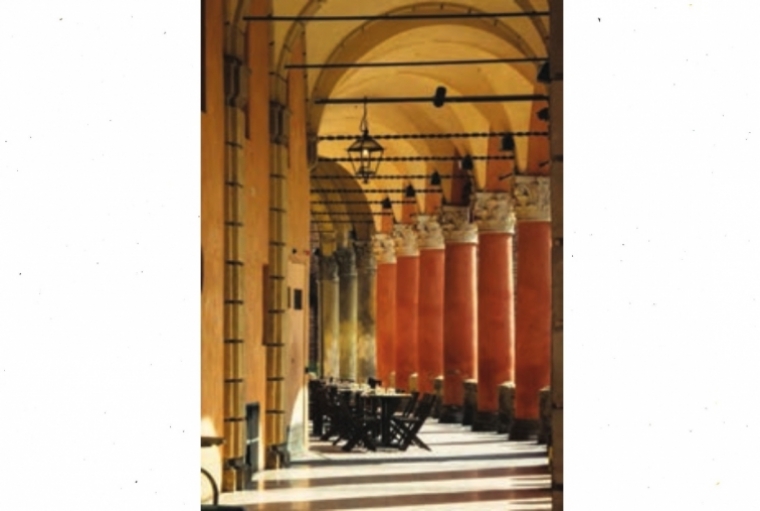 From Chianti I made my way through the rigor of Rome, hitting all of the obligatory stops. My unpopular opinion is that the capital city is overrated but will join the KatieParla bandwagon in telling you that the lunch I tucked away at SantoPalato was magnificent. Chef Sarah Cicolini has made a well-deserved name for herself in a country whereprofessional kitchens are contritely male-dominated. I sadly did not have the opportunity to meet her but I will tell you I was elated by my first taste of pig heart. Prepared over smoke and truly one of the best cuts of prosciutto this adventurous eater has ever had. I will also tell you, rather urge you, to give heart a try.
Although I did not meet Chef Sarah, my thirst for time spent with a culinary creator with double X chromosomes was satisfied in a kitchen with a view of the breathtaking Miss Mount Vesuvius. I had no original intentions of landing up in Naples but again through the grace of The 'Gram, a fellow survivor of our former hospitality agency days invited me to stay with her for the weekend. The invitation doubled down when the couple next door extended some neighborly love my way.
On the first day, the husband of the house treated us to the magic of Trattoria Biagio. From the pasta faggioli that hugs you the way a bowl of kidchi does to the immensely savory and surprisingly butter-free, sautéd vongole, every one of the dishes that crowded our table for six ate like it had been prepared in a family's home. And it basically is. Once a wine and olive oil shop turned blue-collar lunch counter owned by Biagio senior and his wife, the tiny trattoria is now a bustling local lunch spot run by their son. As grateful as I was for the meal, I was even more beholden to the husband when he spent time with me the next day detailing each of the dishes we ate. He talked me through the ingredients, the preparation and accompanied the explanations with comical anecdotes of the place and its loyal patrons. Our conversation came to an end when the wife and queen of the kitchen insisted it was time to cook.
A lifelong resident of the Amalfi Coast, the wife entered her marital home not knowing how to even boil water. Some fifty years of marriage later, the couple's kitchen table is most often packed with family, friends and neighbors alike. In awe of this spitfire who allowed me to cook alongside her, I diligently leaned in to learn her skills, whileboisterously laughing at her many jokes. Thanks to her, I can now clean an artichoke down to the heart, which requires a great amount of patience that does not always come naturally to me.
L: Chiani region
R: Tortellini
I am also equipped with her personal step-by-step procedure for making pasta melanzane, or pasta a la norma as some of you might know it as. Chock full of eggplant and smoky cheeses, this saucy dish is so satisfying even the meatiest of carnivores won't be remiss. It's true, I have a habit of weaseling my way into other people's kitchens. Most often times to cook for them, sometimes to cook with them. And this time I spent with the wife is an experience I'll take pride in for perpetuity. What was meant to be a solo trip to Italy was satisfyingly so, yet studded with fellowship by happenstance. For that, I am grateful to this bella paese and, of course, for each and every delightful train sandwich.

This article is an all exclusive from our Bookazine. To read more such articles, grab your copy here.

Text Gauri Sarin
Date 04-06-2022