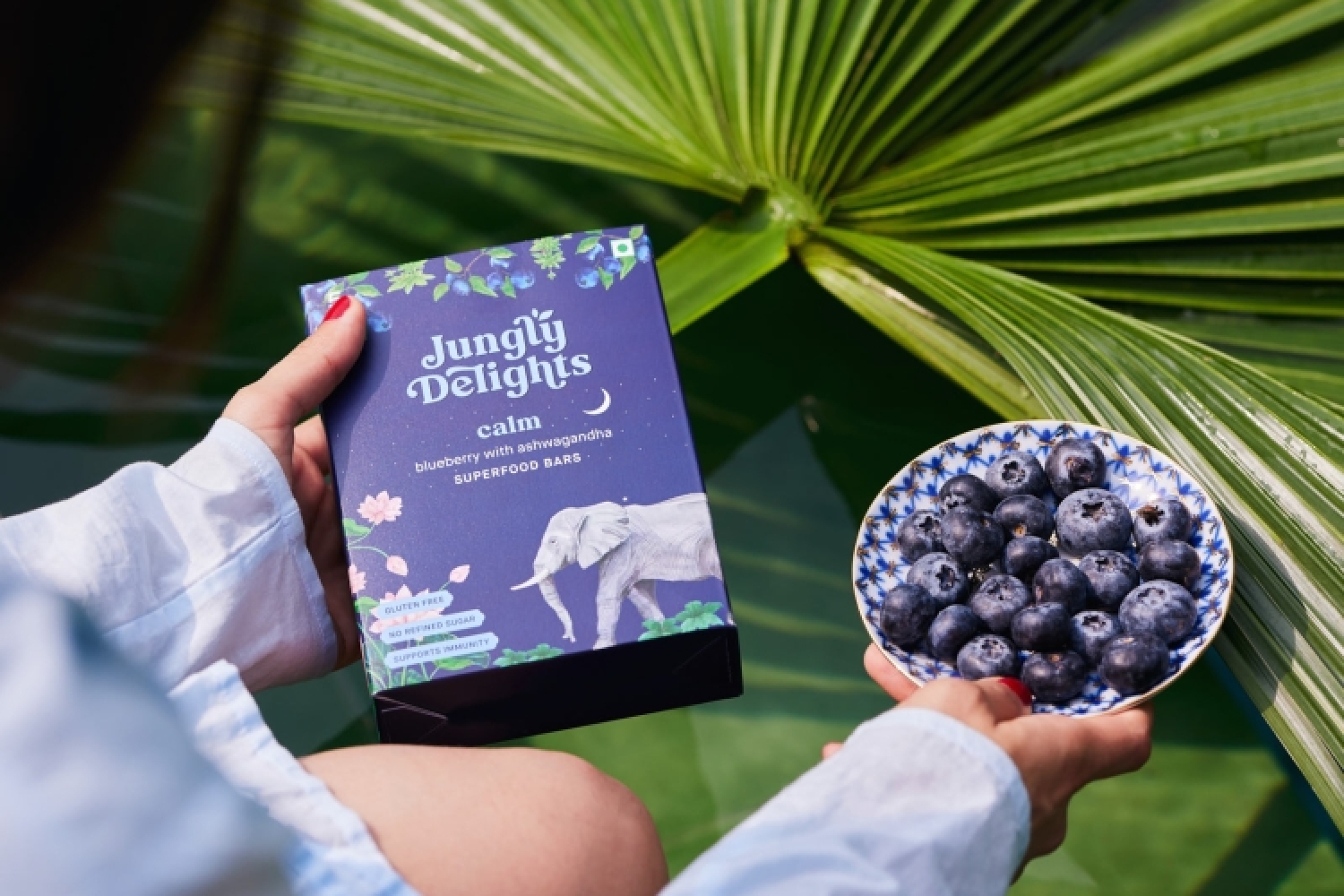 Jungly Delights in her Kitchen
While studying in New York, Ananya Bhandare noticed an explosion in the trend of drinking golden latte, which is basically haldi doodh, something we all have grown up drinking, she says. She realised that West has started valuing Indian superfoods more than we do at home. In an effort to recognise the power of Indian ingredients, Bhandare founded her healthy snack company, Jungly Delights. She assembled an unusual combination of Western and Indian ingredients—her products include 'calm' which has blueberry with ashwagandha, 'focus' is made up of strawberry and tulsi, 'glow' with honey with amla.
While she loves snacking, Bhandare is also deeply concerned about her health as well. In the Indian market, it was extremely hard for her to find snacks that were delicious and healthy. She tells us, "there are so many misleading claims out there, snacks that were claiming to be healthy or diet friendly. But then when you look at the ingredients, they are not healthy at all." She began creating her own snacks for her personal consumption. After a point of time, her friends and other people wanted to get more of her snacks, which ultimately led to a larger scale production. Jungly Delights took birth in Ananya Bhandare's own kitchen.

How is Jungly different from other existing nutrition bars and products?
Firstly, in terms of the quality of ingredients, each ingredient is carefully selected. We go through many rounds of testing in terms of taste, nutrition, and quality. It took me actually two years to perfect the product. It's clean and 100% natural. If you look at a lot of the bigger players in this market today, there's a lot of suspicion about the use of ingredients. And of course, I am saying this, but we've also got a lot of feedback from customers and other random testing that we have done in malls and other places. Another thing to add is that we use Indian superfoods like ashwagandha, tulsi, amla and moringa, which you won't really find in the other bars out there.
Tell us about your journey of launching Jungly as a young entrepreneur.
It's honestly been an incredible learning so far. You just learn so much when you launch your own brand because you are essentially doing everything on your own. Now, I have a very small team but earlier I was doing everything—from editing and packaging to printing the labels and the social media design. I started wearing all these different hats. Of course, there are a lot of challenging days as well because you're constantly fighting and crisis-solving. But when you see people appreciate your product and you see your product become such an essential part of someone's daily life, that is a very gratifying feeling. I think it's great to start something at a young age because I feel like the older you get, the more risk you are likely to avoid as well.
This is an exclusive excerpt from our October EZ. To read the entire article and more such pieces, follow the link here.

Words Paridhi Bagdotri
Date October 2023