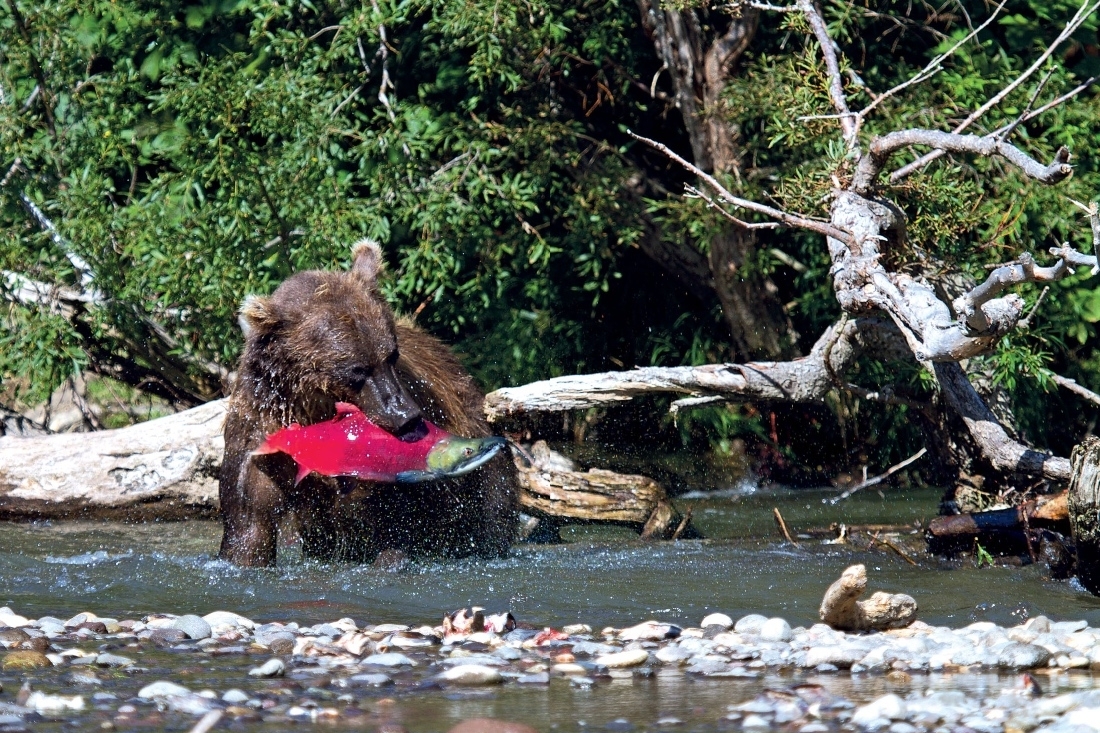 The Danish author Hans Christian Anderson once said to travel is to live and while our lives maybe on pause at the moment and the very idea of travel a far away dream, does not mean that we can't reminisce old adventures to channel some positivity during these turbulent times. Take a mental voyage with Aman Chopra and follow his journey along the Russian Far East to Kamchatka:

There are a very few places in the world about which you can say, 'I was the first to set foot here.' After my trip to Kamchatka, I can proudly announce that I was one of the first few to touch a rock that had never been touched since the Earth was formed. I even walked down a path that had never had footsteps on it before mine. Until seven years ago, Kamchatka was declared a secretive area and one could only go there with a permit (similar to the eastern part of India). Luckily, the permit regime was lifted, and I don't think I have ever been to a more breathtaking place ever.
I have always been an explorer and have nurtured a desire for adventurous travels. I love travelling on off-the-beaten paths, especially when I'm accompanied by like-minded people and my trusted camera. In October last year, I came across a program on 'Wild Russia' and all I could see was a top shot of a river, which seemed to be a shade of glowing pink. When the camera zoomed in, I realized that it was not the water that was pink, but the salmon that flitted across the entire river. It was that shot that intrigued me into probing more. The place being featured was Kamchatka, and even before the show ended, I had decided to go there. My wife, of course, thought I was crazy, as neither of us had heard of the place before.
The next few Sundays were spent sitting browsing about Kamchatka on the internet and making notes. I kept surfing and saw pictures, which deepened my resolve to visit. And then, I came across a company called Toehold, which is known to take you on photography excursions. That arrested my attention and upon doing further research, I learnt that these guys were based in Bangalore. They are probably the only tour company in the world that plan photography expeditions to Kamchatka. You'll get many companies that will take you there all through the year for bear hunting, fishing and stuff like that, but Toehold is the only one that organizes photography tours.
After sending out a couple of mails a year later, we were all set for our expedition. Out of the group of 16—three were from Delhi, seven from Bangalore (including skipper Jayanth, one of the co-founders of Toehold and our guide for the journey), one from London, two from France, one from Italy and two from Mumbai. Six were professional photographers (five wildlife and one landscape), I was an amateur photographer with 60 percent passion for wildlife and nature and 40 percent for photography. My father, three young boys from Bangalore and my cousin, Sanjeev Sarin who is a doctor from London came on board just to enjoy the adventure. There was also a senior Italian couple that enjoyed travelling to untouched destinations. A French lady too was part of the trip. She spent her time travelling and taking photos. In a candid conversation with her, I asked why she chose an Indian company. She answered, 'Why not?' Then I asked her why she chose to go on a photography tour since she was not a professional photographer (she was just carrying a normal point and shoot camera). She replied, 'Normally, a photography tour takes you to the best parts of the world during the best season—in terms of light, climate and sights. A normal tour will just take you there because they want to make money, but a photography tour will take you to a place just to help you take good photographs. They might charge you a little more, but they are worth every penny.' Wise words! Our only connection to the "outside world" (home /office) was through a satellite phone which was carried by Sanjeev being the only doctor amongst us.
L to R: Aman Chopra, Dr. Sanjeev Sarin, Subhash Chopra
We flew via Moscow, on a nine-hour flight after a nine-hour layover, we landed in Petropavlovsk-Kamchatsky. It's fascinating to know that you have been on a nine-hour flight due east from Moscow. If you look at the map, you leave from Moscow (which is as good as Europe) and you fly over parts of Africa, the Middle East, Central Asia, India, the whole of China, Mongolia, Korea and Japan before you reach Kamchatka. So if you trace your route on a map, you have flown over 40 percent of the world.
Kamchatka is a peninsula that is about 1250 kms in length. The whole peninsula has a population of 250,000 people, out of which 170,000 people live in the capital. The rest stay scattered around the ocean. We had decided to go during the salmon run, which happens from mid or end July till the first week of September. There is only one flight a day, which goes directly from Moscow to Petropavlovsk (the capital of the peninsula). After a day's rest and picking up the essentials including waders (boots), you are ready to head into the wilderness.
We took a one-hour chopper ride into Kamchatka's forest, which was a mesmerizing experience. All we saw was untouched forest with tributaries running through it. Our guesthouse was perched on an island and was surrounded by the forest. There were two bunkrooms in the house, which accommodated about eight people each. The kitchen was downstairs which included the cook's room as well. A beautiful grandmother named Varvara cooked and served food with a smile and it was a pleasure to eat the 'happy food' she served to a group of 16 travellers. She cooked for the vegetarians and the non-vegetarians, the Indians who wanted spicy dishes and the French who preferred bland food. All requests were met with a smile!
More than 16 people cannot go on this tour. Since the peak season lasts for only six weeks, only two groups can go at a time. So two groups meant that 32 people could visit this place in a week. Multiply this into six weeks. This is the company's third trip. Toehold is quite young—five years or less. So we calculated that only about 1000-1500 people have visited this place so far.
Since you are on a photography excursion, all you do is take photographs and explore your surroundings. You are escorted by two armed guards, as there are around 10,000 ~ 14,000 bears in the Kamchatka Peninsula in addition to Red Fox, Arctic fox, wolverine etc., These guards are passionate about the place, they are well equipped and armed to counter any poachers and do an excellent job at maintaining the ecosystem in its pristine natural form. You are not allowed to break a leaf or turn a stone; rules are rules and must be followed. The bears however, can climb the wall, while Red Foxes too can enter the compound. Berry trees surround the forest, and are strictly for the bears to consume. In a nutshell, we were in the hands of the guards and under their strict eye once we left our compound.
We spent three days taking photographs within the forest. We witnessed bears coming out and preying on salmon that infested the waters. After they finished their meal, the bears would walk with rose coloured mouths. These animals consume a lot of salmon as they need to put on a third of their body weight for hibernation during the winter. Salmon and salmon eggs are the best nutrition they can get. It was amazing to see a bear discard an uneaten salmon, which it caught after a long chase, since it did not have caviar.
The following day, after our return from the forest, we are taken by a chopper to Mutnovsky Volcano, a live volcano. The experience was unbelievable. The landscape of the volcano was bizarre. We landed in a chopper inside the volcano and walked around, passing vents, which had sulphur depos- its. The air was filled with a strange smell of various gasses (some poisonous). There are only a few pilots who are qualified (from the experience of not crashing) to land in this volcano as; if the vortex gets trapped, the chopper starts to do a side hop dance. The other way to visit the volcano was a four- hour trek—we all felt that chopper was easier.
The following day, we were taken out to sea by boat. Knowing that we were in the Bering sea, just south of the infamous Bering Strait, was fascinating, and if the world was flat, we would drop off, we were that far out East. Out at sea, we saw Sea Otters, Seagulls, Puffins, Humpback Whales and Killer Whales. At the entrance Avacha Bay, stand three large white natural rock formations; upon asking we learnt that they were called The Three Brothers. Legend has it that they protected the bay and during World War II, they protected the armies and navy invasions by other countries, and are highly respected by the locals and seafarers.
Our nine-day mesmerising adventure ended with the entire crew leaving the place in awe. On the flight back, I felt I was returning from my own little wonderland. My experience went beyond just an expedition; being one with nature in a completely untouched surrounding, arose many questions within and instigated the desire to step away from the normal and steer towards the unusual. It ignited my passion to dream, explore and discover...
This travelogue was initially published in our November/December 2013 issue and is a part of our extensive archive.

Text & Photography Aman Chopra