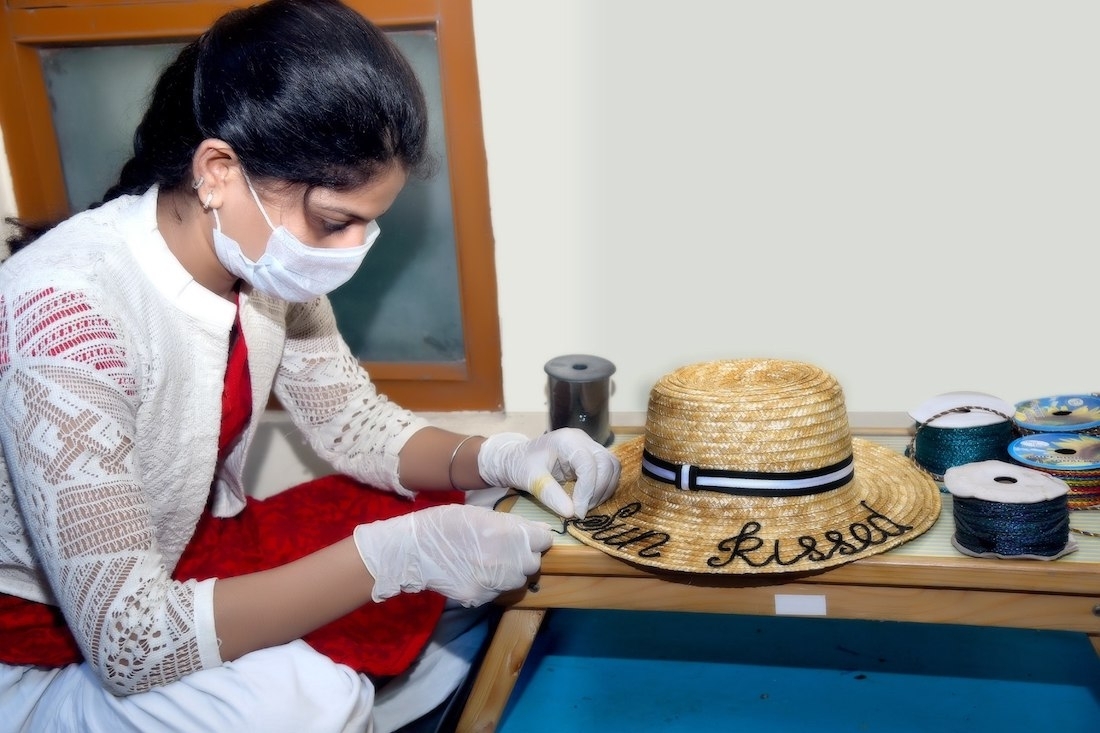 The Founder: Namrata Lodha
I started Myaraa in 2019, at the age of 52, with a drive to make sustainable accessories fun again. This entrepreneurial journey began in a living room, with a germ of an idea to (re)introduce the concept of hats as an accessory, but with a unique design element in it. I drew inspiration from my own backyard in Madhya Pradesh, where I grew up in the city of Harda. There are many wheat farms in the area and after the grains have been harvested, the local artisans (or karigars) use the remaining wheatgrass to create baskets, simple tools and handicraft items. When I was travelling to the U.S. to visit my children, I saw many people wearing hats made of the exact same wheatgrass, which were moulded and styled in different shapes and sizes. So I started designing these accessories with the same material. Today Myaraa's hats are designed using a combination of Indian and Western styles, and personalized with your name, message, or occasion.
The Label
Myaara is a torchbearer of sustainability and women empowerment. Myaraa products are made in India and delivered worldwide. Our natural straw hat gives us the opportunity to reset and return to our roots. Our hat collection is inspired by the positive impact of natural and eco-friendly materials used in making these personalised hats. They may look like classic hats, but they are 100% vegan. The classic silhouette makes them incredibly versatile, and the hats are also lightweight because they are made with natural wheatgrass. The cushy insole inside the hats makes them even more comfortable.
We are also supporting rural women by providing them with employment at Myaraa. The label has empowered rural women, whose families abandoned them for marrying outside their community, or for being a widow. It has helped these women with their household expenses, even at a time when their partners have lost their jobs because of the pandemic. As a woman owner, I can see how these steps at Myaraa have built a strong sense of women empowerment and motivation for my team. The company makes work accessible in rural India for these women, making sure that when you buy a hat, it comes bundled with the social and financial empowerment of a woman.
The Inspiration
People inspire me. It doesn't always take a Mother Teresa or an Indira Gandhi to inspire. I watch my next door neighbour Sarojini, who has cancer, tackle each day with more fervour and gusto than most people I know. I often forget she's in a wheelchair, let alone struck with a debilitating disease. She makes me want to be a better person. Then, the question I ask myself next is: what have I done to inspire others lately?
The Process
Our raw materials are locally sourced from the farmlands and workshops nearby. Our work process at Myaraa is very creative and open-minded. It's majorly divided into two sections. First is the design session, where we are constantly working to innovate and come up with new styles. We also collaborate with our customers and give them a chance to be a part of creating their own, personalised product. The other session is a research and development session, wherein we work in our workshop and training rooms to collaborate with local artisans for designing the hat. We also employ and train my team in writing scriptures and doing embroidery work for custom patchworks.
We have certain products that are hot sellers amongst our customers, but at the same time, we are constantly working to add new options through the design and R&D rooms. The most important part of the production is quality. There is a certain sense of pleasure in recognising something that has been well made. Good design is about using materials that are fit for their purpose. The product has to be aesthetically pleasing, has to be functional, and if it has this extra character to it, it is even better. This is what we strive for at Myaraa.
The Pandemic and Beyond
We are more occupied and busier than ever. During the lockdown, all retail stores and malls were closed, and we began seeing a change in customer behaviour. More people are now opting for online shopping and we are seeing increased website traffic and sales through our online channels. Demand for our hats has increased and thus, we have increased production capacity in the last few quarters. People are pre-ordering for their local getaway trips, or unique personalised gifts for birthdays and anniversaries of their loved ones. We are just getting started in terms of our product positioning as well. Apart from the hat collection, we are looking to venture into making patterns for ribbons that reflect the work of my local karigars.