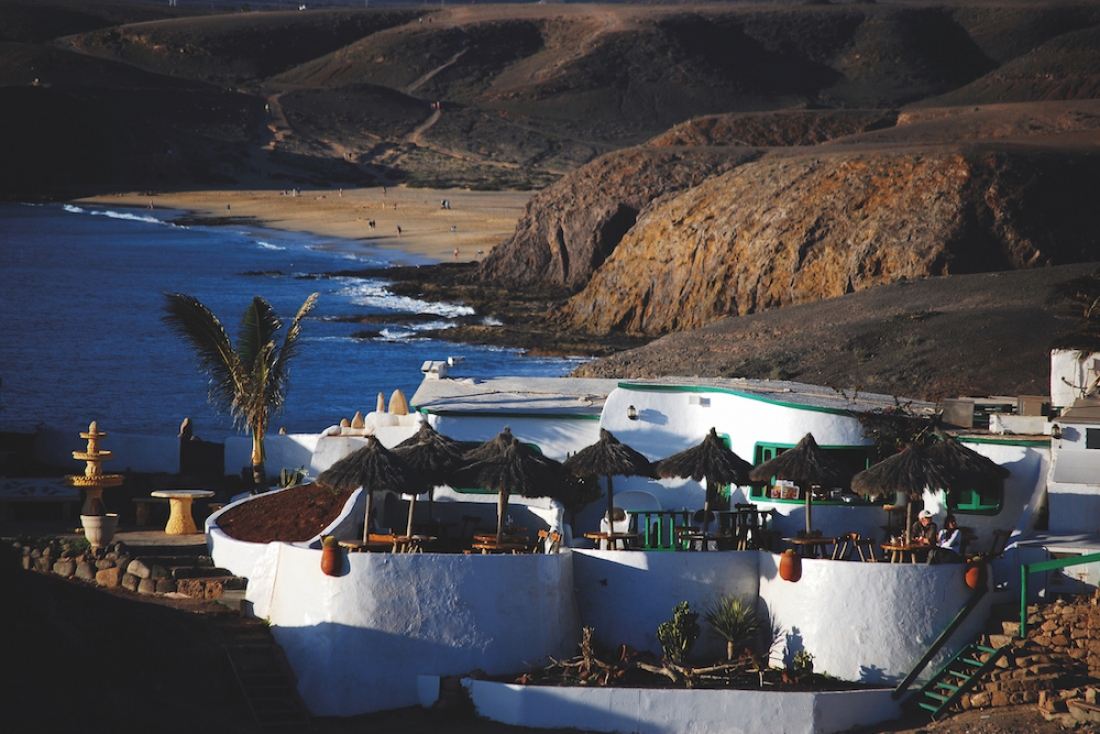 Papagayo Beach
Photography: Vidit Taneja

The Danish author Hans Christian Anderson once said to travel is to live. Our lives maybe on pause at the moment and the very idea of travel a far away dream, this simply does not mean that we can't reminisce old memories to channel some adventure during these turbulent times. Take a mental break with Savi Munjal and Vidit Taneja as they travel through the Canary Islands:
If you live outside Europe, chances are Lanzarote doesn't feature on your travel radar. But if you like the sound of hidden villages, sleepy tapas bars, unique vineyards, tranquil beaches, and stunning volcanic landscapes, then this Spanish haven has it all. This year, venture further afield from traditional Spanish cities, which seem to feature on every tourist itinerary (Barcelona anyone?) and discover an offbeat Spanish island instead.

The Canary Islands are a Spanish archipelago, located just off the northwest coast of mainland Africa. Lanzarote is the fourth largest and most easterly island in the archipelago. It is a volcanic island, close to the Tropic of Cancer. Its visually unique landscape has been shaped mainly by volcanic eruptions between 1730 -1736 and 1824. Volcanic rubble, ash, lava rocks and the azure waters of the Atlantic Ocean dominate the scenery of the entire island.
Lanzarote is a bit of an oxymoron—parts of it, especially Playa Blanca and Puerto del Carmen, are geared to the package holiday market, but steer clear of those parts and you will discover stunning landscapes and golden beaches. It is a lush haven for the culturally inclined traveller. It took us some time to recover from our flight. The size of the island and the position of the Arrecife Airport ensure that the plane hovers over the water for a while and hits the runway mere seconds before landing. Once we had recovered from the exciting, albeit stomach-churning landing, we noticed the complete absence of high-rise buildings and hotels.Volcanic mountains and azure beaches dotted with whitewashed houses dominate the landscape of Lanzarote.
This is due to Canarian architect Cesar Manrique, who worked with the Ministry of Tourism to develop an eco-friendly model of development for Lanzarote. Villages populated with picturesque whitewashed houses with green and blue shutters add inimitable character to the island. Lanzarote's beauty lies in these villages and its secluded beaches. For this reason, it is highly recommended that you rent a car to explore the island. A number of rental companies have booths at the Arrecife Airport, and offer convenient and reasonable fares to tourists visiting Lanzarote.

We started our sojourn by spending a day at the Timanfaya National Park, which is made up entirely of volcanic soil. The landscape seems Martian; the entire park is strewn with volcanic craters, rubble from volcanic explosions, and nascent and active volcanoes. The nature of the volcanic matter makes it impossible to drive or walk around in the park, but a coach trip around the national park is included in the entry fee. Tourists can also take camel rides across the surreal Martian landscape of the national park.

We had a lot of fun exploring volcanic crevices, rubble, and geysers. But the most exciting part was yet to come. Volcanic activity continues under the surface of the Earth at Timanfaya, and generates immense heat. The on-site restaurant, El Diablo, uses this geo-thermal heat to grill meat and cook food. This ensures an intriguing culinary experience—we couldn't stop ourselves from peering down the bottomless 'grill' every two minutes. What's more, we got so excited about having food cooked 'on a volcano' that we gorged at the restaurant, despite having had breakfast just an hour ago. In the same vicinity lies El Golfo - a volcanic crater that houses a green pool—the water is green because of the algae that live on the surface and the minerals left over from the volcano's active days. The stark contrast between the green pool, the black beach, and the turquoise sea makes for immensely interesting photos. We spent hours exploring the cliffs surrounding El Golfo and sunbathing at the black beach.
Next, we familiarized ourselves with Cesar Manrique's work by visiting his house, Fundacion Cesar Manrique, which has been turned into a museum. The avant-garde architect carved his subterranean house from lava bubbles, and each room uses natural vegetation (cacti) to adorn tables carved out of volcanic rocks. We came away coveting a house similar to Manrique's unique abode. His unique touch can also be witnessed in Jameos Del Agua, a series of connecting caves and grottoes. Here a surreal staircase leads to volcanic bubbles and passages that have artistically been carved into a café and a concert cave.

A short drive took us to Mirador Del Rio, a viewpoint at the northern tip of Lanzarote. We perched ourselves on a comfortable spot on one of the cliffs that line the road and waited for the sun to set. Watching the sunset at Mirador Del Rio is an extremely sensory experience. Fields of bluebells line the road on one side while the other side offers a panoramic view of other islands of the Canarian archipelago. As the sun sets, the entire landscape is bathed in a luminescent harmony of peaches, pinks, and blues. It's a moment we will remember for years to come.

We spent the rest of our days unwinding by turquoise waters. Both of us love beaches but there is nothing we hate more than overcrowded and commercial beaches. Sunbeds and ugly umbrellas crammed on a small stretch of sand is definitely not our idea of a good day. Fortunately, Lanzarote is full of secluded beaches and hidden coves. The island's most secluded beaches are at the southern tip. The Punta de Papagayo is a crescent of sandy beaches sheltered by cliffs, hidden in a protected area called the Monumento Natural de Los Ajaches. A dirt track leads to five spectacular beaches, surrounded by volcanic hills.
We visited the Papagayo beaches several times—once at the beach, we would pick a spot for ourselves. The small cliffs have segregated the beaches into little sections, and we were spoilt for choice. We suggest packing a picnic—local Canarian wine, grapes, and cheese —for your day at Papagayo.
But you will not go hungry even if you don't pack that picnic. Warm weather and good food, both of which ensure an outstanding culinary experience, are Canarian staples. The number of al-fresco tapas bars in Lanzarote makes it hard to walk through a village without tingling your taste-buds. We tried to steer clear of the over-priced touristy cafes and karaoke bars in Playa Blanca and Puerto del Carmen. Instead, we drove down to the smaller villages, each of which is a treasure trove of hidden restaurants, tapas bars, and cafes. Haria and Teguise top this list—both villages are full of quaint and unpretentious bars serving local Spanish food.

We spent a number of evenings sipping the local beer as we indulged in one of Spain's most traditional social rituals: nibbling on a variety of tapas. This made for unhurried conversations, and well-spent evenings. We tried a variety of tapas options including, olives, anchovies, Jamón (cured ham), tripe, prawns pil-pil (garlic prawns), tortilla española (egg and potato omlette), and albóndigas (meat-balls in a tomato sauce). We highly recommend the Boccadillo, the Spanish version of the humble French baguette. This one comes laced with garlic and a steaming fillet of meat. If you are a coffee-drinker, be sure to try the Barraquito- a layered drink comprising of an espresso shot, condensed milk, Licor 43, a sweet vanilla-flavored Spanish liqueur, and a dash of cinnamon. You will come away wishing you had discovered it earlier.
So if you're planning a trip to Europe this year and want to escape the crowds and traffic of Spanish cities, head to the strangest and most breath-taking corners of Europe where black volcanic soil, blue skies, azure waters, and golden beaches await you.

This article is a part of our extensive archive.
Text Savi Munjal