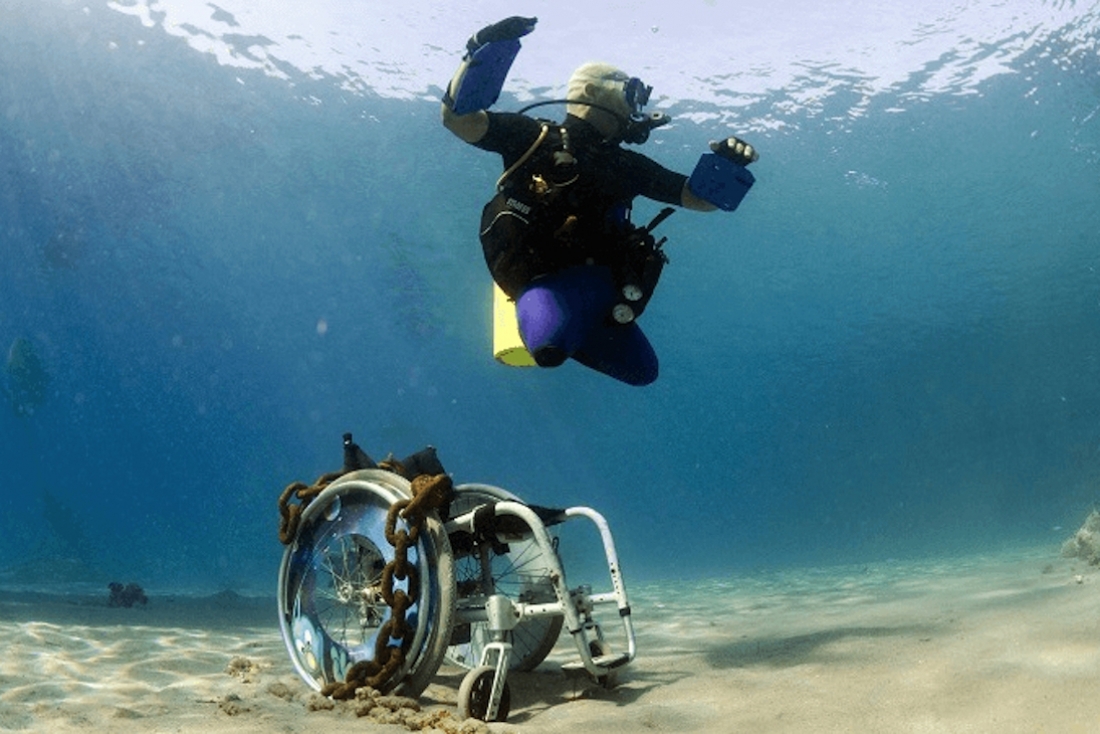 Disability is not inability
Photograph by David Pilosof
On a Wing and Wheelchair
Special Forces Adventures
I look in disbelief when Maj. Vivek Jacob (Retd) says, 'Dreaming is the most practical thing'. Here's a man who has spent 14 years in the Indian Army's special forces as an elite Para Commando, working on extreme operations along the border, staring terror in the eye and eliminating enemy target, not knowing if he'd live to see the sun the next day. 'There was no other way than to dream – one fine day, this wasn't what I wanted to do anymore.'

It was in hospital while recuperating from a major spinal injury that he finally knew what it would be, instead. 'The patient next to me had both his legs amputated and he said he wanted to go deep diving! Was there a way? We googled it up and there were a few groups that facilitated adventure for the disabled abroad but none in India, so there it was – I had found what I'd do next.' The task of course needed men trained as tough as himself, but the right ones gravitated toward the mission themselves, and that was how Special Forces Adventures was born.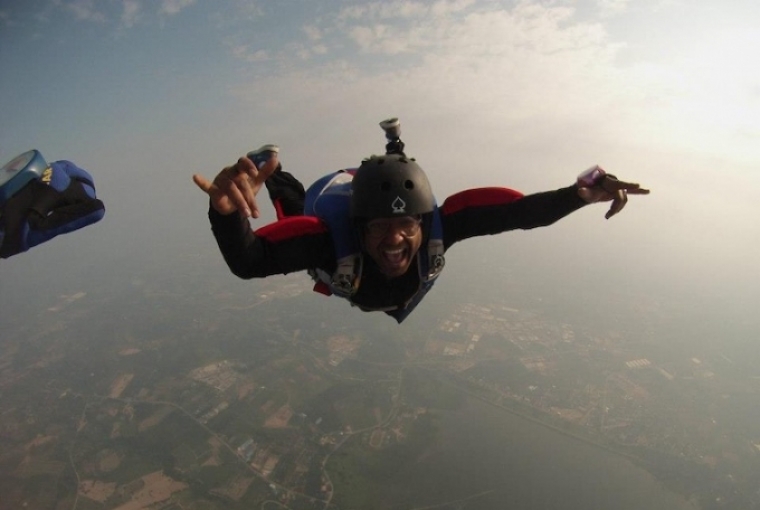 "Dreaming is the most practical thing."
Special Forces Adventures (SFA) is the outcome of a vision to bring the specialised skills of elite Ex-Special Forces soldiers into the realm of high-end Adventure Sports, Survival Training and Self Defence, with a focus on the physically challenged aside from other adventure seekers. Today, it stands as a team of highly trained veterans from the Indian Army Para Commandos and the Naval Marine Commandos (MARCOs). SFA is the first such homegrown initiative that combines travel with social changemaking in progress, and just a few months old, it is already on its way to undertaking training and adventure activities across the world.
What distinguishes the team is that these men come not just with an honorable past but also a skill set that gives adventure training a whole new and fearless dimension.

Maj Jacob has trained as Sky Diver, Scuba Diver and high altitude trekker and developed specialist skills in precision shooting, un-armed combat, survival and outdoor rescue. His men include Captain Sahil Chopra (TA Officer, Un-armed Combat Trainer for the Special Forces, NSG and SPG) who is the country head for Pekiti Tirsia Kali, a deadly Filipino martial art, and has trained 50,000 school girls of Delhi NCR in self-defence. Then there's Havildar Meen Bahadur who is has won awards from one of the toughest mountaineering schools in the world – The High-Altitude Warfare School (HAWS), Havildar Vikash Dhaka who has served as an instructor at HAWS, Havildar Athinarayan K who is a Kargil veteran and master underwater diver who has trained with the U.S. Navy Seals.
"We believe in the command of the heart."
If that's not enough, there's Gaurav Sharma (ex Navy) who is a PADI Master Scuba Diver Trainer, Safety Professional and a Military veteran with more than a decade spent at sea; Rajarshi Paul, an ex Navy Marine Commando whose forte is Combat Under Water Diving with hundreds of hours spent deep under the waves, and Shamsher Sehrawat, a specialist Under water Combat Diving Instructor who has trained the Naval Marine Commandos. The sheer strength of Shamsher's handshake on my arrival is enough to set the tone for what an empowering experience they create.
Their process is simple – 'We believe in the command of the heart'. Under water or up in the air, verbal language ceases to matter for these men and they tell me that it is eye contact and body movements that define how well one adapts to the environment and thus experiences it. 'The first rule is to spend time with the person and know him and his fears and doubts, and then the training is organic, the courage is established, and there's a confidence that allows for exploration. Of course, we are all trained thoroughly for rescue operations so there's nothing to worry about,' says Shamsher as the team is just back from an expedition in Thailand.

And it is surprising to know that the deepest waters are easier to swim than walking on land for those with physical challenges. 'Most specially abled people suffer due to their lack of mobility on land. The dream of Special Forces Adventures is to introduce the freedom of the underwater world to our specially abled friends through Scuba Diving. To give you an idea – more than half of the Earth is covered with water. You may feel restricted by gravity on this 30% dry land mass but the 70% water world is open for you to explore, to fly through, like a bird (or a fish!). All you need is a little training,' explains the Major.
"Disability is not inability."
Apart from Operation Blue Freedom as they call this project, there's ample scope of adventure on land, in water and the air for able-bodied enthusiasts of course, and the team plans to take survival training to the next level in the tough terrain of the northeast soon, opening a fearless new avenue to much-needed training in life skills that we often overlook in these times of virtual existence. Their main challenge at this point is to make the movement stronger and find more support as they go along.

But where the mind is strong, as they illustrate with their glorious plans, the lack of a limb is no reason to stop. 'Disability is not inability', he reiterates.

Text Soumya Mukerji

(Check out their inspiring videos on Instagram @special.forces.adventures)