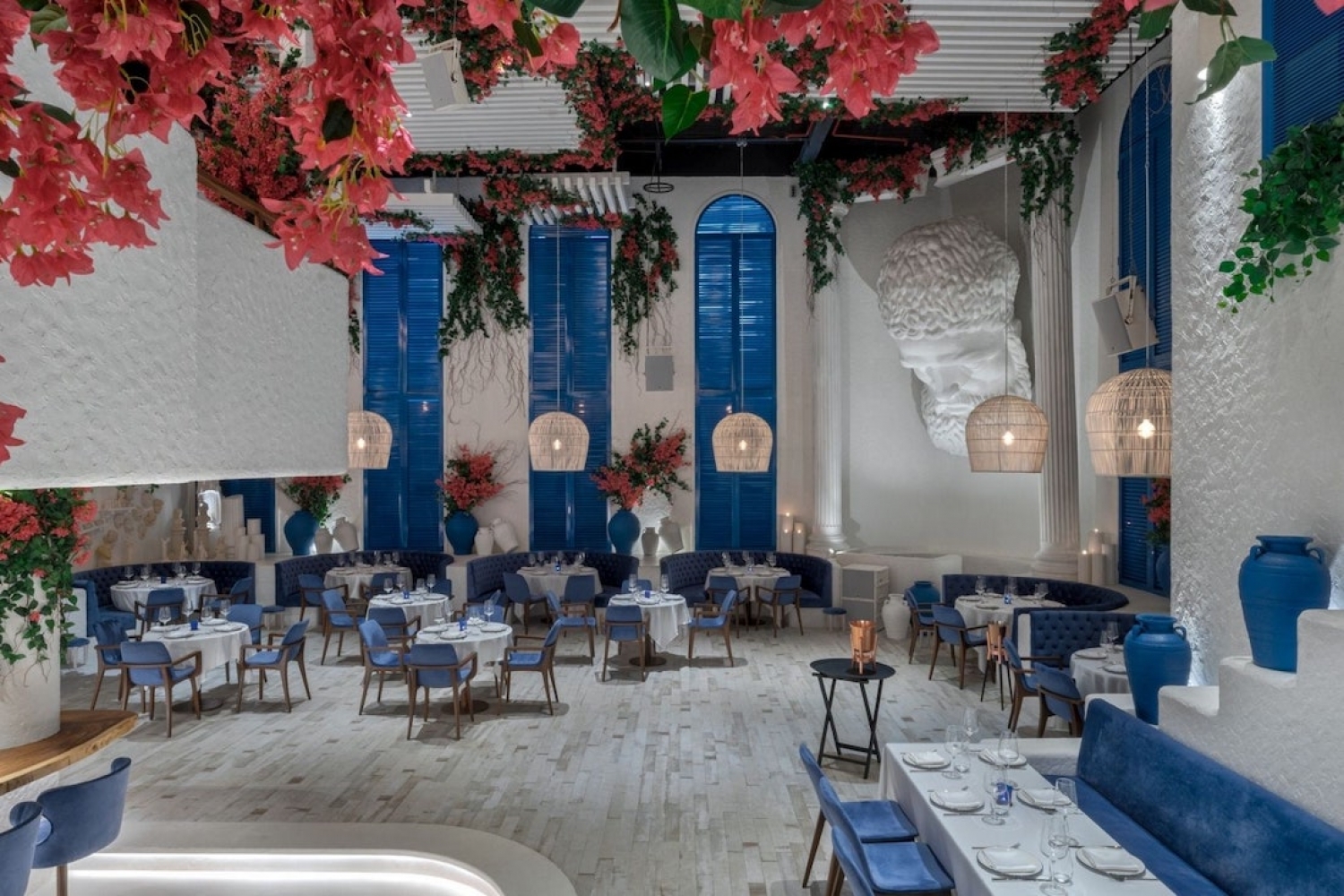 "In 2018, when I visited Dubai, I happened to go to OPA and it blew my mind!" exclaims Hitesh Keswani of Silver Beach Hospitality and Entertainment, one of the forces behind OPA Kipos in Mumbai. "The concept, the food and the entire energy of the room was extraordinary. Just then I knew Mumbai had to experience this and I wanted to be the one to bring this spectacular format to the city," he says. Thus was born OPA Kipos, a celebration of life.
STYLE AND AESTHETICS
OPA is authentically Greek! From decor which is inspired by the Greek Islands, sculptures of Gods and Goddesses to the colour palette — everything makes you feel like you have landed in Greece! The menu is authentically designed to serve large groups — Greek Feasts as they call it. To top it all, OPA is about celebration, which is perfectly showcased through the Zorba dances and plate breaking ceremony.
THE MENU
The OPA menu is an authentic Greek menu with Mediterranean influences. The food menu is designed and engineered by OPA Dubai and we execute the same here in Mumbai to ensure we keep the authenticity in place. It is a mix of salads, cold and hot starters, stone oven, mains and larger-than-life desserts.
SIGNATURE DISHES
The Mixed Grill Greek Feast Platter, Josper roasted Whole Sea-bass, Fresh Truffle Peinirli, The Greek Salad, Pastitsio (lamb speciality) and of course the much celebrated OPA Baklava Sundae!
THE EXPERIENCE
I think everyone who enters OPA feels like they are no longer in Mumbai and have just landed on one of the Greek Islands, that's what makes the experience so special. I always believe in giving people a whole experience — location, food, drinks and service. Most of all, the energy a place brings with it is key to me. I hope that OPA is always full of smiling faces with people who want to honour life because OPA means Celebration!

This article is an all exclusive from our September EZ. To read more such articles follow the link here.

Text Devyani Verma
Date 23-09-2021
Location: Mumbai
Available for reservation: +91 720 88 811 61/61/63