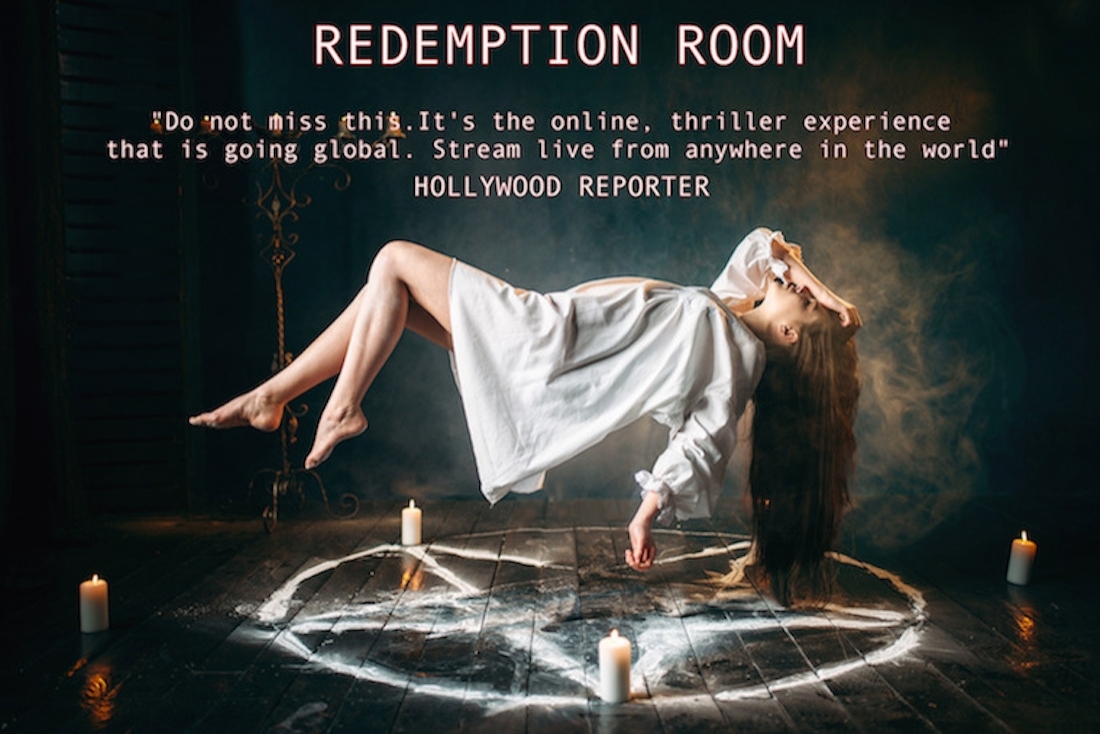 Secret Theatre is a pioneer in global immersive events and has produced shows in seven cities across the globe, including five in Hong Kong, Singapore, LA, New York and London. The production is created and directed by Richard Crawford, who has been the Artistic Director of Secret Theatre for over 10 years, with many immersive credits to his name. He was responsible for directing the immersive Edward Scissorhands in New York, the immersive Fight Club in London and Hong Kong, and the immersive Dusk till Dawn in Singapore.
In the face of this pandemic, Secret Theatre is back with a fresh new concept, and they're going digital. Via Redemption Room, a new online experience, this year's event will take participants on a thrilling journey, where they will get to decide the fate of six disgraced celebrities as they compete and seek redemption for their societal crimes, but not without some thrilling twists thrown into the mix as an evil entity lurks in the dark and is awakened into the proceedings. Who will survive? Who will get their redemption? The audience gets to decide.
Every night, the audience will be judging the proceedings and one audience member will even be asked to compete with the celebrities. So as an audience attendee, one can vote, one can judge, and speak to the participants directly. Launching in India this year, the experience will go live across the world over Zoom, featuring contestants from Mumbai, Hong Kong, London, Singapore, Sydney and New York. We're in conversation with the director and actor known for the Secret Theatre Project, Richard Crawford, who tells us all about the new experience.
Tell us a bit about yourself and what was it that led you towards the Secret Theatre Project?
I started the company when I was an actor living in New York. I'm originally from Scotland, where I was inspired by the Edinburgh Festival and I wanted to do something progressive, which could push the limit of the art of creating a theatrical experience. So we started Secret Theatre, a site-specific immersive theatre and live film company. We create productions where the audience can explore and interact, whether that be in New York in a factory posing as Edward Scissorhands' house, in a courtroom and prison cells in London or on a speed boat in Hong Kong en route to a secret haunted house. I created this unique style of production as we felt audiences wanted more, and we wanted to bring to life the cities we performed in.
L: Richard Crawford ; Image- Jeremy Rice
What inspired the Redemption Room?
It has been a crazy year for us. We had just completed an amazing sold-out run of our show at Tai Kwun in Hong Kong and we had a show open in London and our first two shows were about to open in Dubai when COVID struck. Overnight, all our experiences were either cancelled or postponed. It is a heart-breaking time for us, as it has been for many businesses and individuals across the world.
Personally — and, I imagine a lot of people would agree — I have found it difficult to reach out and ask for help and support during this time, but it's important we all feel we can do that. One element that has been inspiring is the will for us all to battle through this. Once I finally accepted where we stood as a company, I started getting creative with that disruption and seeing if we could still offer something new and exciting, and a distraction from the madness of the world. It has been amazing to connect and create with artists and craftspeople on this production. Art has always been an escape, and now more than ever, I feel we need that escape.
Could you take us through your creative process for the Redemption Room?
The first element here, which was the hardest, was trying to see if this can be done. We workshopped a few ideas in London online using the restrictions and seeing if there was a show there. Over this process, artists helped in all elements and inspired me to finish the script for Redemption Room. For the script I channelled all the voices around me and, due to the nature of the world, a thriller-horror type production was born. It was an experience to create as it felt so topical. The next step was bringing it to life. We want to connect the world with a live, online immersive event. As live performances across the world have been deeply impacted by the pandemic, Redemption Room looks to provide an audience with an escape into a new experience.
Now that the entire show will be online, what were some of the challenges you faced designing an experience that is meant to be in person?
When you create a production, there are always setbacks and obstacles, and Redemption Room has been no exception. Everything on this production has been harder due to the current situation of the world, from COVID guidelines on how we produce the show and the online, live element. I also wondered: could this production's virtual, live element make it more immersive, too? I feel it might, as you can message and build relationships with the contestants for weeks prior to the show going live. If you live in Hong Kong, you can also watch it live with friends in L.A. or London and comment on the show in real time. This would not be possible in our traditional shows.
What is it that you want the viewers to take away from this show?
On buying the ticket, the audience can message the characters of Redemption Room immediately and build a relationship with them and find out more about the show. They will then experience a thrilling ride with a few scary moments, where they will be asked at certain moments to vote on how the narrative should continue.The experience can be enjoyed on any device that supports the Zoom app. We recommend staying at home with friends on your computer or hooked up to your television. You will be watching the production with people all over the world, so you can watch with friends around the globe.
Finally what's coming up next for the new year?
This is the world premier of Redemption Room, which makes it all very exciting. I have been creating and directing immersive experiences for over a decade but this is our first one online, so we are really thrilled about that. We are also delighted to have a character based in India for the production. We had a live experience designed for India later this year but it had to be cancelled because of the pandemic, but we are glad that the people of India can check this experience out.
Various screen times will be available for the audience from 25th February to 13th March 2021. Audience can purchase the tickets here https://in.bookmyshow.com/events/redemption-room/ET00305363
Date 17-02-2021