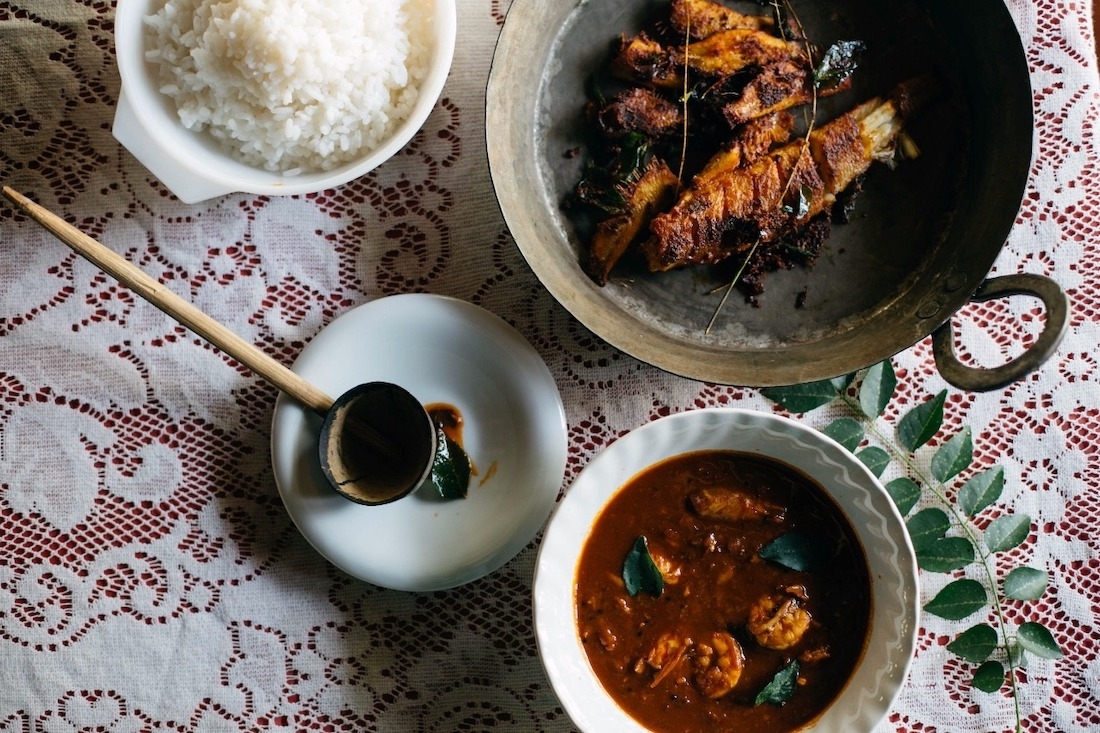 Credit - Aysha Tanya, Malabar Tea Room
The Malabar Tea Room takes us through the culinary lives of mother-daughter duo, Kathija Hashim and Aysha Tanya, as they cook in their hometown on the Malabar coast. Personal and peppy, the blog reads like a phone call with a friend at the end of a long day. Tanya's writing draws us into the flavours of her childhood kitchen, complete with the gorgeous cookware owned by her mother, the blog's chief recipe tester. Along with traditional Mappila recipes, there are inspired takes on payasam — one with musk melon — curries and soups for the everyday, and handy advice on keeping a pantry.
Many of these recipes are sourced from within the family, and each comes with an elaborate touch of the local, with notes on the weather. Warm-toned still lives of produce, hands deliciously intruding the frame, and the peculiar oyster-shaped silver spoons, give the visuals of The Malabar Tea Room a familiar sense of place. We spoke to Aysha Tanya, one half of the blog, on their journey and what's cooking currently.
What made you want to start The Malabar Tea Room?
We started Malabar Tea Room back in 2012. We started because I had moved away from home and we thought it might be a way for Mum and I to work on a project together. The other reason was that my Mum makes so many beautiful recipes, that she might have come up with on her own or had tweaked and developed over the years, and more people needed to know about them. She was so passionate about food and her whole life revolved around it. I also wanted more people to know about her food because there's an approachability to her recipes. It's friendly food. Food that's easy to make and not fussy at all.
What inspires the stories on the blog? Do you plan ahead?
No, I don't. Sometimes I want to write about a particular dish or ingredient because it has a story. I look at MTR as a teleporter, as a way to run through my everyday life. So sometimes it's just about where we are at at that particular time of the year. There really are no hard and fast rules. Sometimes, there will be a recipe about something that's completely unrelated to the Malabar. For example, there's a recipe for Rose Tres Leches in there. Mum and I are both obsessed with the rose flavour and are always trying to use it in recipes. There's a lot of random things in there. But it is what we love, even if it isn't related to a particular cuisine.
Credit - Aysha Tanya, Malabar Tea Room
Can you take us through your creative process?
I wish at this point that there was a clear process, but there isn't. Sometimes we will cook up a recipe that we have always made, but never talked about in Malabar Tea Room and we would think, 'maybe we should share this, I think people will like this.' Sometimes it would be something that we develop together. For example, there's an Earl Grey and Honey Panna Cotta in there and a Lemongrass Posset with Passionfruit Jelly, that were created for the blog specifically, using unexpected ingredients that we love. There are a couple of recipes like that, especially the desserts, but a lot of it is just recipes we've cooked over the years.
A lot of your produce is homegrown or locally sourced. Can you tell us more about that?
Actually, that was never the focus when we started out. When we were growing up, Mum would always bring back ingredients from her travels. She would collect little jars of unusual things — ingredients we wouldn't have easy access to — and she would cook with those in our kitchen when we couldn't travel. It was a way of travelling through food. And you have to remember that this is in a really small town, with no eating-out scene. If we had to eat something that did not belong to our cuisine, we would have to make it ourselves. But alongside that, there was cooking with local and seasonal produce as well, because that's how people in small towns live anyway. I'd say her signature style was finding a way to bring the two together. For example, we have a recipe for Kerala-style clams with pasta, and it's really delicious. It's coconut milk, it's clams, which are such Keralite things, but it makes for a very delicious pasta sauce.
Your food writing is intimately attached to space. What are some places that inspire your work?
Definitely home. I think that's the place that's always captivated me. I am not a writer who wants to tell stories about other places. I feel like we have so many stories in the Mappila community that have not been heard. If I had to dedicate my career to one thing, this would be it, to telling stories of my place, with my people. This is also a good time to mention that Mum and I are writing a cookbook together, and it's going to be about living and cooking together in our home in Kerala — an extension of the blog, in a way. It's still early to mention, but it's going to be a collection of recipes that are either from the Malabar, or inspired by it, and hopefully, an ode to the life that Mum has built for our family over the years.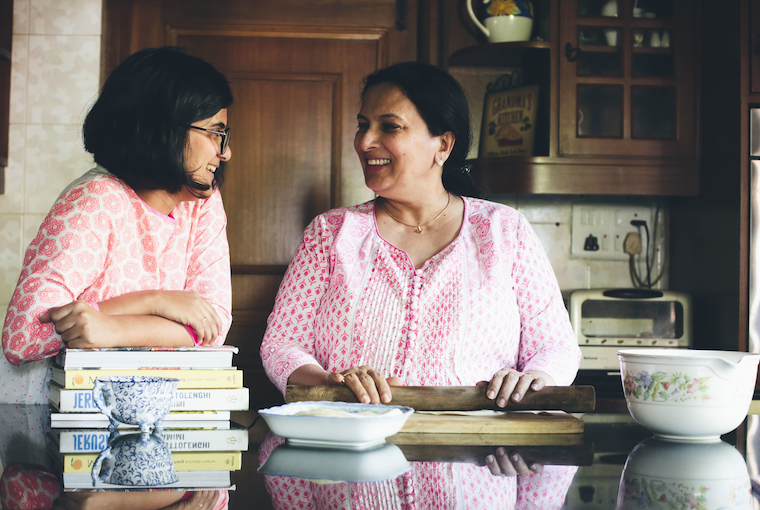 Credit - Aysha Tanya, Malabar Tea Room
How does your relationship with your mother shape the way you write?
I think it wouldn't be a blog if we didn't have such a close relationship. The truth is, the recipes have my Mum written all over them. I worry that it might not come across as such to most people because they don't know her, but if you did, you'd recognise it easily. In that sense, she plays a huge part in it, but maybe it's something people on the outside don't see.
What is the most significant cooking advice you have received from her?
To keep it simple. I think when I first started cooking, I was so taken by the recipes that were finicky and elaborate. My mum would roll her eyes all the time. But now that I cook more, almost on an everyday basis, that is not the kind of cooking I want to do on most days. I want to cook simple things; meals with a few ingredients that work together in unexpected ways.
What do you enjoy most about documenting food?
I get really excited about documenting family recipes. This is something we are doing a little more on Malabar Tea Room now. We really didn't start our page to collect Mappila recipes. We wanted to put up the more extraordinary stuff that Mum was doing in our kitchen. But now, I want to record the more traditional recipes too. I've moved away from home, so I no longer see Mappila food as boring and ordinary. I can see the value in it. And to answer your question, I like the whole process of documenting a recipe. I enjoy the ideating. I really like photographing it and putting it together as well.
What are some cookbooks you love and recommend?
I worship at the altar of Nigella Lawson, and I love her first and her latest books the most: How to Eat and Cook, Eat, Repeat. I love Ummi Abdullah's Kitchen Full of Stories, too. Ella Risbridger's Midnight Chicken is also delightful. My Bombay Kitchen by Niloufer Ichaporia King is the kind of cookbook that I hope the Malabar Tea Room cookbook will be -- deeply personal but accessible, and with something for everyone.
Is there a recipe you keep going back to?
A lot of them actually. There's a mutton stew in there which is something we make quite often. There's a chicken and rice casserole which is one of my favourite dishes from the blog, it's something that Mum came up with years ago and made a lot of when I was growing up.
When cooking, what's an ingredient you can't get enough of?
Curry leaves! I love curry leaves. I think they have a delicate complexity and the flavour really takes me back home.
There is a perception that family recipes are entirely ordinary. Why should we be documenting heirloom culinary traditions?
For one, because it's one kind of memory we have of the past. I think more people are starting to see the value in it now. Especially because the way we are cooking has changed so drastically, and in the gap between the previous generation and ours, a lot of recipes have fallen through. There is enormous cultural value in preserving recipes. Other than that, to me, there's also sentimental value in cooking food that my family has been making for generations.
What is the most challenging aspect of writing a food blog at a time when blogging has given way to commercialisation?
When I think of Malabar Tea Room, there's a lot of guilt around it because I don't post enough. I don't follow a set schedule, so a lot of doubt creeps in. And I have to remind myself that that's okay and it doesn't have to run like clockwork. It's more organic. It doesn't need to be an automated production. It's okay to have a part of your life that is not monetised and commercialised.
Has social media changed how you document?
I had always been under the delusion that social media has changed our reach and readership. Maybe it has in some ways, but to be honest, most of our viewership still comes from direct traffic, not through social media. It's people who remember the blog and make it a point to come back. It includes an older viewership who may not be following us on Instagram or other social media channels.
You extensively documented what you cooked and ate in quarantine. What has your biggest takeaway been from this pandemic year?
I wish I had some clear takeaway from the mess that was last year, but I think, like everyone else, I just muddled my way through it. I am cooking a lot less than I did at the start of the pandemic. I think I have a little bit of cooking fatigue and I see that with a lot of people around me. But I am not too worried, I know I'll go back to it. I think one way that a lot of us coped with the pandemic was just by cooking, and I did too. It was an escape, and a fun one for sure.
Text Nikita Biswal
Date 31-03-2021