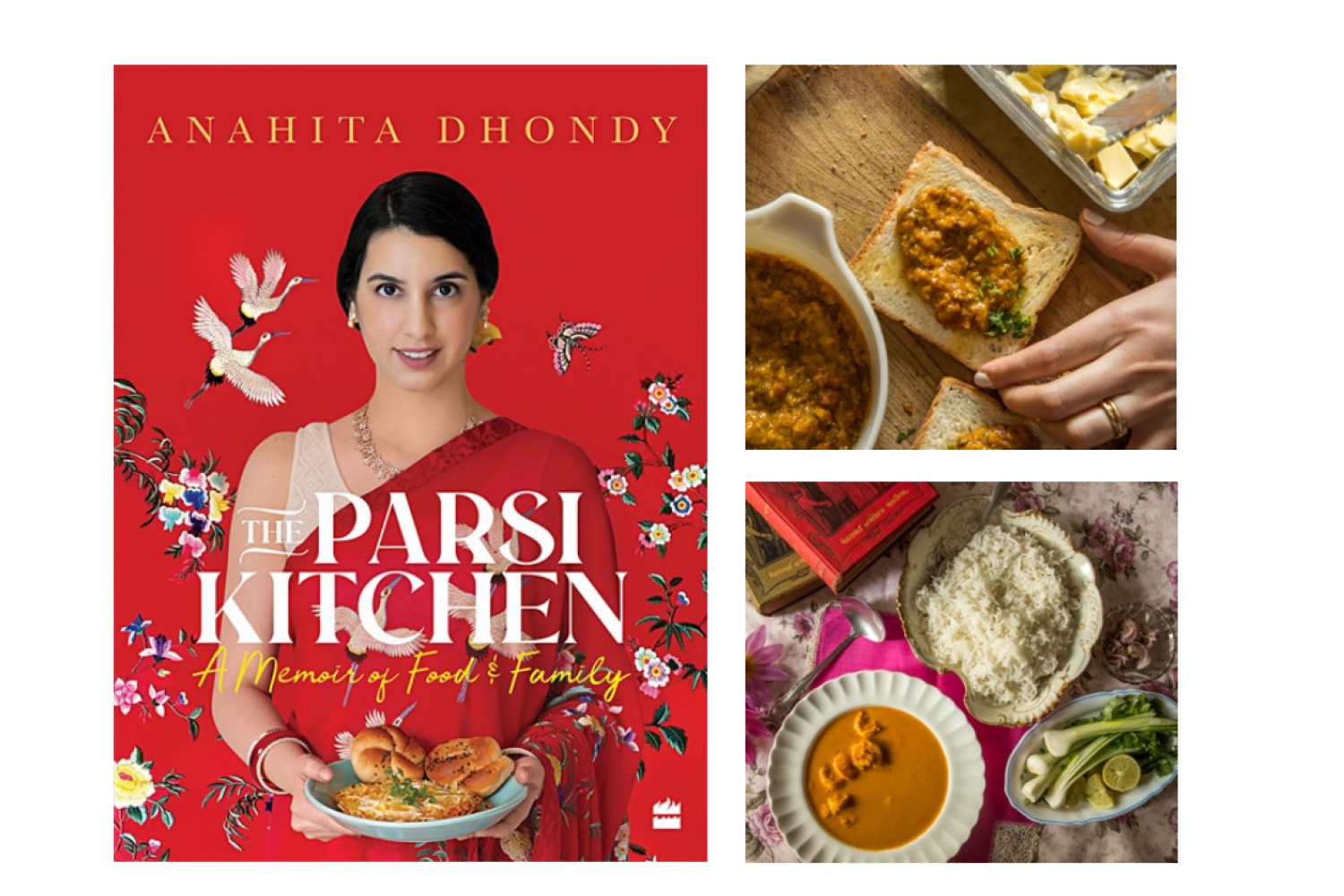 The Parsi Kitchen
Anahita Dhondy
When one thinks of Parsi cuisine in India, SodaBottleOpenerWala immediately comes to mind. The Bombay Irani Café and Bar chain has popularised the cuisine, in our contemporary imagination, with its eclectic menu and ambience. While the pandemic has ravaged the food and hospitality industry, robbing us of such culinary experiences and delights, the former chef-partner of SodaBottleOpenerWala, Anahita Dhondy, is venturing to keep the love and interest for Parsi cuisine alive, through her debut cookbook, The Parsi Kitchen: A Memoir of Food and Family.
Anahita has been a part of the food industry for a decade now. From her earliest memories of food, which include sitting on the kitchen floor and licking leftover cake batter from her mother's catering, to releasing her first cookbook, she has come a long way. Her journey includes being heavily involved in the kitchen while helping her mother, becoming a Le Cordon Bleu Grand Diploma holder, being featured on the Forbes 30 Under 30 Asia list 2019 and winning several awards and accolades along the way. However, this journey has had its share of challenges. "When I joined the industry, there were many questions asked about whether I will be able to run a restaurant. As women, I have seen that we have to constantly prove ourselves because there aren't many women in the industry. I've had my fair share of arguments with people regarding how you cannot call me a female chef. It is just chef," she asserts. Regardless, the kitchen and the ability to serve people food gives her immense pleasure.
A Parsi Kitchen is thus a reflection of her pure love for food and her Parsi heritage. Talking about the book's conception, Anahita shares, "I was doing a lot of research on Parsi food during my time at SodaBottleOpenerWala. At some point I was just putting it out to the universe that someday I want to write a book on Parsi food and share the knowledge. Then HarperCollins reached out to me about wanting to publish my first book and so the book's idea became more concrete." Since then, it has taken her five years of research and extensive travel to put the book together. The cookbook is a compelling compendium of food photography, recipes, cultural insight and travel anecdotes.
While Anahita's passion for Parsi food intrinsically imbues the book, her journey, with its creation, had many roadblocks. "I don't consider myself a writer," confesses Anahita, "But I am good at explaining a story and sharing insights about my dishes, which is what I do on Instagram as well. So, I had to find and navigate my way through tried andtested writing techniques. Eventually, I realised that the best way is when I start talking about it, which is how the book's narrative began to take shape." However, Anahita also had some endearing experiences with the Parsi community she met during her travels. "I am based in Delhi and I only know Parsis in Bombay who are my relatives. So, it was my first time, meeting the Parsis from Gujarat. I remember this one time when I was staying in a small town there and demonetisation hit the country. I only had old notes with me. The people really looked out for me though and told me to go back home and transfer them the money whenever possible. As a woman, it is a daunting task to travel alone, but the people I met along the way really helped and made it easy. I realised that the people in small towns really deserve our trust and faith, something that is missing in our everyday lives in big towns."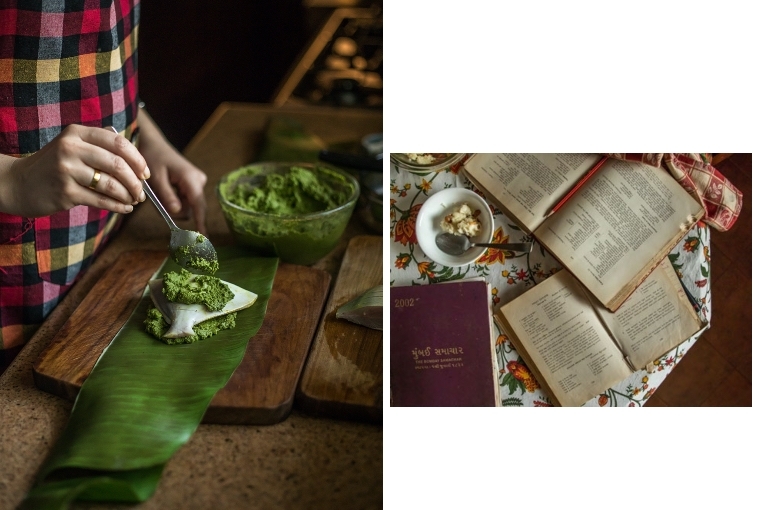 In terms of the dishes in the book, Anahita is really proud of her Dhansak recipe. "It is a treasure," she says. The non-vegetarian Parsi curry is an indispensable part of the cuisine and is known as quintessential comfort food. Many people on social media have repeatedly asked her for the recipe and she is excited to finally share it with everyone through the book. Anahita has also included intriguing insight into the various ingredients that are staples of Parsi cuisine. Amongst them, her favourite is the Parsi Sambhar Masala. "It is basically like a garlicy, red chilli powder, similar to a Maharashtra Thecha. However, the Thecha has peanuts and the Sambhar Masala doesn't. We use quite a bit of it in our everyday cooking."
While there are many books that Anahita adores, like Indian Food: A Historical Companion by KT Acharya, Feasts and Fasts: A History of Food in India by Colleen Taylor Sen and Pangat, a Feast: Food and Lore from Marathi Kitchens by Saee Koranne Khandekar, one that inspired her own cookbook the most was Like Water for Chocolate by Laura Esquivel. "I recommend that everyone, who is interested in food, should read this book. The book's format essentially follows stories into recipes, which has also greatly inspired the way in which I've created my own cookbook. Although, Like Water for Chocolate is a very small book with no pictures and A Parsi Kitchen is filled with beautiful food photography, making it a visual treat as well."
Through this cookbook, which is also akin to a food memoir, Anahita wants to present and preserve her heirloom culinary traditions as well. This endeavour is deeply personal to her. "I think it is really important to talk about your own regional food. India has lost a lot of recipes in these last twenty to thirty years, when we've become increasingly globalised and there has been a lot of influence of western culture on our everyday lifestyle. I do love eating every kind of food from every part of the world, but I think it is important to preserve what we have in India. Every household has a legacy in terms of a recipe, ingredient or even a vegetable. There are unique cooking methods and recipes related to seasonal and local produce which should be used as much as possible. Even something as simple as incorporating the use of grains like millets in everyday cooking is essential. It is truly our job to preserve such legacies," she insists.
Anahita's involvement in her mother's kitchen has had a huge impact on her relationship with food and the resultant journey. She candidly confesses that while her mother is a perfectionist, a virtue she has definitely inherited from her, she is also a more intuitive cook. Her recipes are always accompanied by some twists and turns and she loves to experiment. Post the book's release, one of her many plans includes running a weekend kitchen from home with her mother. "We are planning to do different menus every weekend, with just the two of us in Gurgaon and getting it delivered to people's houses. Alongside, I am also working on a couple of products, so a lot of stuff is in the works and you'll get to know more about them soon," she adds on a parting note.

This conversation is an all exclusive from our Bookazine. To read more such articles grab your copy now.

Text Nidhi Verma
Date 18-10-2021